Here's an interesting tale that links Blackpool's entertainment history to it's proud and long serving RNLI. The Escapologist and Samuel Fletcher of Manchester. How the young Karl Bartoni began his career with an escape from Blackpool's second lifeboat.
The Escapologist and Samuel Fletcher of Manchester
Thanks to retired Blackpool Escapologist, Karl Bartoni, for this interesting memory. And to the Friends of Stanley Park for directing us to it. Karl writes:
"As a kid I had many trips on the Samuel Fletcher Lifeboat whilst it was a pleasure launch on Stanley Park Lake. I didn't know it had a varied history as a lifeboat. And I could never have foreseen that it would play a big part in the starting point of my career as an escapologist in 1970 when I was 21.
"I was working at the Tower Circus. Mainly as a ring-boy but also as a stooge in Charlie Cairolis' acts. I was also appearing in two horse acts that season.
"I was about to launch my own magic act. My mentor, Murray-The Australian Escapologist (who had retired and ran a magic shop in Blackpool) made a suggestion. He said I'd get lots of publicity if I did a feat of escapology.
The Non-Swimmer and the Underwater Escape!
"After much discussion it was decided that I'd do an underwater escape. Secured in various restraints whilst sealed in a packing crate, I'd be lowered under water somewhere. That somewhere ended up being in the middle of Stanley Park Lake, in 1970.
The crate (with me inside) had to be transported to the middle of the lake and be in view at all times. The Samuel Fletcher was used, and a temporary platform built consisting of planks lashed across the Gunnels.
"Also on board were my assistants and local members of the press.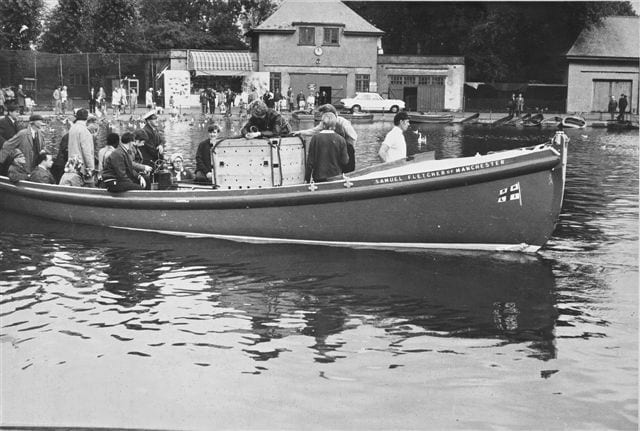 What could possibly go wrong!
"I survived this scary escape. Despite the crate tipping over and me getting stuck in mud at the bottom of the lake. Plus I'm a non-swimmer!
"That first escape stunt resulted in me choosing escapology rather than magic as a career. I often think back to how it all started on a cold, wet and windy August morning, on and overboard the Samuel Fletcher.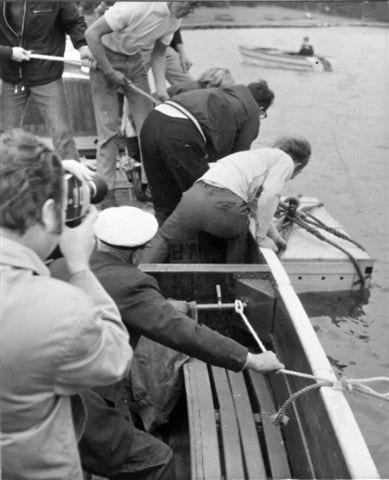 More about the Samuel Fletcher of Manchester
Thanks to Nick Moore's History of Blackpool for filling in the gaps about this Blackpool lifeboat.
The Mayor of London named Blackpool's new lifeboat "Samuel Fletcher of Manchester" on 29 September 1885. Preceded only by the Robert William, which served from 1864-1885, it's the towns second lifeboat.
The Samuel Fletcher was to famously rescue the crew of the barque Abana. She unfortunately wrecked in a 135mph gale on 22 December 1894. You can still see the ribs of the Abana at Anchorsholme beach today.
Saving Lives
The estate of Mr W Fletcher, by order of HM The Queen, provided the funds for The Samuel Fletcher of Manchester. Between 1885 and 1930 there were 17 launches, saving 49 lives.
Then in October 1930, Blackpool Council bought the lifeboat to use as a cruiser on Stanley Park lake.
You won't see it there today, unfortunately. In November 2009 the lifeboat went to the Sea Cadet base at Bispham for restoration. Now it's in safe storage at Lightworks, the Illuminations depot.