Visiting the 'Pleasure Beach end' of Blackpool? You might want to go shopping at South Shore, visit the shops, markets and stalls. Why not have a cheeky ice cream too!
The people of the Fylde Coast are very lucky to still have local shops. All along this coast there are small patches of commerce where local retailers gather together.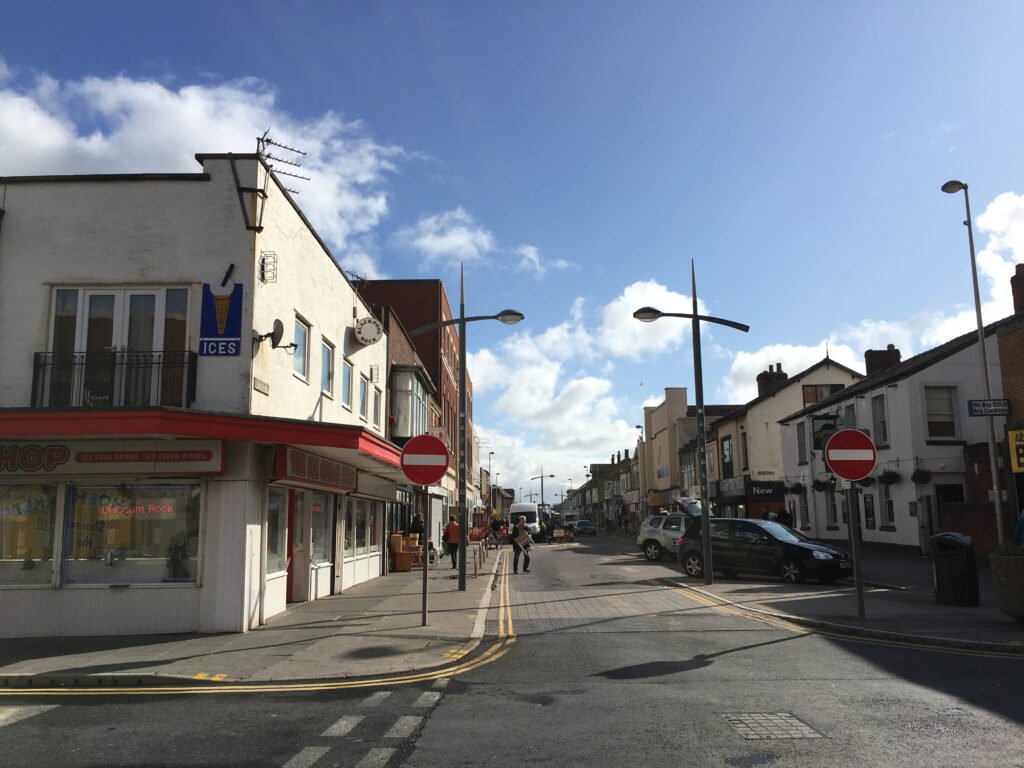 Shopping at South Shore
South Beach at Blackpool is one of these satellite areas.
Waterloo Road
Waterloo Road cuts inland at right angles to the promenade, near to the seafront McDonalds. It's a one-way street, travelling in the direction of the sea.
We went for a walk along Waterloo Road in July 2021. Join us in this short video –
Enjoyed this video? Why don't you subscribe to our Visit Fylde Coast YouTube channel – make sure you don't miss out!
In making this video we found out all kinds of things about Waterloo Road.
For a start, did you realise just how long a road it is? It continues through the main junctions near Blackpool South Railway Station, all the way to the main junction at Oxford Square. That's where the sofa store was converted to an Aldi supermarket and Greggs.
Did you know? The long, straight Blackpool roads like Waterloo Road were first built to separate enclosed common land in the late 1700's. Waterloo Road was originally called Cow Gap Lane!
Interested in local history? Watch the videos – there's lots of information in them about the local area, thanks to Nick Moore and his History of Blackpool and the Fylde Coast.
More Famous Names
Along Waterloo Road you'll find various shops. There's the famous Notarianni's ice cream parlour, Brooks Collectables, cafes and food shops, an indoor market, a couple of pubs and much more.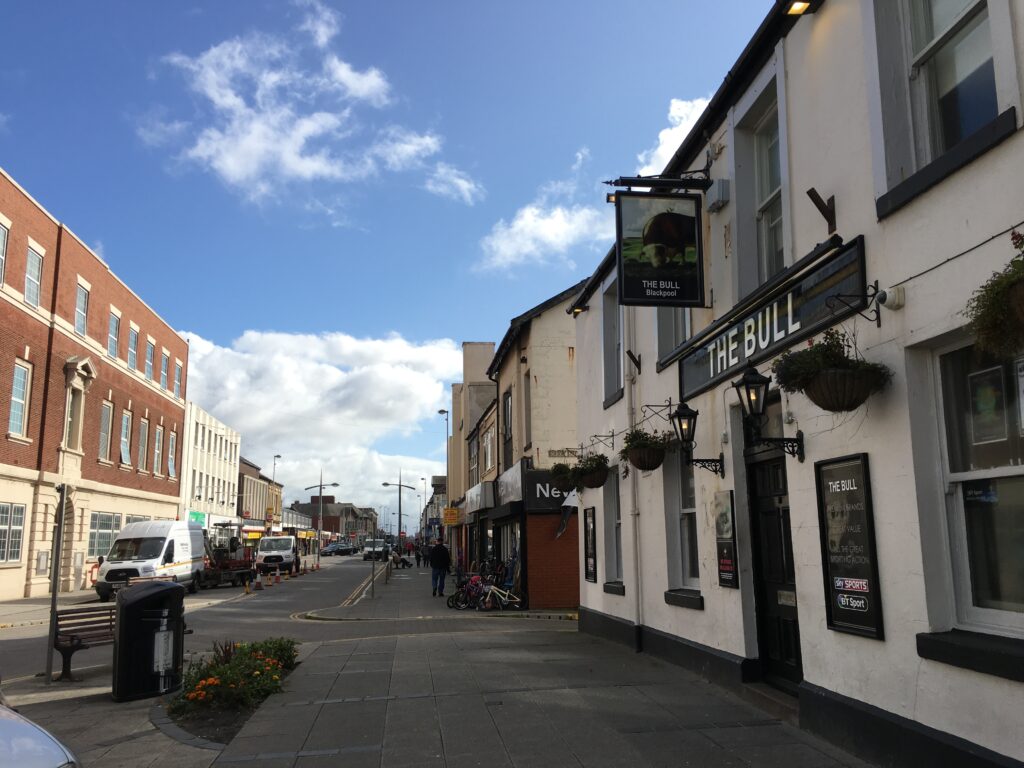 Notarianni's Ice Cream
An ice cream at the seaside is as important as rock, candyfloss and seaside donkeys! Whatever your favourite, it's just something we all have to do.
There's only one flavour at Italian ice cream makers Notarianni's, just off the promenade at Waterloo Road. And that's vanilla!
The current ice cream parlour opened as the families second shop in 1937. It was 1928 at Central Promenade when the business first opened in Blackpool. The secret family recipe has been handed through four generations and is made fresh every day. What's your favourite topping?
Enjoyed this video? Why don't you subscribe to our Visit Fylde Coast YouTube channel – make sure you don't miss out!
Did you know? By 1903 there were 201 registered ice cream dealers in Blackpool. And on 25 January 1918 Blackpool & District Ice Cream Vendors Association was formed!
Bond Street
Off Waterloo Road, one street back from the seafront, is Bond Street. There are still a few excellent shops to visit here, including Mrs Johnson's Emporium.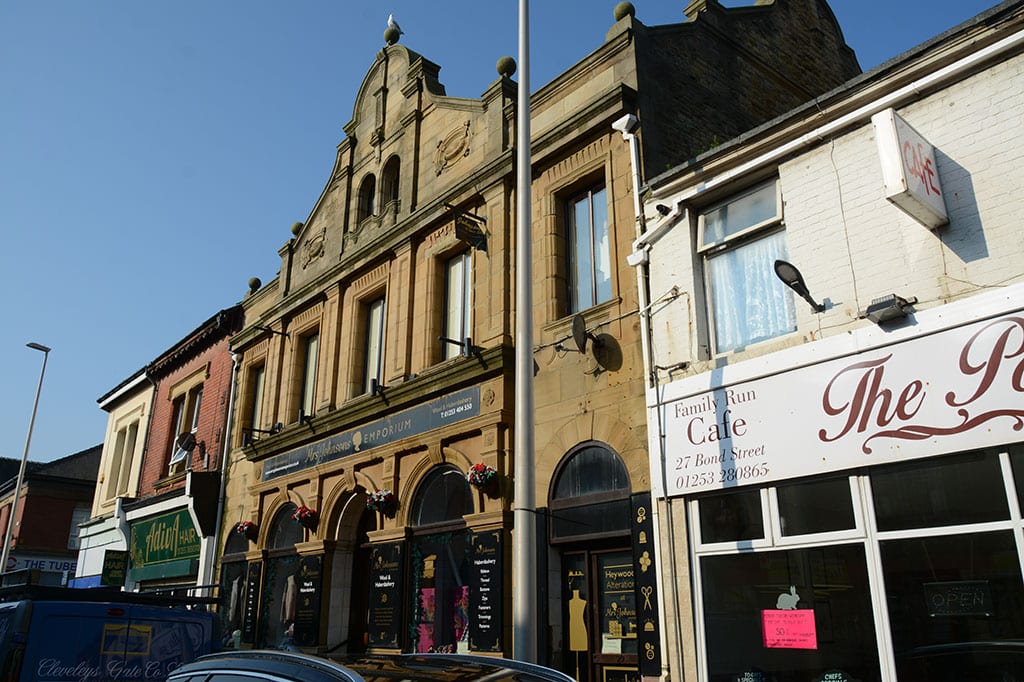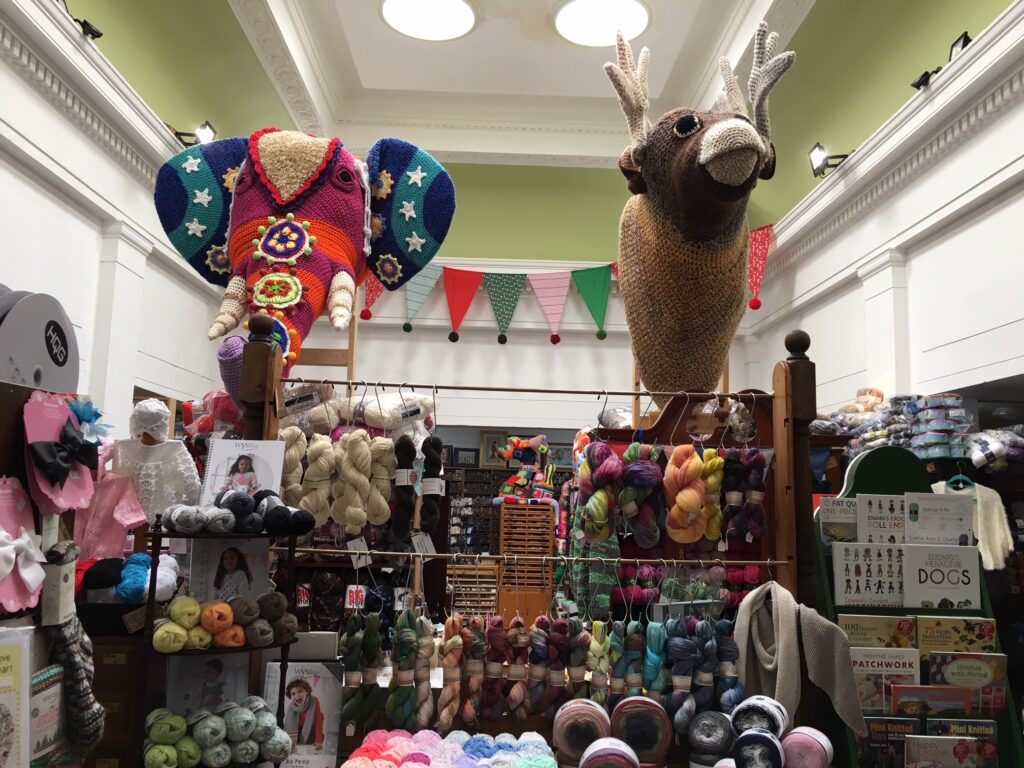 Sadly, Bond Street is a shadow of its former self, although once a busy, bustling shopping street.
Helping out at South Shore
The traders in the area are working hard to make it a more popular spot.
They try to keep the visitors and customers that they've already got, and attract more people into the shops. Here's some of the things they've done –
Traders' have worked together as a formal group
Celebrated the re-opening of Waterloo Road New Market
Liaised with Blackpool Police about issues of Anti Social Behaviour
Worked with the Council and Councillors to find ways of improvement
Canvassed and worked with local shopkeepers
Hosted various public and crafts events – including some yarn bombing!
Quite an impressive list for a starter for ten!
The most important thing to South Shore, and indeed the local shops where you live, is that you support them. Buy your shopping there, and play your part in looking after where you live.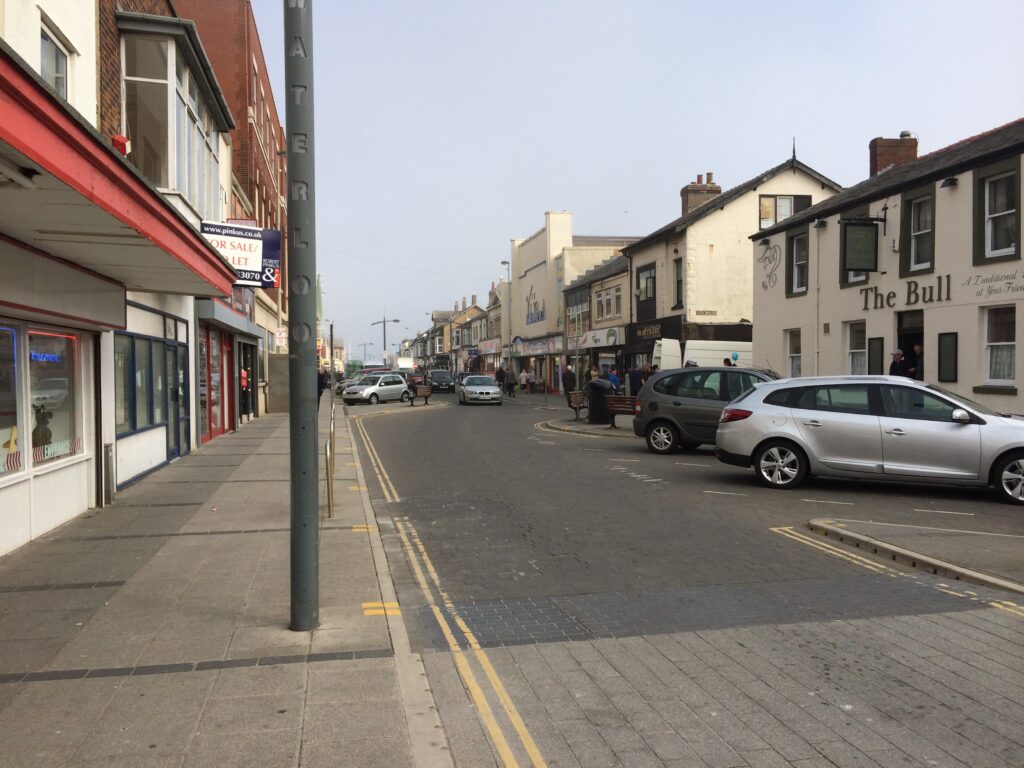 Whether you live in the area or are visiting, these local shops provide so much to the area. It's not just the convenience of what they sell and offer and a pint of milk when you've run out! They create employment and hold the community together. Their presence reduces crime and adds a boat-load of fringe benefits to the wider area where they're situated.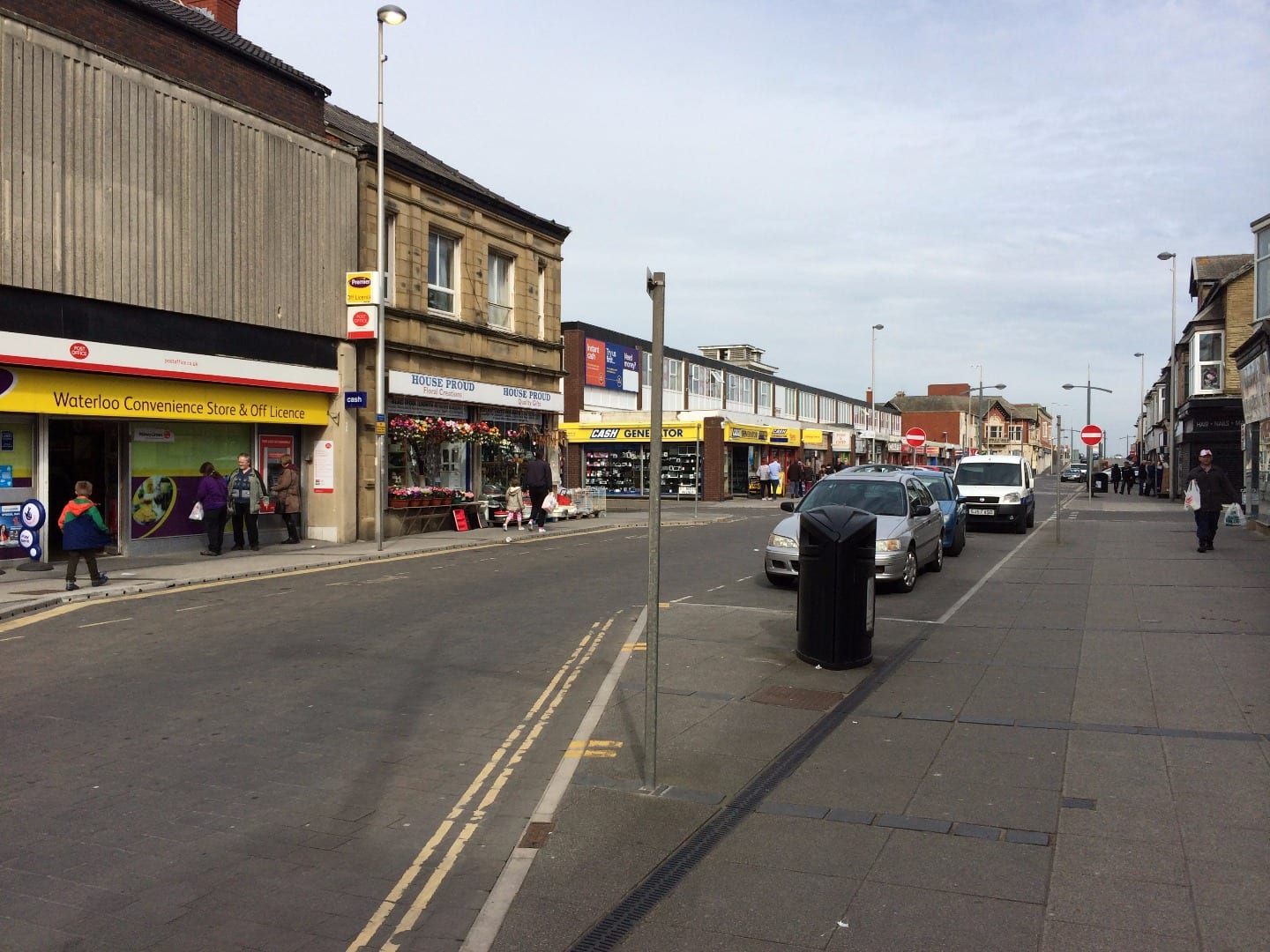 Waterloo Road at South Shore Blackpool
Sprucing up the Planting
Back in 2018, four local councillors provided funding from their ward budgets to help to improve South Shore.
The area around the roundabout at the junction of Lytham Road and Waterloo Road borders the Bloomfield ward, at the time represented by John Jones and Graham Cain, and the Waterloo ward, then represented by David O'Hara and Tony Lee.
After speaking to local businesses, the four decided they wanted to help make a difference by funding planting work. Both pairs of councillors contributed £500 from their local ward budgets to help pay for the work to ensure the area looks tip-top.
While you're here…
What do you think? Why don't you join in and leave a comment below?
Have a look at the homepage of the Live Blackpool website for more of the latest updates.
Love the Fylde Coast? Sign up for your weekly email newsletter. Packed full of interesting things it arrives in your inbox all 52 weeks of the year.
Join us on Facebook at our Visit Fylde Coast Facebook Group
Don't forget to follow us on Twitter @visitFyldeCoast