Salisbury Woodlands is a popular open space in the heart of Blackpool's urban area. Planted in the 1930's it's bordered by East Park Drive and Woodside Drive. It links Blackpool Zoo with Stanley Park.
In this Google map below, the big green area on the left is Stanley Park. The road running through the centre from top to bottom is East Park Drive, and the entrance to Salisbury Woodlands is marked to the centre right of it. Click on the image to go to the Google map.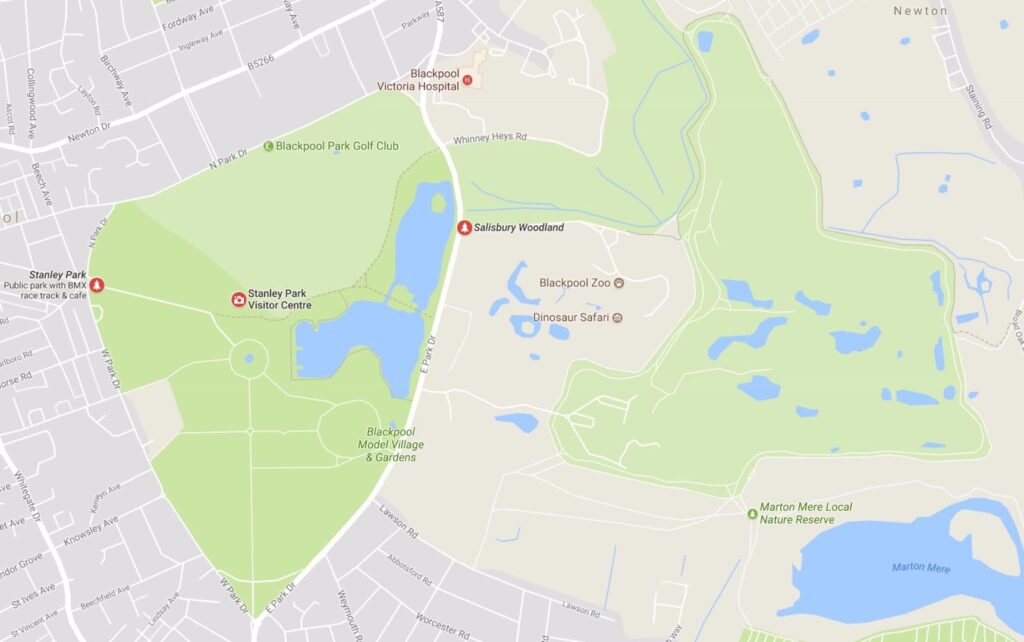 Explore Salisbury Woodlands
Blackpool Council Ranger Service manage and protect the woodlands. They took them over in September 2006, funding and managing their restoration. A variety of local volunteer groups and organisations has helped with this big task.
The woodland has significant local and regional ecological value. It's a County Biological Heritage Site, designated in 1993, for its epiphytic flora, including lichens, fungi and species of moss. Many native and exotic trees and shrubs can be found here. The native species from many different countries can be found in those few acres of land.
The gardens are designed into the landscape. It's somewhere in the centre of Blackpool where you can find nature at its best. Walk the winding paths, listen to birdsong and see insects.
A wide range of wildlife lives in Salisbury Woodlands. Look carefully and you might be lucky enough to see Kingfishers darting along the stream. There are Tree Creepers, Greater Spotted Woodpecker and Blackcaps.
Colonies of Pipistrelle bats live there and feed on insects at night. In the daytime you'll see butterflies such as Orange Tip, Speckled Wood and Peacock. Keep an eye out for dragonflies – they lay their eggs in the ponds at the nearby golf course.
The Friends of Stanley Park and Salisbury Woodlands contribute towards looking after this public green space. They raise funds and provide practical support.
History of Salisbury Woodlands
It's known locally as the 'Woodland Gardens'. The site of Salisbury Woodlands was acquired in 1924 by Blackpool Corporation. It was originally developed as a shelter belt for the neighbouring Stanley Park Golf Course.
The gardens were developed in the 1940s as an arboretum and public open space for everyone to enjoy. It was once a popular location for wedding photographs.
In 1967, Parks Director Norman Leach appointed gardener Pete Perry and his Flying Squad of gardeners to plant up the gardens.
All the plants, (primulas, meconopsis, etc) were grown from seed in the greenhouses at Stanley Park. Extra shrubs, including azalea were also planted.
War Time History surrounding Salisbury Woodlands
The area surrounding the gardens has a fascinating history – many thanks to the Friends of Stanley Park for providing this information.
In 1931 Blackpool Municipal Airport was built on the land now occupied by Blackpool Zoo.
At the time you could get a return flight from there to the Isle of Man for just £1.80. It closed when other companies started flying from Squires Gate Airport in 1936.
In 1939 it became the Stanley Park Aerodrome. After World War II broke out on 3 September 1939, it was requisitioned as an RAF parachute-training centre.
Initially it was the air traffic control building and one hangar, now known as Hangar E. Four more large hangars were later added where Wellington Bombers were assembled and flown off site.
This airfield was a very important part of the war effort. Aircraft flew from there to the Atlantic to search for submarines. A night fighter squadron was also stationed there. The famous aviator Amy Johnson flew from Blackpool Airport to deliver aircraft to an airfield near London. She tragically ran into difficulties and disappeared near the Thames estuary.
You can still see the old aircraft hangars at Blackpool Zoo. The buildings are facing the car park, later to become the large animals and elephant house. This photo was taken in 2018 – the old airport building is the big white one, behind the camels!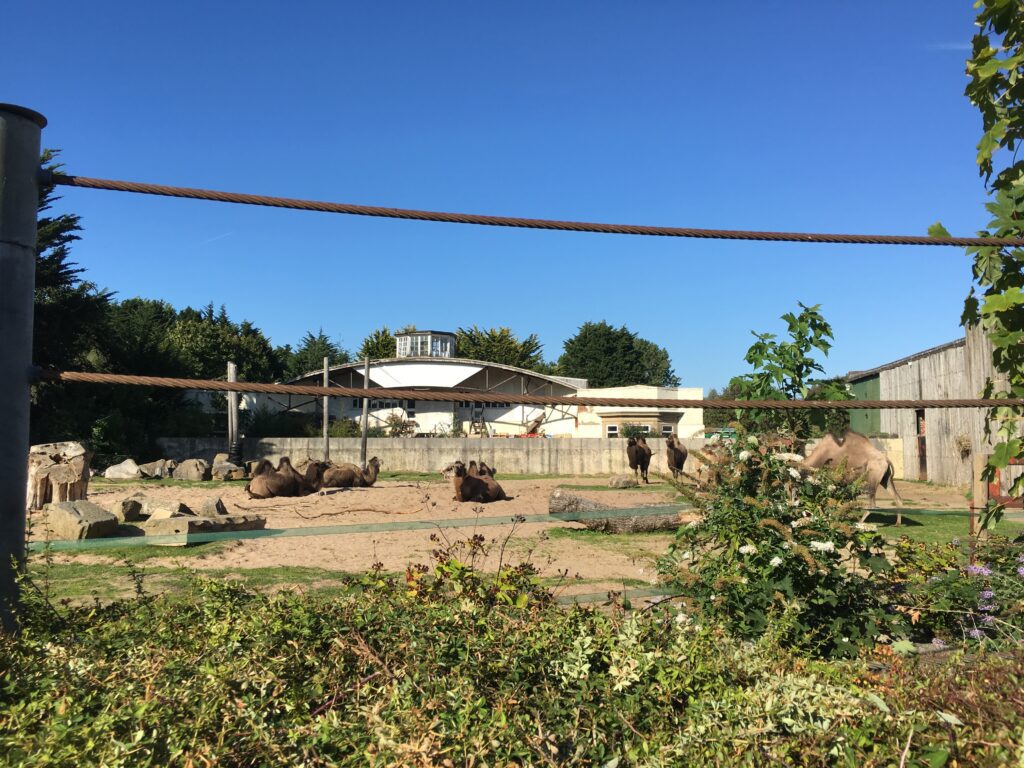 Pillbox in Salisbury Woodlands
You can still find clues of the areas history today. Look for the garden's wartime Pillbox to the east of the site. See it on your left as you travel along the driveway to Blackpool Zoo.
Spot the concrete statue of a soldier sat on top of it, still watching out for the enemy to come along.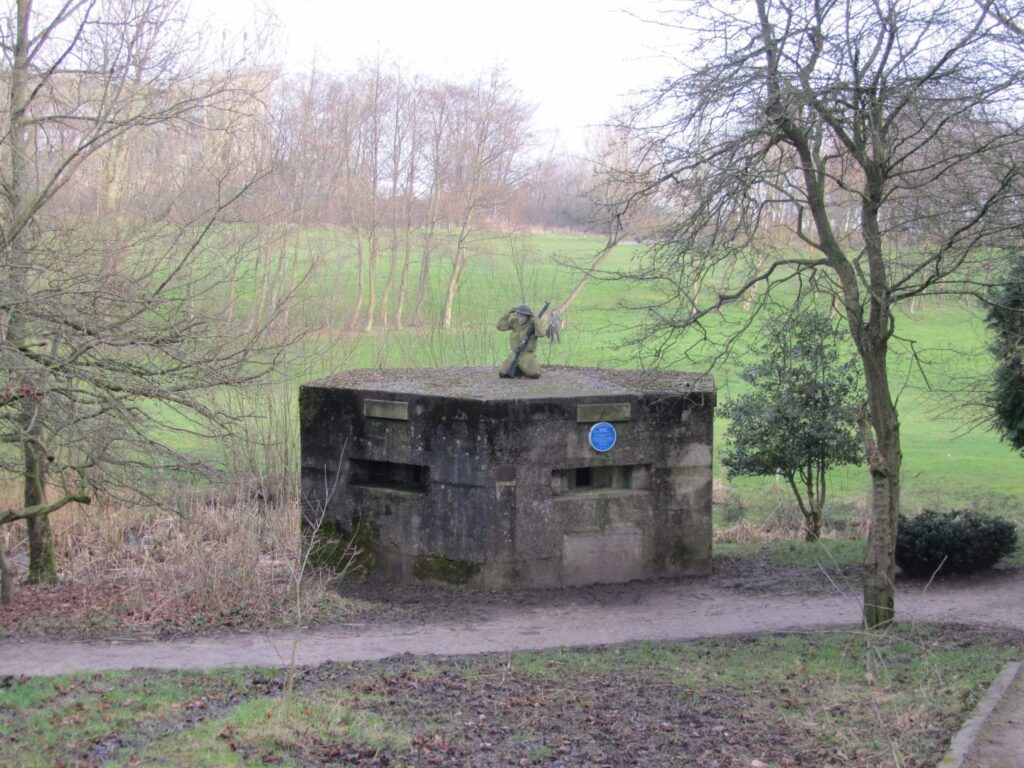 The site and structure is also part of the Blackpool Civic Trust Heritage Trail. The Blue Plaque on it reads:
Pillbox – Type 22
This Pillbox (Military Bunker) was constructed during the early years of WWII in 1940 and was designated as a lookout post to defend the former Stanley Park Municipal Airport which had opened in 1931.
The airport was commandeered in 1939 by the Royal Air Force as a Technical Training School. Wellington Bombers were also assembled there. Hexagonal in shape, the Pillbox is built with reinforced concrete and stone aggregate and was designed for use by the Military or Home Guard Riflemen.
Used extensively during the First World War Pillboxes were circular in design, similar to a pillbox containing tablets prescribed by a chemist – hence the name.
Less than 6000 of 28,000 pillboxes are estimated to still be surviving
Here's another Fylde Coast pillbox which we explored for you –
Enjoyed this video? Why don't you subscribe to our Visit Fylde Coast YouTube channel – make sure you don't miss out!
While you're here…
What do you think? Why don't you join in and leave a comment below?
Have a look at the homepage of the Live Blackpool website for more of the latest updates.
Love the Fylde Coast? Sign up for our weekly email newsletter. Packed full of interesting things it arrives in your inbox all 52 weeks of the year.
Join us on Facebook at our Visit Fylde Coast Facebook Group
Don't forget to follow us on Twitter @visitFyldeCoast