Have you got the X Factor? 
X Factor Auditions
Sunday 18 March from 10am to 2pm
On Blackpool Promenade
The X Factor Auditions are coming to Blackpool and they're looking for you!
Don't miss your chance – apply now by emailing Ross.whyatt@thames.tv  – please say you saw it on Visit Fylde Coast.
Or just turn up to open auditions on the day.
---
Famous People Filming in Blackpool
It's not at all unusual to see film crews here in Blackpool. The area is regularly used as a location for so many different things. 
Keep your eyes peeled for any famous faces and if you catch anyone on film please let us know!
You can email your pics to us at jane@theRabbitPatch.co.uk
Or post them to the Visit Fylde Coast Facebook Group (join first)
---
Miss Peregrine's Home for Peculiar Children, directed by Tim Burton, released 30.9.16 by 20th Century Fox.
Published October 206
Miss Peregrine's Home for Peculiar Children is a dark fantasy adventure film with scenes show here in Blackpool.
The new TV trailer for the film ends with iconic scenes of Blackpool Tower, seafront and pier – albeit their positions in relation to one another have been electronically moved about a bit – making a wonderful showcase for the resort.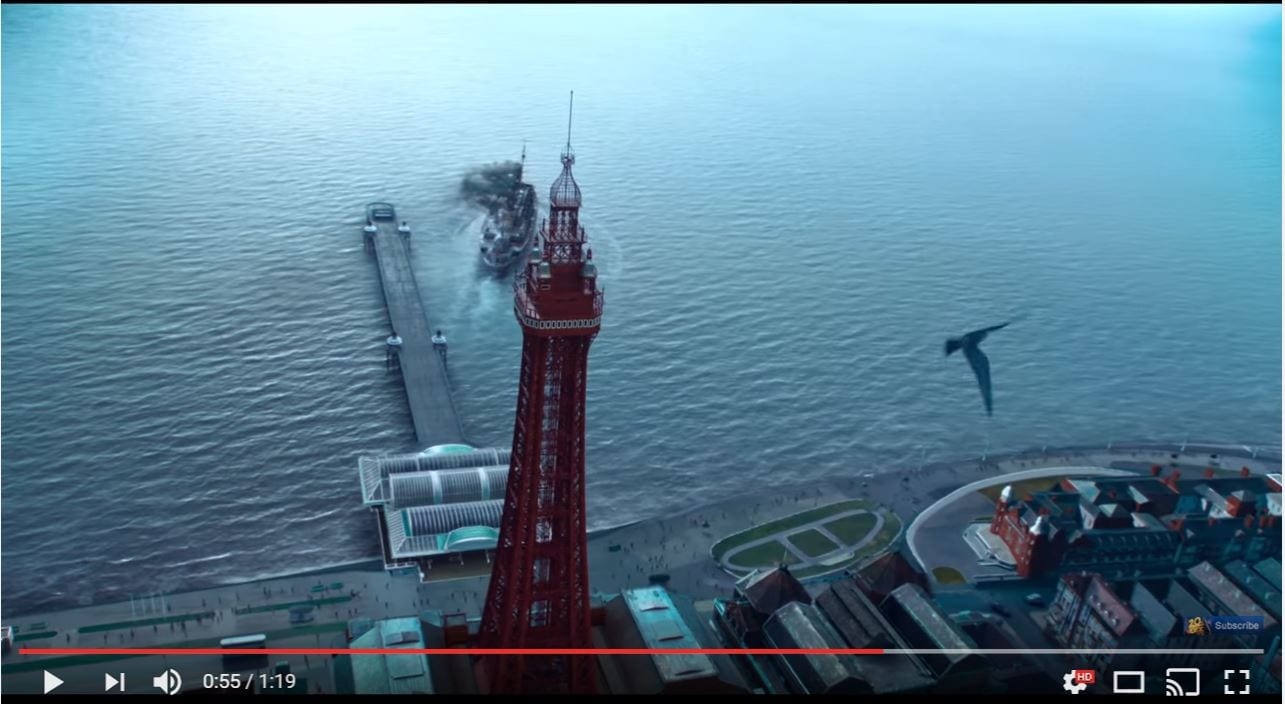 Blackpool scenes in the trailer for Miss Peregrines Home for Peculiar Children
Have a look at the trailer here:

Miss Peregrine's Home for Peculiar Children is produced by Peter Chernin and Jenno Topping and written by Jane Goldman, based on the 2011 novel of the same name by Ransom Riggs.
The film stars Eva Green, Asa Butterfield, Chris O'Dowd, Allison Janney, Rupert Everett, Terence Stamp, Ella Purnell, Judi Dench and Samuel L. Jackson.
Filming began in February 2015 in London, with a number of scenes being shot in Blackpool during May 2015.
While filming did cause some disruption in the town, with the promenade closed for some time while filming took place, the buzz it created at the time when everyone was star struck and looking for celebrities to photograph, and the excitement and exposure now as the film is due for release, more than made up for it.
It's a Wrap!
(Published May 2015)
Filming took place on the promenade, North Pier and in the Tower in May 2015 for the Fox Film, Miss Peregrine's Home for Peculiar Children, starring a host of famous actors including Samuel L. Jackson.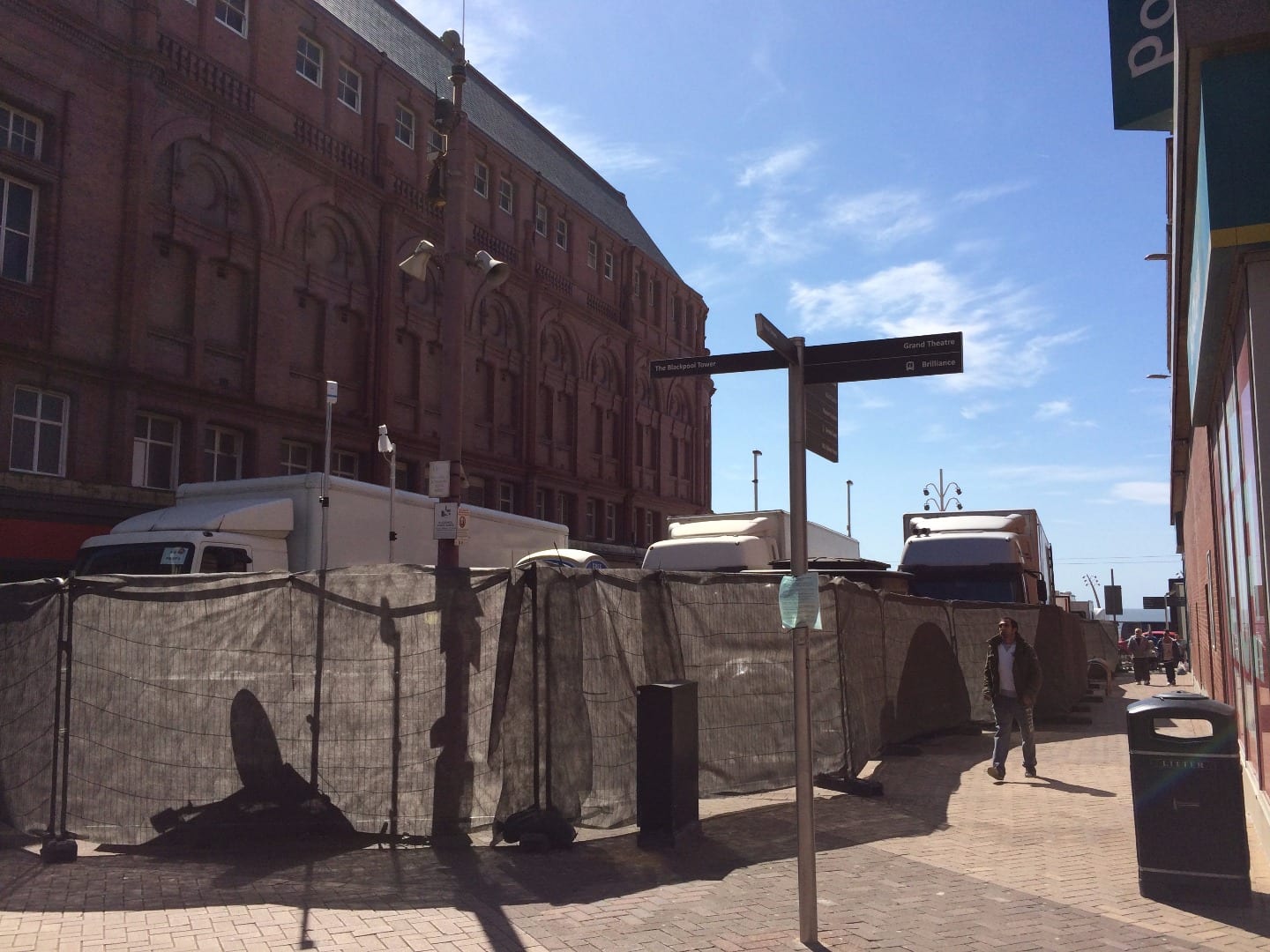 The activity on the promenade is now complete and there will be no road closures in place next week. Filming continues elsewhere and the production team would like to thank everyone for their support and patience.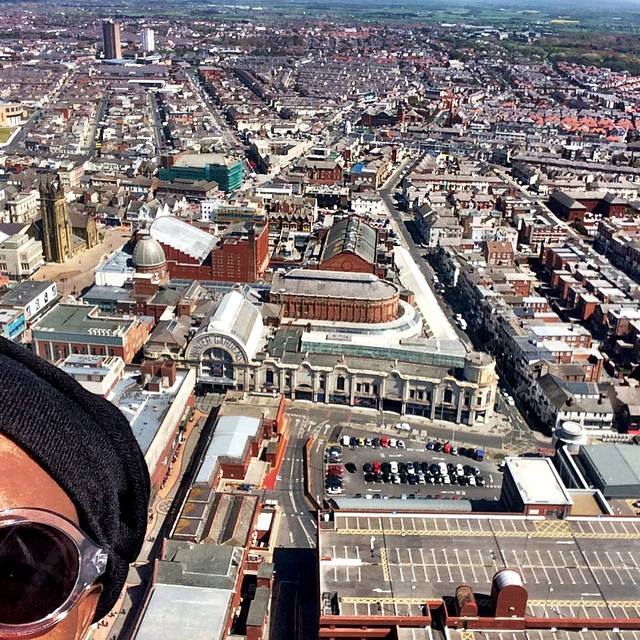 Samuel L. Jackson's selfie, posted on his Facebook page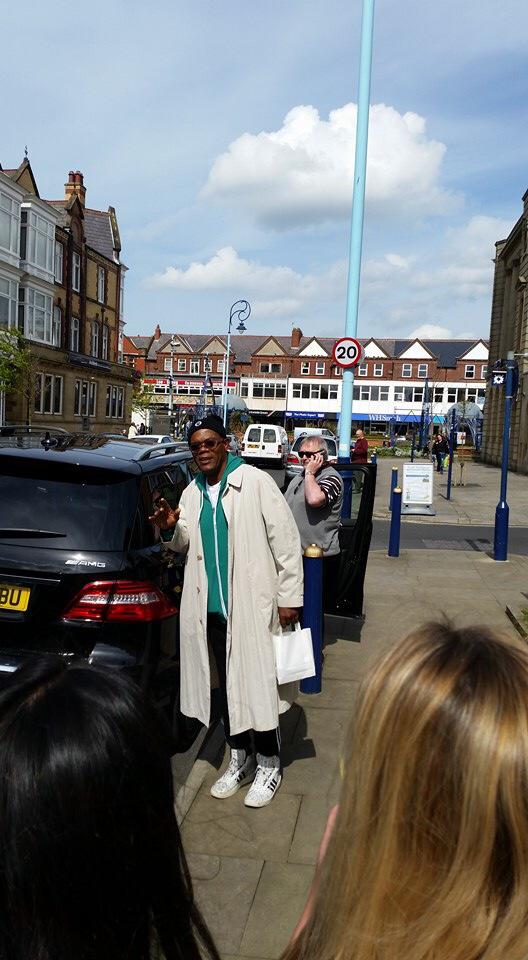 Shopping in St Annes, photo from The Attik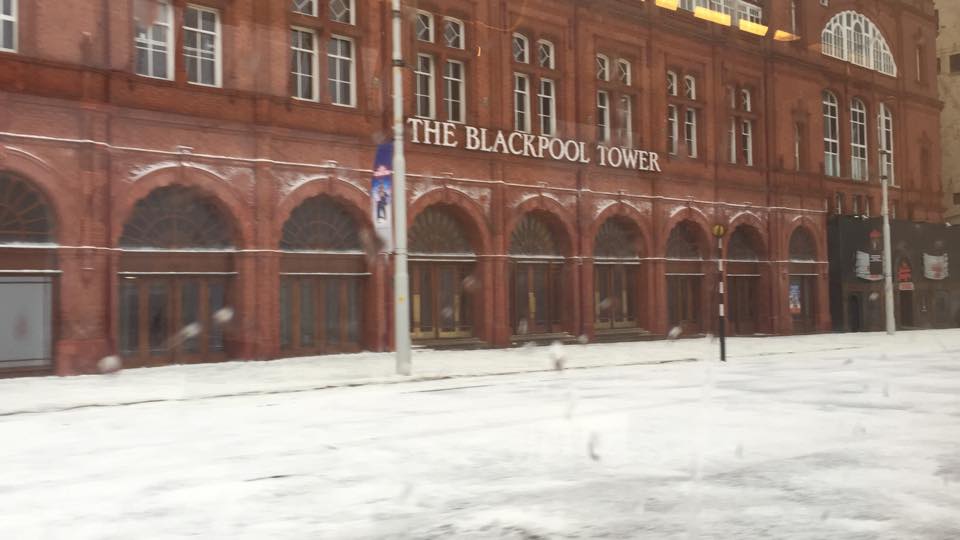 Snow on Blackpool prom, photo from Funky Towers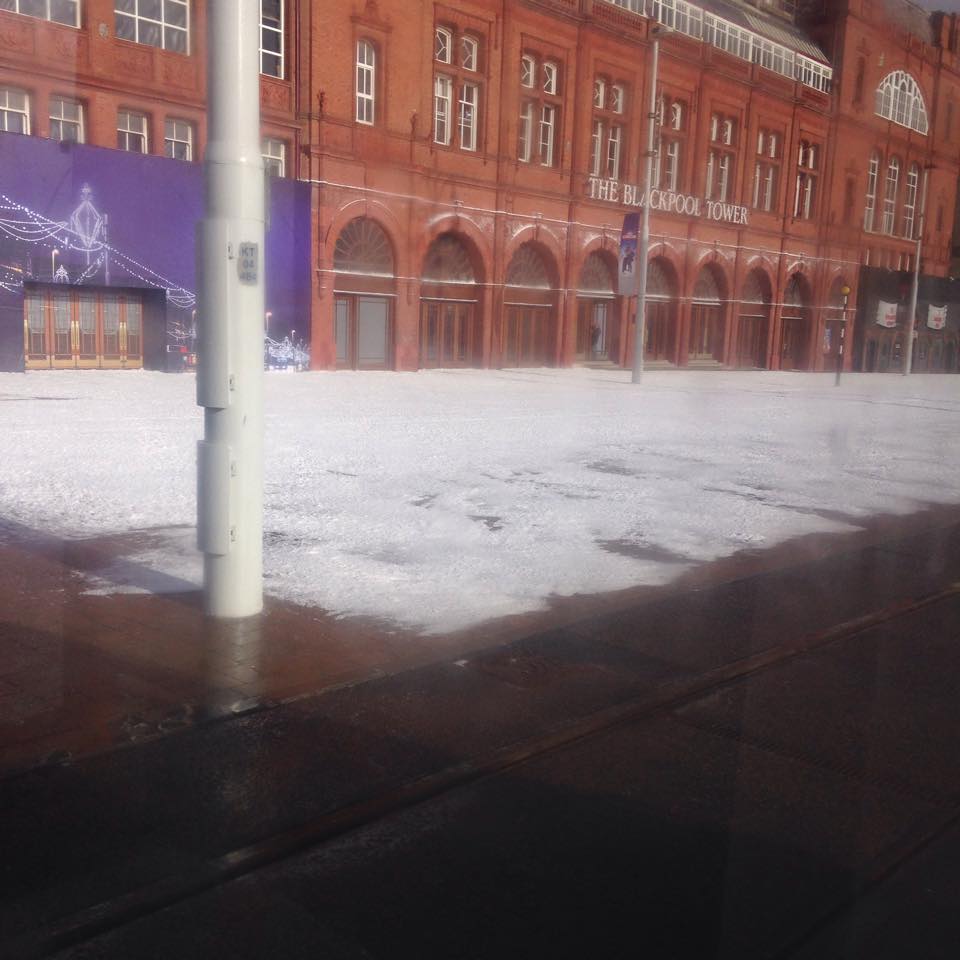 More snow on Blackpool prom, photo from Tim Bailey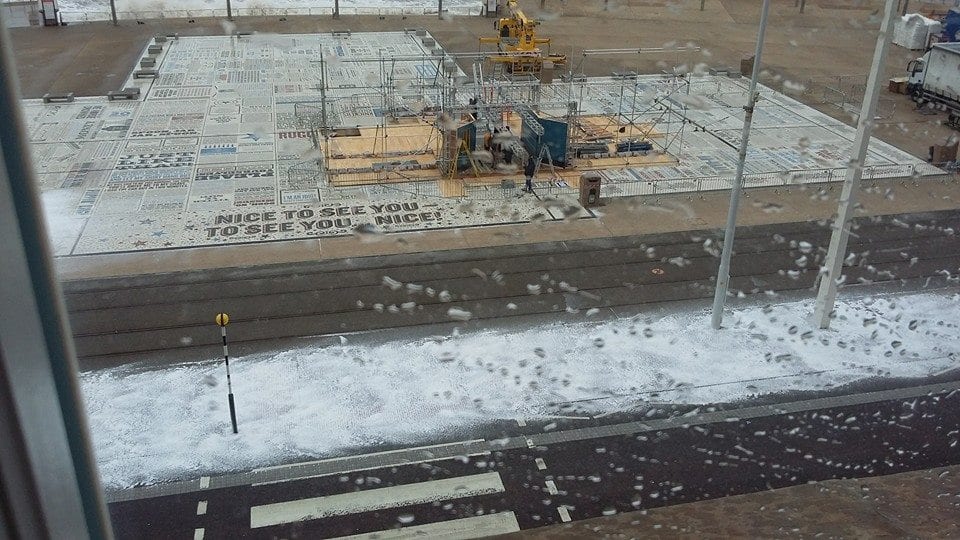 Louise Sewell snapped this photo of the snow being made
Flexity Trams to Star in Hollywood Film
Well maybe not quite 'star', but two of Blackpool's Flexity trams should certainly feature in the new Hollywood film "Miss Peregrine's Home for Peculiars" that was shot in the resort in May 2015.
The film is due to be released in cinemas in 2016, is directed by Tim Burton and stars several well known actors such as Samuel L. Jackson, Judi Dench, Terence Stamp and Rupert Everett, to name a few.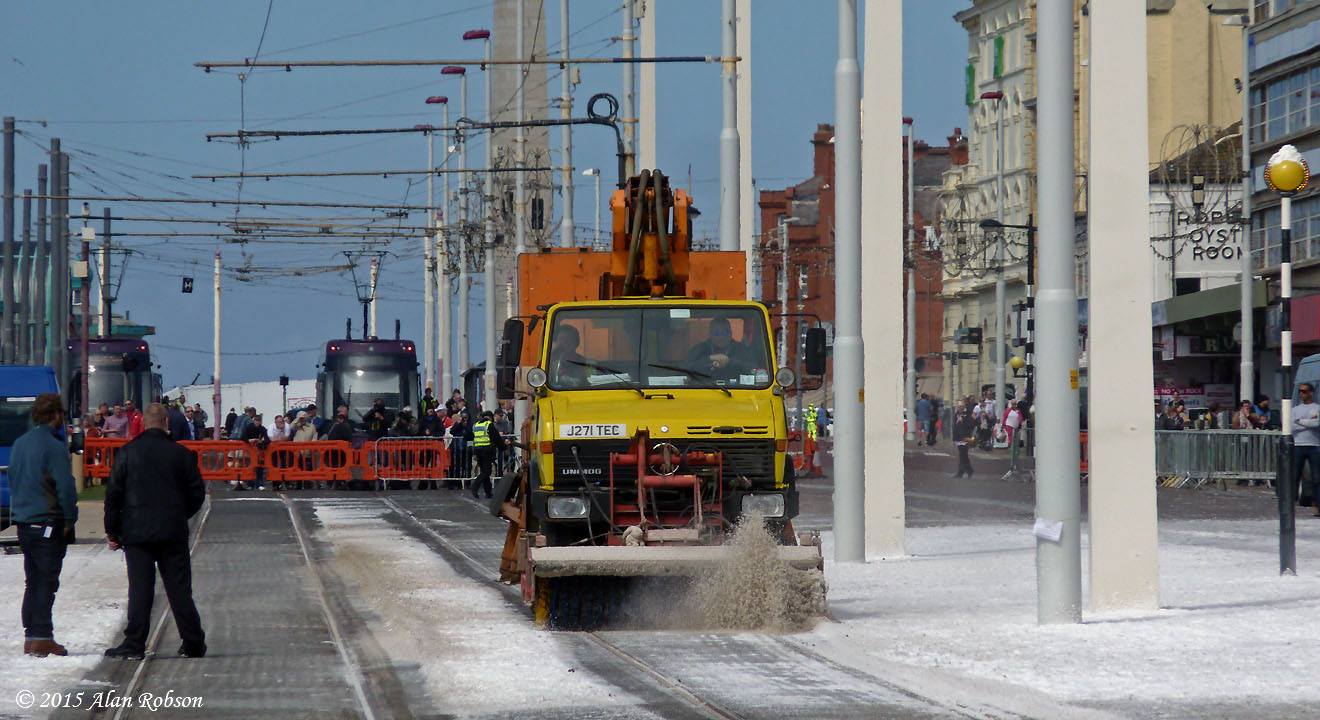 A rather unusual sight in May, Unimog 939 using its rotary brush attachment to clear the tram tracks of snow (albeit artificial) on 7th May.
The scenes shot in Blackpool are set in winter, and the Promenade in front of the Tower was been covered with artificial snow including the tram tracks. The Promenade around the film set was closed off to the public and traffic each day, causing havoc for the bus and tram services.
Two Flexity trams were requisitioned to act as props for the duration of the filming, the trams chosen were 007 and 009 without advertising. The trams were parked either side of the zebra crossing in front of the Tower with their lights on each day – used to simulate a busy street scene, along with many cars and dozens of members of the public employed as extras.
At the end of each day's filming, Unimog 939 swept the tram tracks clear of the artificial snow using its rotary brush attachment, so that normal tram services could resume again at 1500.
Filming Schedule
Filming took place at Blackpool Tower, on the Promenade in front of Blackpool Tower and on North Pier between Friday 1 May and Friday 15 May 2015. 
Preparation work saw technical vehicles parked around the Tower which carried essential filming equipment and needed to be as close to the location as possible.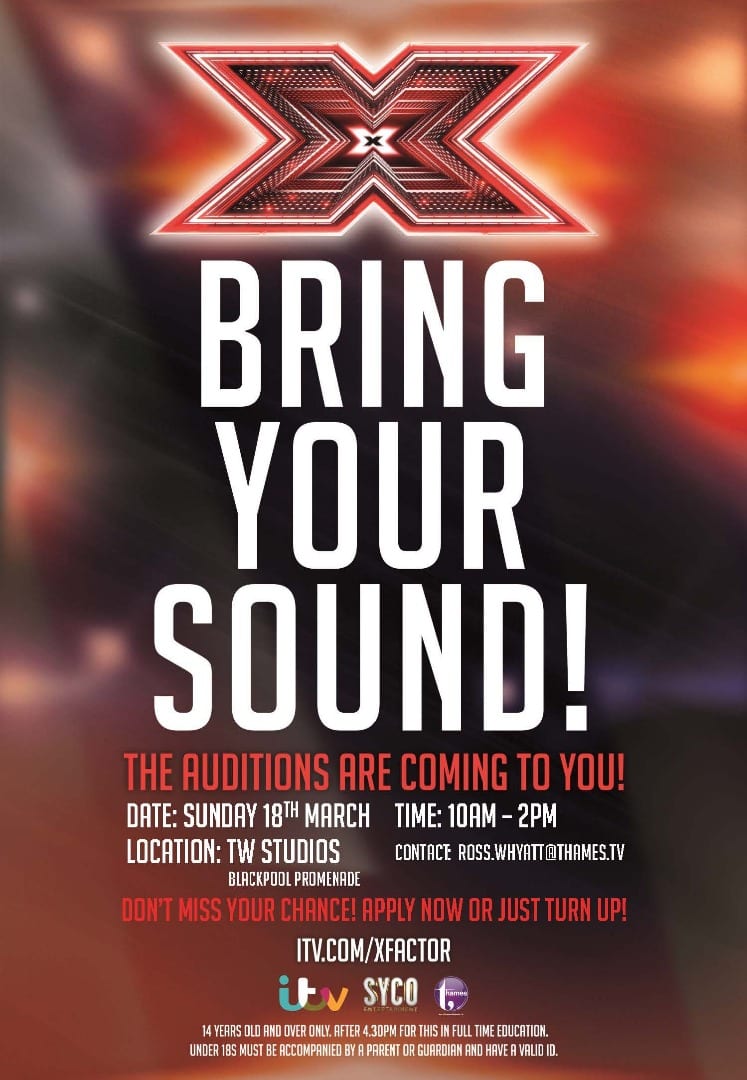 X Factor auditions in Blackpool 2018