Blackpool is an iconic location and it's no stranger to appearances on television. It's a favourite location for your favourite soap, Coronation Street – filmed here many times. The most famous episode was probably the one where Alan Bradley got knocked down by a tram! In more recent years some big name stars have been filming in Blackpool.
Blackpool Grand features in BBC children's drama DODGER!
BBC TV presents Dodger on BBC iPlayer, with locations filmed at Blackpool Grand Theatre during COVID closure periods. Be transported back in time to the wonder of Victorian England. Enjoy the beauty of Blackpool Grand's Grade 11* listed building in Episode Five – as it was first experienced!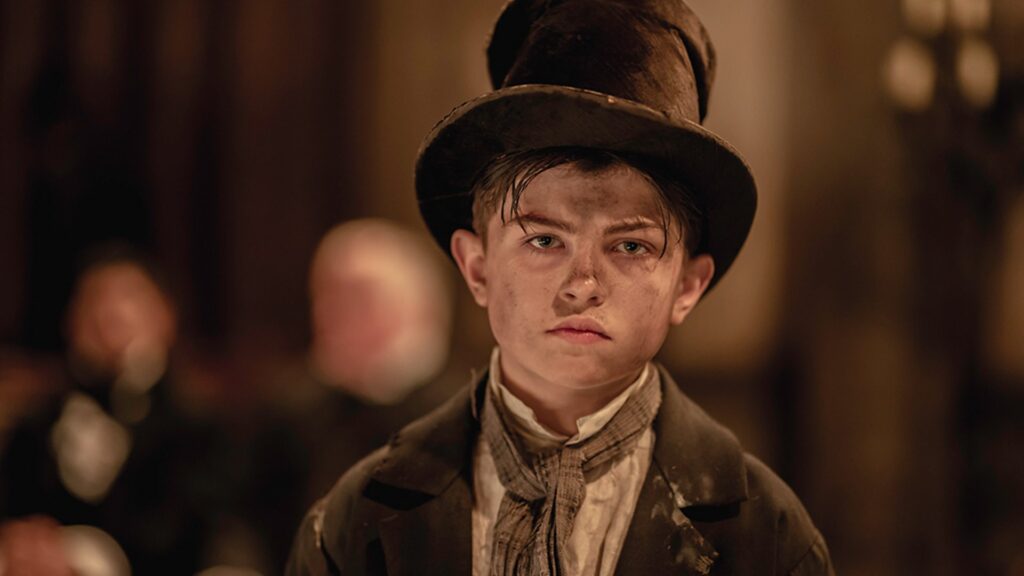 The Grand Theatre is featured right from the very beginning of the action-packed episode of the Oliver Twist prequel. Fagin's gang fight to save Tang's life, Dodger scores a leading role at a haunted theatre and Polly strikes a questionable deal with the enemy.
Filming of the series took place across the Northwest, including Blackpool's iconic Victorian theatre, Blackpool Grand. Filming at the venue took place during the theatre's closure as a performance venue during Covid-19. Blackpool Grand Chief Executive is Ruth Eastwood. She said: 'The timing of the filming was vital to the theatre and really helped towards the theatre's running costs while closed. We were delighted to be approached by the production company and the director. From the moment they arrived in our venue they were delighted with the setting. They even wanted to change how scenes were filmed to fit with the venue.
'The theatre is committed to and known in the Northwest for presenting high quality children's drama. This season's highlights include George Orwell's Animal Farm and Michael Morpurgo's Private Peaceful – two incredible classics. The theatre also sees the return of distinguished children's companies Northern Ballet (with Pinocchio) and Birmingham Stage Company with David Walliam's hit Gangsta Granny.'
More about Dodger – filming in Blackpool
DODGER is a CBBC production and is an Oliver Twist spin-off (produced by NBCUniversal International Studios). It doesn't conceal anything of the squalid shortages of 19th-century life as a young child. Welcome to a world of sickening health and shivering shamelessness living conditions….
This ten-part family adventure series is a prequel to the events of the famous Charles Dickens' novel and stars Christopher Eccleston (The A Word, The Leftovers) as Fagin. David Threlfall (Shameless, Housewife, 49) is Chief of Police, Sir Charles Rowan. Playing Dodger is Billy Jenkins (The Crown) with Saira Choudhry (Life, No Offence) as Nancy. It's one of several new BBC dramas set to air over the coming year.
The Grand Theatre has appeared in many films and TV series including for BBC, ITV and Channel 5. The Grand was very happy to work with the production team at NBCUniversal International Studios to help return the theatre to the Victorian era.
DODGER is a funny, optimistic, fast-paced comedy drama full of jeopardy, set before the events of Charles Dickens' iconic novel, Oliver Twist. There are some familiar characters and a whole gallery of colourful, new ones. Each episode is a standalone adventure, brought together at the end of the ten-part series with some dramatic reveals and surprises.
DODGER started on CBBC, 6 February 2022. It can be streamed as a boxset via BBC iPlayer, or watch on Sundays at 5:30pm CBBC.
'Stay Close' Filming in Blackpool 2021
Have you seen 'Stay Close' on Netflix yet? The new drama, starring James Nesbitt and Richard Armitage, shot to the top of the app's most-watched charts in more than 70 countries after it's release on 31 December 2021.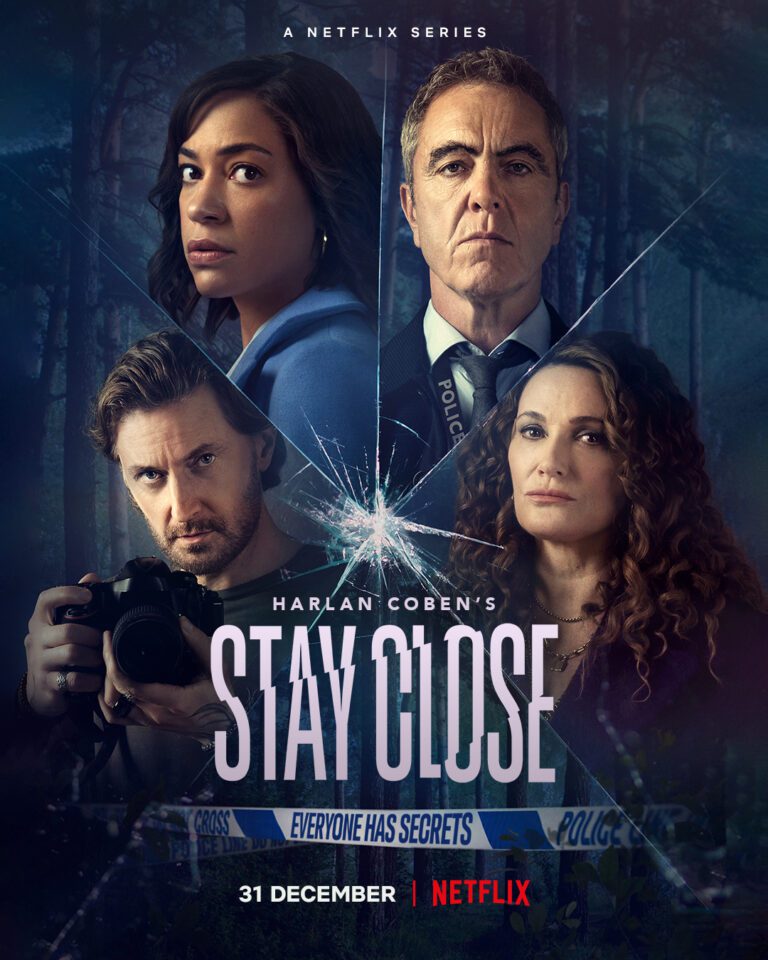 The Blackpool Film Office welcomed the Netflix production last year. They were filming in iconic locations such Blackpool Promenade, Central Pier and Beach House Bar & Restaurant. And of course the world-famous Blackpool Illuminations too! Using Blackpool as a backdrop for so much of the filming is a fabulous advert for the resort. Especially with millions of viewers hooked on this must-watch TV series.
Did you catch any of the filming? Have you got any photos to share? Email them to jane@theRabbitPatch.co.uk (full credit given)
Other Local Filming
It's not just Blackpool – all of the Fylde Coast is popular with TV and film producers. There's been a number of hit programmes and films made her over the last few years. From Antiques Roadshow filmed at Lytham Hall, to war dramas filmed on St Annes beach.
And of course in May 2021, Disney also visited nearby Cleveleys, to shoot scenes for the upcoming Star Wars spin-off, Andor
Filming in Blackpool 2020 – Cinderella
During the last week of February 2020, the trucks and trailers associated with filming arrived in Blackpool.
On Tuesday 25 February, the pedestrianised space between the Tower and Poundland was parked up with trucks. On Wednesday the marquee people had arrived and started rigging up a tent on Tower Festival Headland, at the right of the Comedy Carpet.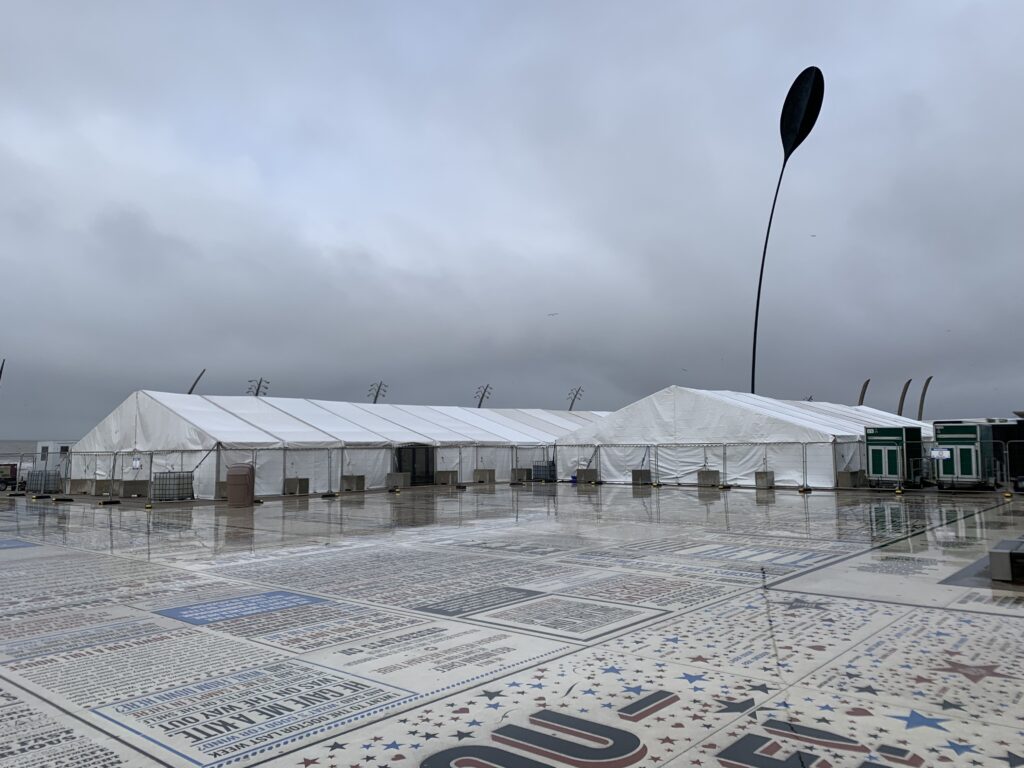 Rumours started flying around and locals started asking questions on Facebook. It's obviously something big, from the amount of infrastructure that's come with them, and the 'Pinewood Lighting' trucks!
What do we know?
This filming in Blackpool was surrounded by mystery. There was no press release, and no statements from the business community. Visit Fylde Coast contacted Merlin, who told us they'd signed a 'Non Disclosure Agreement', so couldn't comment.
However, the Fylde Coast rumour mill seemed to know what was happening – and the collective voice of the people is usually not far from right! And local details are confirmed by the IMDb website that it was for a Disney production, a new version of Cinderella. Directed by Kay Cannon it was in cinemas in 2021. A modern, musical version of the classic fairy tale.
The story is by James Corden who is also one of the producers. He features in the film as a Footman/Mouse.
Indina Menzel, possibly best known for singing 'Let it Go' on the film Frozen,played the Stepmother. While Camila Cabello plays Cinderella herself. Pierce Brosnan and Minnie Driver are also reputed to be filming at The Tower.
Cast List
Camila Cabello as Cinderella
Billy Porter as Fairy Godmother
Idina Menzel as Cinderella's stepmother
Nicholas Galitzine as Prince Robert
Pierce Brosnan as the King
Minnie Driver as the Queen
Maddie Baillio as Anastasia
Charlotte Spencer as Drizella
John Mulaney as Footman/mouse
James Corden as Footman/mouse
Romesh Ranganathan as Footman/mouse
Missy Elliott as Town Crier
Lyndon Ogbourne as Cinderella's father
See what's happening!
Visit Fylde Coast went along to see what we could see, on the morning of Tuesday 3 March. Sadly, it was raining while we were there – and would you believe fined up in the afternoon!
We took a walk around the block, videoing what's to be seen, trailers and equipment, which you can watch here –
As we drove away, would you believe that a group of actors walked across to the Tower! They came from the wardrobe-department marquee on the promenade, and in full costume walked across the crossing to the Tower. So I think that we can say we've seen some ugly sisters today 😉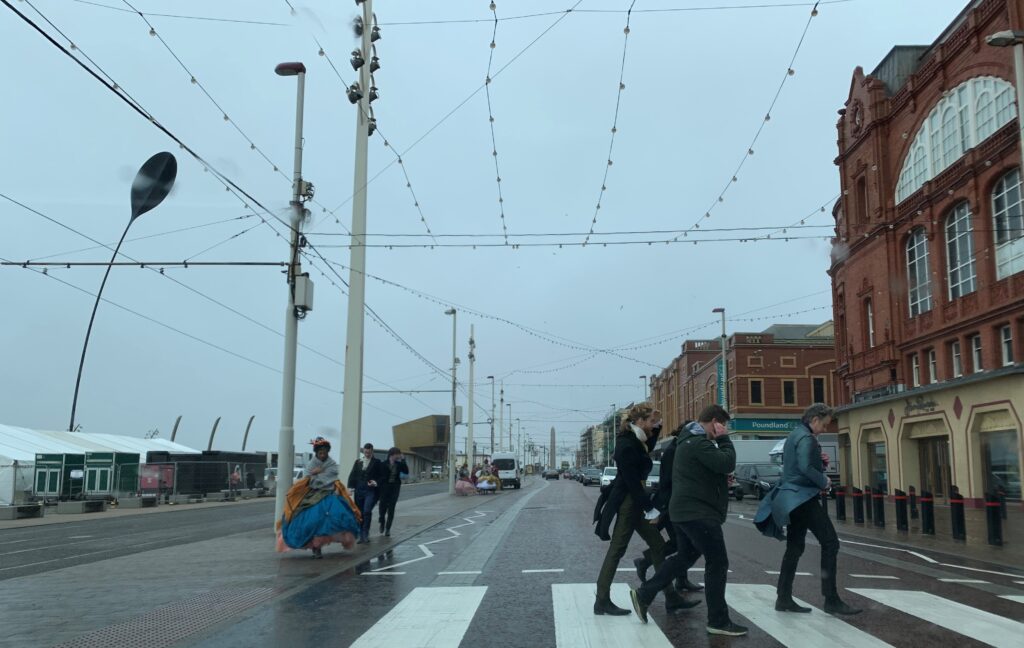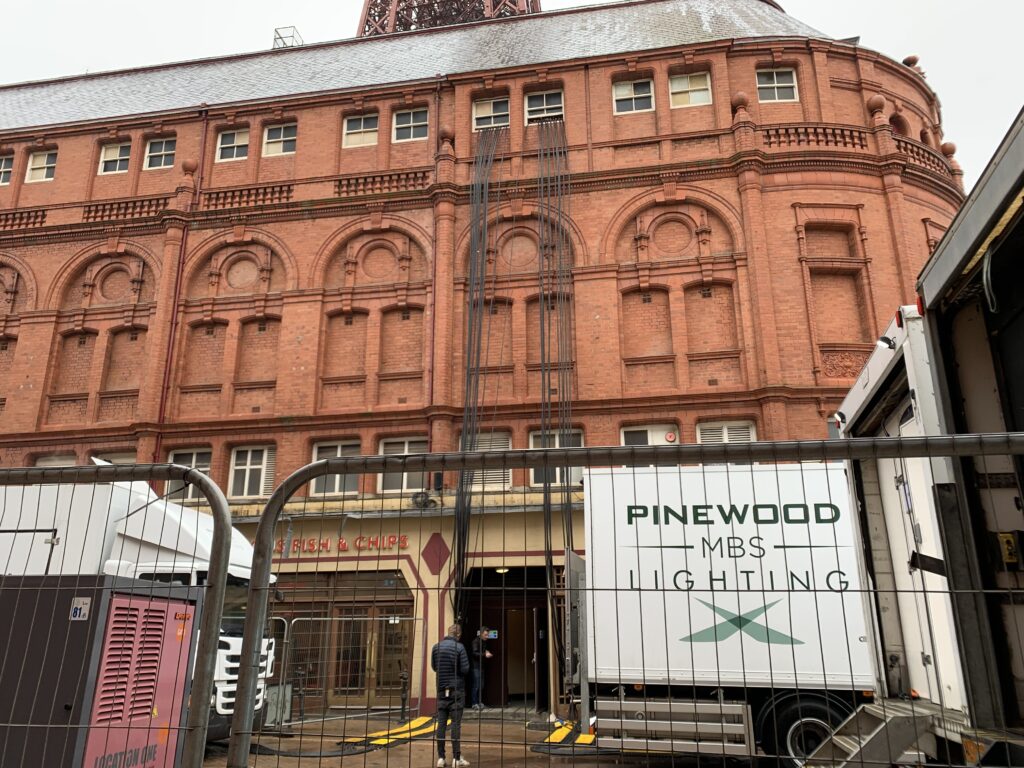 Following article published October 2016
2016: Miss Peregrine's Home for Peculiar Children.
Directed by Tim Burton, released 30.9.16 by 20th Century Fox.
Miss Peregrine's Home for Peculiar Children is a dark fantasy adventure film, with scenes shot here in Blackpool.
The TV trailer for the film ends with iconic scenes of Blackpool Tower, seafront and pier. Albeit their positions in relation to one another have been electronically moved about a bit. But it's a wonderful showcase for the resort.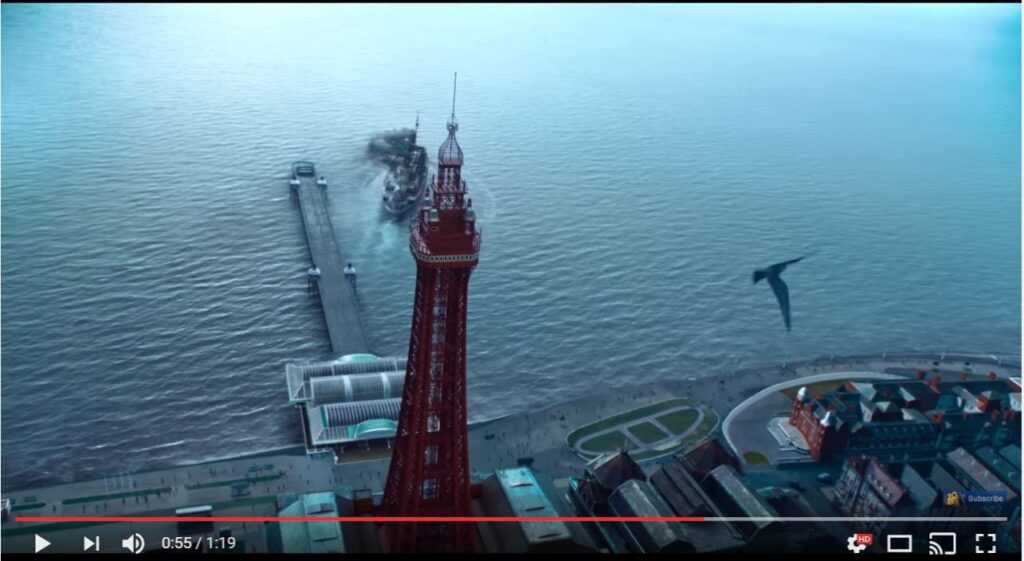 Watch the trailer here –
Miss Peregrine's Home for Peculiar Children is produced by Peter Chernin and Jenno Topping and written by Jane Goldman. It's based on the 2011 novel of the same name by Ransom Riggs. It stars Eva Green, Asa Butterfield, Chris O'Dowd, Allison Janney, Rupert Everett, Terence Stamp, Ella Purnell, Judi Dench and Samuel L. Jackson.
Filming began in February 2015 in London, with a number of scenes being shot in Blackpool during May 2015.
Filming did cause some disruption in the town, and the promenade was closed for some time while filming took place. But the buzz it created at the time more than made up for it. Everyone was star struck and looking for celebrities to photograph. Then there's the excitement and exposure when the film is released. We love being famous in Blackpool!
2015: It's a Wrap!
Filming took place on the promenade, North Pier and in the Tower between 1 and 15 May 2015 for the Fox Film, Miss Peregrine's Home for Peculiar Children. Preparation work saw technical vehicles parked around the Tower. With essential filming equipment they needed to be as close to the location as possible.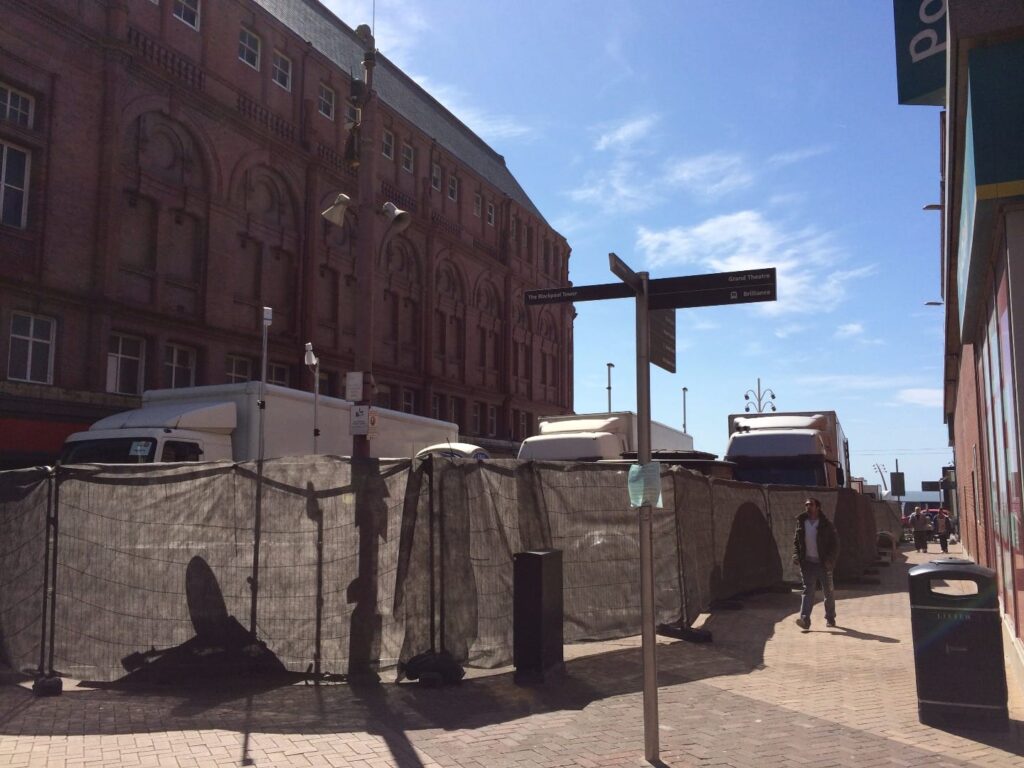 Famous Faces during Filming in Blackpool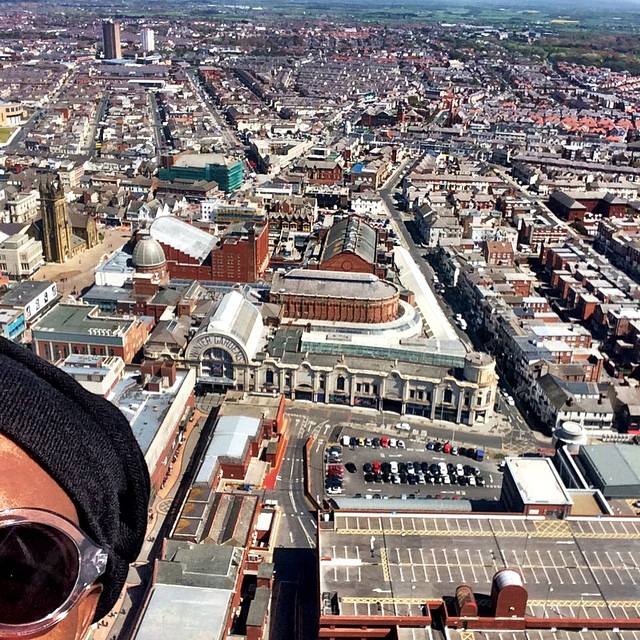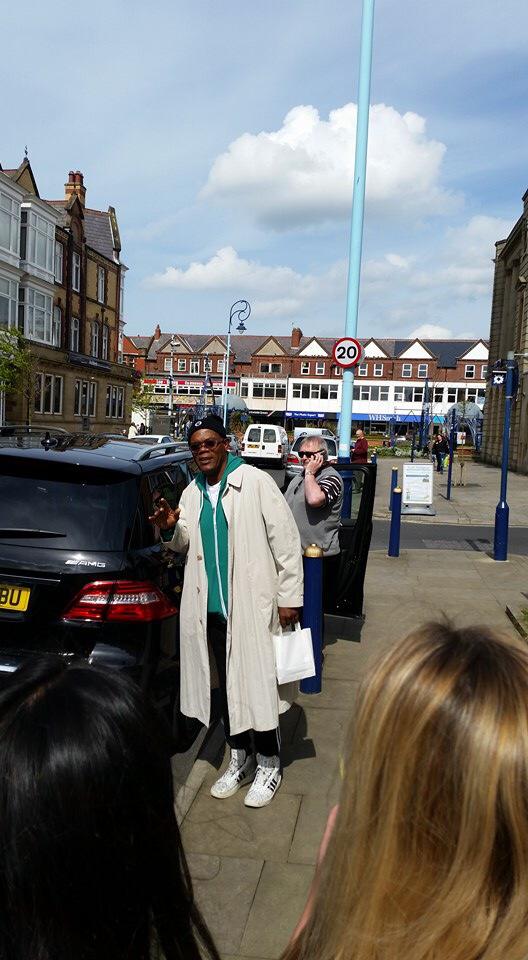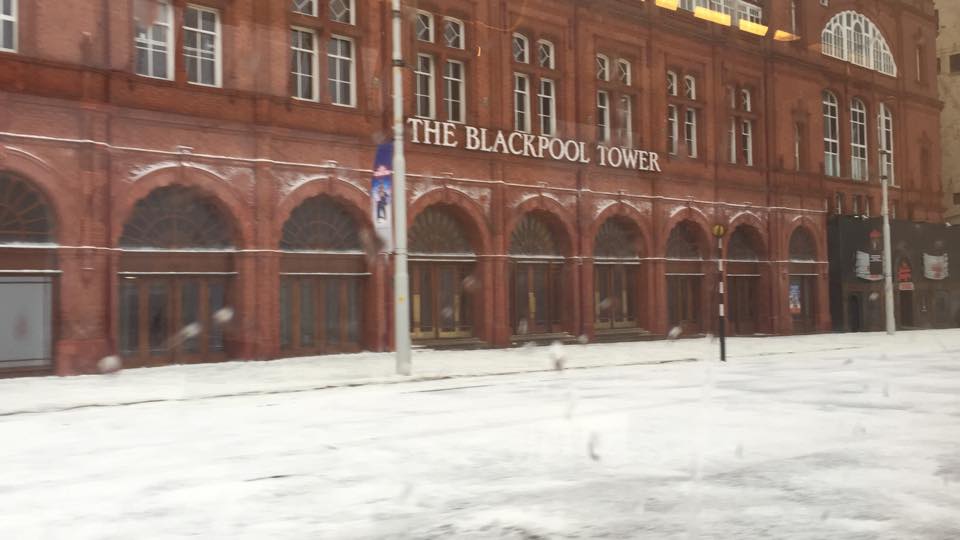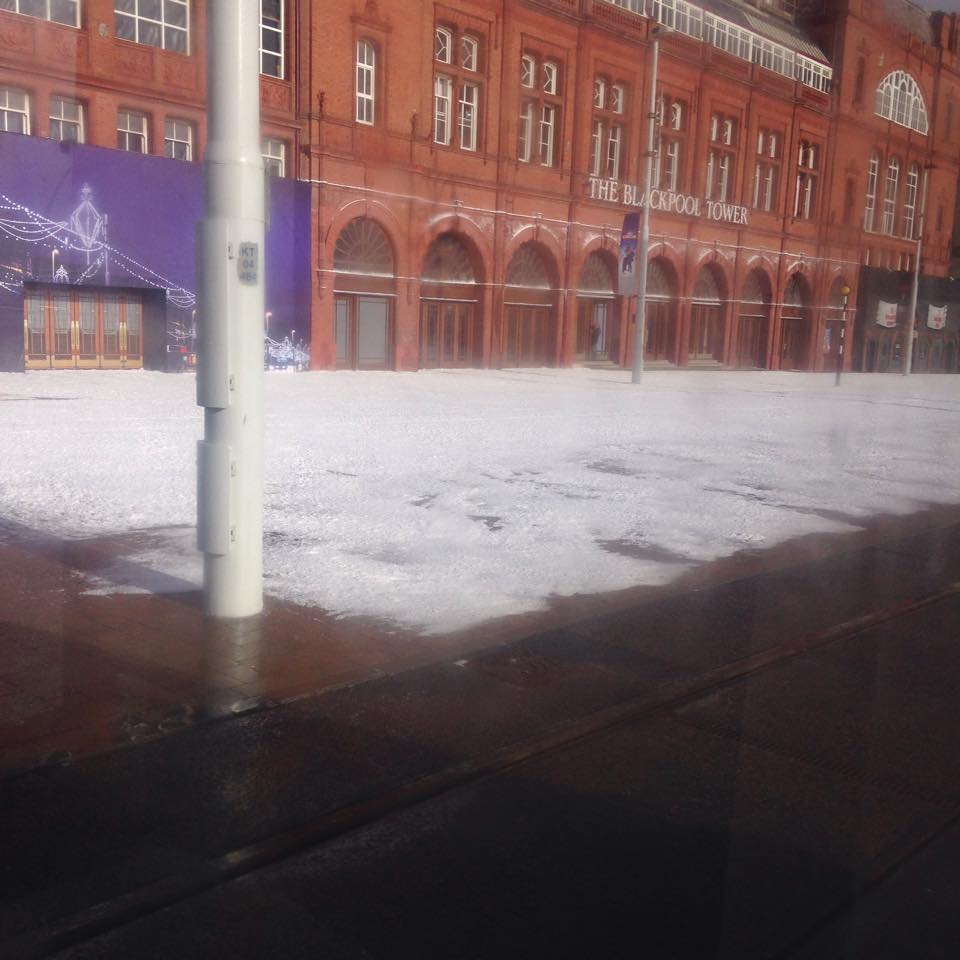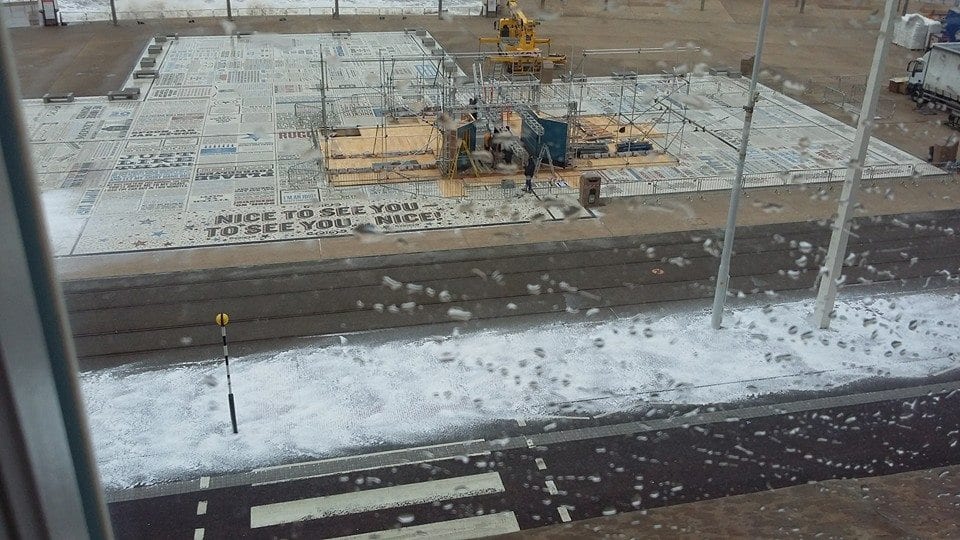 Flexity Trams to Star in Hollywood Film
Well maybe not quite 'star', but two of Blackpool's Flexity trams should certainly feature in the new Hollywood film shot in the resort in May 2015.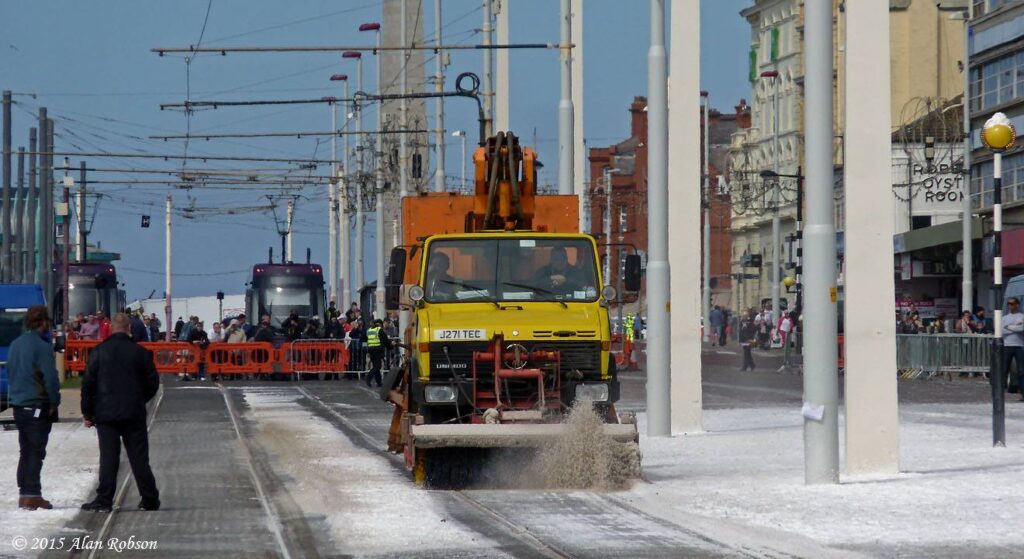 The scenes shot in Blackpool are set in winter, so the Promenade in front of the Tower was covered with artificial snow, including the tram tracks. The Promenade around the film set was closed off to the public and traffic each day, causing havoc for the bus and tram services.
Two Flexity trams were requisitioned to act as props for the duration of the filming. The trams chosen were 007 and 009 without advertising. They were parked either side of the zebra crossing in front of the Tower with their lights on each day. Used to simulate a busy street scene, along with many cars and dozens of members of the public employed as extras.
At the end of each day's filming, Unimog 939 swept the tram tracks clear of the artificial snow using its rotary brush attachment. That way, normal tram services could resume again at 1500.
While you're here…
Have a look at the homepage of the Live Blackpool website for more of the latest updates.
Love the Fylde Coast? Sign up for your weekly email newsletter. Packed full of interesting things it arrives in your inbox all 52 weeks of the year.
Join us on Facebook at our Visit Fylde Coast Facebook Group
Don't forget to follow us on Twitter @visitFyldeCoast