A brand new world-class attraction is opening soon! The new Peter Rabbit attraction at Blackpool – opens in time for half-term on 12 February 2022!
Hop along to the New Peter Rabbit™ Attraction at Blackpool!
Beloved characters from the award-winning PETER RABBIT™ animated TV series are set for a new home on Blackpool's famous seafront. It's a partnership that marks the first stand-alone Merlin visitor attraction to be based on the series. And it's a first for Blackpool! A brand-new concept and the first time Merlin has created a stand-alone attraction based on the series.
The new Peter Rabbit attraction at Blackpool is opening next door to the famous Madame Tussauds Blackpool. It joins Merlin's six other attractions including The Blackpool Tower and SEA LIFE Blackpool.
Just in time for half-term, from 12 February 2022 you can hop into the over-sized world of Peter and his friends.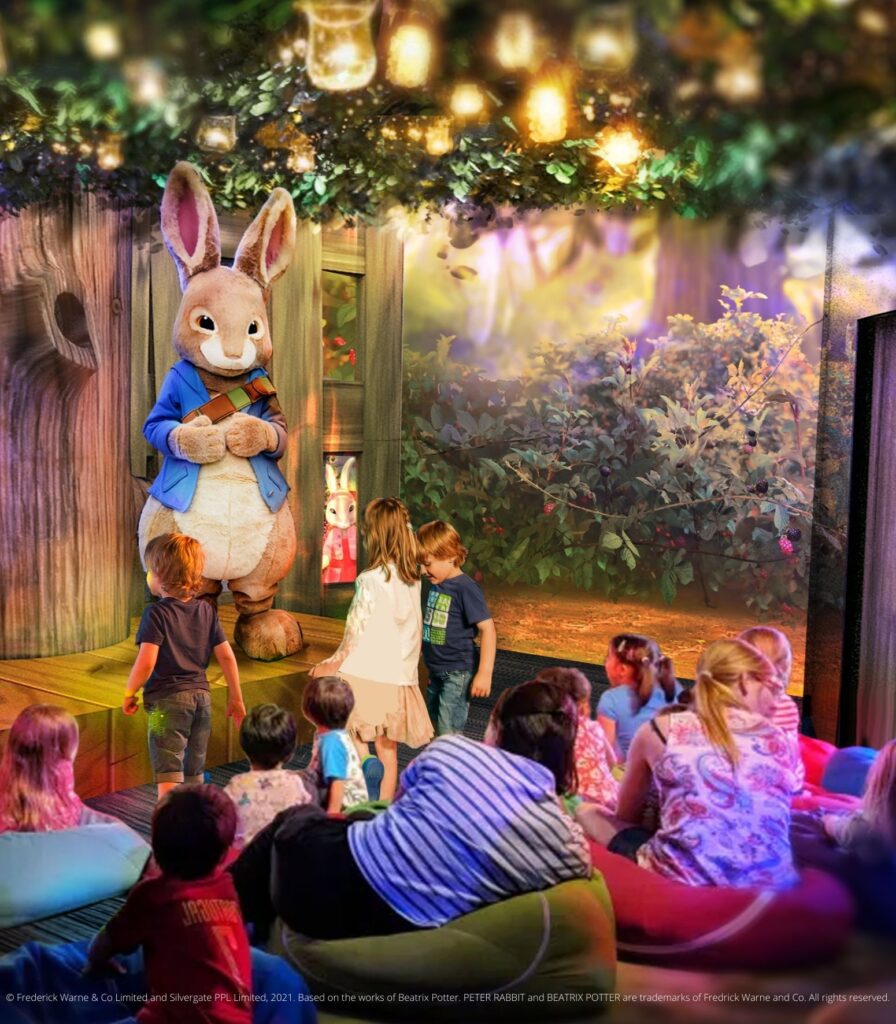 Embark on an adventure across five fluffy-tailed themed zones. You'll need to think like a rabbit, move like a rabbit and deploy rabbit-like senses! There's a whole burrow-full of creativity to enjoy. Complete the challenges and earn badges. See if you have the skills to join the secret treehouse club!
You'll also meet, greet and 'high-paw' with Peter himself – in a bumper bunny day out!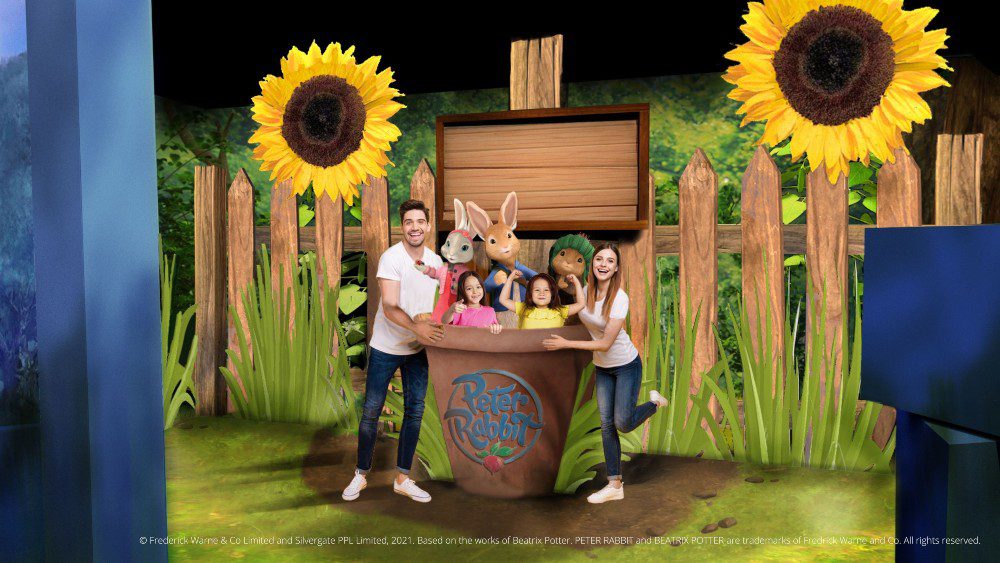 Based on the TV Series
Merlin Entertainments is a global leader in location-based entertainment. This new Peter Rabbit attraction at Blackpool is based on the much-loved animated television series produced by Silvergate Media. The £1 million investment has been 18 months in the making.
It's been developed in partnership with Silvergate Media, Penguin Ventures (on behalf of PETER RABBIT™ brand owners Frederick Warne & Co.) and Blackpool Council.
Kate Shane is Regional Director for Merlin Entertainments. She said: "We're thrilled to welcome Peter Rabbit to Blackpool! Globally renowned, he's well-loved by young and old alike. We're also delighted that this new attraction concept is coming to Blackpool first. Merlin firmly support Blackpool's overall ambition to be the UK's number one family seaside resort. It's such a family-favourite brand joining our Blackpool Cluster of attractions. We can't wait to 'hop' to it and get the experience open next year."
© Frederick Warne & Co Limited and Silvergate PPL Limited, 2021. Based on the works of Beatrix Potter. PETER RABBIT and BEATRIX POTTER are trademarks of Fredrick Warne and Co. All rights reserved.
2021 – Plans are Lodged
The planning application for Peter Rabbits burrow went into Blackpool Council at the end of December 2021. The proposals regenerate a former candle and souvenir shop into the new attraction.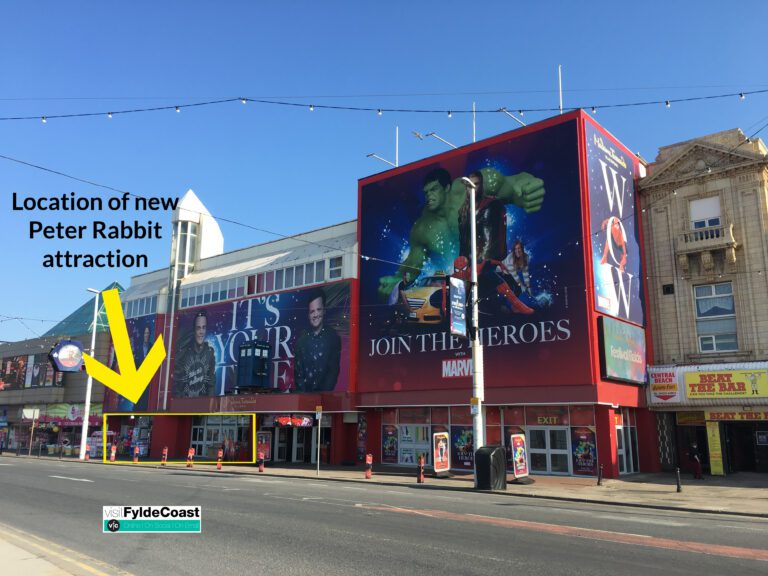 The walk-through attraction includes plenty of photo opportunities and chance to act like a rabbit. Explore Jeremy Fishers Sensory Pond, a workshop, countryside, treehouse, and Mr McGregor's Garden.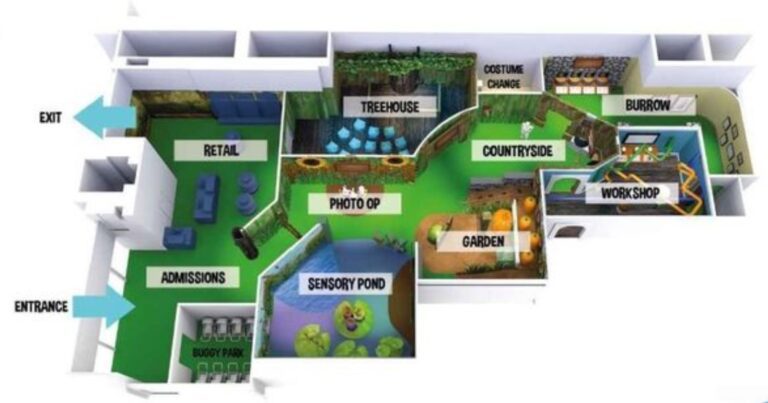 And another New Attraction at Blackpool Seafront…
Blackpool Council's Executive also agreed a scheme to redevelop another part of the Golden Mile Centre on Blackpool's famous promenade into another new £2.3 Million attraction.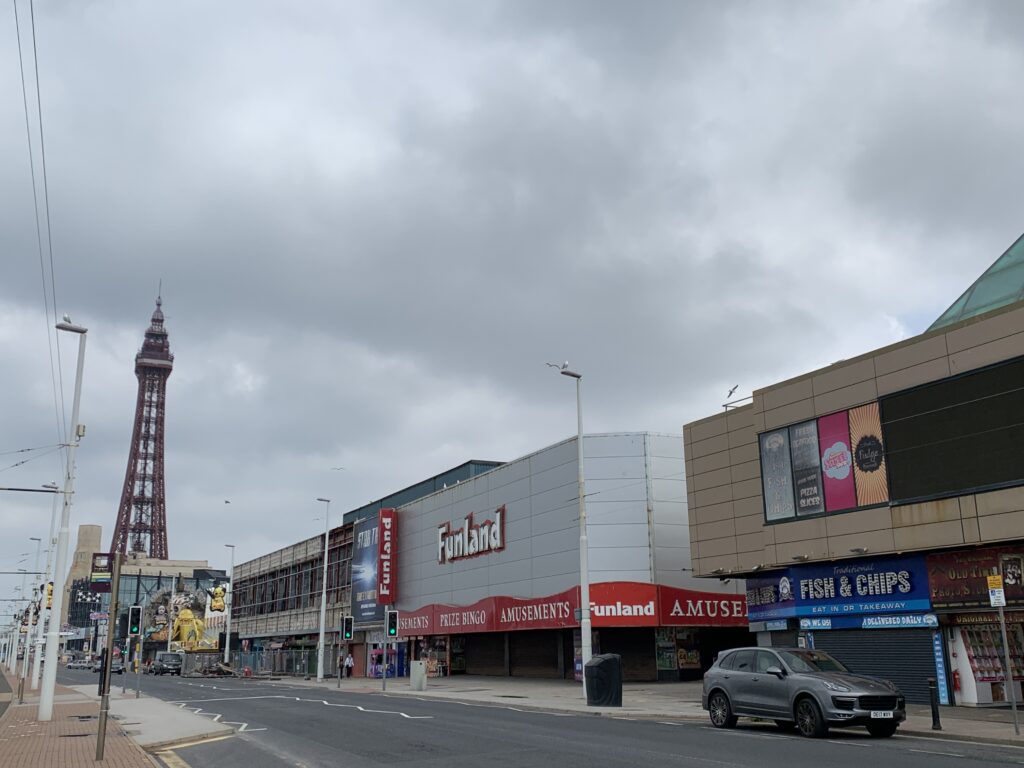 While we were waiting for details, everyone speculated about what it might be. Said to be an 'exclusive brand' for Blackpool, the suggestion was that it's not already in the Merlin portfolio.
Finer details are yet to come, with Merlin promising 'new experiences' being announced early next year.
Kate Shane is regional director for Merlin Entertainments. She said "At Merlin we have some exciting global partnerships that we will be announcing in the coming months. They will firmly support Blackpool's overall ambition to be the UK's number one family seaside resort."
Transforming Blackpool Central
The Golden Mile Centre is adjacent to the site earmarked for development for the £300 Million Blackpool Central scheme.
Cllr Lynn Williams is Leader of Blackpool Council. She said: "Merlin Entertainments already successfully operate a number of internationally known brands in Blackpool. I've no doubt that this new attraction will be equally as popular.
"It's vitally important that Blackpool continues to develop and offer visitors new and different reasons to visit. Any new attraction will help the local economy in terms of job creation and increased visitor numbers. So this should be welcome news for local residents as well. I look forward to it opening next year."
More details to come.
While you're here…
What do you think? Why don't you join in and leave a comment below?
Have a look at the homepage of the Live Blackpool website for more of the latest updates.
Love the Fylde Coast? Sign up for your weekly email newsletter. Packed full of interesting things it arrives in your inbox all 52 weeks of the year.
Join us on Facebook at our Visit Fylde Coast Facebook Group
Don't forget to follow us on Twitter @visitFyldeCoast