It's the show you all love! Strictly Come Dancing at Blackpool Tower Ballroom! It waltzed onto our screens in 2004 and was an instant favourite with millions of fans. It's been an annual highlight since 2010.
Sadly the Covid pandemic put-paid to the 2020 show live from the Blackpool Tower. And it looks as if the 2021 special has gone the same way too…
Your favourite show has always been the live episode from the magnificent Blackpool Tower Ballroom. 'Who left Strictly Blackpool' is a frequently asked question! It's the one show when no self respecting celebrity wants to get voted off!
It's fabulously popular with local people and visitors alike. There's only a slim chance to get hold of tickets for the live show, and no way of buying them. So here are some other ways to catch a bit of that Strictly glitter –
When is Strictly Come Dancing at Blackpool Tower Ballroom?
Sadly, Strictly Come Dancing WON'T be back at Blackpool Tower ballroom in 2021!
The Blackpool Tower show takes place in November each year, usually four weeks before the final. The last seven couples trip the light fantastic over the iconic ballroom floor. It's a hugely popular episode, with TV audiences well in excess of 10 million viewers.
Beginning slightly earlier this year, Strictly kicks off on 25 September. Provisional plans have shown the crew being told to expect a visit to Blackpool on November 20.
Unfortunately, The Mirror announced at the end of July 2021 that the Blackpool visit is OFF again in 2021. Apparently it's to do with the lack of space backstage, and the difficulty it would cause with distancing. Fingers crossed they'll be back next year!
Strictly Blackpool
In 2019 the whole of Blackpool was excited when Strictly came to town on Saturday 16 November. It's a pleasure to see the magnificent Blackpool Tower Ballroom hosting the event. The resort comes to life while the celebrities are in town.
Meanwhile, watch this Strictly Come Dancing Guide to the Blackpool Tower!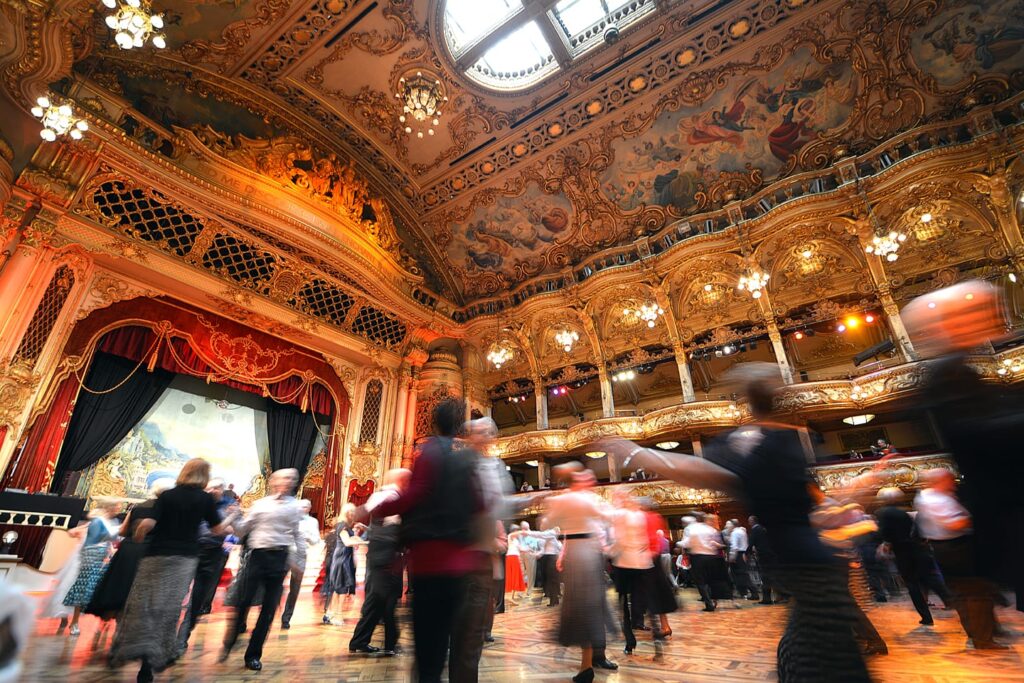 How to get tickets for Strictly Come Dancing at Blackpool Tower Ballroom
The BBC operate a random draw to decide who the lucky ones are to get a seat in the audience. Here's how it works…
Many thousands of people want to see this special show. The BBC operate an online, random draw system each year to make the allocation of tickets fair. Successful applications are drawn at random and notified by the BBC.
You cannot buy tickets for the show…
We do not have tickets…
We do not know of any shortcuts that will help you to get tickets!
Sorry! The bad news is that you CAN'T BUY tickets for Strictly at Blackpool Tower Ballroom.
So please don't ring us asking 'how much are Strictly Blackpool tickets' or 'how to get Strictly Blackpool tickets'! It simply can't be done in any other way than entering the BBC draw.
Apply for tickets for the studio show at Elstree here
Dance in the Famous Ballroom
You can of course dance yourself on the sprung floor of the Blackpool Tower Ballroom.
Maybe you can't dance? That's not a problem, you can watch and soak up the unique atmosphere. Why not treat yourself to afternoon tea while you watch the dancers twirl past?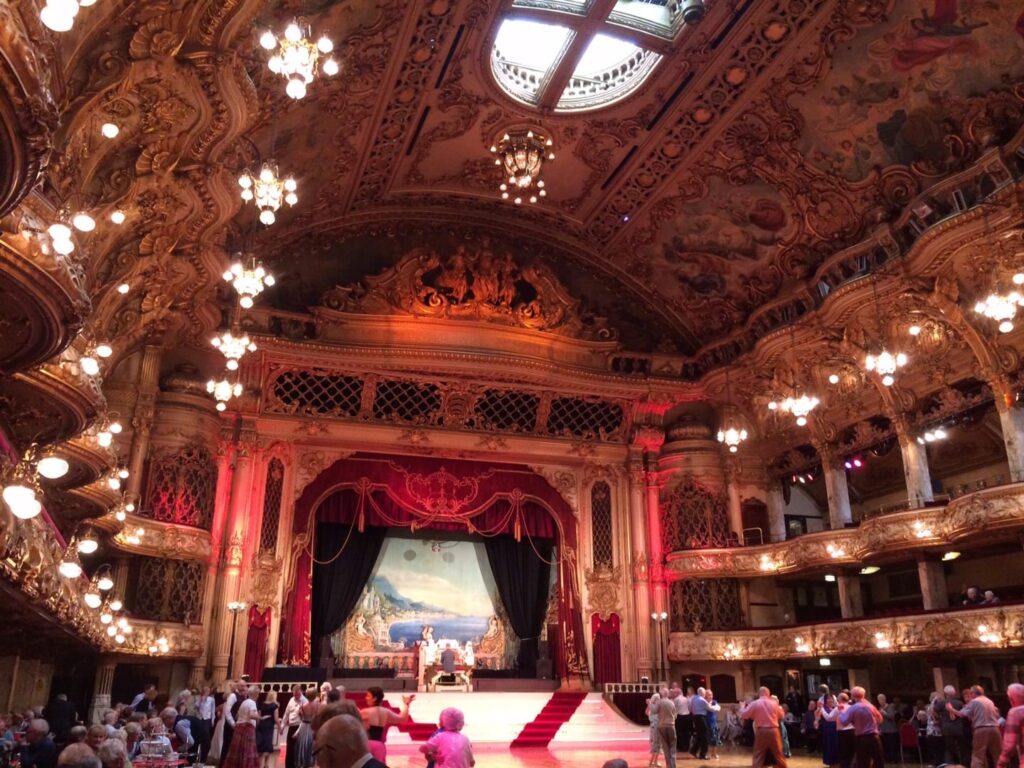 Meet the Stars!
The other way to enjoy an authentic Strictly Blackpool experience is to meet the stars at Madame Tussauds!
At the promenade attraction you can meet presenters Tess Daly and Claudia Winkleman. AND you've got the chance to lift a replica glitter ball trophy, bust a move on a Strictly dance floor and even raise a score paddle from behind a re-created Strictly judges' desk.
Existing Madame Tussauds Blackpool resident, Craig Revel Horwood, joins the new figures of Tess and Claudia in this magical Strictly Come Dancing attraction. It also features three areas of activities for you to enjoy. Each provides fantastic photo opportunities and unique Strictly experiences.
Money-Can't-Buy Publicity
When Blackpool Tower Ballroom plays host to the hugely popular show, it also gives money-can't-buy publicity to our wonderful seaside town.
In 2017 the competition attracted the highest audiences since the show began in 2004. 13.6m people tuned in to see Joe McFadden win Strictly Come Dancing at Blackpool Tower Ballroom, beating Alexandra Burke, Debbie McGee and Gemma Atkinson.
In the ratings-busting show, scenes from the glorious Ballroom are cut with footage filmed in the resort. Each year the professional dancers and celebrities spend time out and about, enjoying the sights and the sounds.
Meanwhile, out on the streets of Blackpool, celebrity-spotters and photographers alike get into the spirit. Catching a glimpse of celebrities and a shot of one of the contestants is an annual thing! The whole Strictly experience creates a buzz in the town and an interest among everyone during the preceding week, spreading the excitement far and wide!
While you're here…
Now that you've found us, please stay in touch! Live Blackpool is part of independent online media product 'Visit Fylde Coast'.
You can find us online, on social media and through our weekly email newsletter.
Please sign-up for your weekly enews – each week you'll get all kinds of fascinating local information straight to your inbox.
Like our Live Blackpool Facebook page – and make sure that you're getting notifications
Follow our Twitter page @visitFyldeCoast
We also have a YouTube channel, Instagram account, Google+ page and Pinterest – all called Visit Fylde Coast.
We don't know any more than this…
Much as we love to hear from our readers, please don't contact us here at Live Blackpool looking for tickets. We really can't tell you anything else!