Blackpool is well served by main roads and motorways so you can travel in and out relatively easily, and of course there is an excellent public transport system along the edge of the coast, in the form of buses and the brand new modern trams which between them provide an efficient service from end to end.
If you already live in Blackpool, don't forget to stop rushing for a minute and see what's around you that you can use and enjoy just when you like!
All the tourist and seaside things aren't just for visitors, they are on your doorstep for you to enjoy too! So when your ordinary life is hum-drum, take a break without having to drive for hours, and remember what it feels like to enjoy a day at the British seaside. Walk the prom, enjoy fish and chips, and visit the amusements – before a quick trip home and none of the long homeward journey that visitors suffer!
Re-acquaint yourself with the other things to do and places to see – have a look at the other fabulous places to visit on the Fylde Coast with our other websites:
Visit Fleetwood
Visit Cleveleys
Visit Poulton-le-Fylde
Visit Lytham
Visit St Annes
Visit Fylde Coast tells you about things general to the whole coast, along with magazine type articles about general things.
For all the latest in tourist attractions, news and offers, have a look at Visit Blackpool.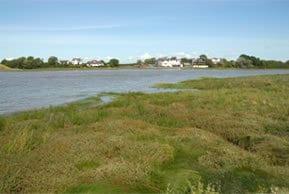 The River Wyre at Poulton

Marsh Mill at Thornton