Looking for places to stay in Blackpool? Like the friendly homeliness of a small independent hotel or guest house? If so, you'll love your stay in one of the hotels at St Chad's Road. It's just off the promenade, beyond Manchester Square.
Where is St Chad's Road?
You'll have noticed St Chad's Hotel on the seafront, and nearby the blue frontage of the large, seafront Lyndene Hotel.
St Chad's Road is one of the side streets – to the right of St Chad's Hotel. It's a handy spot, between Central and South Piers. It's marked with the pin on the map –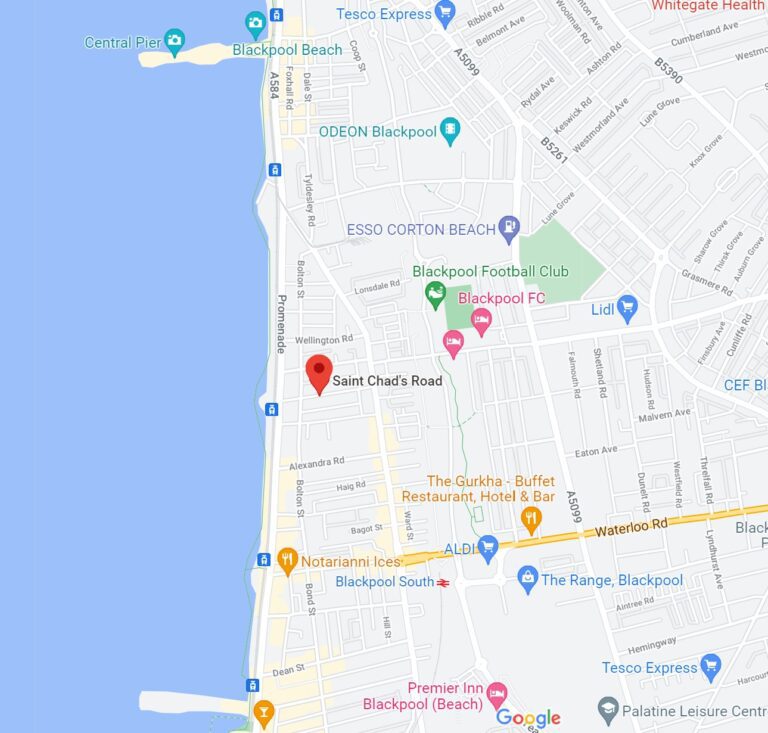 You'll spot it handily marked with two bicycles, riding high on posts above the pavement! Can you see them in the next photo?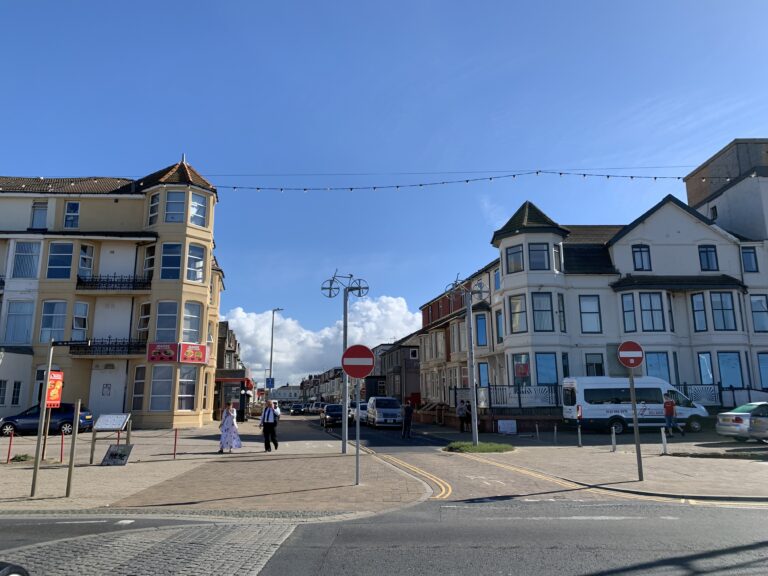 Hotels at St Chad's Road
There's a great choice of accommodation on St Chad's Road. These are all small, independent hotels and guest houses, where you'll get a home-from-home welcome.

We went to take a look, and visited a couple of hotels, on a glorious day in 2021 –
Enjoyed this video? Why don't you subscribe to our Visit Fylde Coast YouTube channel – make sure you don't miss out!
The street is one-way towards the sea thanks to a recent street improvement scheme completed by Blackpool Council.
This means that there are handy parking bays along one side of the road, offering limited free parking to hotel guests. There is more nearby parking at Lytham Road and Central Car Park.
St Chad's Road is also a handy place to stay.
Blackpool Transport operate Fylde Coast service buses and trams. Why not buy a pass then you can enjoy unlimited travel during your stay.
Conveniently, St Chad's Road tram stop is at the end of the street. So you'll know which stop to get off at!
It's close to the seafront, Central and South Piers and the Pleasure Beach.
There's even a handy fish and chip shop at the end of the road!
Book with StayBlackpool
Book direct for the best price – and show your support for Fylde Coast tourism providers. Browse and choose StayBlackpool Accommodation – for a holiday place that's clean, safe & legal.
StayBlackpool is the independent association for Blackpool hotels and guest houses.
And with something for all tastes and budgets, choosing one of these accredited properties ensures that the accommodation you choose is exactly what you expect.
All StayBlackpool members are rated with Visit Britain, the AA or Blackpool Approved schemes. You can be assured that where you stay is clean, safe and legal.

From Rags to Riches
We went to take a look around just one of these independent places to stay. Come inside and find out about the total transformation of the BellEva Hotel –
More about St Chad's Road
If you look at a map you'll see lots of long, straight roads across all of Blackpool. These are the first roads that were laid out by the towns founders, way back in the day.
St Chad's Road is one of the oldest parts of Blackpool. St Chad's Terrace (at the seafront where the hotel is) was created in 1891. That's when construction of Blackpool Tower began!
Did you know? St Chad's Road has its own claim to fame, as home of Britain's first funfair ride!
On 22 July 1887 the first fixed switchback railway opened in Blackpool, alongside St Chad's Road. This first British funfair ride was 560′ long, and opened by a London company.
Later, in 1891, it was moved from St Chad's and rebuilt at the side of the Starr Inn. Of course this land was later to become the Pleasure Beach…. and the rest is history!
MANY THANKS to Nick Moore and his fascinating History of Blackpool for historical information used in this article. You can read it in full here.
St Chad's Headland
St Chad's Road joins the promenade at the headland of the same name. It's one of a series of curved outbuilds that were added with the redevelopment of the seafront. The £100m seawall project completed in 2012 and includes new headlands, curves and steps.
While you're here…
What do you think? Why don't you join in and leave a comment below?
Have a look at the homepage of the Live Blackpool website for more of the latest updates.
Love the Fylde Coast? Sign up for your weekly email newsletter. Packed full of interesting things it arrives in your inbox all 52 weeks of the year.
Join us on Facebook at our Visit Fylde Coast Facebook Group
Don't forget to follow us on Twitter @visitFyldeCoast