Take a look at the choice of StayBlackpool accredited accommodation listed on Visit Fylde Coast when you're looking to book your family holiday in Blackpool.
With its golden sandy beaches, fantastic rides and all weather entertainments, Blackpool is quite simply Britain's premier holiday resort for family fun. For well over a century, it's been the UK's destination of choice for short breaks and family holidays. Its reputation for choice and value is justly deserved.

Have a Fun Family Holiday in Blackpool
There's so much to do and see in and around Blackpool – whatever the tastes of your family.
Enjoy the thrills of the Pleasure Beach on the town's South Shore, or the famous attractions of the town centre – not forgetting the shops! Visit The Blackpool Tower, the three Piers, Winter Gardens, Grundy Art Gallery and so many more.
Throughout the year there's a packed programme of events to keep you busy. From the world famous Switch on to the many fun runs and music events, fireworks and festivals.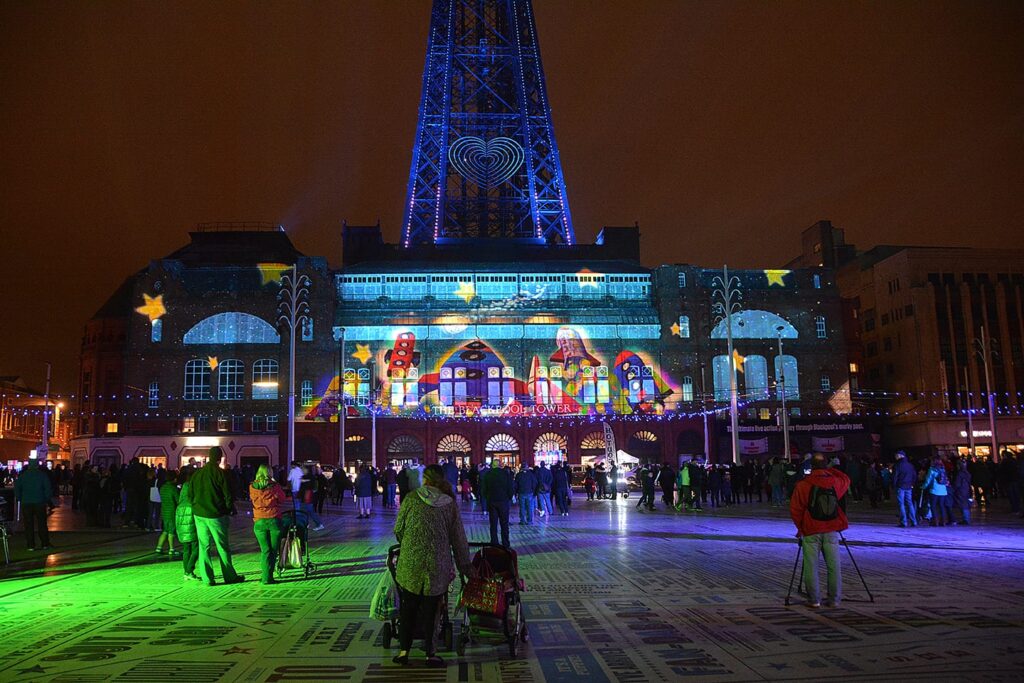 For quieter days there's the peace and beauty of scenic North Shore, or an afternoon in Stanley Park. Blackpool really can satisfy your every whim with great value holiday entertainment.
It doesn't have to be an expensive family holiday in Blackpool either. Make memories to treasure with plenty of free things to do along this stretch of coastline.
Family breaks have been the backbone of Blackpool's hotel and guesthouse trade since the time of the Industrial Revolution. It's no surprise then that the town offers a massive choice of holiday accommodation for families of all kinds.
Where will you Stay for your Family Holiday?
Blackpool is a big resort. Choose from hotels, guest houses, bed and breakfast or self catering – there really is something for everyone.
South Shore
There's miles of seafront where bedrooms have amazing sea views. Stay at South Shore to be close to the Pleasure Beach.
Enjoyed this video? Why don't you subscribe to our Visit Fylde Coast YouTube channel – make sure you don't miss out!
Central
Or do you prefer to be close to the town centre and shops? In which case there are plenty of places offering great access to all of Blackpool's amenities.
Enjoyed this video? Why don't you subscribe to our Visit Fylde Coast YouTube channel – make sure you don't miss out!
North Shore
North Shore is very popular with people looking for a family holiday too. It's quieter here, but with fabulous public transport links thanks to the tramway and bus network.
Plus, of course, the next generation of new hotels which are springing up across the resort. Many of them are in central Blackpool, close to everything!

Make Memories to Treasure with a Family Holiday in Blackpool
With plenty for every generation to enjoy, Blackpool really is the place to go for shared family fun that will give you lasting memories.
To find your ideal home from home, simply decide which part of town you'd like to stay in and then use our Accommodation Finder to do the rest.
With a long list of high quality self-catering accommodation, hotels and guest houses to choose from, you can't go wrong.
Holidays Throughout the Year
Blackpool has a long tradition of shows, variety and entertainment, and many famous names have appeared here over the years.
Shows have often visited direct from London including Joseph, Evita and even the Royal Variety Performance for the Queen.
A number of West End shows have recently played here too. With top names and concerts at many venues you can be assured that there's something for all tastes and ages.
Like many UK resorts, Blackpool has extremely seasonal weather. It might not enjoy the luxury of having a summer all year long but who cares about the weather!
Whether it's sunshine or rain, you'll always find something to do in Blackpool and many of the attractions and venues are undercover. Blackpool's a year-round resort that even the British weather cannot ruin!
Book with StayBlackpool
Book direct for the best price – and show your support for Fylde Coast tourism providers. Browse and choose StayBlackpool Accommodation – for a holiday place that's clean, safe & legal.
StayBlackpool is the independent association for Blackpool hotels and guest houses.
And with something for all tastes and budgets, choosing one of these accredited properties ensures that the accommodation you choose is exactly what you expect.
All StayBlackpool members are rated with Visit Britain, the AA or Blackpool Approved schemes. You can be assured that where you stay is clean, safe and legal.

While you're here…