Looking for somewhere to stay for your next break? We've done the legwork so you don't have to. Here's our guide to hotels in Blackpool – Adelaide Street.
If you enjoy the friendly homeliness of a small independent hotel or guest house, you'll love your stay in one of the hotels at Adelaide Street. It's a stone's throw from the town centre, next to the Houndshill Shopping Centre and near to the Blackpool Tower and Winter Gardens.
Where is Adelaide Street?
It's one of the streets that make up the Central Blackpool holiday area. About as convenient as convenient gets, if you're looking for somewhere to stay near the town centre and attractions.
Adelaide Street is the long straight road which passes the back wall of what's the Empress Ballroom at the Winter Gardens.
At one end are the doors to the Houndshill Shopping Centre, the new extension and the door to New Look. Adelaide Street includes the side of the Winter Gardens and entrance to the new Conference Centre, and goes all the way to Regent Road.
Here's a Google map showing where it is. Click on the map to explore.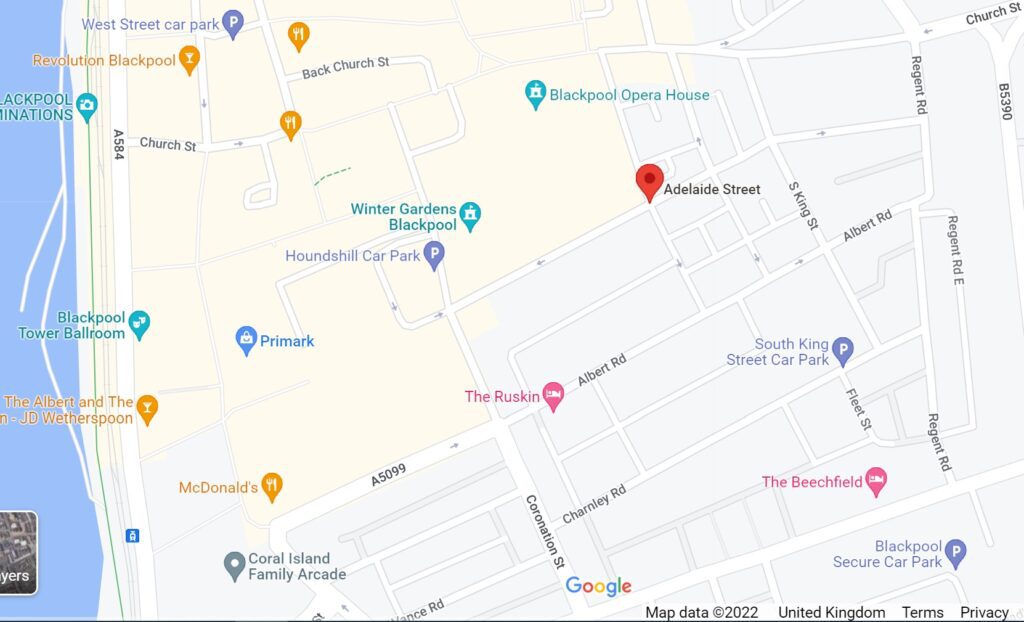 Hotels in Blackpool – Adelaide Street
Choose from a wide variety of accommodation at Adelaide Street. These are all small, independent hotels, guest houses, bed and breakfast and apartments. You'll get a home-from-home welcome.

We went to have a look on a bright and sunny March morning –
Hotel guests can take advantage of limited free parking at the individual holiday properties. There's plenty of nearby parking at Central Car Park and at the Houndshill Shopping Centre.
Adelaide Street is a really handy place to stay. In fact, if you're looking for places to stay near The Blackpool Tower and Winter Gardens, you can't get a lot closer!
Blackpool Transport operate Fylde Coast service buses and trams. Why not buy a pass then you can enjoy unlimited travel during your stay.
It's almost in the town centre, with most things just a few minutes walk away
It's close to the seafront, Piers, Coral Island, theatres and attractions on the promenade.
The Blackpool Tower, Winter Gardens, theatres, bars and shops of central Blackpool are really close by.
Book with StayBlackpool
Book direct for the best price – and show your support for Fylde Coast tourism providers. Browse and choose StayBlackpool Accommodation – for a holiday place that's clean, safe & legal.
StayBlackpool is the independent association for Blackpool hotels and guest houses.
And with something for all tastes and budgets, choosing one of these accredited properties ensures that the accommodation you choose is exactly what you expect.
All StayBlackpool members are rated with Visit Britain, the AA or Blackpool Approved schemes. Be assured that where you stay is clean, safe and legal.

More about Adelaide Street
It was way back in the late 1800's when Adelaide Street had begun to take shape. By 1876 builders had taken advantage of the opportunity to build their three storey houses close to Central Railway Station.
Did you know? In 1887 a foundation stone was laid by the Lord Mayor of London, for a proposed Victoria Hospital? Obviously it was never built, but do you know exactly where it was?
You might have taken a look inside the Masonic Hall on one of the Heritage Open Days held in September each year. It's another one of the old, historic buildings of Blackpool – with its foundation stone laid on 10 May 1898.
Here and Gone
Blackpool Grammar School
Look back through the years and you'll find a surprising number of small schools, dotted all over the town. Adelaide Street had its fair share of them.
You might remember the former Comrades Club – now demolished after a fire in 2017 – but built as Blackpool Grammar School of 1863. The three storey house took 25 boarders and the school room itself took up to 80 children. It was 1919 when it became the Comrades Club – and almost 100 years later it was demolished. The site was used as a store by the builders of the Conference Centre but it's empty once again.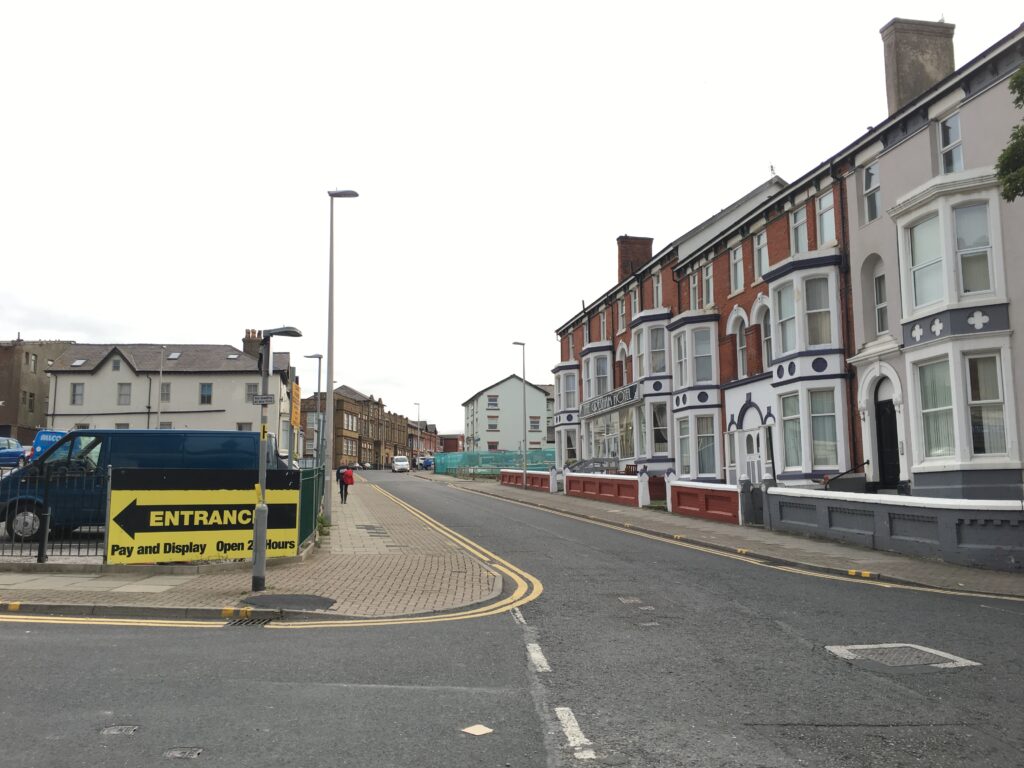 The Great Wheel
Something else that's no longer there is the Great Wheel at the Winter Gardens. In 1896 you'd have found it on the North East corner of Adelaide and Coronation Street – what's now the entrance to the Olympia.
Built after the success of The Blackpool Tower it cost a whopping £45,000 to build – an awful lot of money in those days. Opening on 24 August 1896 it took 1200 paying customers. It was just one chapter in the very long history of the Winter Gardens!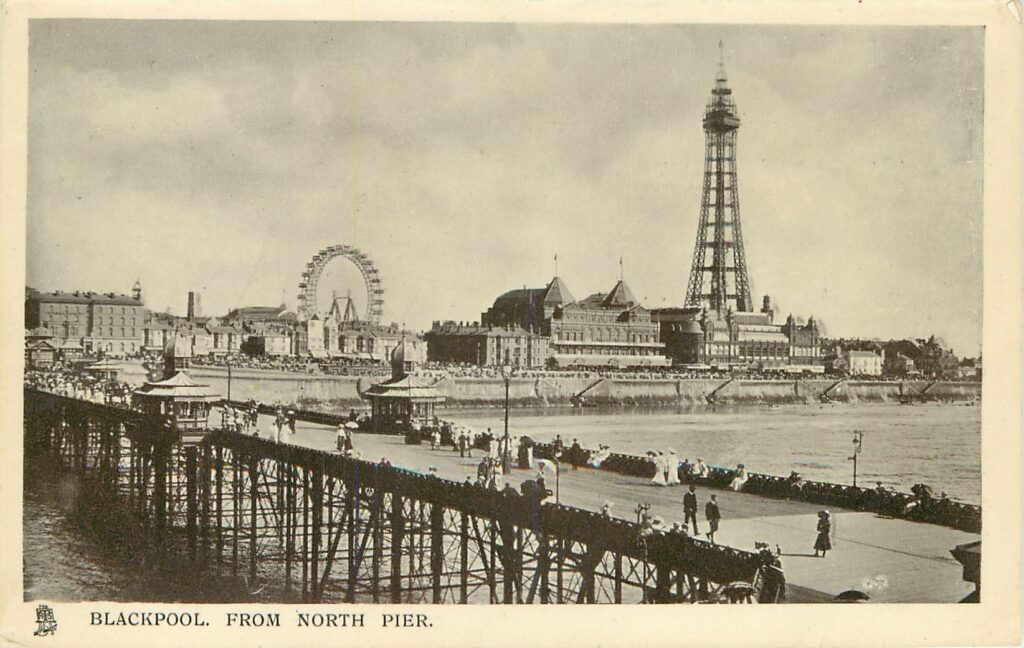 Streets of the Houndshill
Do you remember the days before the Houndshill Shopping Centre? It was back in 1976 when the buildings between Victoria Street, Coronation and Adelaide Streets were demolished for the new shopping centre. Now, the builders are back again, constructing an extension for Wilkinson's and a new cinema – another chapter in the story of how the site's changed.
Had you realised that the pedestrianised area and access-only street between the side door of the Houndshill and the promenade are also Adelaide Street? No, neither had we!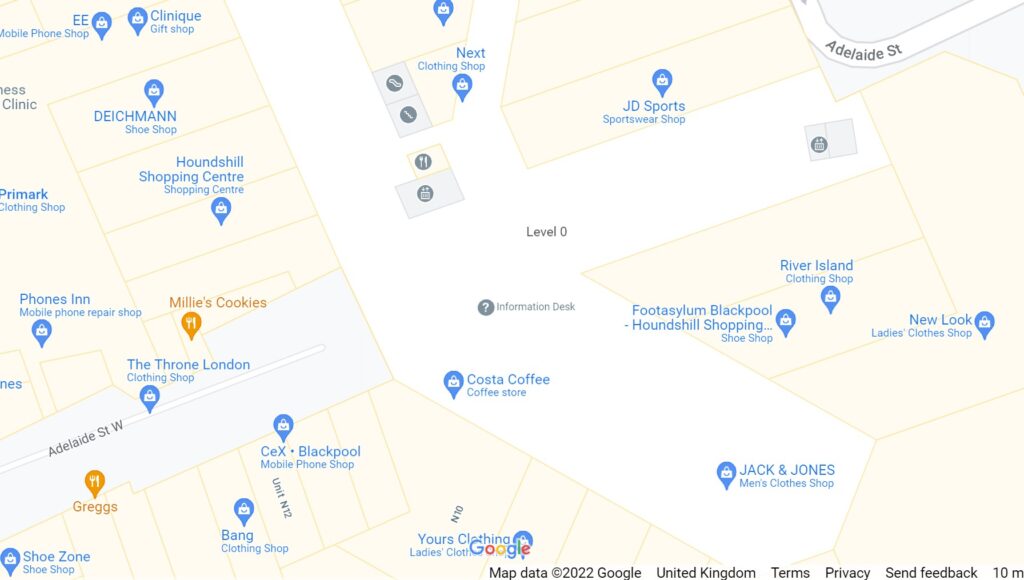 Ballroom History
You might not connect St John's Church (opposite the front of the Winter Gardens) with Adelaide Street. But the church parsonage, built in 1826, had kitchen gardens which once extended all the way to Adelaide Street. They later became the Empress Ballrooms.
Well, well, well. We didn't know that! During World War Two, barrage balloons were made in the Empress Ballroom. Removing the roof meant they could be floated out, to go and guard the Vickers shipyard at Barrow!
MANY THANKS to Nick Moore and his fascinating History of Blackpool for historical information used in this article. You can read it in full here.
Memories of Adelaide Street
Many of our readers have old treasures and collections of postcards, brochures and receipts. Have you got any old literature relating to Adelaide Street? If you have please email it to jane@theRabbitPatch.co.uk and we'll include it here. Full credit given of course.
While you're here…
What do you think? Why don't you join in and leave a comment below?
Have a look at the homepage of the Live Blackpool website for more of the latest updates.
Love the Fylde Coast? Sign up for your weekly email newsletter. Packed full of interesting things it arrives in your inbox all 52 weeks of the year.
Join us on Facebook at our Visit Fylde Coast Facebook Group
Don't forget to follow us on Twitter @visitFyldeCoast