Mamma Mia! The Smash Hit Musical based on the songs of ABBA is set to return to Blackpool in Spring 2022!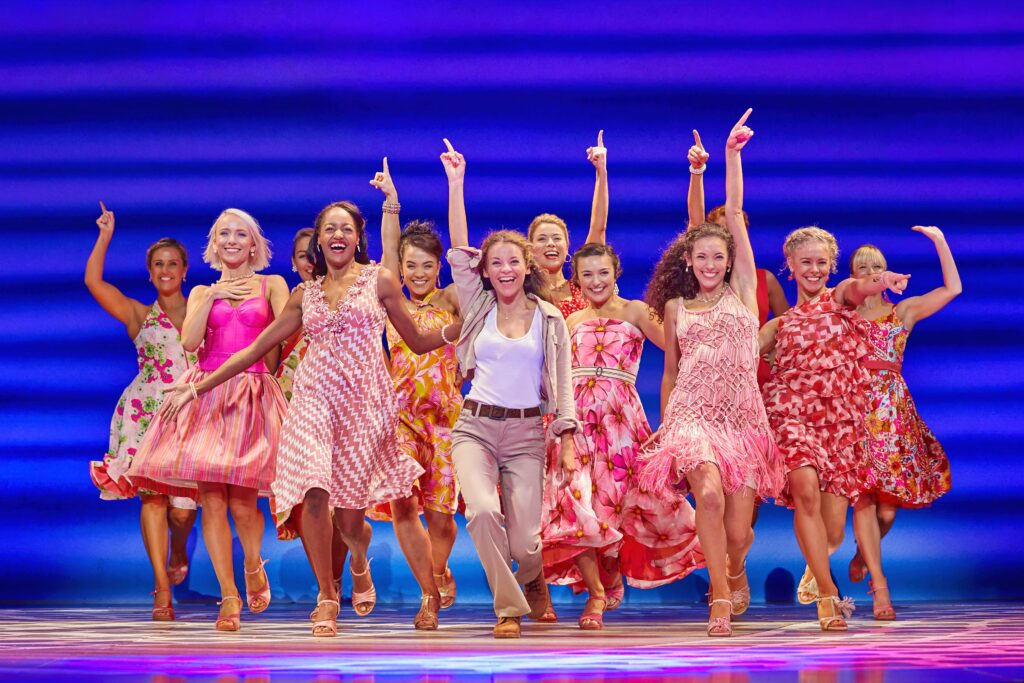 The ultimate feel-good musical is back at the Winter Gardens Blackpool from 21 March 2022 until 1 April.
It's part of its UK and international tour, some years after it's record breaking summer season run in 2014, which welcomed over 100k people.
Timeless songs and a love story…
Set on a Greek island paradise, a story of love, friendship and identity is cleverly told through the timeless songs of ABBA.
Sophie's quest to discover the father she's never known brings her mother face to face with three men from her distant romantic past. It's the eve of a wedding they'll never forget.
Whatever your age, you can't help but have the time of your life at MAMMA MIA!
Mamma Mia! First Comes to Blackpool (19.6.14)
Mamma Mia, the ultimate feel-good show, first came to Blackpool for an exclusive summer season in 2014.
For the first time in more than 10 years Blackpool hosted a Summer Season of a major West End musical production. The International Tour of the worldwide hit MAMMA MIA! was staged exclusively in the resort. Blackpool Opera House is the only UK date outside of London to host the production during 2014.
Tickets went on sale for a ten week run of the smash hit show on 1 May 2013. Advance sales were so successful that an extra two weeks were added. In fact, box office history was broken in Blackpool, with more than £2million in ticket sales in just six weeks! This also makes MAMMA MIA! Blackpool's highest ever grossing show.
Starting on 20 June 2014 it ended on 14 September, taking the run into the Blackpool Illuminations.
Mamma Mia – what a Preview!
Live Blackpool went along to the preview on a lovely sunny day in Spring 2013….
'TOP SECRET INVITATION – COME TO THE WINTER GARDENS ON 1 MAY"
Well you can imagine that twanged my insatiable curiosity! So off I trotted to Blackpool on a bright and sunny Wednesday morning, as invited.
The foyer of the Opera House in the Winter Gardens was packed with many people who I knew. But plenty of people were obviously from out of town. Exciting, what's the big reveal?
Everyone filed into the Opera House theatre. Obviously I'm not the only curious one as there must have been at least 200 people there. Businesses, council officers, press, councillors, hoteliers, and Uncle Tom Cobbley and all.
The lights dimmed and the stage lit up, for the announcement by Councillor Graham Cain, Portfolio Holder for Tourism.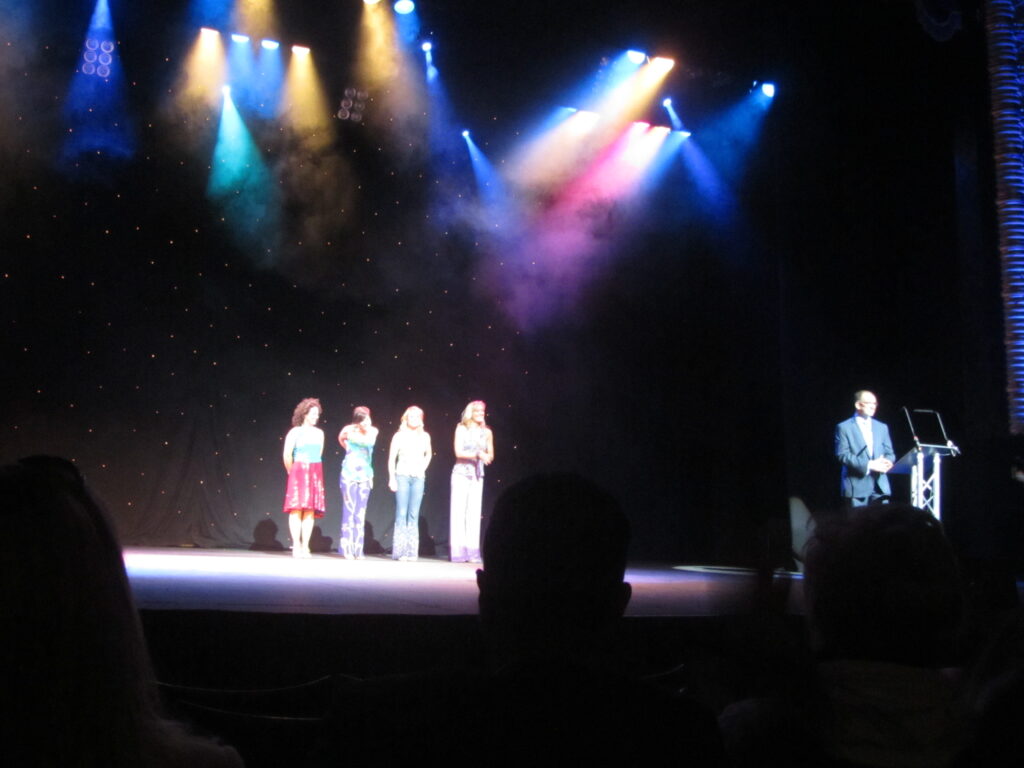 Mamma Mia is Coming to Blackpool!
MAMMA MIA! global success that it is, seen by millions of people with one in four of us racking the DVD at home, is coming to Blackpool. Thanks to the huge efforts of a big team of people it's playing the summer season 2014.
I love Abba, I was brought up on their songs in the 1970's. My mum danced around the living room, deafening the neighbours with their whole back-catalogue on full blast. So I thoroughly enjoyed the preview. We saw clips of the film and soaked up sounds much louder than we ever managed to achieve at home. It doesn't matter how good a stereo you have, nothing can beat the experience of theatre, club or cinema sound. It soaks into your body as well as your ears!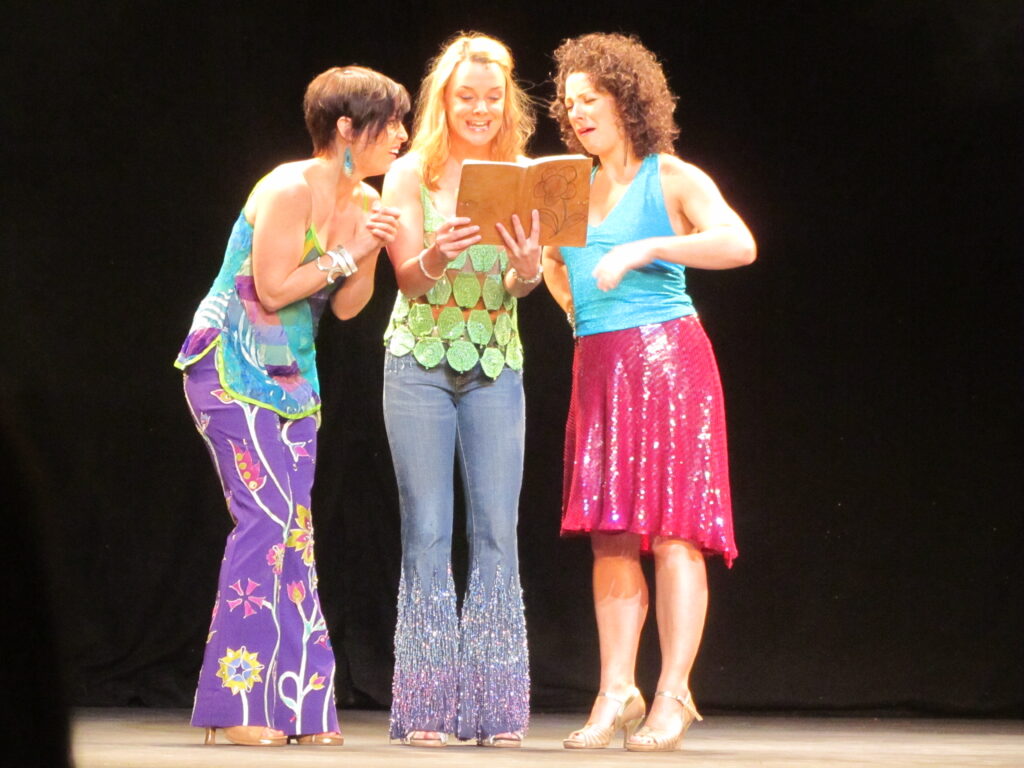 Four of the cast had travelled to Blackpool for the preview performance – just about ten short minutes of performance and song – and what voices! For someone who can barely hold a note, I was astonished that people can sing live like that. If I'm honest I couldn't spot the microphone either. Incredible.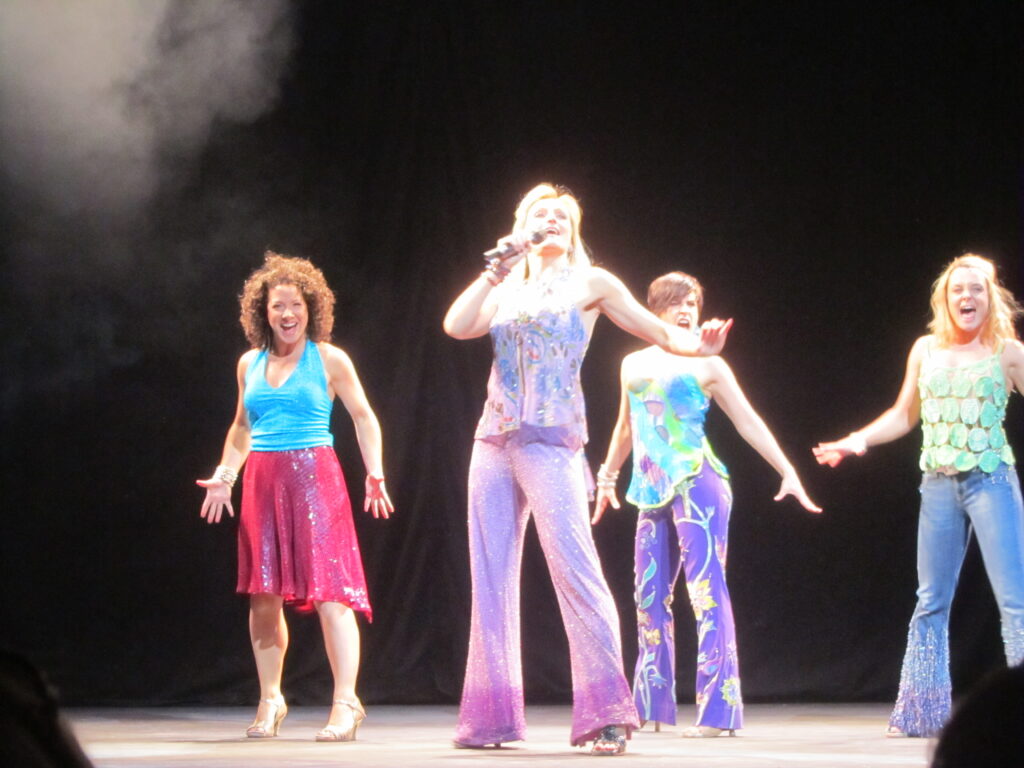 I was quite near to the front and caught these few photos from my seat – I hope you like them. I must admit I was also singing along!
Sing like no one is listening!
The benefit of such loud music is that you can 'sing like no one is listening' and it covers you up! By all accounts, the show audiences spend most of their time on their feet and dancing! You can understand why!
I'd also managed to catch a couple of clips of the actresses singing and performing. The quality isn't great – you can see how much the technology has improved since then! But it's worth including, just for posterity!
Enjoyed this video? Why don't you subscribe to our Visit Fylde Coast YouTube channel – make sure you don't miss out!
And to round the afternoon off nicely, we all left with a goody bag of merchandise. I saved mine for the archive!!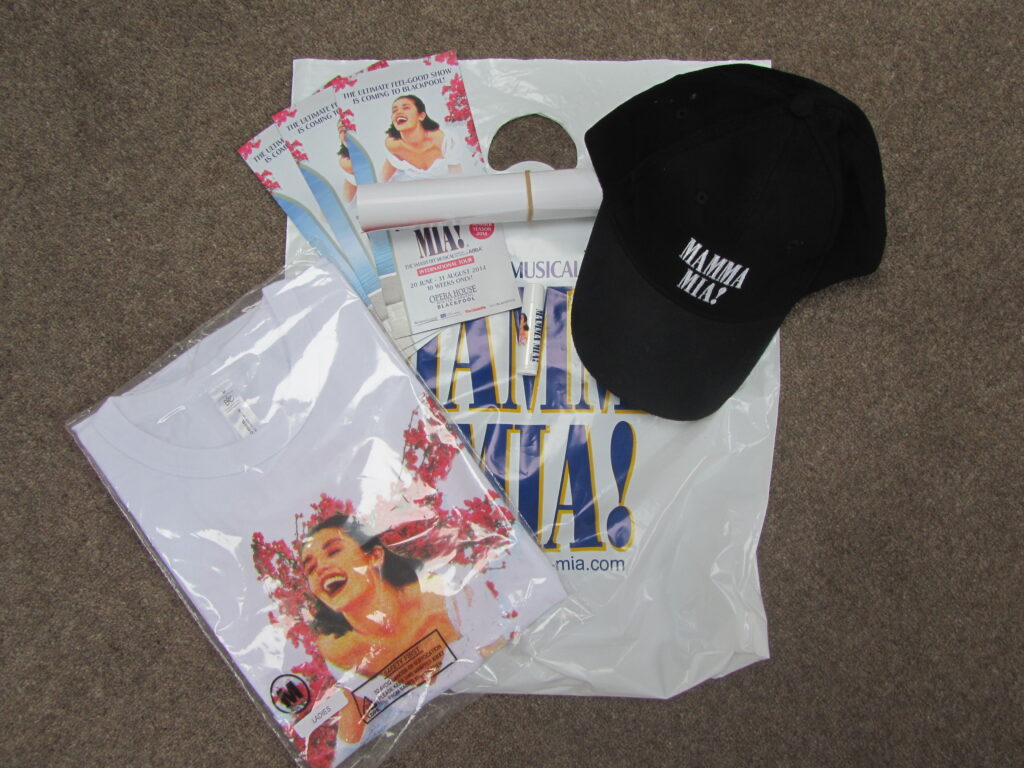 Fantastic, feel good music and a great experience for those who enjoyed the show. And a superb shot in the arm for Blackpool. With the announcement made so far in advance, businesses and hoteliers had ample chance to promote it to their guests and encourage people to come to Blackpool for a stay-break.
---
The Success of the Show in Blackpool
Theatre bosses were confident that the phenomenally successful 12 week run would bring a bright new start to the resort. And they were right.
Since then, many big name shows have played at the Winter Gardens and other venues in the town. But the producers of Mamma Mia were the first to have confidence in bringing a long summer run to the town. Then others followed…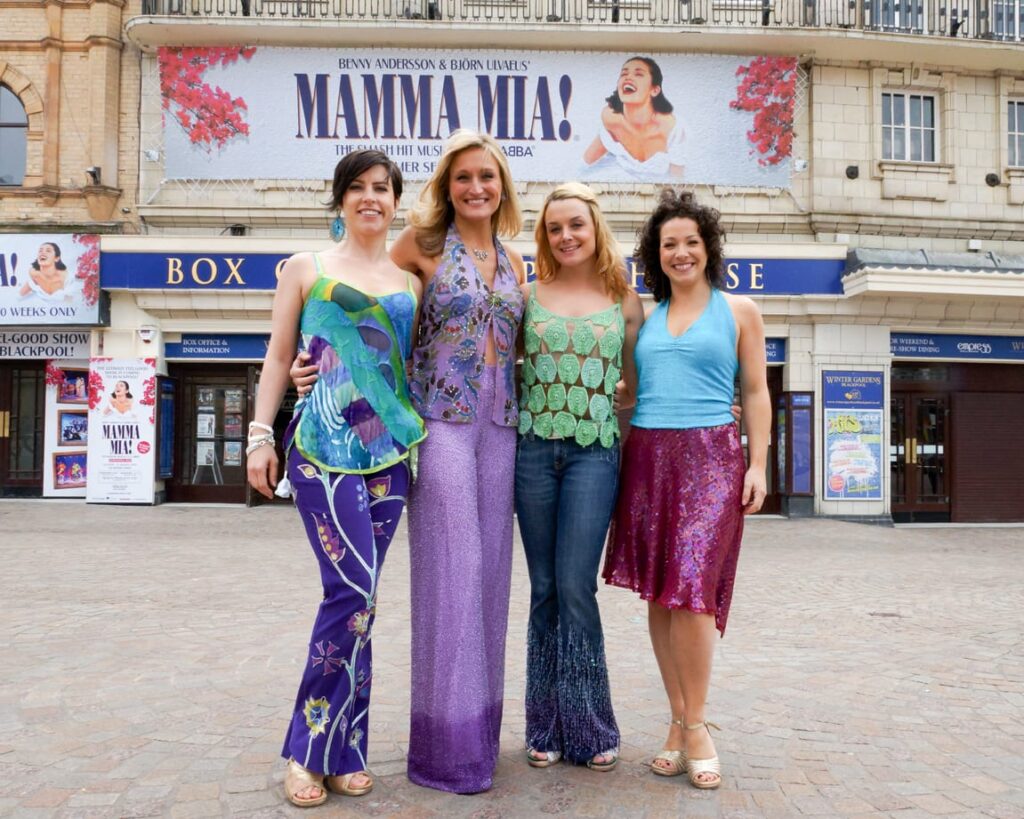 Michael Williams, Managing Director of the Winter Gardens, said "When we announced that MAMMA MIA! was coming to Blackpool for a whole summer season we were quietly confident that it would be a success. But you never know what's going to happen.
"The ticket sales of more than £2million in the first six weeks is absolute proof that MAMMA MIA! was right for Blackpool. And that Blackpool is more than capable of attracting such a show and the audiences to support it.
More about Mamma Mia!
The exciting announcement followed negotiations with the show's producers Littlestar services LTD, Blackpool Council, Marketing Blackpool, the Winter Gardens and Apollo Leisure working in partnership to bring this global phenomenon to Blackpool.
MAMMA MIA! is Judy Craymer's ingenious vision. It stages the story-telling magic of ABBA's timeless songs with an enchanting tale of family and friendship, unfolding on a Greek island paradise.

In 2014 it had been seen by more than 54 million people in 39 productions in 14 different languages. MAMMA MIA! The Movie is the highest worldwide grossing live-action musical film of all time. One in four households in the UK has the DVD – Amazon UK's biggest selling DVD ever.
A Global Sensation
From West End to global phenomenon, more than 10% of the UK population has seen the London production of MAMMA MIA! It's one of only five musicals to have run for more than 10 years both on Broadway and in the West End. In 2011, it became the first Western musical ever to be staged in Mandarin in the People's Republic of China.
Music & lyrics by Benny Andersson & Björn Ulvaeus,
Written by Catherine Johnson,
Directed by Phyllida Lloyd and choreographed by Anthony Van Laast.
Production designed by Mark Thompson, with lighting design by Howard Harrison.
Sound design by Andrew Bruce & Bobby Aitken.
Musical supervision, additional material & arrangements by Martin Koch.
Cllr Graham Cain, then Cabinet Member for Tourism and Culture, said: "It's over ten years since Blackpool had a summer season show of this quality. Over the last few years Blackpool has transformed dramatically and we have been able to show investors and visitors that the town has changed."