Never been on one of the Fylde Coast trams? Come with us and enjoy a Blackpool Tram ride – and see what it's like.
Enjoy a Blackpool Tram Ride!
Blackpool Transport operates the tramway which runs between Fleetwood Ferry and Starr Gate at South Blackpool. In 2023 the route will be enlarged with the opening of the new tramway extension to Blackpool North railway station.
It's a brilliant way to get around – reliable, clean and obvious to use. And doesn't make you nauseous if you're like me and suffer from travel sickness!
Once upon a time most towns had a tramway service. Then for a long, long time, Blackpool was the only place where you could ride one. Now Blackpool is the only place where you can ride old Heritage Trams and new modern ones, operating on the same system!
Once again, many cities like Sheffield and Manchester have a tramway system in operation. But the majority of towns don't.
So we thought we'd take you first-timers on a ride and show you what you need to know –
Blackpool Tram Rides – What you need to know
The sleek burgundy service trams shuttle back and forth all day between their modern depot at Starr Gate and Fleetwood Ferry. Some of them turn before making the full journey all the way to Fleetwood, but the sign on the front tells you where they're going before you catch the wrong one!
All of the timetable information and much more is available online on the Blackpool Transport website. Regular travellers should download the app where you can buy tickets and check real-time information.
Stops and Timetables
You'll find tram stops all the way along the route. They're all quite obvious and signposted – there's a raised platform where you can wait and a shelter at most of them. Trams come along about every 20 minutes during the winter season and much more frequently during summer and busy times. Just wait at a stop and there'll be one along in no time!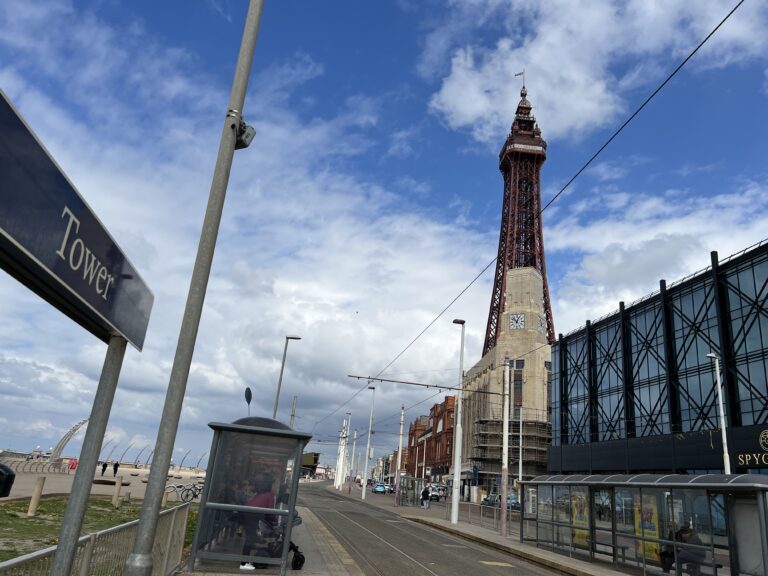 The raised platforms and new trams came into use on 3 April 2012 when the new tramway infrastructure was opened. Together they allow level entry and easy access for everyone – including prams, wheelchairs and mobility scooters etc.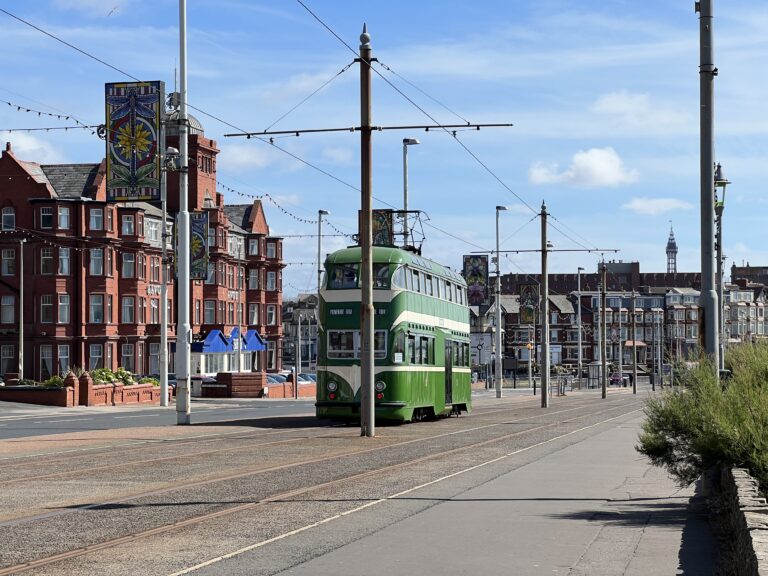 The old, Heritage Trams are still in use and you'll see them travelling along the promenade. They're now a heritage attraction and really popular. Why don't you visit Tramtown – their original depot at Rigby Road. It's fascinating!
Tickets
There's every kind of ticket available to make your journey great value. From single one-way tickets to saver travel and passes. Check out the various options online.
The 24 hour saver ticket is our favourite and fabulous for a day at the coast. With it you can hop on and off as many times as you like – even just to travel to the next stop. Hop between Fleetwood, Cleveleys and all ends of Blackpool – your feet will thank you for it!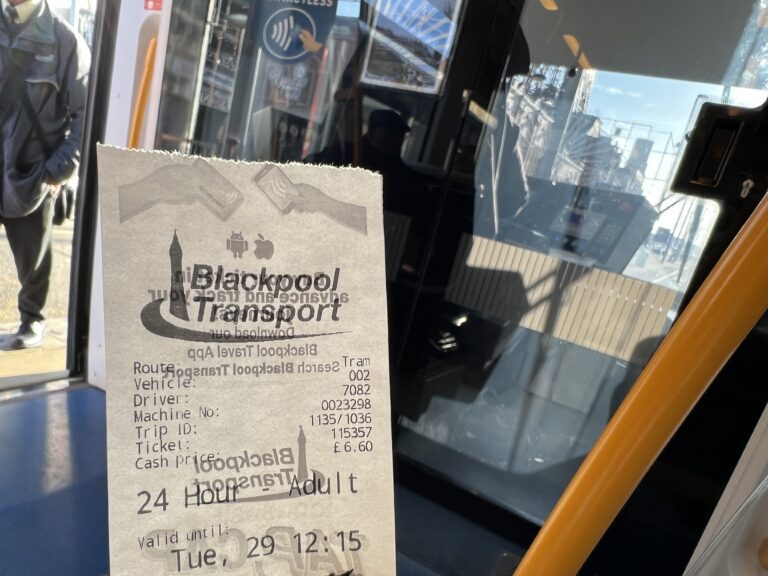 BUT with the miracles of Tap, Cap & Go Fare Capping, you can travel as much as you want in a 24-hour period, knowing you won't be charged more than the price of a day ticket (£6.60).
Most tickets are also cheaper when you buy them in the app too.
OAP Tickets: Please note that concessionary travel on trams is only available (off peak) to NoWcard users who live in the Blackpool and Wyre Council areas.
What do you think?
Hopefully we've answered your questions if you're a first-time tram user. We think they're fabulous – not only do they look good, they're such a convenient way to travel. Leave a comment below and tell us what you think!
Looking for somewhere to stay?
Book your stay with the Visit Fylde Coast and StayBlackpool accommodation guide. Know that you'll have a great place to stay with a choice of Trusted accommodation.
All the properties listed on the Visit Fylde Coast websites by StayBlackpool are annually inspected. This means that you can book with confidence, safe in the knowledge of a great stay, somewhere that's safe, clean and legal, at the very best price.
Bookings from these sites are also ultra-low or zero commission. This means that more of the money from your booking helps to support the local economy.
Search for Accommodation
Accommodation you can trust from StayBlackpool
While you're here…
Go to the homepage of the Live Blackpool website for the latest updates.
Love the Fylde Coast? Sign up for your email newsletter. Packed full of interesting things it arrives in your inbox all 52 weeks of the year.
Join us on Facebook at our Visit Fylde Coast Facebook Group and follow us on Twitter @visitFyldeCoast
Plus hundreds of videos to watch on our YouTube channel – from all over the Fylde Coast!
Booking a stay? Pick a safe, clean and legal place to stay, at the very best price. Book with the Visit Fylde Coast and StayBlackpool guide.