We're taking a look around some of the best known roads across the Fylde Coast. This page is about Church Street in Blackpool Town Centre. What's there now, how it started and some 'Did you Know' moments…
Here's a short video, filmed in February 2021 while the world was still in the throes of the covid pandemic…
Church Street in Blackpool Town Centre
Church Street begins in the West at Central Promenade, opposite Festival House (the Wedding Chapel). It weaves its way past The Grand Theatre, Marks and Spencer and the Winter Gardens, and the heart of the town centre.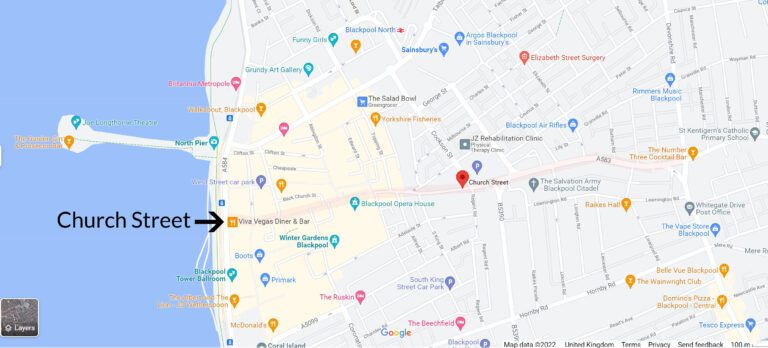 With a name like this you'd expect it to pass a church – and of course it passes the front door of St John's Church – opposite the Winter Gardens and the pedestrianised St John's Square.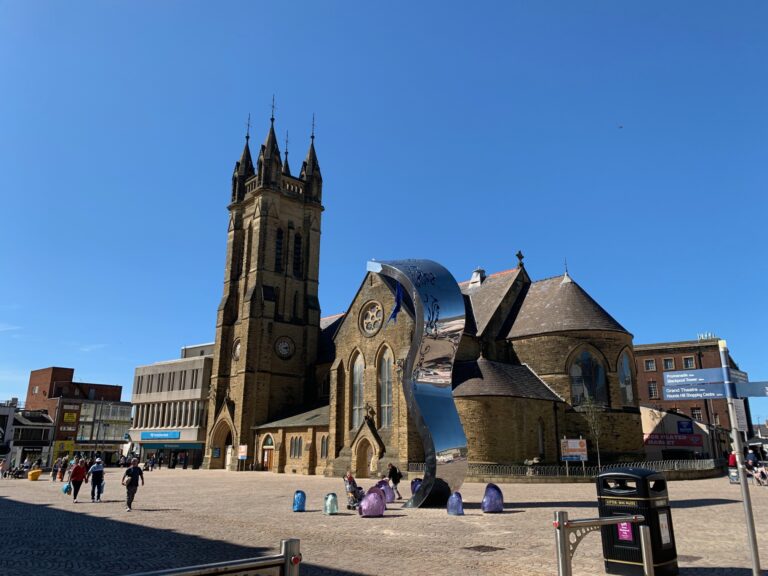 It's the part of Church Street which most tourists and visitors know. But this long, Blackpool road carries on much further, to join Devonshire Road and Whitegate Drive.
One way systems, pedestrianisation and traffic restrictions apply to much of the western end of Church Street. Heading east, another section outside The Regent and FY Creatives is also one way. But beyond the busy junction adjacent to the Salvation Army Citadel, normal two-way main road rules apply to the rest of the A583.
Looking for somewhere to stay?
Book your stay with the Visit Fylde Coast and StayBlackpool accommodation guide. Know that you'll have a great place to stay with a choice of Trusted accommodation.
All the properties listed on the Visit Fylde Coast websites by StayBlackpool are annually inspected. This means that you can book with confidence, safe in the knowledge of a great stay, somewhere that's safe, clean and legal, at the very best price.
Bookings from these sites are also ultra-low or zero commission. This means that more of the money from your booking helps to support the local economy.
Search for Accommodation
Accommodation you can trust from StayBlackpool
Now and Then – on Church Street in Blackpool Town Centre
We love local history here at Visit Fylde Coast. But it was a surprise to discover that reference to Church Street dates back as far as it does. Over the years it's provided accommodation for many varied and notable businesses.
We've done the research in Nick Moore's fabulous History of Blackpool for loads of interesting information for this page. Marvel at what's been here before, next time you walk along Church Street!
The Western End of Church Street
As we said, Church Street joins the promenade directly across the road from the Wedding Chapel. Today, Viva Vegas Diner and Bar is on one corner, with Papas Fish and Chips on the other. Next door to the Diner is the Box Office for Viva Blackpool – the fabulous cabaret showbar.
As you head inland, Blackpool Bus Hub is the first thing to notice, on your left. In the block around B&M Bargains and West Street car park you can catch a service bus to most of the Fylde Coast.
The site of what's now B&M Bargains was cleared after World War 2. It was used for many years as a popular open-air market and car park until 1956. British Home Stores (BHS) and the attached West Street car park opened on 9 May 1957. The new 61,000 square feet store on two floors traded successfully until it went into administration in 2016. The Blackpool store closed on 28 August 2016.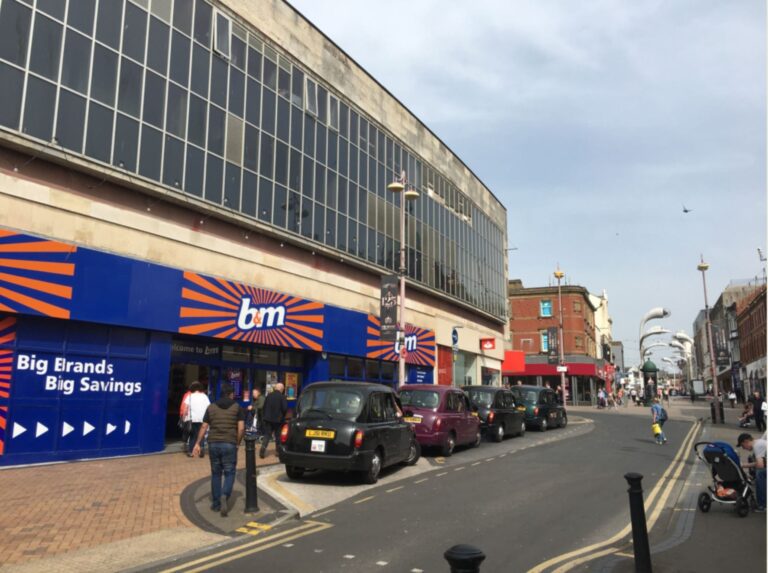 B&M opened on the ground floor in August 2018 after moving from Bank Hey Street for the redevelopment of Sands Resort Hotel.
Cafes, Weeklies and Clowns!
Fan of Nando's Chicken? Bet you don't know what that corner, opposite The Grand Theatre, was originally! In 1933 it was the site of the 3-storey Mason's Cafe – the number one venue for millions of day-trippers. Owned by UCP (United Cattle Products), Blackpool – whose staple trade was tripe, elder, black pudding, oxtail and cow heel – offal to you and me! But by the mid 1950s they had 146 shops in the north west.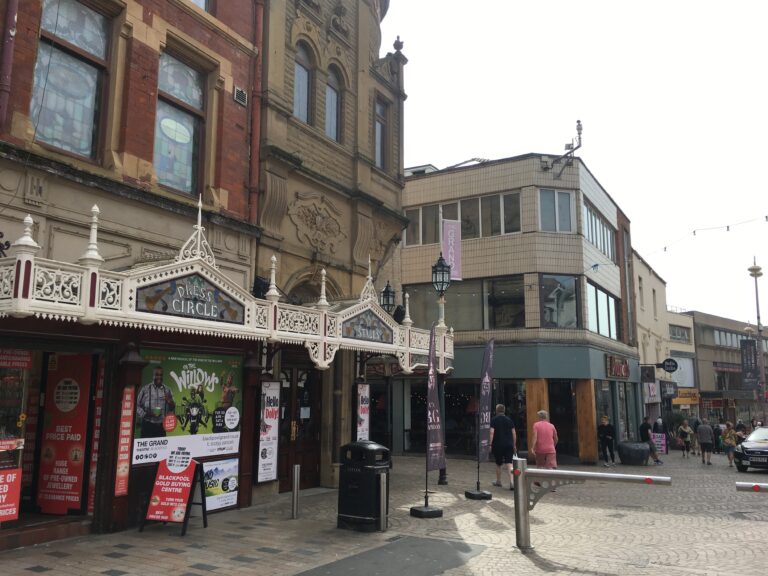 31-33 Church Street (the block now occupied by Nando's etc) also once housed the Steam Printing Works. There, on 3 April 1873, the first weekly edition of the Blackpool Gazette was printed.
In 1887, Professor Vidoco's Flea Circus appeared on Church Street – with fleas attached to miniature carts and other items, encouraged to perform circus acts within a small housing. They occasionally used real fleas, but they were often a sideline of magicians and clowns, with electrical or mechanical effects instead of real fleas.
1887 was also the year when Thomas Sergenson bought a row of cottages and demolished them to build five small shops on the corner which was later to become the site of the Grand Theatre. Sergenson built a circus behind the five new wooden shops, in a portable wooden building with a corrugated iron roof. Ohmy Smith was hired to run it and on 11 July 1889 'Ohmy's Circus' opened. Sergenson was, however, fined 20 shillings for not using 'incombustible materials' for his circus! The circus didn't last long and closed in September 1893.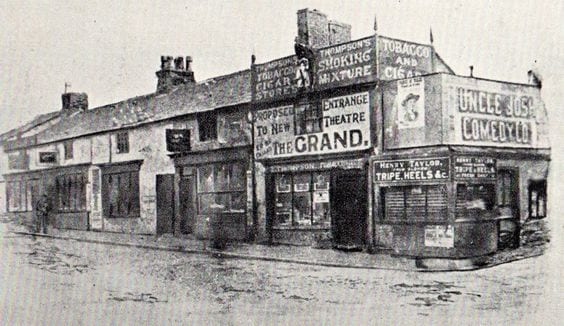 Pedestrianisation, Post Office and Building Work
From The Grand Theatre's corner, Church Street is a pedestrianised area. Abingdon Street to Coronation Street was first done in 2004. Shortly afterwards, the paving was extended to Corporation Street. Traffic free, there's plenty of seating, so you can wander at will! You'll often catch the strains of a busker playing, with free live music entertaining passers by.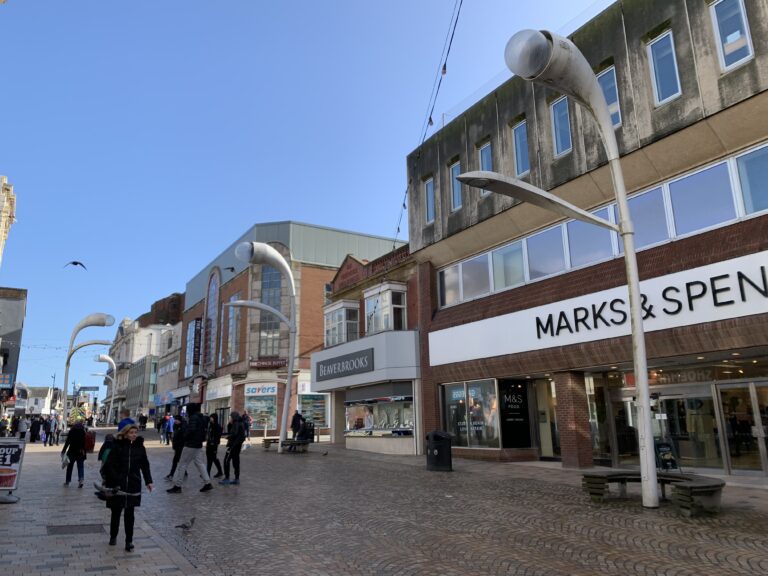 Much more recently, you might remember when several IRA fire-bombs exploded in Blackpool on 7 & 8 December 1991. 15 devices were discovered in shops, an amusement arcade and even the town hall. Ten devices went off, with Marks and Spencer being one of the worst hit.
New Life for M&S
Speaking of Marks & Spencer, in November 2022 it was announced that Blackpool Council has bought the building for £4.8m. The remaining four years of M&S lease should recoup £3m of that. As the building owner, the Council will be able to renegotiate the terms when the lease renews in 2027. It's all part of a plan to retain the high profile retailer in the town. They're currently closing many town centre stores, with 67 going in the current tranche.
Blackpool's third post office once occupied the corner of Coronation Street and Church Street, after rebuilding in 1877. Run by an Alice Carter it had its own savings bank and a popular reading room on the first floor. Look up above Beaverbrooks the Jewellers and you'll see this ornate brickwork with reference to it's past.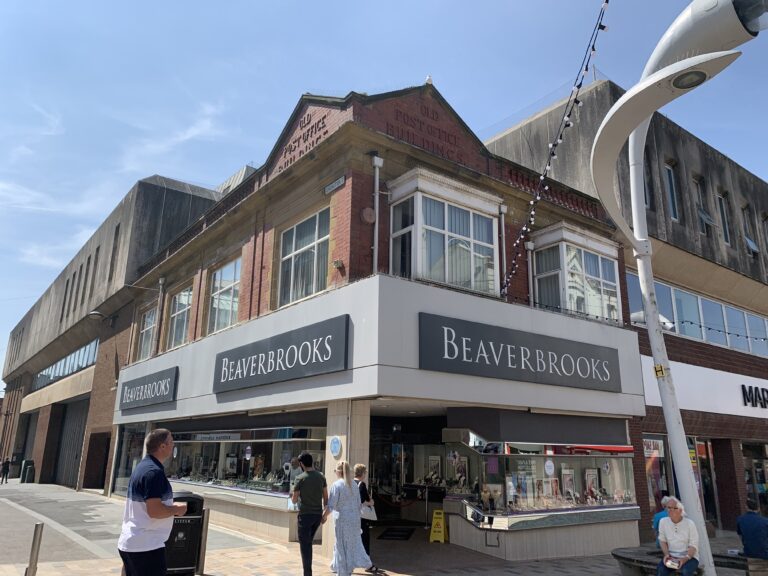 As you pass the next right turn opposite Greggs, take a look along Coronation Street. You'll see a building site opposite the side door of the Winter Gardens, which is the new extension to the Houndshill Shopping Centre. This view will change a lot over the coming months!
Changing Stores
Remember Littlewood's? The Church Street premises built for them is now home to the Halifax and a homeware shop with the Chinese Buffet upstairs. Their first ever retail store had opened at Waterloo Road on 6 July 1937 but soon moved to this new Littlewood's Buildings at 61/71 Church Street in 1938. It was 1995 when the store moved to Bank Hey Street (now Primark), before closing in March 2006.
Ever used the phrase 'Gone for a Burton'? Bet you didn't know that it was born in Blackpool! During World War 2, RAF wireless operators had their Morse code tests in an office above the Burton shop on Church Street. Dreaded so much, they all hated the test and the phrase became used for anything from cancelled leave to death in action!
St John's Square
Pedestrianisation continues through the public space outside the Winter Gardens. Watch out for traffic though because a route through St John's Square is provided for vehicular access. There are often different events and displays here, with space for outdoor eating in good weather and plenty of pavement cafes at the adjoining Cedar Square.
Did you know? The Marton tramway loop once travelled along Church Street, via Abingdon Street and what's now St John's Square, opened on 23 May 1901. But the tracks had to be relaid after they were found to be too narrow in places, before the route finally closed on 28 October 1962. Tragically, a retired tram driver was killed stepping off the tram at Rigby Road depot after driving it for the closing ceremony. Ghostly rumbles and braking sounds can sometimes be heard at night around Rigby Road…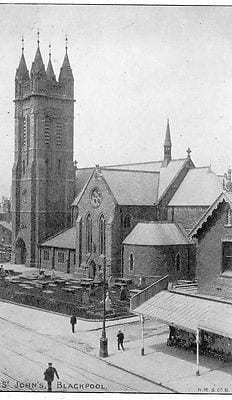 Blackpool Winter Gardens
This building needs no explanation! But did you know that the second, much-enlarged Opera House Theatre, complete with Church Street frontage, opened in 1911? Then called 'Her Majesty's Opera House and Grand Pavilion' the stage was the largest in Britain!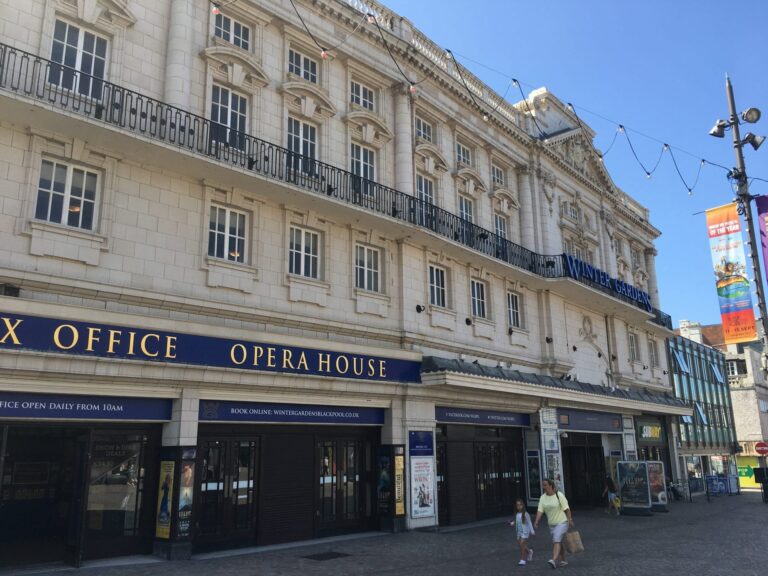 If you're looking for entertainment and a night out you should check out what's on at the Winter Gardens. There's literally something for everyone, with a huge variety throughout the whole year. While you're passing, pop inside to say hello to Morecambe and Wise in the main entrance. Marvel at the beautifully restored Floral Hall and have a drink and a bite to eat in the bar or cafe.
Accessed from the Square are various shops and cafes. Quilligans is one, and inside old Blackpool artworks hide on full view. The interior of this cafe bar boasts a series of niches – each one decorated with original art-deco Neatby panels.
Do you remember? The prestigious shoe shop 'Vernon Humpage'? Once in this row of shops it provided a very expensive selection of footwear for wealthier people. It moved to the site of Brown and Mallalieu's Sunbeam car showrooms on Church Street in 1970. They'd only moved eastwards from next door – but later closed in 1996.
Glance along the next right turn as you leave St Johns' Square along Leopold Grove, to see the main entrance to the new Conference Centre.
Heading East along Church Street in Blackpool Town Centre…
Next left is Topping Street – home to a number of independent businesses. Take a good look at the shop frontages as you head this way – you'll notice that many of them look very nice, with a theme to their style. That's thanks to the 'Quality Corridors' scheme, managed by Blackpool Council.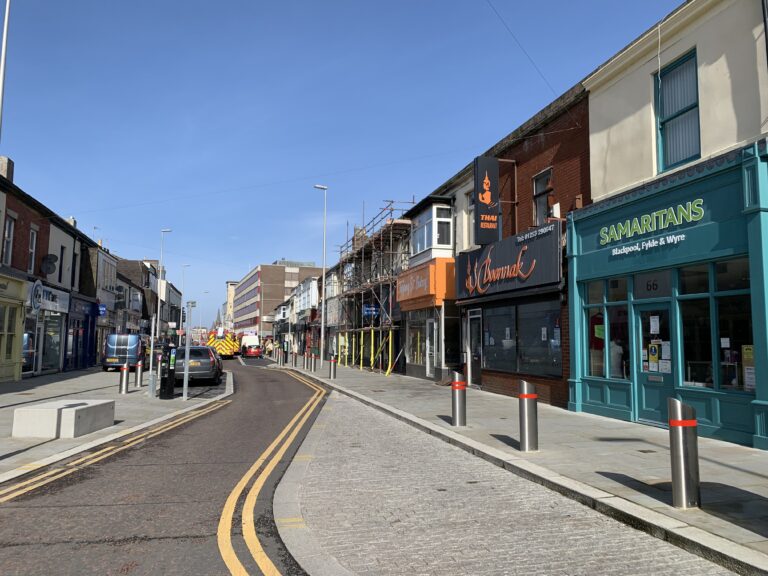 This grant funded project has made a tremendous difference to the look of the area, with new pavements installed. Numerous shop fronts have been upgraded – their fronts being completely stripped and replaced. With a lot of work done to improve the street-scene, it's made a big difference to the look of the area – as you can see in the above photo.
As Church Street heads eastwards, away from the main town centre area, you'll see an eclectic mixture of businesses. From Cash Converters to picture framers, and pubs to wig shops.
New Plans for a Temporary Car Park…
The corner of a temporary car park just catches Church Street before it forks off to Caunce Street. Of course this was once the site of the ABC Theatre – laterly the Syndicate nightclub which closed indefinitely on 11 August 2011.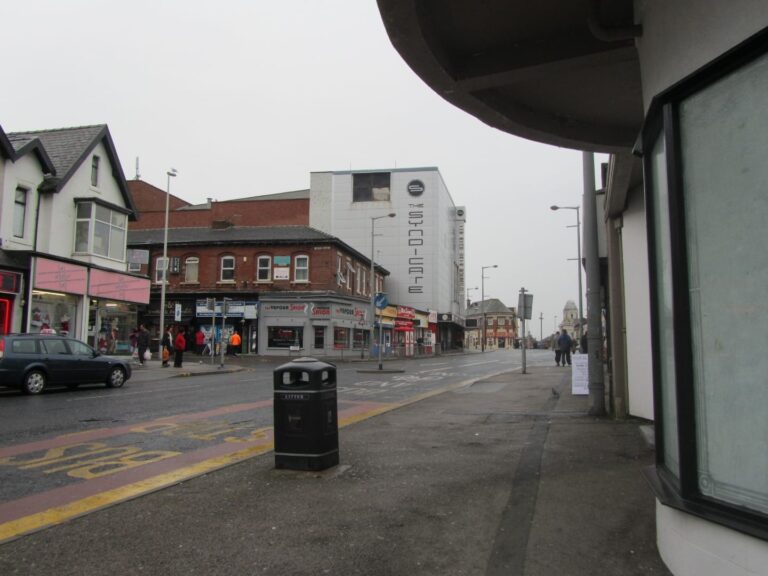 Demolished afterwards, the site has been in use as a temporary car park. Now, it's part of ambitious plans to build a new £100m+ town centre office block for civil servants from the DWP.
…and New Plans for an Old Block
FY Creatives occupies part of the triangular block known as the Stanley Buildings, bordered by Church Street, Caunce Street and Cookson Street. Owned by Blackpool Council and dating back to 1935, it's also locally listed.
Plans were submitted in November 2021 for the £6.3m redevelopment of the block. The proposal is to refurbish the building and create space for new businesses and start-ups. Plans include a ground floor courtyard and a second floor roof terrace. Plus communal facilities to support office and retail businesses. Blackpool Town Deal government money will cover £4.5m, along with £1.8m match funding.
Ever been to The Brew Room? Built in 1880 as The Stanley Arms after Fred Stanley – Earl of Derby, its predecessor across the road is famous for being where Blackpool Football Club formed on 26 July 1887.
Did you know? St John's Church of England Primary School is tucked away on Church Street, between the Brew Room pub and a row of shops!
It was back in 1860 when people began to construct buildings opposite St John's School. By 1866 building work was cracking on apace at Church Street – along with Topping Street, Edward Street, Caunce, Cookson and King Street. These streets were originally all made up of terraced housing.
Regent and Raikes
Another distinctive Church Street building is The Regent. This large white cinema opened on 17 January 1921 on the site of James Pablo's former scrap yard. It's built entirely in cast on site re-enforced concrete with a white faience tiled facade – specifically Middleton's fireclay ceramo. The building's complete with a tall, Baroque-style domed tower above the entrance foyer. Bingo began in 1969 and after the last film aired on 23 October 1971, it became a full-time bingo hall.
Then Rick Taylor bought it in 2013, holding antiques markets on three floors and restoring the cinema. After refurbishment he started to show classic films in the restored venue and in February 2016 The Regent was given Grade 2 Listing. On 29 July 2016 The Regent Cinema reopened, now renamed the 'People's Cinema'.
Cookson Street car park was once the site of the grand Raikes Hotel, complete with stables. At the corner of Church Street and Cookson Street and built in 1874 by George Ormerod it had various names over the years. Including Frank's Place – when owned by comedian Frank Carson in 1979. In 2007 the plot opposite The Regent was finally demolished, along with some nearby shops.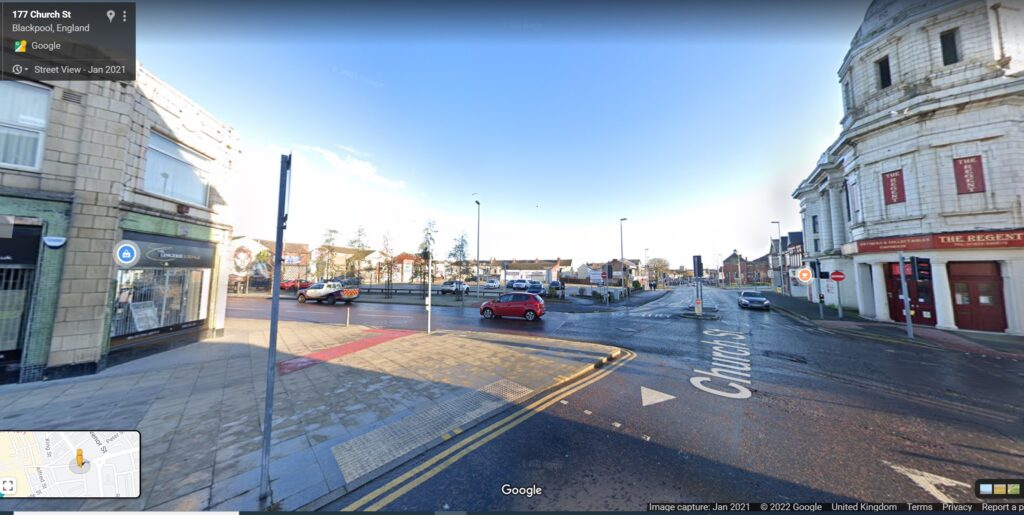 While you're here…
What do you think? Why don't you join in and leave a comment below?
Have a look at the homepage of the Live Blackpool website for more of the latest updates.
Love the Fylde Coast? Sign up for your weekly email newsletter. Packed full of interesting things it arrives in your inbox all 52 weeks of the year.
Join us on Facebook at our Visit Fylde Coast Facebook Group
Don't forget to follow us on Twitter @visitFyldeCoast