This long coastline is an ideal place for going walking in Blackpool. Or if you prefer, there's plenty of parks and open spaces. Where better way could you think of to get your daily exercise!
Walking in Blackpool is Free!
The beauty of going walking in Blackpool is that it needn't cost you a penny! Pack up a water bottle (or flask if it's a cold day), take something with you to eat, get wrapped up (or put on your sunscreen) and set off for as long as you like.
There's so much seafront to explore. There are miles of quiet, beautiful places to walk at both South and North shores. If you prefer something a bit more lively you can walk the Golden Mile in Central Blackpool. Take in the sights and sounds, sit down for a while on one of the many seats and enjoy the views.
Walk on the Beach in Summer
OK, this is Britain we're talking about, and we take 'summer' days when we can get them! But paddling on the waters edge on a warm sunny day is so lovely. Roll up your trousers, take off your shoes and splash along the edge of the sun-warmed water. It's amazing how much distance you can cover when you're paddling too!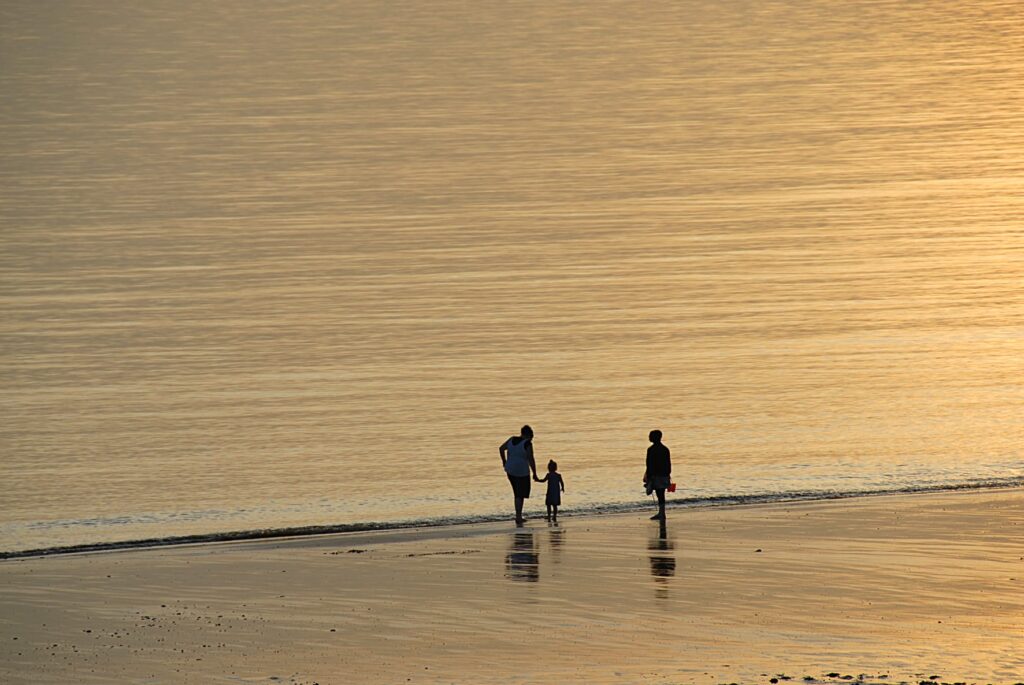 If getting your toes wet doesn't appeal, leave your shoes on and stroll along the miles of empty golden sand. Even on a 'busy' day in the height of a heatwave, there's enough beach for everyone to have their own space.
In common with most other UK seaside beaches, there is a dog ban in place for the main bathing beaches in Blackpool during the summer season. Please don't walk your dog on the sand between 1 May and 30 September or you may receive an on-the-spot fine.
For those of you who are trying to get a bit fitter (or thinner) there's more than enough promenade for you to briskly pound along. Quick march your way to better health (and that's free too!)
You could make your walk a round trip – go there on the sands and back on the prom. Or why not walk as far as you are able to or want to, then hitch a lift back on a bus or tram.
An easy place to walk
The beauty of walking in Blackpool is the flatness of the landscape. Together with the big open skies and the noise of the sea it makes for a really lovely experience.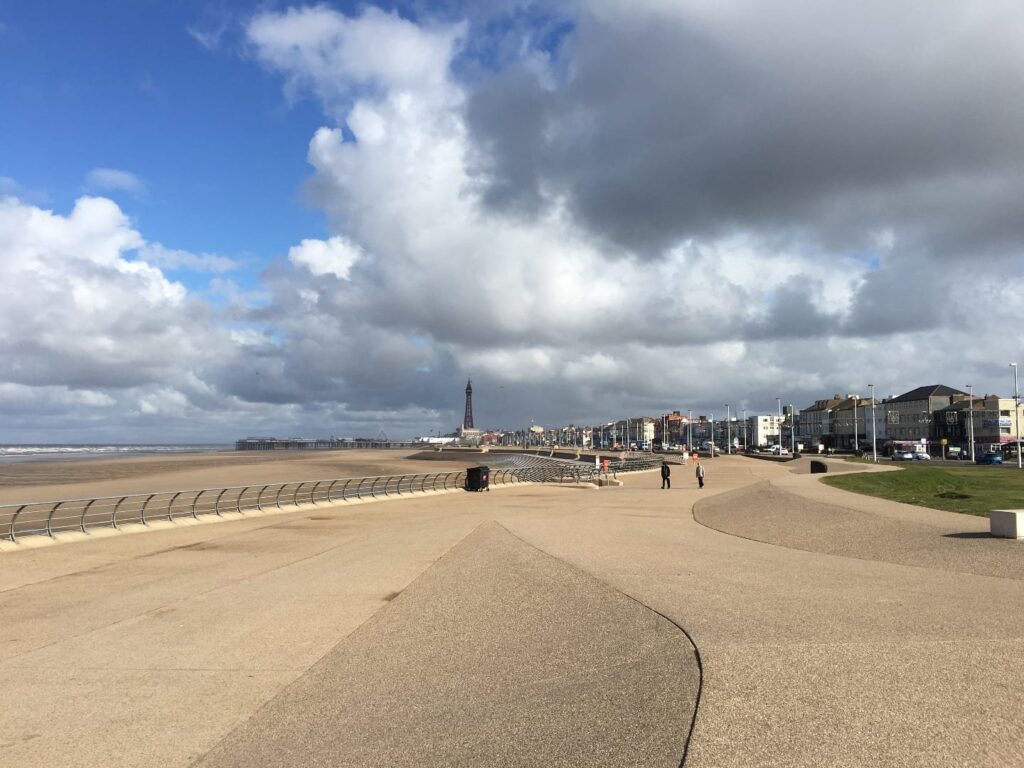 Most of the Blackpool area is pretty flat. Relative to other towns and cities it's quite level – the seafront certainly is. You won't find proper cliffs here and steep seafront climbs like you might elsewhere around the shores of the UK.
Enjoy a higher view
If you do fancy an elevated view, you can head to north shore and look over the Irish Sea from the only coastal hill. The highest spot at north shore is known as the 'Cliffs' but take that description with a pinch of salt!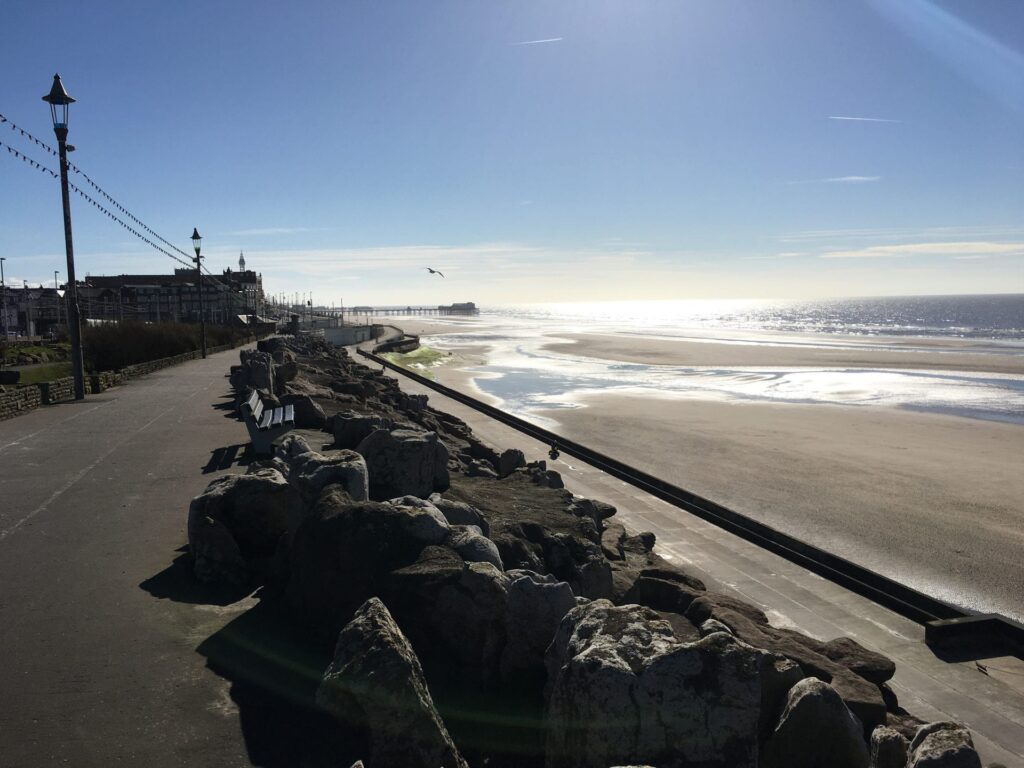 Heading north past North Pier and Gynn Square, the land rises upwards slightly to form what is known as 'The Cliffs'. Although it's not quite the White Cliffs of Dover!
There are different levels of promenade walkways to enjoy. Or take your walk along the grassy bank against the tram tracks and main promenade next to the highway.
Walking in Blackpool at sunset
Later in the day when you walk along the beach or promenade, you'll enjoy the fabulous west-coast sunsets over the sea.
The best time to catch this beautiful type of sky is at the end of a clear, bright day. From autumn through to late spring, sunset is at a convenient time for us to enjoy. It's equally as beautiful in summer – it's just later in the day!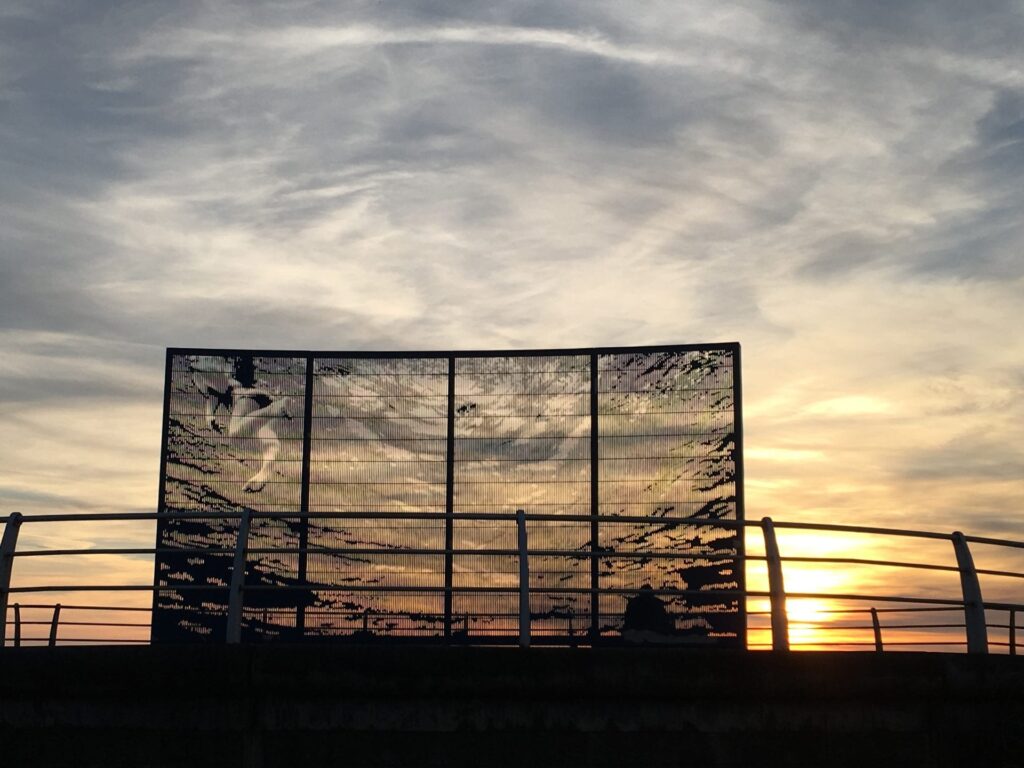 Throughout the colder months of the year you'll catch the amazing daily display of thousands of starlings, settling to roost at night. This swooping and diving of so many birds is called a murmuration. Go walking in Blackpool, around North Pier in particular, and be astonished at this display of nature!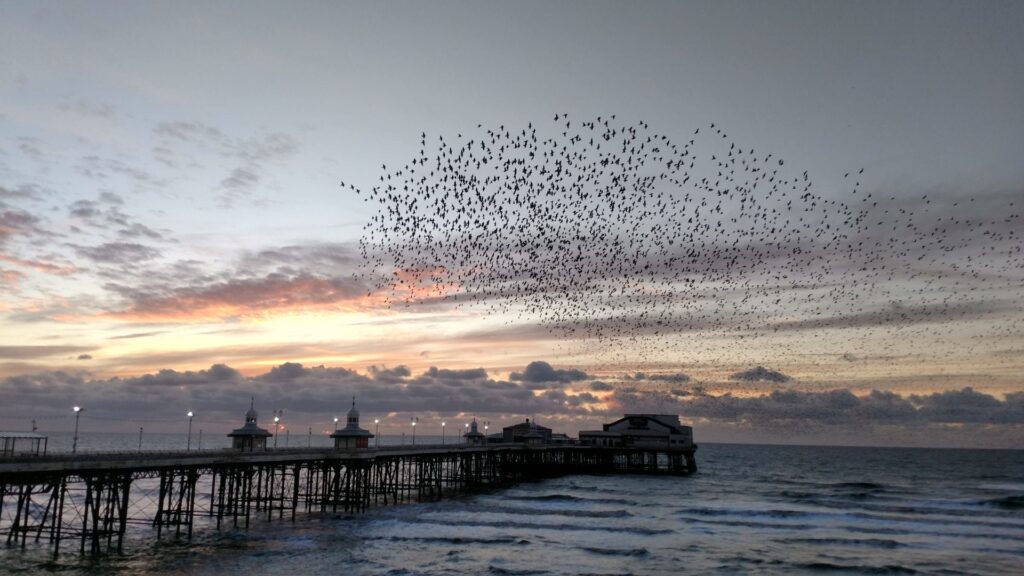 Walk as far as you like…
That's the good thing about this coast, if you feel fit enough you can enjoy a long walk.
You could go walking in Blackpool and then head north to Cleveleys, and explore Fleetwood beyond if you wish.
Or if you head south towards the Pleasure Beach, next stop is St Annes and then Lytham beyond.
…and travel back
Enjoy the freedom of leaving your car behind to wander where the fancy takes you. With the good public transport system that runs along the coastline, you won't get stuck for your return journey. Check out the Blackpool Transport buses and trams. A day ticket is ideal – you can get on and off buses and trams as often as you like.
Or why not go walking in Blackpool with the help of your car? As odd as that might sound, unless you live very close by you'll need to get to the seafront first. Use one of the many car parks near the seafront, or park on a side street, and enjoy your walk from there.
There are public car parks in the town centre which are close to the beach. There are pay and display parking bays along the seafront itself.
Walk the Lancashire Coastal Way
The Lancashire Coastal Way forms part of the Blackpool seafront. It starts at Silverdale (just north of Carnforth) and follows the coast to Freckleton on the Ribble Estuary.
The whole route is 67.4 miles long. Perfect for seasoned walkers who would like to cover the whole trail. You can also pick bits off at your leisure.
Facilities for when you go walking in Blackpool
For the average leisure walkers among us, the other good thing about the Blackpool coastline is that there are plenty of public facilities.
There are plenty of places to sit for a while to catch your breath and take in the view. There are public toilets at regular intervals along the route. Plus you're never very far from a cafe and refreshments to sort out your hunger or thirst.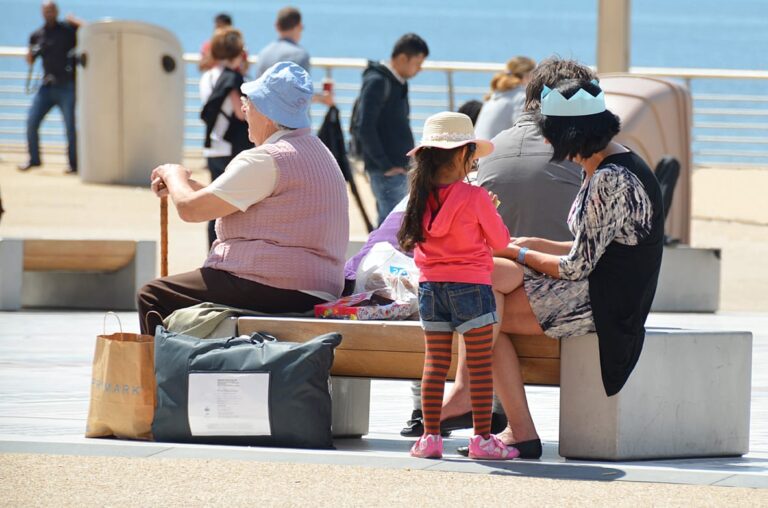 Watch the Weather
If you've got a journey before you arrive at Blackpool, you might want to check out the weather and local webcams.
Green spaces for walking in Blackpool
With so many miles of beautiful coastline to enjoy, a walk at the shore is an obvious choice for most people.
However, you might be surprised to know just how close you are to green spaces and parks in Blackpool.
There are a number of parks spread throughout the whole of the Blackpool area, including of course Stanley Park. With over 200 acres there are plenty of footpaths to explore and enjoy the wildlife which lives there.