The new Blackpool "Multiversity" will bring a world-class learning facility into the heart of the town centre. The vibrancy of students and staff, studying for high quality training and education, will bring new life into town.
And the exciting new campus will transform a run-down area. It will bring new life and vitality, a year round vibrant economy and new spending habits through events and activities in and around the campus.
We took a walk around the area in September 2022 when the proposed site was revealled:
Funding Announced
On 19 January 2023 it was announced that £40m of Levelling Up funding has been awarded to ensure delivery of a new Multiversity. It's a carbon-neutral, education campus in Blackpool's Talbot Gateway Central Business District.
This means that Blackpool's vision of a state-of-the-art education campus in the heart of the town centre is now moving towards reality.
New images show the scale of the landmark development. It will replace out-of-town centre Blackpool and the Fylde College facilities with world-class, state-of-the-art ones in the heart of the town centre.
The Multiversity will promote higher-level skills, helping residents in Blackpool secure jobs for the future.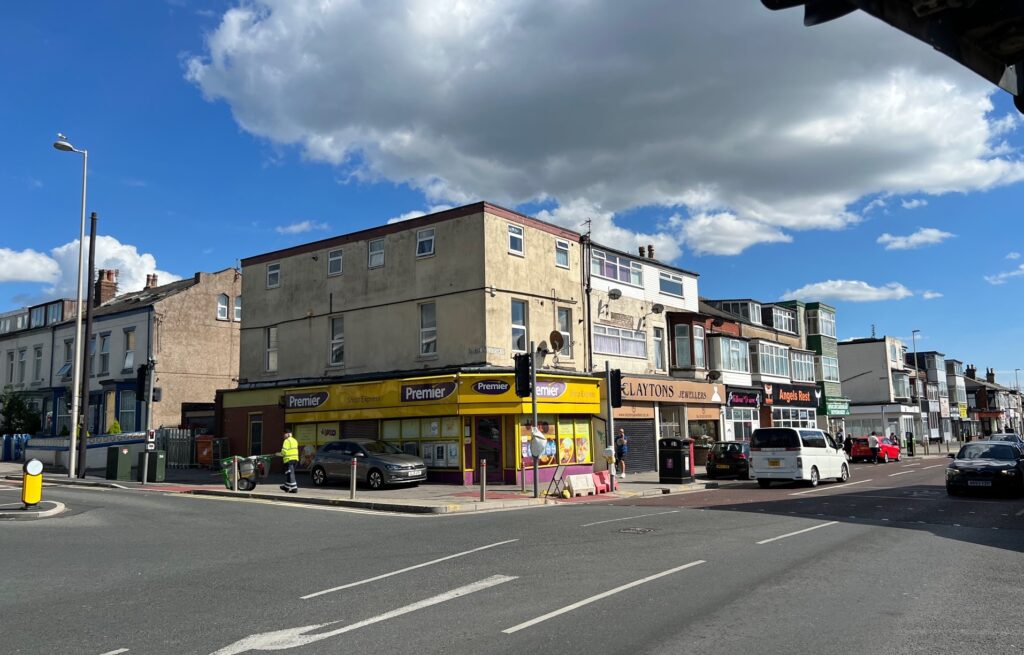 Aim of the New Blackpool 'Multiversity'
The Multiversity campus is a unique solution to provide a cutting-edge response to local, regional and national educational priorities. A high quality, technical and professional curriculum will be on offer, co-created with local employers and in partnership with Blackpool and the Fylde College (B&FC) and Lancaster University. The world-class learning facility will support skills growth in Lancashire.
The Multiversity concept is designed to provide high value employment and support regional businesses. It will help upskill their workforces through high quality technical and professional training and education.
What's Happening?
The aim is to relocate the existing B&FC Park Road campus into the town centre and support the town's wider regeneration strategy.
The existing town centre campus at Park Road has several challenges. Considered too far out of town by students, it's also landlocked so expansion and redevelopment aren't viable. And the older buildings present redevelopment and upgrade with issues such as accessibility and DDA compliance. They also have dated IT, mechanical, electrical and heating infrastructures.
Delivering a state-of-the-art purpose built campus in the town centre will future proof higher education and learning on Fylde Coast for many years to come. The potential of something of this calibre for Blackpool is extremely exciting.
Why's a Multiversity needed?
The next few years will be challenging for every business. It's essential there are centres of excellence reacting to the changing nature of the economy, marketplace and industry sectors. Organisations need reskilling opportunities to help them survive and flourish.
The Multiversity will provide employers with access to training programmes. They'll line up with the government's Industry Strategy and its Grand Challenges focusing on transforming the nation's future. Artificial Intelligence and data, an ageing society, clean growth and the future of mobility will all be part of the course portfolio on offer.
Key Benefits
Improving skills and opportunities. The investment in a new, high-quality, purpose-built educational facility will provide an unrivalled learning environment, encouraging more learners to choose to continue with their education in Blackpool. A tailored curriculum, catering for needs of employers in order to fill skills gaps across the Fylde Coast, means the Multiversity, by virtue of what is taught there, will link directly to employment opportunities.
Supporting town centre regeneration. The development of the Multiversity adjacent to the town centre will complement other major developments, including the developments at Talbot Gateway, the extension to the Houndshill Shopping Centre and the new Winter Gardens Conference and Exhibition Centre, in providing year-round footfall into the town centre, reducing the impacts of seasonality.
Built environment uplift. The Multiversity's development will provide uplift to an area that has not previously benefitted from significant investment, improving the built environment significantly, and supporting the creation of high-quality, pedestrianised, public open space.
Funding the New Blackpool Multiversity
This is another ambitious Blackpool project, projected to cost around £65m.
The project's been allocated £9m from Blackpool's Town Deal. This will be used to develop the business case including other sources of funding to deliver this ambitious and exciting project.
A separate bid for £40m of construction costs has been submitted to the Levelling Up fund – and approved in Jan 2023.
Blackpool Council has pledged a loan of £16m
And £5m will come from Blackpool and the Fylde College, project partners in association with Lancaster University.
August 2022: Proposed Site Revealed
Details for the proposed site were first revealed on 31 August 2022. If successful, the plan is to transform another substantial chunk of land in the Talbot Gateway area, including a sizeable portion of Cookson Street.
The three acre site covers a square block currently occupied by residential houses and some shops. It's bounded by Cookson Street, George Street, Grosvenor Street and Milbourne Street. Just a stone's throw from Blackpool North station, the new tramway terminus and other major new developments at Talbot Gateway.
However, with loads of hurdles to jump, schemes like this always take a long time to deliver. There's a long way to go before the doors open and the students arrive!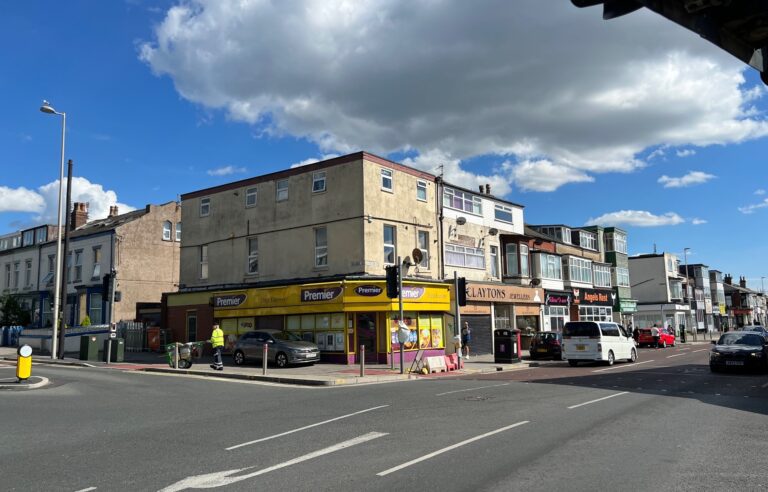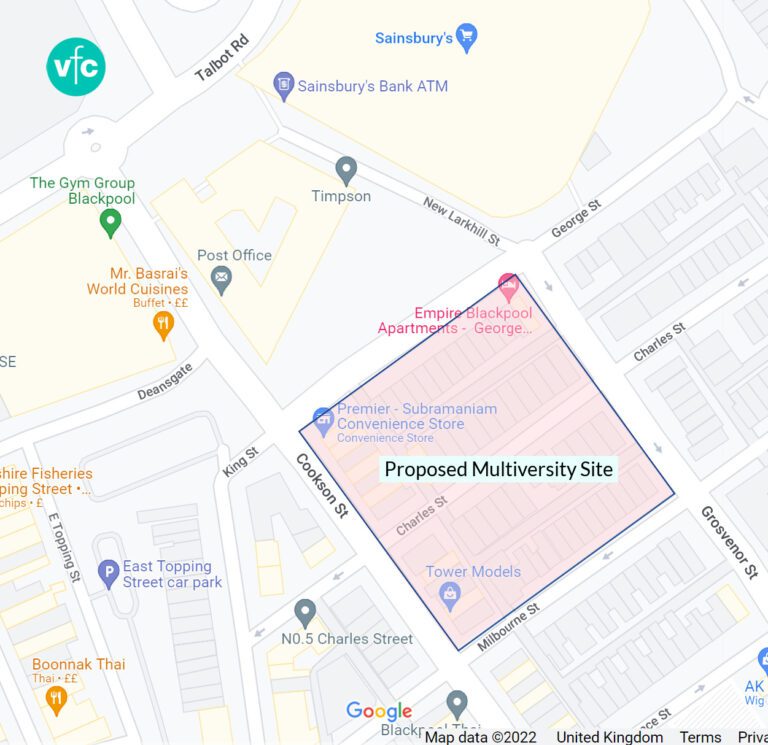 December 2020: Project Team Appointed
It was December 2020 when a consortium of consultants were first appointed to develop plans for a new Blackpool 'Multiversity'. Blackpool Council and Blackpool & The Fylde College jointly appointed the North West based team.
Two local companies, Blackpool-based Joseph Boniface Architects Ltd and Freckleton-based Chartered Building Consultancy Leeming Associates, will support the project lead, Manchester-based Hawkins\Brown. CBRE and Amion will also provide support for the project.
While you're here…
Go to the homepage of the Live Blackpool website for the latest updates.
Love the Fylde Coast? Sign up for your email newsletter. Packed full of interesting things it arrives in your inbox all 52 weeks of the year.
Join us on Facebook at our Visit Fylde Coast Facebook Group and follow us on Twitter @visitFyldeCoast
Plus hundreds of videos to watch on our YouTube channel – from all over the Fylde Coast!
Booking a stay? Pick a safe, clean and legal place to stay, at the very best price. Book with the Visit Fylde Coast and StayBlackpool guide.