Plan your journey to Blackpool from the main road and rail network using Omio, it makes getting to Blackpool a breeze!
Omio is a search and booking platform covering trains, buses and flights.
Omio operates in 36 countries with a full presence in 15, and is available in 18 languages. It's had a whopping 12 million app downloads. Omio work with over 800+ transport companies across Europe so it will help you to plan your trip!
Getting to Blackpool
Blackpool is on England's North West Coast. It's against the Irish Sea, with amazing views and sunsets from the seafront.
By Car:  Blackpool has a motorway link direct to the centre of the resort – take the M6 to Junction 32 and the M55 will lead you here.
The M55 and main motorway network brings you right to the edge of the town at Yeadon Way.
If you turn left here, you follow dual carriageway Squires Gate Lane, to the very southern edge of Blackpool You'll pass a sizeable retail park before arriving at the seafront near to a large building which is the new Fylde Coast tram depot.
Turn right at the end of Squires Gate Lane and it's a short drive along the promenade to the Pleasure Beach. You'll see the tall tracks of various roller coasters as you travel into town.
Or, from the roundabout at the end of the M55, you can travel straight ahead along Yeadon Way. This is the main road straight into the centre of Blackpool and main car parks.
Along Yeadon Way you'll find huge amounts of parking. First is surface parking near to Blackpool South station. Carry on under the railway bridge and there's more parking on your left. Blackpool Football Club is on your right. Further ahead are coach bays then finally Central car park. This is very convenient for the town centre and seafront.
Getting to Blackpool by Train
Blackpool has 3 railway stations, Blackpool North, Blackpool South and Blackpool Pleasure Beach.
Blackpool North Railway Station is on the edge of the town centre. It's opposite the Talbot Gateway development where you'll find the Blackpool Council offices and Sainsbury's supermarket.
In 2018 the line to Blackpool North was electrified in a major upgrading project. Superfast Virgin 'Pendolino' electric trains bring passengers to Preston and then there are now four services an hour for the onward journey to Blackpool North. Hourly services connect Blackpool South station to East Lancashire, again stopping at Preston.
There are also direct services to Blackpool North from Manchester International Airport, Manchester Piccadilly, Manchester Victoria, Liverpool Lime Street and York.
Preston Station has direct services to all major cities including: London Euston, Birmingham, Glasgow and Edinburgh.
Our main rail operators are Northern Rail and Virgin Trains
Getting to Blackpool by Coach
By Coach:  Just sit back and let your Coach Driver take the stress away.  These days coaches are extremely comfortable and very well equipped offering a high quality, value for money way of getting to your favourite seaside resort. Check out your local papers, travel agents or coach companies to see what trips to Blackpool are on offer.
National Express Coaches operate to and from the resort throughout the year, arriving and departing in the new Blackpool Central Coach Station in the Blackpool Central Car Park. Further details are available from any National Express Agent and the enquiry centre by calling 0121 254 7272.
Other companies also offer services to Blackpool and details of these can be found on the Coach Tourism Council's website by clicking here.
Once you're in Blackpool
Getting around by Tram
Blackpool trams, operated by Blackpool Transport, run along the seafront from Squires Gate at the southern end of Blackpool, through central Blackpool, Bispham and Anchorsholme into Cleveleys and terminate in the north at Fleetwood.
The Tramway is one of the oldest in existence and opened in September 1885. It runs from Squires Gate where Blackpool meets St Annes in the borough of Fylde, through Cleveleys and on to Fleetwood which are in the borough of Wyre. The daily commute is now carried out by a brand new fleet of smooth, purple and white, Bombardier Flexity trams.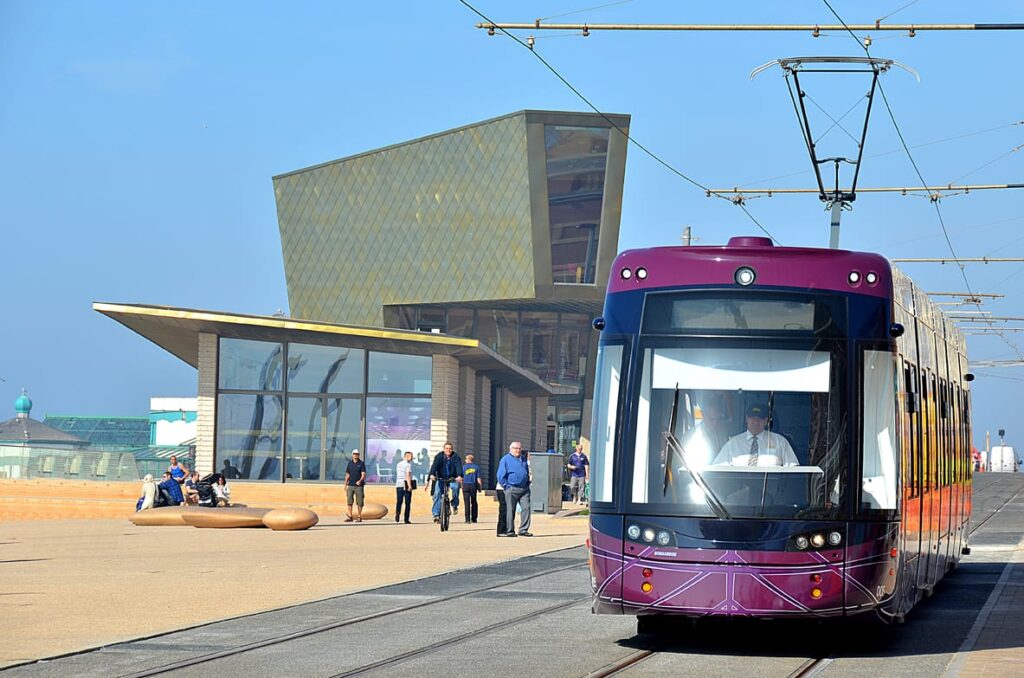 There's a choice of the modern, smooth trams (above). The old style Heritage Trams operate from separate stops using a different timetable.
Getting around by Bus
Buses on the Fylde Coast are also operated by Blackpool Transport and most of the routes use new Palladium style buses. There's a range of timetables, services and fare options to help you to plan the best route and most cost effective way of travelling.
Blackpool is well connected to neighbouring towns and the whole of the Fylde coast by public transport. A programme of investment is well underway, with brand new single and double decker buses replacing the old fleet.
Regular reader Barrie C. Woods sent in this photo of one of the ten new Dennis ENVIRO 400 buses during the launch event in St Johns Square, Blackpool.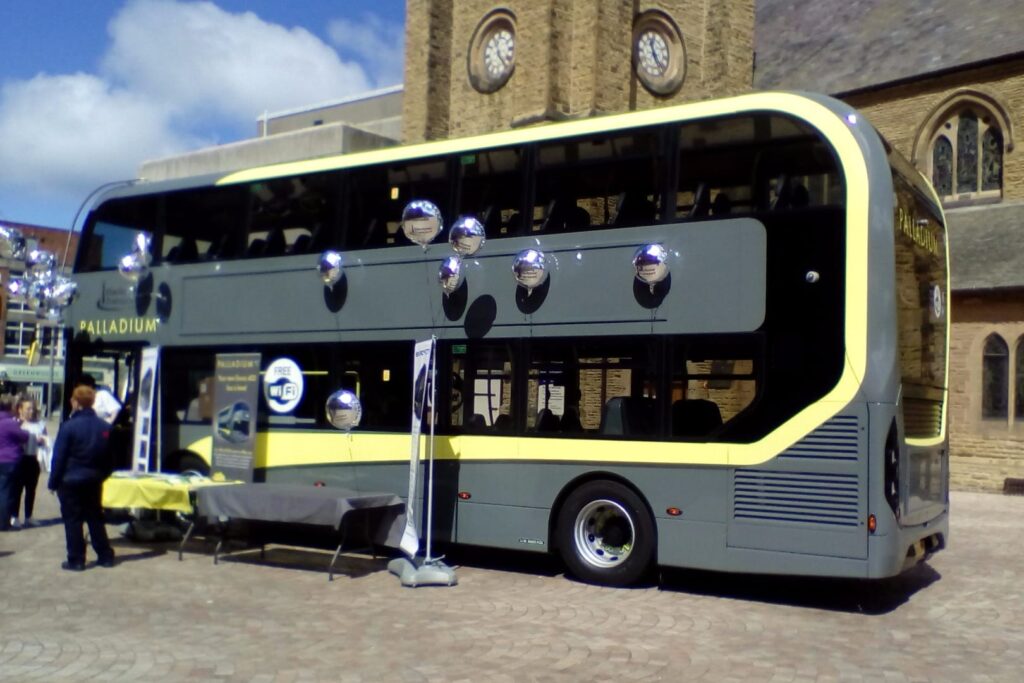 Each has a capacity of 72 seated and up to 100 with standees. They are built on Dennis Chassis with Alexander bodies and operate with low-emission engines. They also have Wi-fi and various other modern features. Blackpool was the first operator to order them outside London.
Getting around by Car
Car parking in Blackpool, is often cited as being plentiful, with numerous public pay and display car parks. There's also pay and display on-street parking in the town centre and along the promenade.
You might find it easier to park your car and leave it when you arrive in Blackpool, especially at the height of the season. You can then catch the bus or use the tram while you're here and make the best of our public transport network. Weekly passes are very affordable and give you unlimited travel.
While you're here…
Have a look at the Live Blackpool website homepage for more of the latest updates.
Love the Fylde Coast? Sign up for our weekly email newsletter. Packed full of interesting things it arrives in your inbox all 52 weeks of the year.
Join us on Facebook at our Visit Fylde Coast Facebook Group
Don't forget to follow us on Twitter @visitFyldeCoast