Looking for somewhere to stay for your next break? We've done the legwork so you don't have to. Here's our guide to hotels in Blackpool – Albert Road.
If you enjoy the friendly homeliness of a small independent hotel or guest house, you'll love your stay in one of the hotels at Albert Road. It's a stone's throw from the town centre, next to the Houndshill Shopping Centre and near to the Blackpool Tower.
Where is Albert Road?
Albert Road is another of the old, long streets of Blackpool town centre.
As you stand at the back of Coral Island, with McDonalds at your left, Albert Road is the long road ahead of you, at the side of the Houndshill.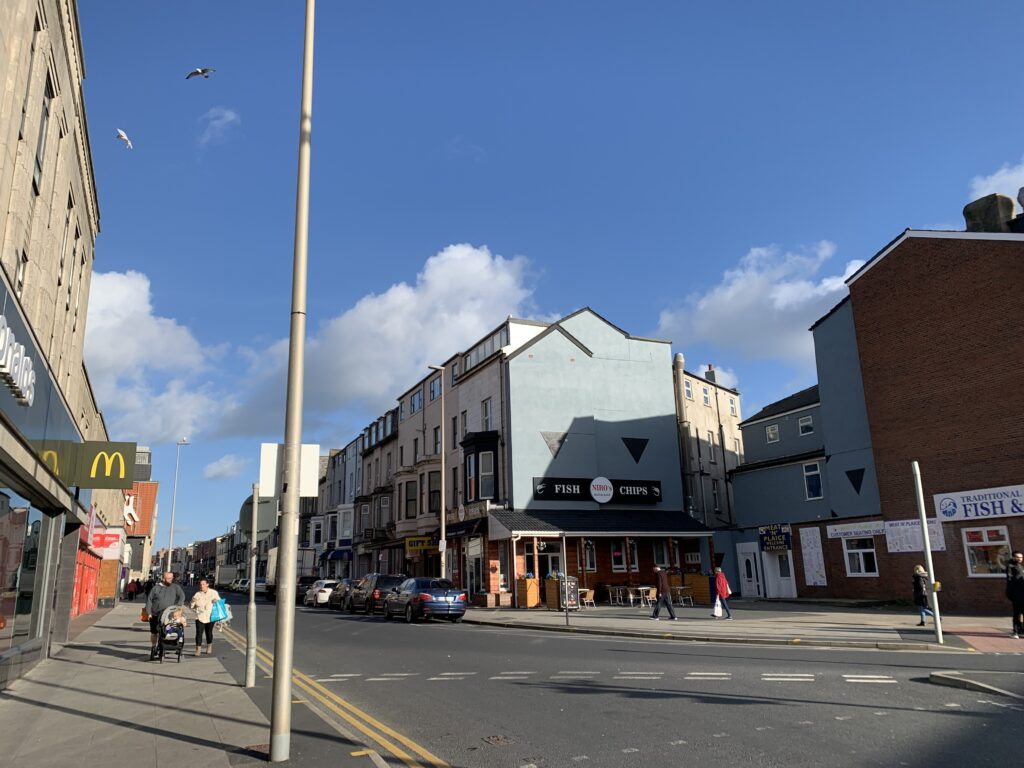 It continues through the cross roads at Coronation Street (in the first photo and where you turn left to the Winter Gardens). Then all the way to the left bend at the top to join Regent Road.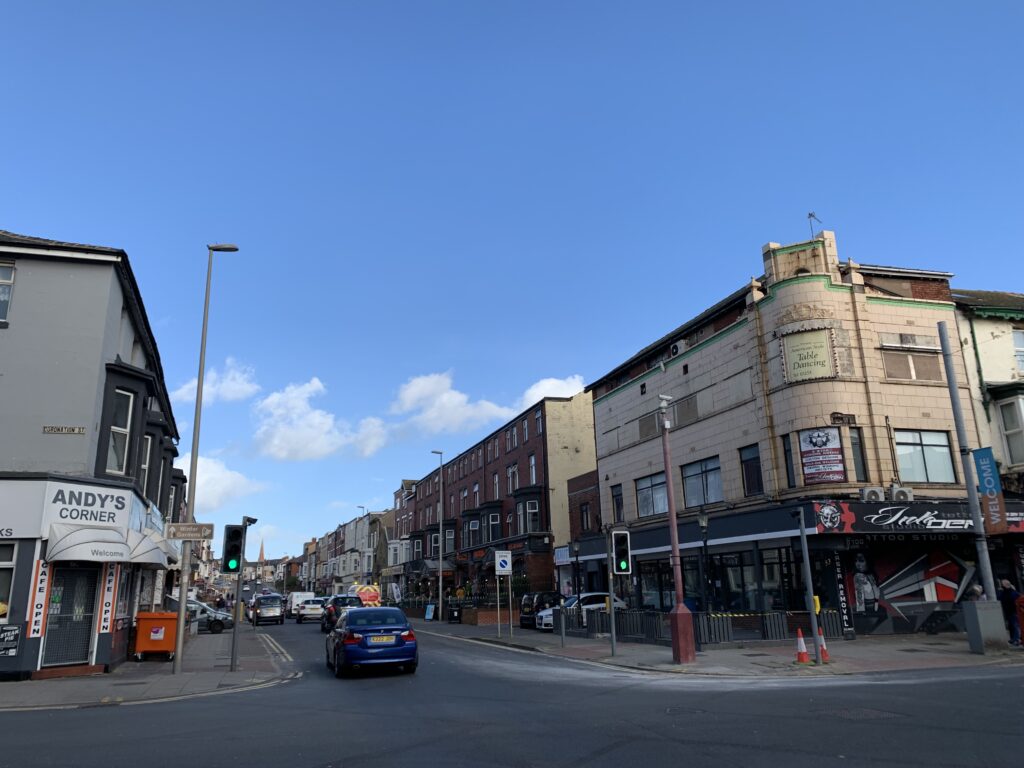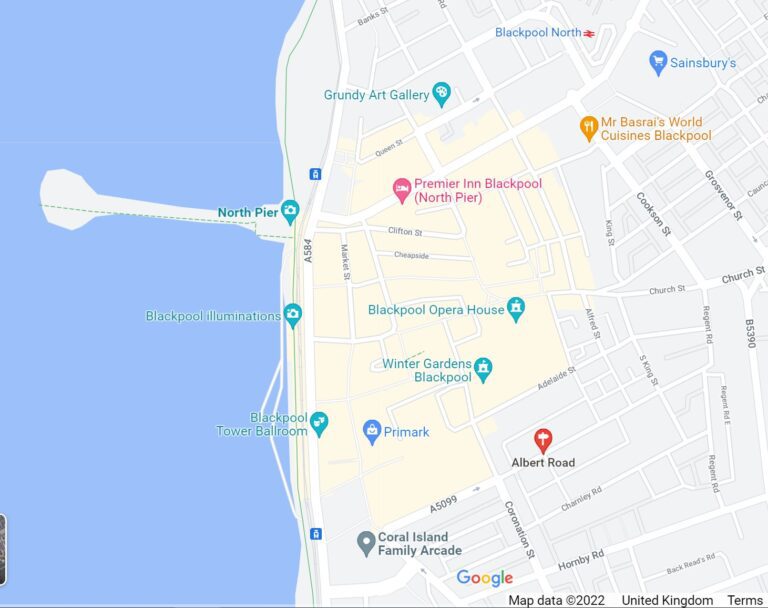 Hotels in Blackpool – Albert Road
Choose from a wide variety of accommodation at Albert Road. These are all small, independent hotels, guest houses, bed and breakfast and apartments. You'll get a home-from-home welcome.

We went to have a look on a lovely sunny day in September 2021. It's all part of the Blackpool charm!
Enjoyed this video? Why don't you subscribe to our Visit Fylde Coast YouTube channel – make sure you don't miss out!
Hotel guests can take advantage of limited free parking at the individual holiday properties. There's plenty of nearby parking at Central Car Park and at the Houndshill Shopping Centre.
Albert Road is a really handy place to stay. In fact, if you're looking for places to stay near The Blackpool Tower, you can't get a lot closer!
Blackpool Transport operate Fylde Coast service buses and trams. Why not buy a pass then you can enjoy unlimited travel during your stay.
It's almost in the town centre, with most things just a few minutes walk away
It's close to the seafront, Piers, Coral Island, theatres and attractions on the promenade.
The Blackpool Tower, Winter Gardens, theatres, bars and shops of central Blackpool are really close by.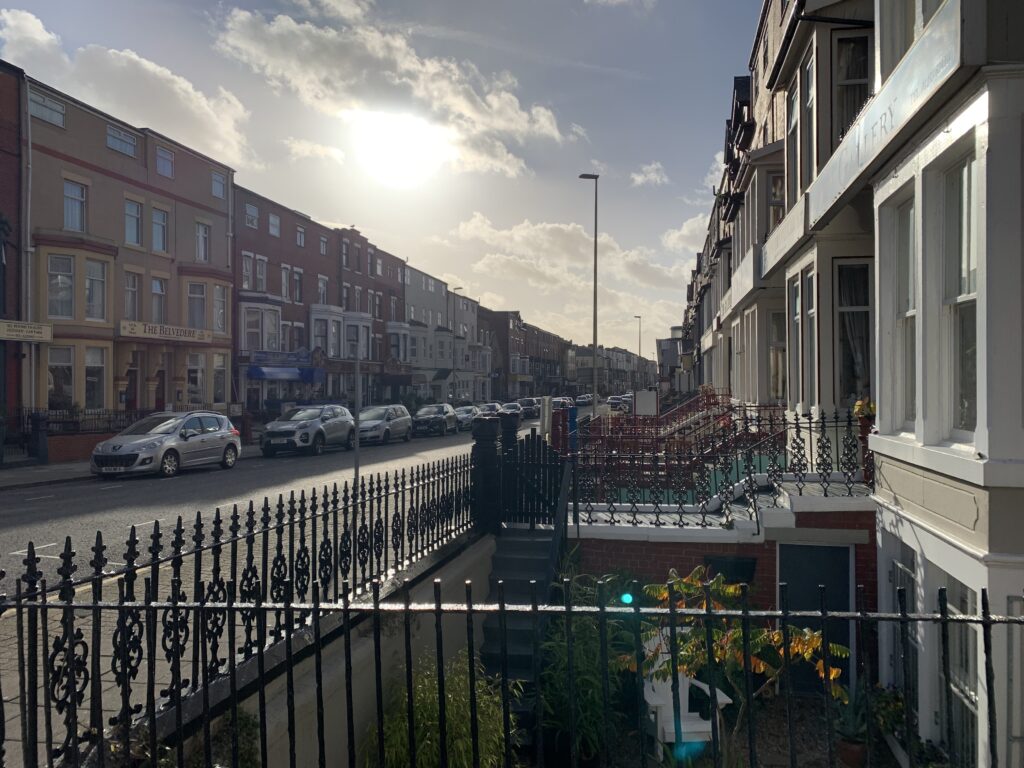 Book with StayBlackpool
Book direct for the best price – and show your support for Fylde Coast tourism providers. Browse and choose StayBlackpool Accommodation – for a holiday place that's clean, safe & legal.
StayBlackpool is the independent association for Blackpool hotels and guest houses.
And with something for all tastes and budgets, choosing one of these accredited properties ensures that the accommodation you choose is exactly what you expect.
All StayBlackpool members are rated with Visit Britain, the AA or Blackpool Approved schemes. You can be assured that where you stay is clean, safe and legal.

More about Albert Road
We said it was one of the original Blackpool roads, and we weren't exaggerating! It's close proximity to what was then Central Railway Station (now Central Car Park) meant that it was a handy place to stay.
By 1876 three storey houses were being built by companies based in Lancashire, Yorkshire and Staffordshire. These so called 'company houses' were places where their employees could come to take a holiday. Lots of expansion followed, then in the 1930's many of the houses were converted into hotels. The Ruskin is just one of them.
Did you know? Burtons Bakery had one of their first shops at Albert Road? Remember their confectionary?
Fire Stations and Shopping
Where the former Debenhams store is now, was once the location of Blackpool's third fire brigade station of 1878. From there, horse drawn engines clattered across the town to attend to fires.
Then on 26 July 1938, on the same site, the Co-op Emporium opened. This was a huge store, including a newsreel theatre. Called the Jubilee Theatre it was used for BBC summer season shows. Sadly it closed in March 1988 to be demolished in 1989 and used as a temporary surface car park. Remember that? You can see the cars parked on what was once the Co-op Emporium – the grey building at the left was an old multi-storey car park.
Of course the Houndshill is currently being extended once again. You might be interested in this page, showing how the site has changed over the years.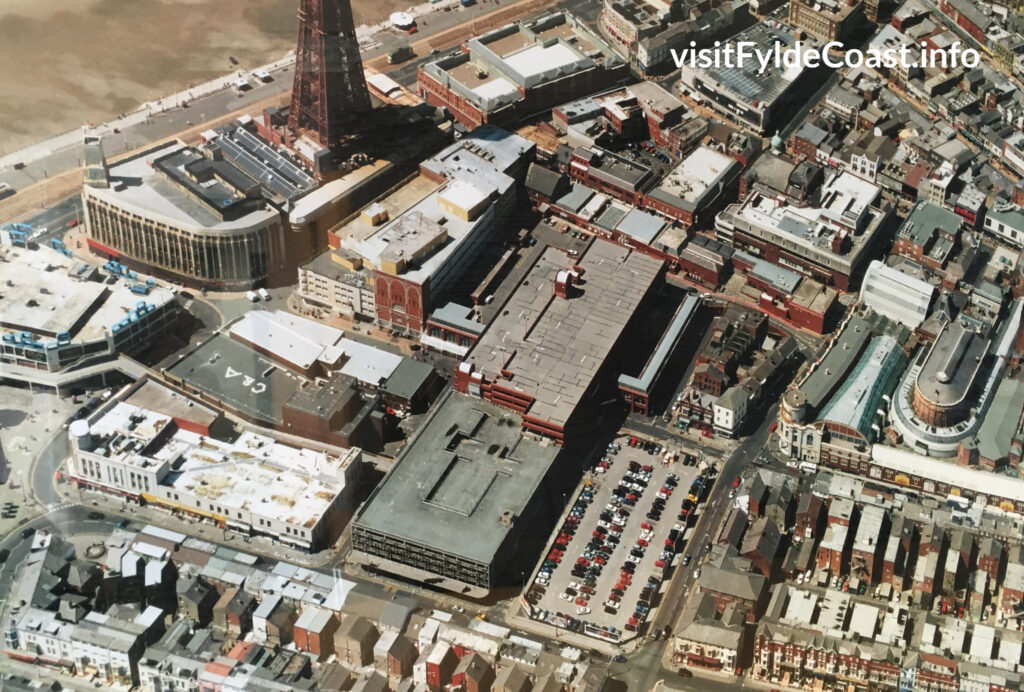 Have you noticed the tiny Spiritual Church? It's on the right hand side as you go inland, just past the junction with Coronation Street. One of the first to be built in Britain it opened on 20 June 1896. It was founded by the famous spiritual medium Emma Hardinge Britten.
Albert Road was also near to Raikes Hall – the original, large and very popular Blackpool entertainment complex. You'd once have found it between Church Street, Whitegate Drive and Hornby Road. But as the seafront attractions grew in popularity, Raikes Hall couldn't compete and was closed by the early 1900's.
MANY THANKS to Nick Moore and his fascinating History of Blackpool for historical information used in this article. You can read it in full here.
Memories of Albert Road
Many of our readers have old treasures and collections of postcards, brochures and receipts. Have you got any old literature relating to Albert Road? If you have please email it to jane@theRabbitPatch.co.uk and we'll include it here. Full credit given of course.
While you're here…
What do you think? Why don't you join in and leave a comment below?
Have a look at the homepage of the Live Blackpool website for more of the latest updates.
Love the Fylde Coast? Sign up for your weekly email newsletter. Packed full of interesting things it arrives in your inbox all 52 weeks of the year.
Join us on Facebook at our Visit Fylde Coast Facebook Group
Don't forget to follow us on Twitter @visitFyldeCoast