The Blackpool Tramway extension connects the promenade tramway with Blackpool North Railway Station.
The £22m extension forms part of Talbot Gateway regeneration project around Blackpool North train station. It includes:
demolition of the existing Wilko store,
completion of the new tramway interchange at Blackpool North Station,
a new underpass,
four-star Holiday Inn hotel and restaurant,
and new retail outlets.
and two brand new Flexity2 trams will be added to the fleet, to cope with the extra passenger demand.
Ongoing Progress
We've enjoyed watching progress at the site of Blackpool tramway extension. Every few weeks we've been to take a look and document the project in a series of videos. Here's the latest –
If you've enjoyed this video, why don't you subscribe to the Visit Fylde Coast YouTube channel?
And one of our readers took the opportunity to grab an aerial view of the site from the top of the Blackpool Tower. Thanks to Steven Hughes for sending this photo, taken in September 2021, where you can see the site taking shape –
Construction of Steel Framework Begins at Talbot Gateway
Key members of the development team met on site on 30 June to mark the next step of the multi-million pound development at Talbot Gateway Phase Two. The first steelwork is now in place for the 4* Holiday Inn and Marco Pierre White restaurant.
The development is on schedule for a summer 2022 opening. Construction of the main steelwork frame will continue over the next few months. Roofing and cladding work is programmed to start in the autumn.
We've also been to take a look for you – here's our latest video of the progress –
Mike Horner is Development Director from Muse Developments, Blackpool Council's development partner for Talbot Gateway. He said, "It's a fantastic feeling to meet with partners safely on site and see the next phase of the hotel build start to take shape here at Talbot Gateway.
"We've got some real forward momentum now as we emerge from a very challenging twelve months. This hotel is all part of building back better and further driving inward investment and opportunities right into the heart of Blackpool. We're focused in our collective vision to re-energise the town centre and we're delighted to be playing an important role with the council and Robertsons. Together, we're creating a more vibrant, inclusive and connected Blackpool that's resilient for the future."
Road Works and Road Closures
The development works include a new underpass below the hotel. It will provide a bright, modern entrance into Blackpool North train station from a new tram terminus.
Tramway contractors SISK, on behalf of Blackpool Council, are on schedule to complete the new £23.4m tram link to Blackpool North train station. The existing tramway will be further extended from the corner of Dickson/Talbot Road, through the construction site to a new North Station terminus.
There will be some additional closures along Talbot Road starting 5 July for four weeks. Overhead electrical lines and new tram signals are being installed next. The work will be phased overnight and no daytime closures are planned to minimise disruption to local businesses and residents.
The completed extension will mean more trams on the network and more frequent services. The extension to the tramway will connect North Station to the Promenade giving a direct link to shops, hotels and leisure attractions and easier commuting for residents. The new tramline will be cleaner, greener, quieter and more reliable.
Exciting Times!
Cllr Lynn Williams is Leader of Blackpool Council. She said, "It's great to see the construction of the new hotel, Marco Pierre White restaurant and underpass starting to take shape. We're looking forward to seeing the steelwork go up, a significant next step in the build programme. It's come a long way since the demolition started back in September last year, despite the year we have had, which is a real testament to all those involved in this important regeneration project.
"We are aware that these works are inconvenient for people and we apologise in advance but the disruption will be worth it in the end.
"We're also a step closer to the new tramway extension being finalised which will bring greater capacity, more frequent services and better connectivity around town, making travel for residents and for visitors much easier, as well as providing more jobs for local people.
"This whole development will play a significant part in the overall economic recovery of Blackpool and help us build back after COVID. I'm also pleased to be able to say that this work is already supporting 10 long term unemployed Blackpool residents through a partnership between Blackpool Council, Robertson's and Blackpool and Fylde College".
Job Opportunities
To support the local community throughout the project and to promote skilled training opportunities in Blackpool, main contractor Robertson's Group has established a Sector Based Work Academy (SWAP) with Build Up Blackpool and Department of Work and Pensions. 10 long term unemployed residents will undertake five weeks of training leading to a CSCS card (Construction Skills Certificate Scheme) over the coming months. Blackpool and Fylde College have also agreed to run a virtual work experience for their T level students using the Robertson Tower City Project in June 21.
Management Company & Marco Pierre White sign to Talbot Gateway
Published November 2020
It's official: In October 2020 hotel management company RBH and Marco Pierre White's restaurant signed to the Talbot Gateway development, due to open in 2022.
Muse Developments is Blackpool Councils development partner on Blackpool's flagship Talbot Gateway regeneration project. They've announced that contracts are now signed with the hotel management company RBH, Holiday Inn and Black & White Hospitality (owner of Marco Pierre White's restaurant chain) for the New Holiday Inn Blackpool Hotel.
Holiday Inn Blackpool will boast 144 bedrooms as well as Marco's New York Italian restaurant. It will create up to 50 new full time equivalent jobs.
RBH is the UK's leading independent hotel management company with an existing portfolio of 45 branded and independent hotels across the UK and already includes Blackpool's Imperial Hotel.
The brand new four-star hotel is scheduled to open in Summer 2022. It's part of a wider regeneration project for Blackpool. Retail units, improved public transport links and a new tram terminal are all within the Talbot Gateway central business district. The total investment in Phase Two Talbot Gateway is £34.6m.
Transforming this Gateway to Town
Andrew Robb, Chief Business Development Officer at RBH, said: "It has been great to work with the team at Blackpool Council over the past few years, seeing first-hand the passion and dedication they have for their town. As the flagship commercial development for Blackpool, Holiday Inn will form the centrepiece of the Talbot Gateway development second phase, transforming an important gateway to the town. We are delighted to be working with our partners at IHG (InterContinental Hotels Group) on this project and can't wait to get started."
Susan Bland, Managing Director at RBH, said: "We are thrilled to announce the continued growth of the RBH portfolio with the addition of Holiday Inn Blackpool. I am exceptionally proud that our track record in both development and operations proved instrumental in this appointment. Despite the challenges our industry is facing at the moment – which we are all navigating together – the fundamentals of hospitality remain unchanged in the long term, and we are looking to the future with excitement and positivity thanks to developments like this."
Cllr Mark Smith Cabinet Member for Business Enterprise and Job Creation said, "Talbot Gateway continues to transform this key entrance into town and highlights the excellent commercial opportunities we have to offer. We're delighted to welcome the Holiday Inn and Marco Pierre White brands to Blackpool and are confident that more internationally successful, recognised leisure businesses will follow in their wake. It raises the bar in terms of what people can come to expect from Blackpool's leisure offer, providing a much needed boost to the year-round economy and creating sustainable long terms jobs for the local community."
Marco's New York Italian
Inspired by his Italian heritage and love for New York, Marco's New York Italian restaurant will reflect the hustle and bustle of the Big Apple as well as Marco's passion for classic, simple, authentic food. Visitors to Blackpool will now be able to look forward to enjoying a mix of Italian-inspired dishes and American classics from a menu created personally by Marco himself while feeling they've been transported to the bistros and diners of New York.
Nick Taplin, Chairman and CEO of Black and White Hospitality added: "This New York Italian is perfect for Blackpool. It represents friendly, casual dining and will give locals and visitors a great new place to go out and eat. It's not pretentious, it's just good food, served in a great environment."
"This is also fantastic news for Blackpool town as well as Black and White. The New York Italian fits perfectly with the Holiday Inn and we already have a number of hugely successful restaurants trading under this popular hotel brand. In these uncertain times it is good to look forward and plan such positive developments. Black and White Hospitality has a very strong portfolio and our business model of aligning the restaurant brands with hotels is one that has proved very successful in the UK as we approach our 50th venue."
Demolition of Wilkinsons
The next phase of Blackpool's town centre regeneration is underway as contractors demolish the Wilkinsons building and car park.
The store closed at the end of March 2020. Visit Fylde Coast went along just before the doors shut for the final time –
Preparation for the demolition began on 1 June. The first proper knocking down of the external building began on Monday 14 September 2020.
Visit Fylde Coast went along to take a look, recording the event in photos and video –
If you've enjoyed this video, why don't you subscribe to the Visit Fylde Coast YouTube channel?
Surprised at how quickly the building came down, we popped back on day three for another look. We'll visit again before the building completely disappears!
If you've enjoyed this video, why don't you subscribe to the Visit Fylde Coast YouTube channel?
And a couple of weeks later it's coming down at a pace!
If you've enjoyed this video, why don't you subscribe to the Visit Fylde Coast YouTube channel?
The next video was made on the morning of 4 November and you can see that the building is coming down at a pace –
If you've enjoyed this video, why don't you subscribe to the Visit Fylde Coast YouTube channel?
Friend of Visit Fylde Coast Barrie C Woods took these photos of demolition at dusk, later that same day on 4 November 2020.
Phase One at Talbot Gateway
The demolition marks Phase Two of the Talbot Gateway project in Blackpool's Central Business District. The first phase saw the opening of Sainsbury's supermarket and the development of offices. It now accommodates more than 1,000 public and private-sector employees.
Carrying out the Work
Robertson Construction Group has been appointed jointly by Blackpool Council and development partner, Muse Developments. Muse entered into a Development Agreement back in March 2009.
Preparation began on Monday 1 June – initially involving the demolition of the Wilko store and car park, which ceased trading at the end of March.
Local people will be at the centre of the project to ensure the wider community can benefit. Robertson Construction has already started working with Blackpool and the Fylde college, with the aim of providing real opportunities to people throughout the project and beyond. Talbot Gateway is hugely important to the town.
Proposed Schedule of Works
Demolition and construction work is expected to take around two years.
Demolition of Wilko's building, Talbot Road – June to December 2020
Construction of the high street underpass – November 2020 to 30th April 2021
Construction of the Holiday Inn Hotel – October 2020 to April 2022
Tram extension and track completion – January to May 2021
All timings are subject to there being no further delays due to the current Covid-19 crisis.
The next phase of the development will offer many things to the town. Brand new retail locations and an improved leisure offer to boost the night-time economy. More high-quality accommodation choice for leisure and business visitors alike and a more integrated and connected use of our transport system.
The tramway terminus will form part of the redevelopment of the site of the current Wilkinson's store. The plan is to locate it in the centre of the development. Close to and at the same level as the existing underpass to Blackpool North Station.
Hopefully all residents, businesses and visitors can enjoy and benefit from the radical improvements being made not just at Talbot Gateway, but right across the town.
Progress at Blackpool Tramway Extension
Visit Fylde Coast correspondent Barrie C Woods is doing a sterling job of documenting the progress of the Blackpool tramway extension at Talbot Road. Here are some photos taken in January 2019 –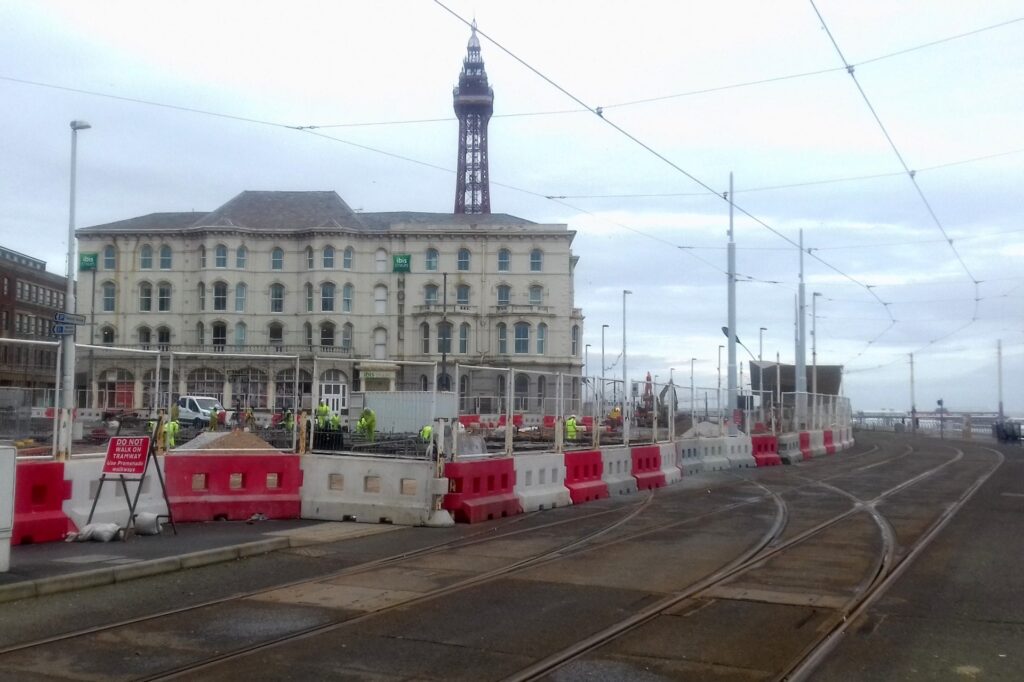 The stretch of carriageway between West Street and Queens Square reopened in March 2019.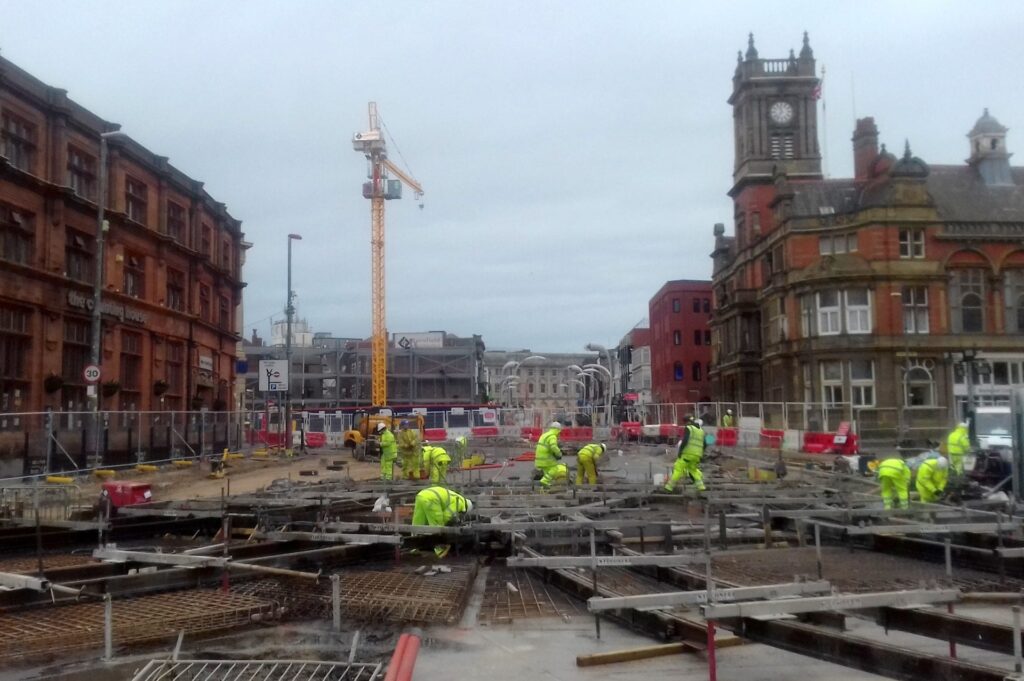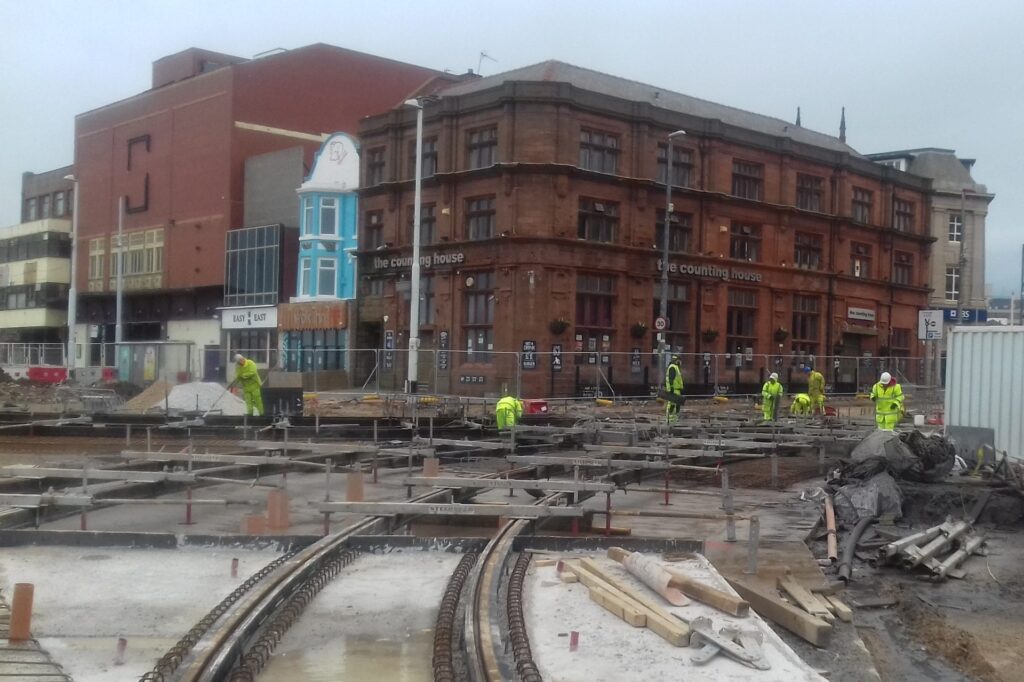 Tramway to Wilkinsons!
Another update from Visit Fylde Coast Contributor Barrie C Woods. As Barrie says, the tramway looks like it's heading straight into the front doors of Wilko's! Photos taken on 31st October 2018.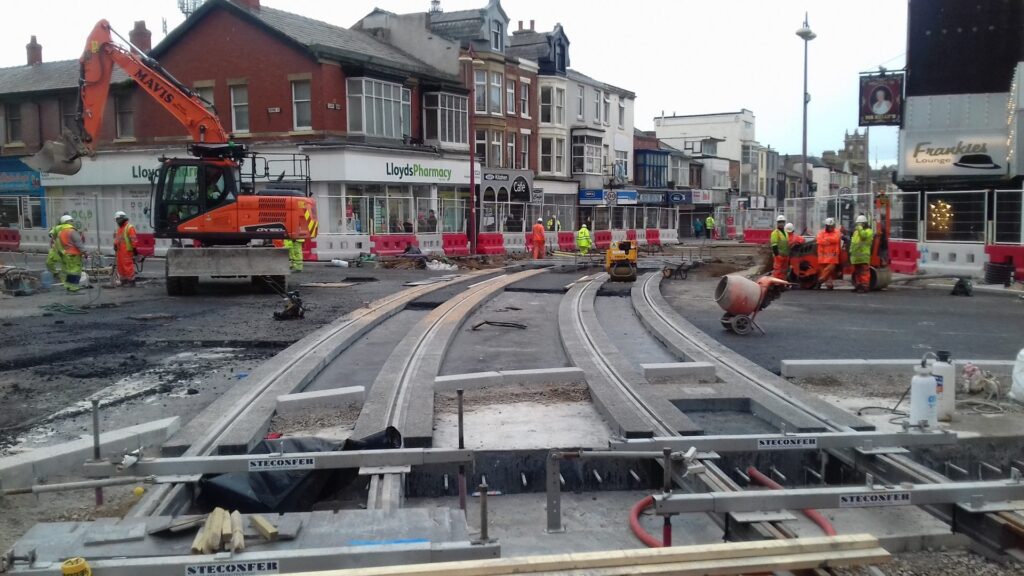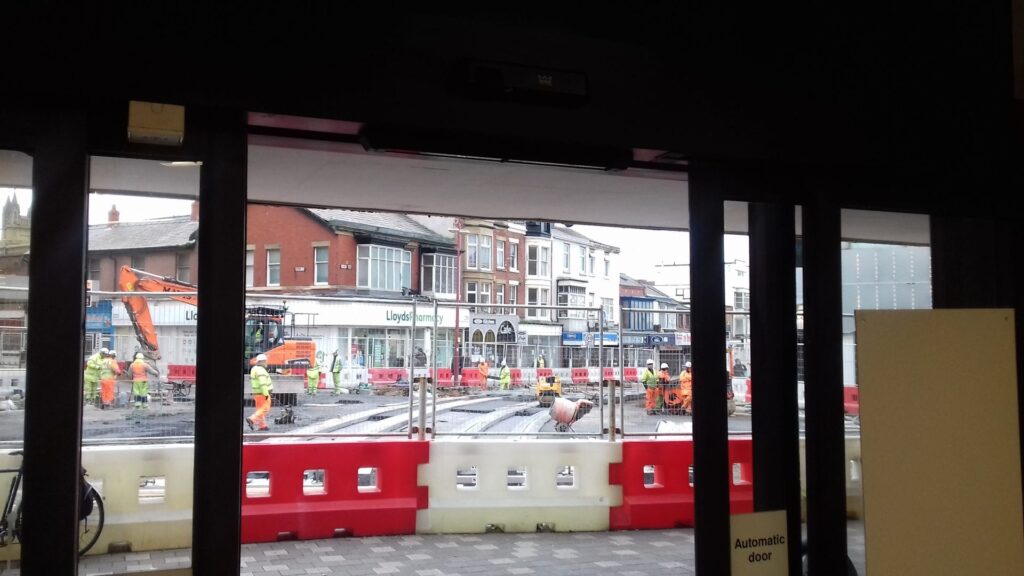 Tracks along Talbot Road
Many thanks once again to Barrie C Woods for these photos of works taking place along Talbot Road, in July 2018.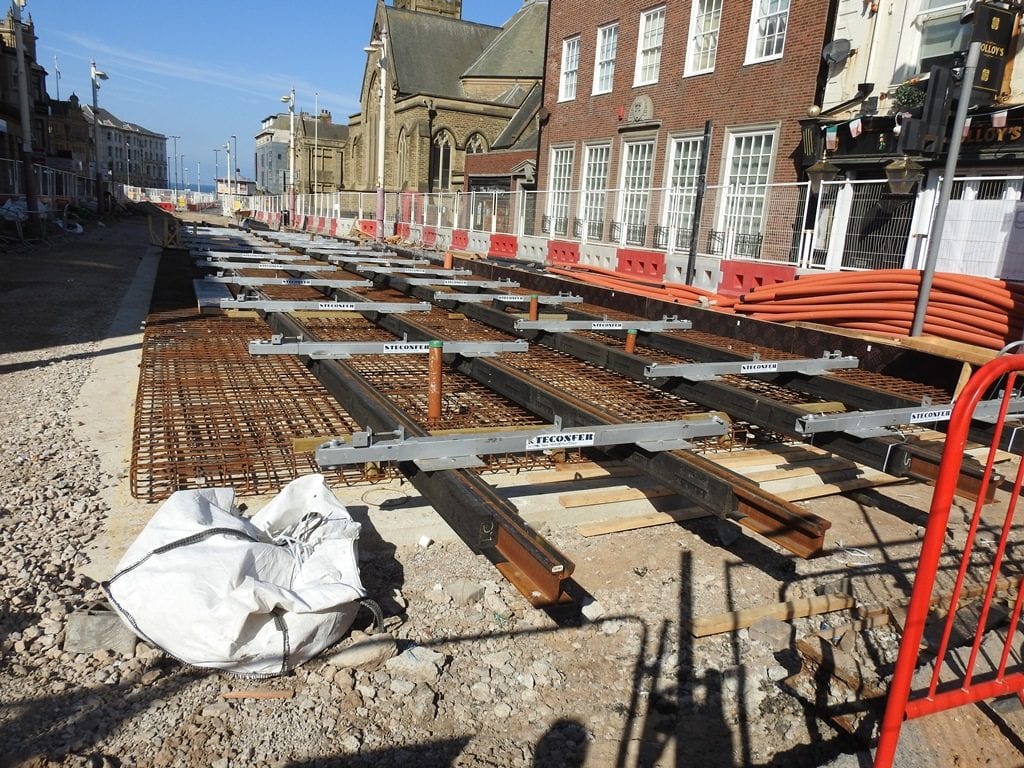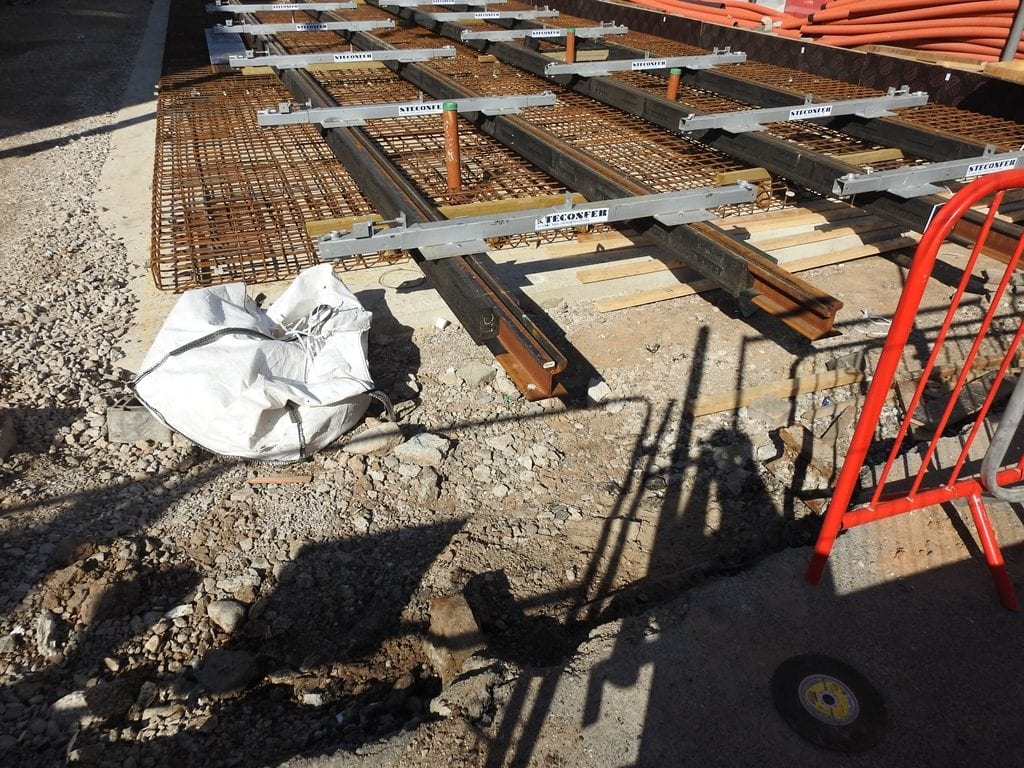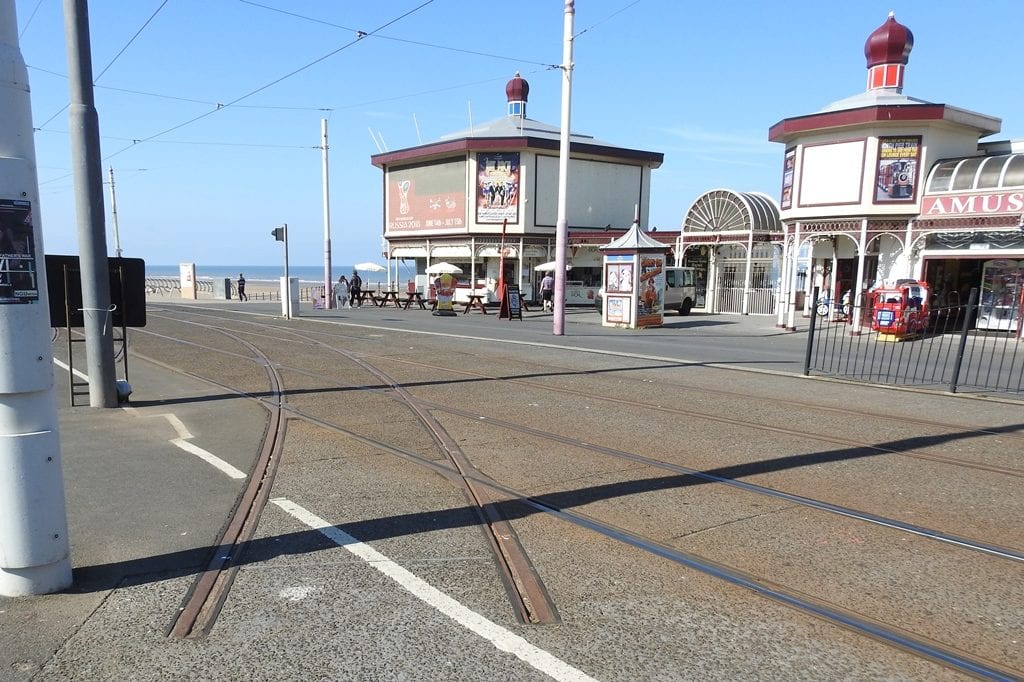 Traces of a Past Tramway
Juliette Gregson is another contributor to Visit Fylde Coast. She captured traces of the original tram lines of the Layton route, which once ran along Talbot Road. They're a brilliant glimpse of the past.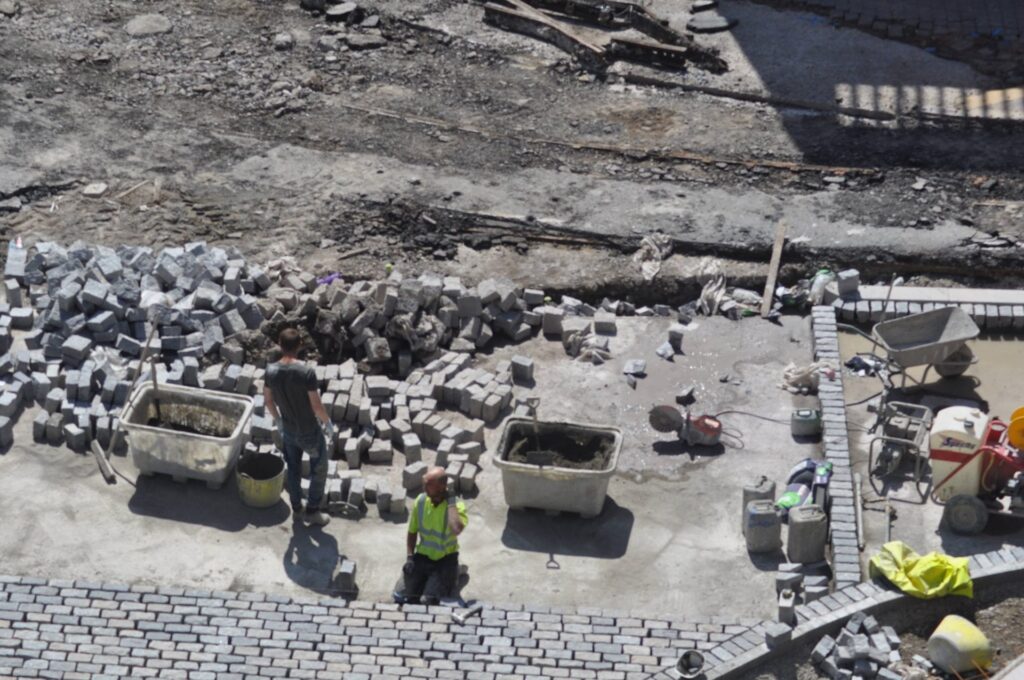 These photos date back to works in the Talbot Road area when Phase One work was carried out to build Bickerstaffe House and Sainsbury's.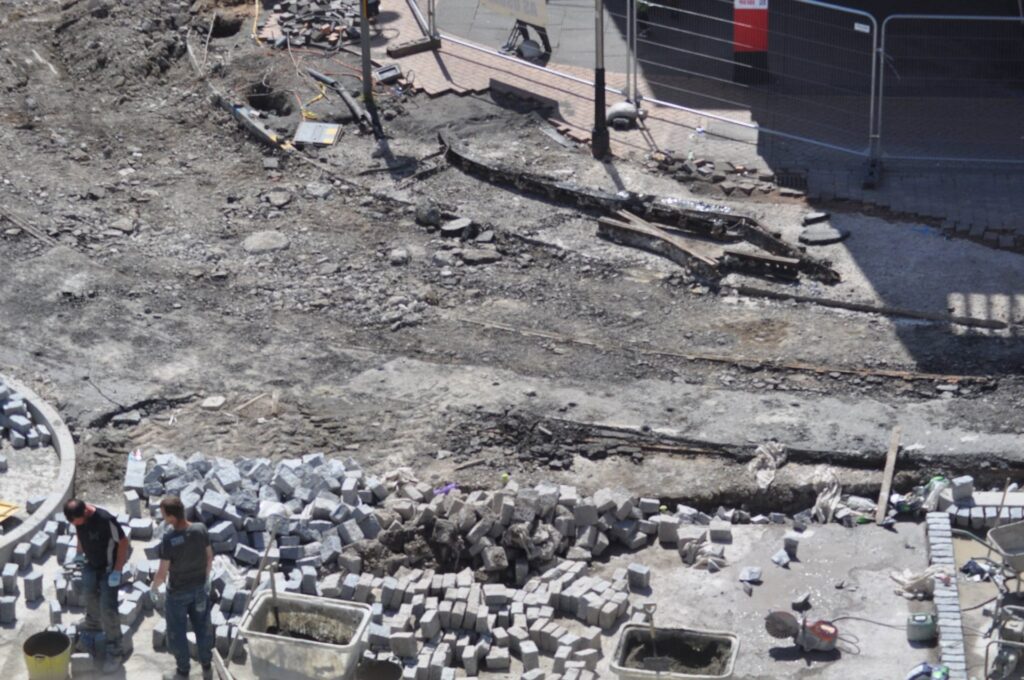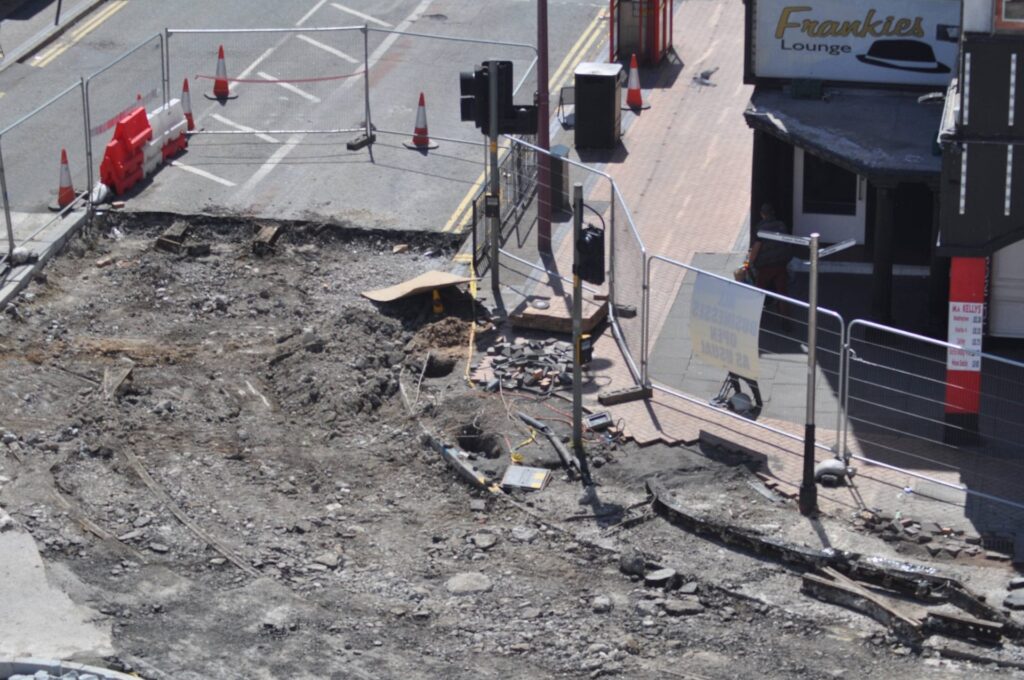 The tramway did once follow this route along Talbot Road as you can see from the next photo. But it was closed in 1936.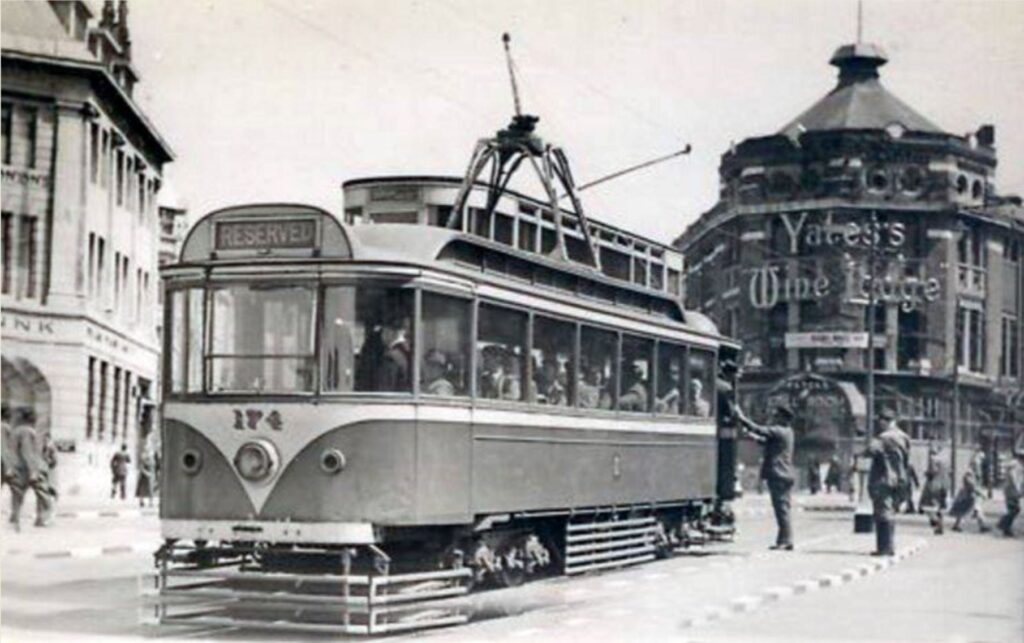 More about Blackpool Tramway Extension – Phase Two of Talbot Gateway
The Blackpool Tramway Extension is excellent news and a huge step forward in continuing to regenerate Talbot Gateway. It will create more jobs for people in Blackpool and a stronger economy for everybody in the town.
Almost two million journeys go through Blackpool North train station every year and rail journeys to the resort are growing. 1.8m people per year arrive at Blackpool North railway station and 80% of them travel on to the Fy1, FY2 and FY4 postcode areas.
This extension will capitalise on the electrification and growth in rail travel. It will make journeys for residents, commuters and visitors from the train station much easier.
Over five million people already use the current tramway every year. That number is growing and passengers are extremely happy with the service they get from our modern day, accessible trams.
Two extra Flexity2 trams will cope with the extra demand and add on the extra services needed, which is also a huge bonus. Growing demand for tram and train travel shows that the Blackpool tramway extension is sure to be a success.
The extension will also be the linchpin at the centre of the second phase of the Talbot Gateway. It will be a huge boost to the resort when it opens.
Improving Talbot Road
As part of the project the highway and footpaths of Talbot Road will be reconstructed to improve the street scene and built environment.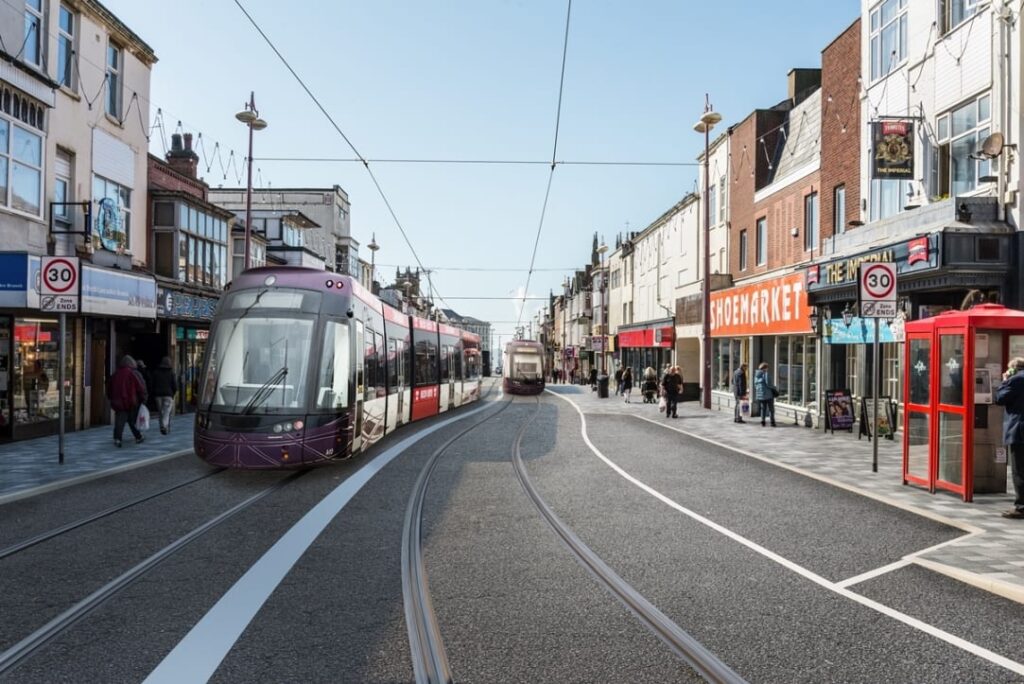 The tram will travel the length of Talbot Road and there will be a stop at Topping Street as near as possible to the railway station. It's proposed that there will be a tram service every 10 minutes to the station, hence two new trams will join the Blackpool fleet.
The existing pedestrian signals on the Promenade have been replaced by a signalled intersection. A new eastbound tram stop will be located in Talbot Square, to allow interchanges with the existing North Pier tram stops.
Official Matters
As a local authority Blackpool Council can't just dig up the roads and build a tramway. An application for an order under the Transport and Works Act 1992 was required, for powers to construct, operate and maintain the extension. That was granted by Central Government in March 2018.
The Blackpool tramway extension is one of six infrastructure projects to be delivered in the county by Transport for Lancashire. That's the body formed in 2015 to develop, approve and fund major transport schemes with a multi-million pound budget devolved by the Department for Transport from 2015/16.
£16.4m towards the estimated £18.2m total cost of the project is to be met by Transport for Lancashire. The group includes the region's three transport authorities, Lancashire County Council, Blackpool Council and Blackburn with Darwen Council, together with the private sector led Lancashire Enterprise Partnership (LEP).
The proposed scheme was also subject to final funding approval by the Lancashire Enterprise Partnership.
Blackpool's First Major Tramway Upgrade
The 11 mile long Blackpool tramway re-opened in 2012 following a major £101m upgrade project.
The track was replaced and new tram stops were built along the route to allow accessible boarding. Electrical infrastructure was replaced and upgraded along with the signalling.
The new tram depot was built at Squires Gate and 16 new Bombardier Flexity2 trams arrived in the resort. The new trams have level boarding, making them accessible for all disabled users, they provide faster journey times and a more energy efficient service.
As you might expect, the improvements heralded an increase in passenger numbers from 2m in 2008/9 to 5m people in 2015.
Provision was also made for expanding the tramway in future.
Route of the Blackpool Tramway Extension
Read the original Blackpool Council brochure for the Tramway Extension, you can download it here.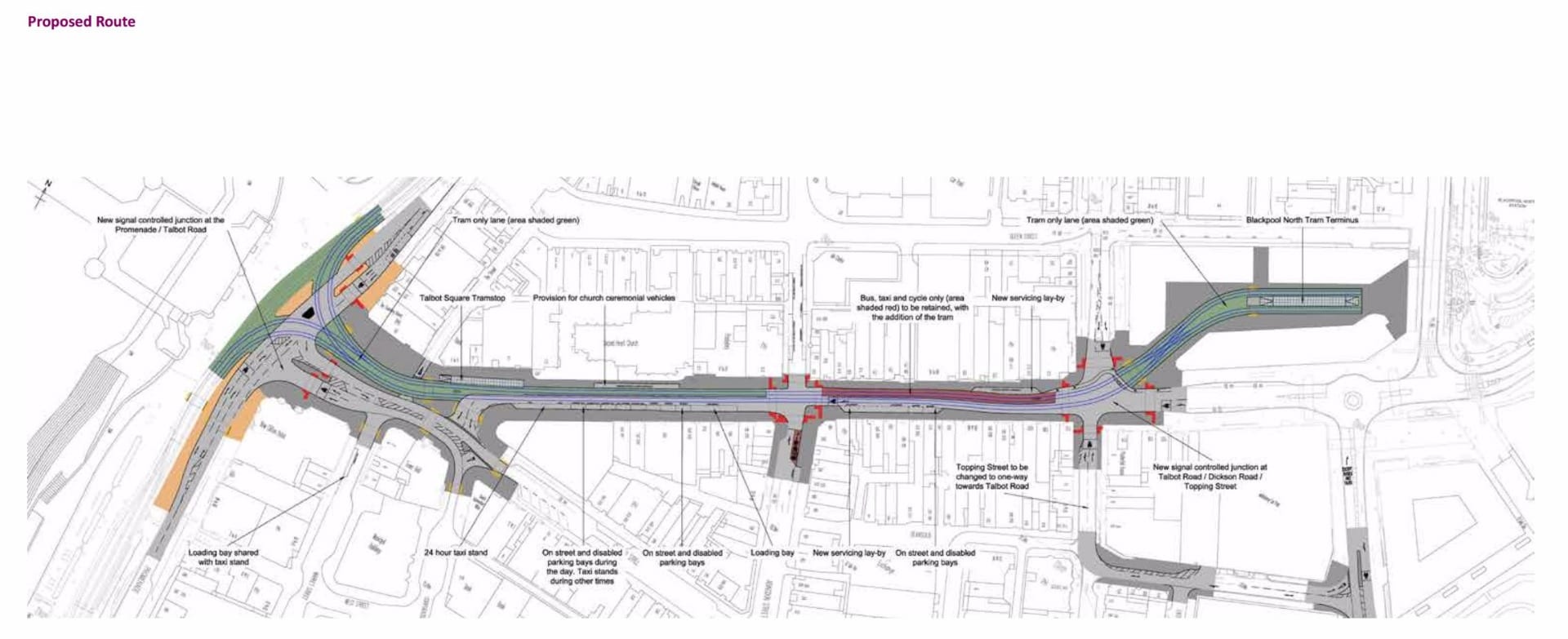 While you're here…
Have a look at the homepage of the Live Blackpool website for more of the latest updates.
Love the Fylde Coast? Sign up for your weekly email newsletter. Packed full of interesting things it arrives in your inbox all 52 weeks of the year.
Join us on Facebook at our Visit Fylde Coast Facebook Group
Don't forget to follow us on Twitter @visitFyldeCoast