Early in 2022 the Blackpool rumour-mill got itself confused with the announcement that something new was coming to the Golden Mile Centre at central seafront. It soon became clear that the 2022 reveal was the new Peter Rabbit attraction, which opened on 12 February '22. But that left another substantial vacancy between it and the Sea Life… We knew that another new Merlin attraction was coming to Blackpool and construction has been underway on site for some weeks… On 21 Feb '23 the announcement was made that the The Gruffalo and Friends Clubhouse is coming to town!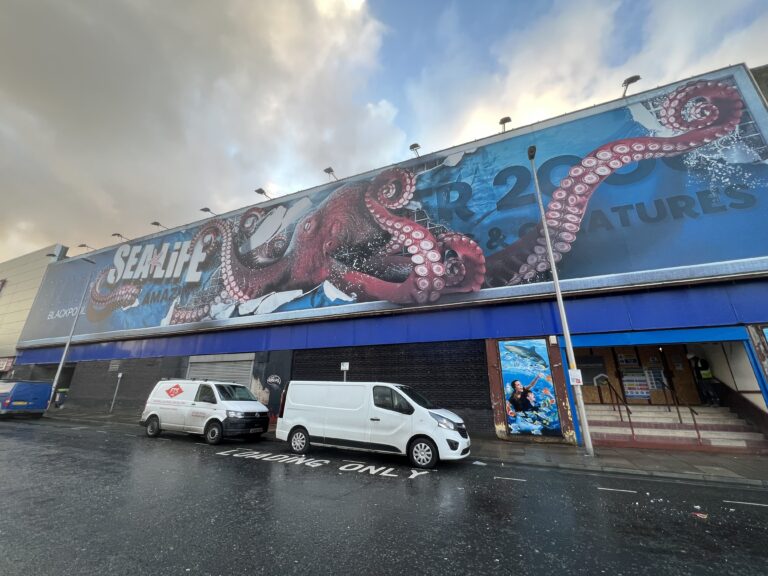 We now know that this brand-new attraction opens on 19 May 2023 – and tickets are on sale now!
2023 – The Gruffalo and Friends Clubhouse is announced
The 21 Feb announcement revealed that the world's first 'The Gruffalo and Friends Clubhouse' will open in May 2023 on Blackpool promenade. It brings the Merlin total to eight different attractions in the resort.
The £2.3m attraction has taken 18 months to deliver and is a partnership between Merlin Entertainments, Magic Light Pictures and Blackpool Council. Internal photos: © Magic Light Pictures Ltd. 2023
Once in this magical 3D world you'll meet different characters such as Room on the Broom, the Highway Rat, the Snail and Zog – and of course The Gruffalo himself.
This indoor play adventure includes six of your favourite stories. Explore the Gruffalo's deep-dark wood and Princess Pearl's castle. It's an adventure of imagination, discovery and play, with separate play areas for children under 3 and under 10.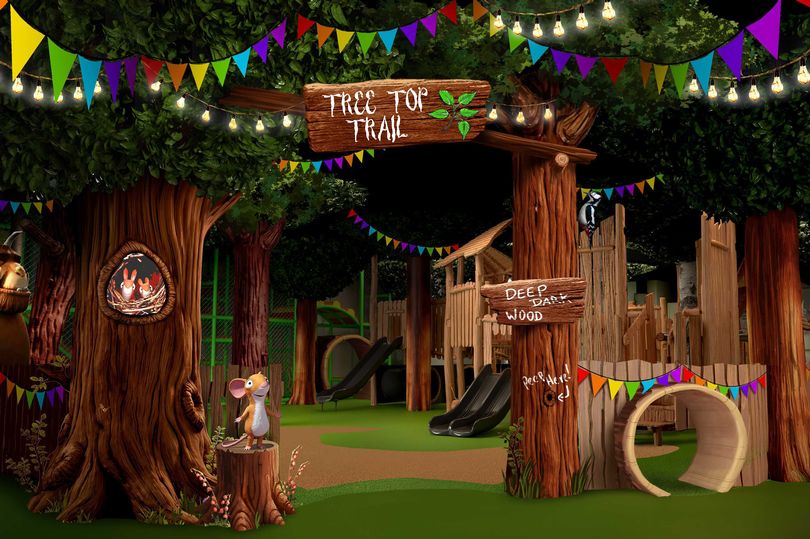 The success of The Gruffalo…
The Gruffalo is written by Julia Donaldson and illustrated by Axel Scheffler. It's phenomenally successful having sold over 13.5 million copies and winning several prizes for children's literature.
Donaldson was the Children's Laureate between 2011 and 2013 and honoured with a CBE in 2018 for services to literature. Axel Scheffler is the award-winning illustrator whose artwork has even featured on 50p coins, and stamps from Royal Mail and Deutsche Post. Julia Donaldson is the #1 UK author across all publishing and Axel Scheffler is the #1 illustrator.
So far, ten books by Julia and Axel (published by Macmillan Children's Books and Scholastic) have been adapted by Magic Light. They're now Oscar nominated and BAFTA winning animated specials for BBC One.
2022 – Peter Rabbit™ opens in Blackpool!
Blackpool's Peter Rabbit experience is the first stand-alone Merlin visitor attraction to be based on the series. A brand-new concept and it's another first for Blackpool!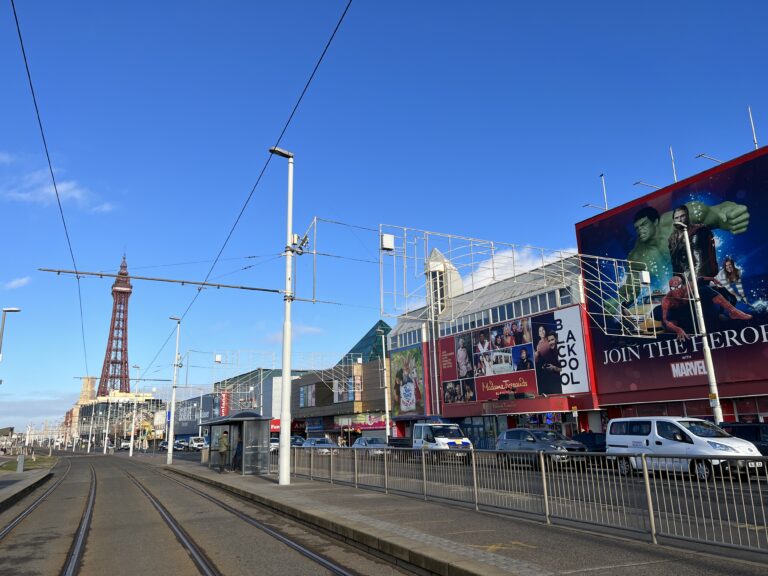 Another New Merlin Attraction for Blackpool Seafront…
Back in 2022 Blackpool Council's Executive also agreed a scheme to redevelop part of the Golden Mile Centre on Blackpool's famous promenade, investing £2.3 Million into a new attraction.
After an extensive procurement process, Merlin Entertainments was selected as the operator. They're the regeneration partner which will transform and redevelop the key site. It's the first phase of redevelopment the south end of the site. The is space on the ground floor between Golden Mile Amusements and Funland.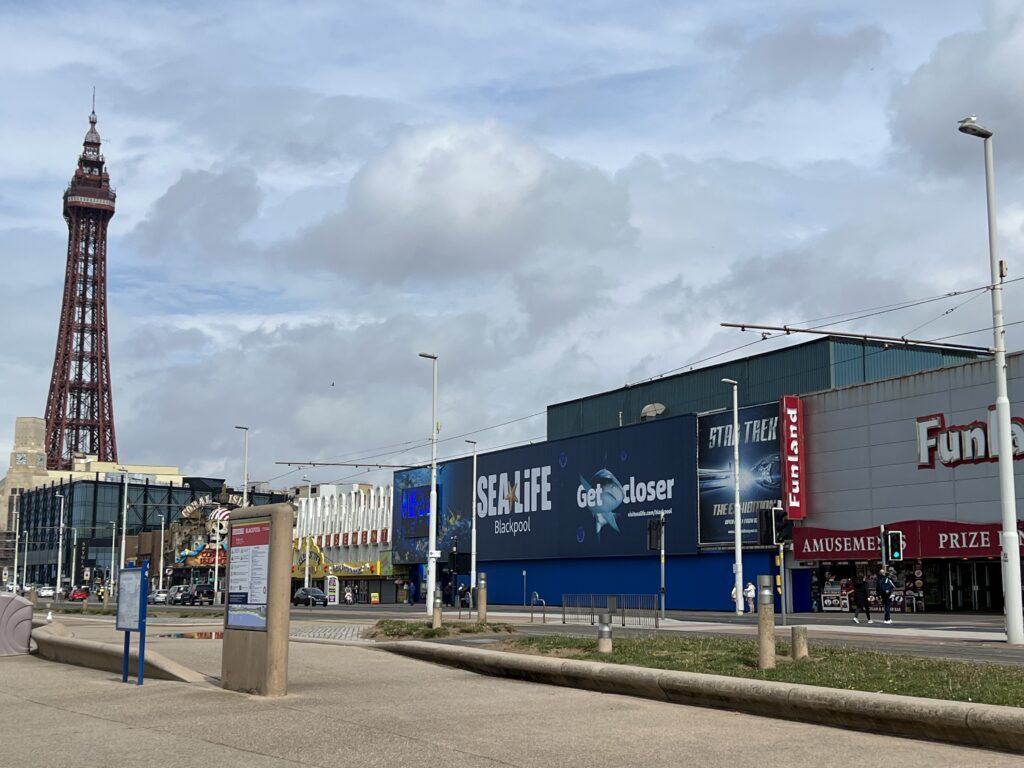 For twelve months the units below the Sea Life Centre have been empty and hidden behind blue boards. Kate Shane, regional director for Merlin Entertainments, said it would be another IP led attraction. Which means it's going to be based on another brand, licensed from the creator.
With planning permission granted, a new glass storefront will replace the external roller shutters. According to the application, the new facility will also include a retail area.
If all goes to plan it should open in the first half of this year. We went to take a look at the site on a cold, wet and windy day in January 2023 –
Enjoyed this video? Why don't you subscribe to our Visit Fylde Coast YouTube channel – make sure you don't miss out!
Golden Mile Amusements on the Move
As 2023 begins, 'Blackpool Amusements' – the new home for 'Golden Mile Amusements' – is nearing completion. Once Crown Leisure has fully moved into their new home, it leaves the Golden Mile Amusements vacant and ready for redevelopment as part of the Blackpool Central project.
Exciting times for Blackpool!
While you're here…
Go to the homepage of the Live Blackpool website for the latest updates.
Love the Fylde Coast? Sign up for your email newsletter. Packed full of interesting things it arrives in your inbox all 52 weeks of the year.
Join us on Facebook at our Visit Fylde Coast Facebook Group and follow us on Twitter @visitFyldeCoast
Plus hundreds of videos to watch on our YouTube channel – from all over the Fylde Coast!
Booking a stay? Pick a safe, clean and legal place to stay, at the very best price. Book with the Visit Fylde Coast and StayBlackpool guide.