Take a look around Blackpool Central Beach & Tower Festival Headland. Find it between North Pier and Central Pier. Also watched over by The Blackpool Tower – our world famous landmark!
A Space for Everyone!
Tower Festival Headland is engineered into the sea defences. The extra 60m of land extends seawards to create this amazing entertainment space. Most of the time it's a place for fun and leisure, hanging about and enjoying the seaside views.
This video was made in summer when the temperatures soared to record highs! Come on in the water's lovely…
Enjoyed this video? Why don't you subscribe to our Visit Fylde Coast YouTube channel – make sure you don't miss out!
Amazing all Year Round!
There's no doubt about it, any seafront is wonderful in the summer sunshine, and Blackpool is no exception. We all love to feel the warmth of the sun on our faces – it does wonders for your mood and makes us feel happy.
Tower Festival Headland is amazing all year round. Used to visiting the seaside in summer? It can be just as brilliant at other times of the year too. OK, it can be really awful in winter – but it can in summer too! But all year round there are amazing days that just make your spirits soar.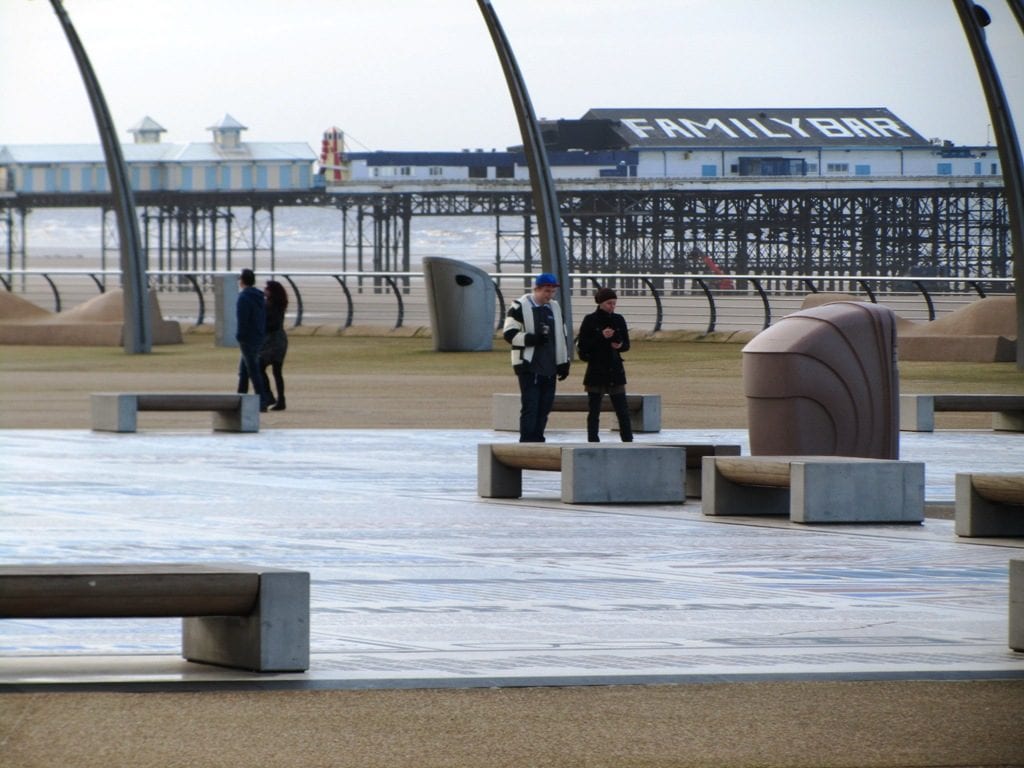 Changes at Blackpool Central Beach
Blackpool is a town that never stands still. There's always something changing, buildings being demolished/built or renovated! We went for a walk along Blackpool Central Beach in June 2020, from Central to North Pier to see what's new. Quieter than usual, this was the time when lockdown was beginning to ease after the first wave of coronavirus restrictions.
Enjoyed this video? Why don't you subscribe to our Visit Fylde Coast YouTube channel – make sure you don't miss out!
Have you ever spotted reporters and film crews here? It tends to be the place where they make a bee-line for when reporting about things to do with Blackpool. It's not uncommon to see TV crews reporting for the news, and Blackpool gets its fair share of film production companies too!
A Great Big Events Space!
Tower Festival Headland comes into its own as a major entertainment space with capacity for 20,000 people! The biggest event of the year here is the Blackpool Illuminations Switch On.
Have you noticed the lighting columns that sweep across the edge of the prom? You can see them in the next photo.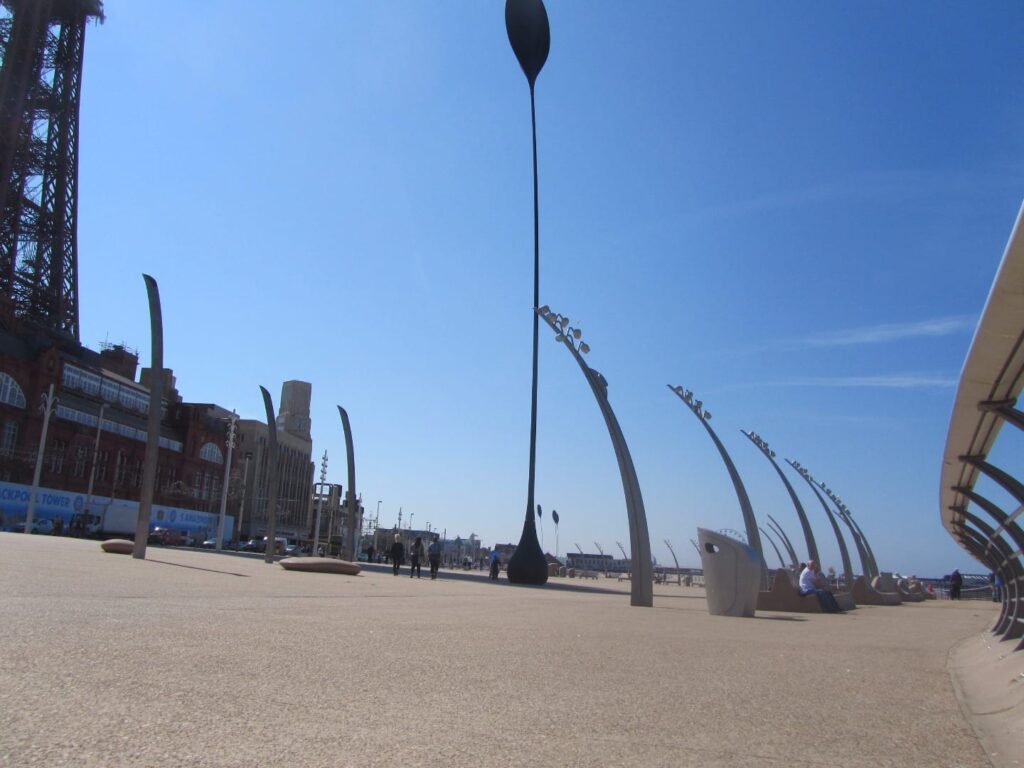 They're also frames for windbreaks which give some protection to big events. Invaluable for blocking out the worst of the weather, they make it a versatile space too.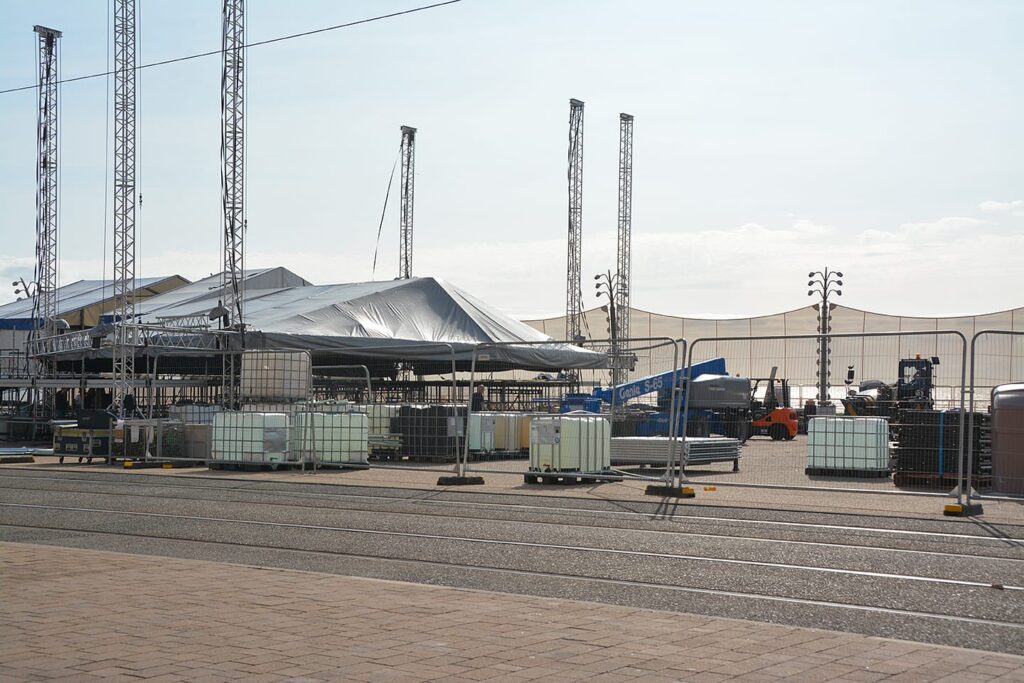 The promenade road and tram tracks are sometimes closed when major events are held and together with Tower Festival Headland create one huge, safe event area.
Search for Accommodation
Accommodation you can trust from StayBlackpool
The first big event held here was the official opening concert by Sir Elton John. It was Saturday 16 June 2012 and sadly, the weather was vile (as it can be, even in summer). The event was stopped, for safety's sake, just as it was getting going.
Other events like Blackpool Airshow are also based here. Literally tens of thousands of people gather for a perfect view as planes fly above the water.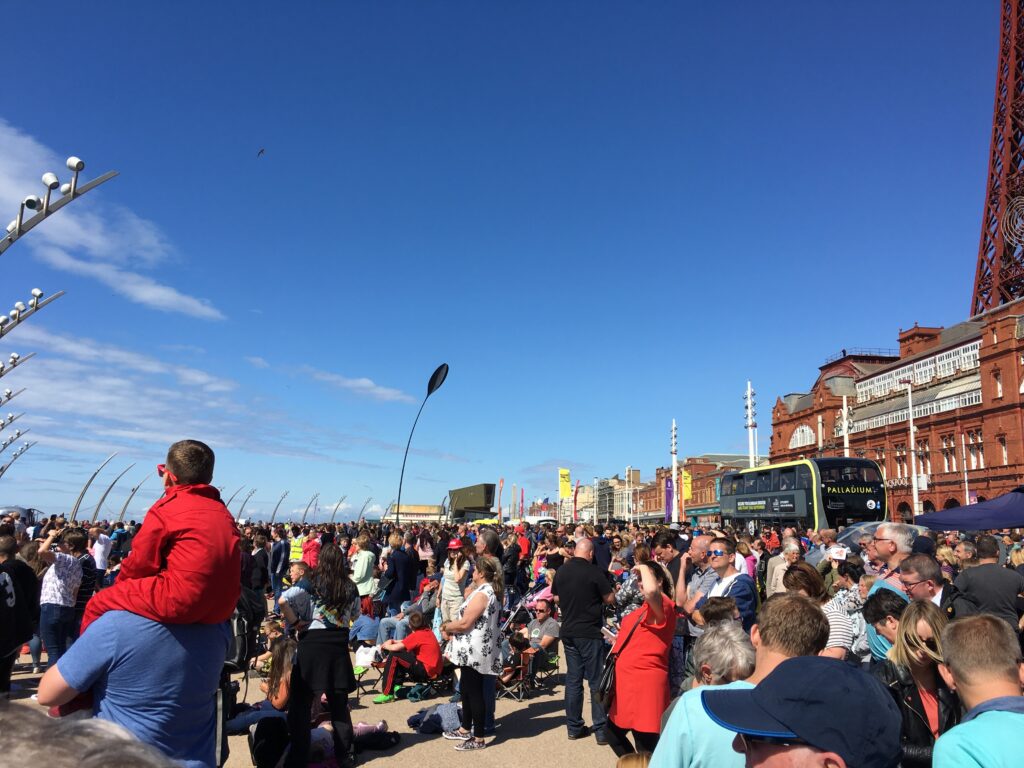 Features of Blackpool Central Beach & Tower Festival Headland
There's a few notable, iconic features in this part of Blackpool seafront, that you're sure to have heard of!
The Blackpool Tower
It's your favourite Fylde Coast landmark – soaring high above the seafront. Take a look around the exterior of the red-brick Blackpool Tower building, and find out about it's amazing restoration –
Enjoyed this video? Why don't you subscribe to our Visit Fylde Coast YouTube channel – make sure you don't miss out!
Comedy Carpet and Blades of Grass
The Headland is also where you'll find the well known and hugely popular Comedy Carpet, opened in early 2012. A new icon for Blackpool, it features jokes, songs and comedy catchphrases from Britain's best loved comedians.
Don't forget the kinetic sculptures – not that you can miss them! Standing 35m high these Dune Grass blades bend and sway in the wind.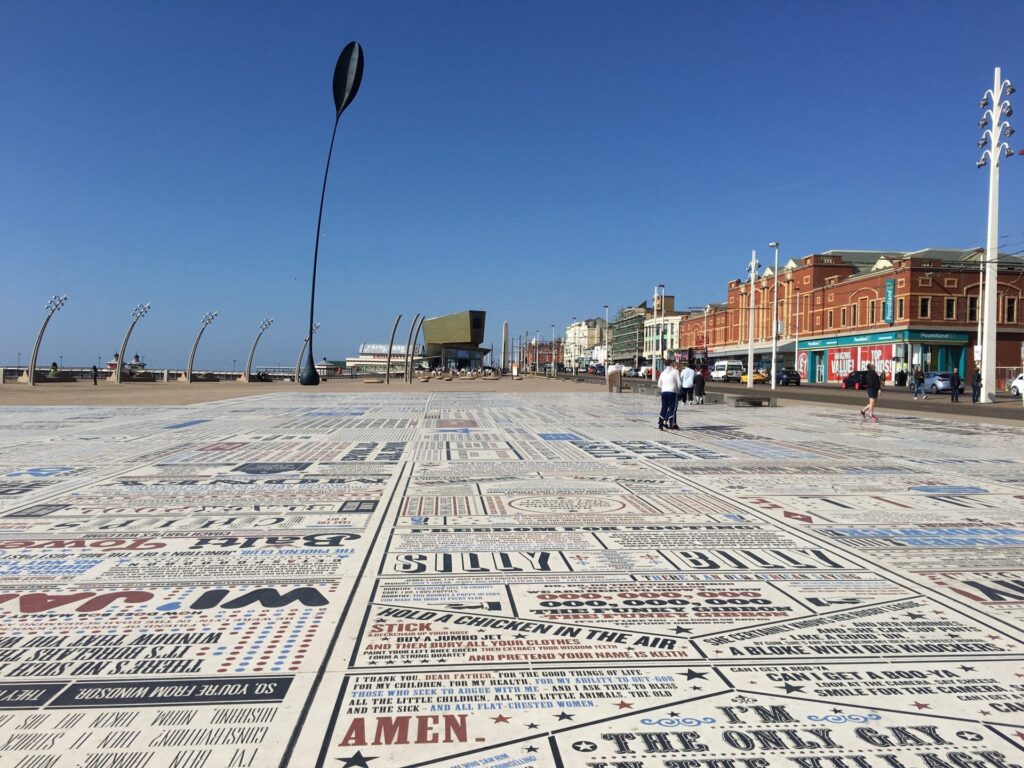 It's a great place to head for to soak up that special Blackpool seaside atmosphere! You'll find space to take a seat around the edge of the Comedy Carpet. Sit awhile and just relax on one of the seats or huge pebbles.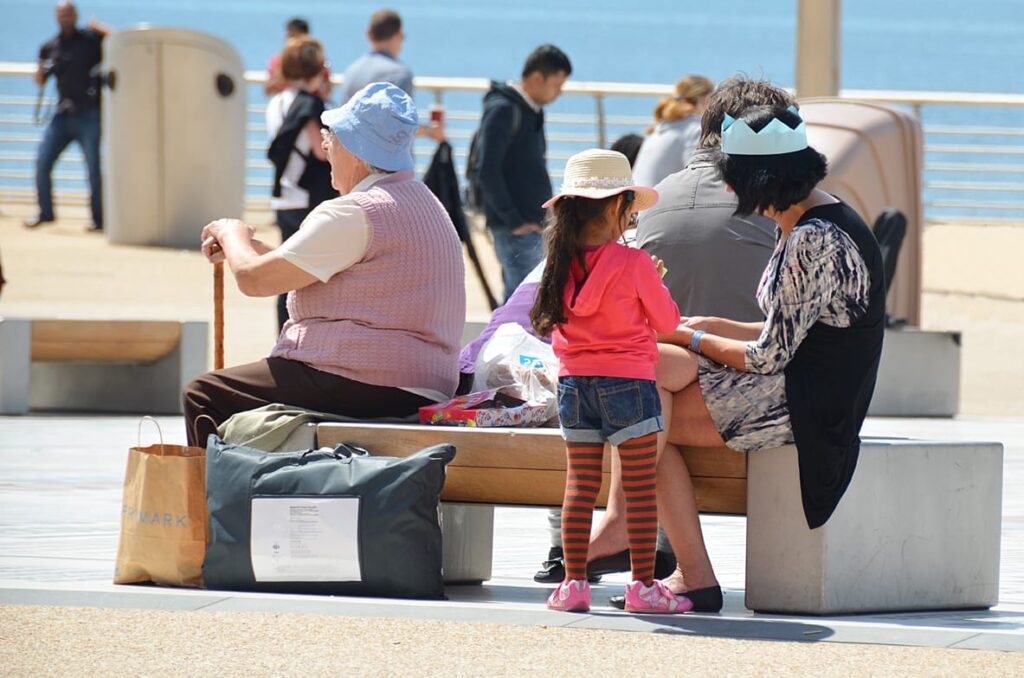 Festival House
You'll also find the distinctive Festival House at Blackpool Central Beach & Tower Festival Headland. It's the modern building, clad in twinkling gold tiles, right against the edge of the beach.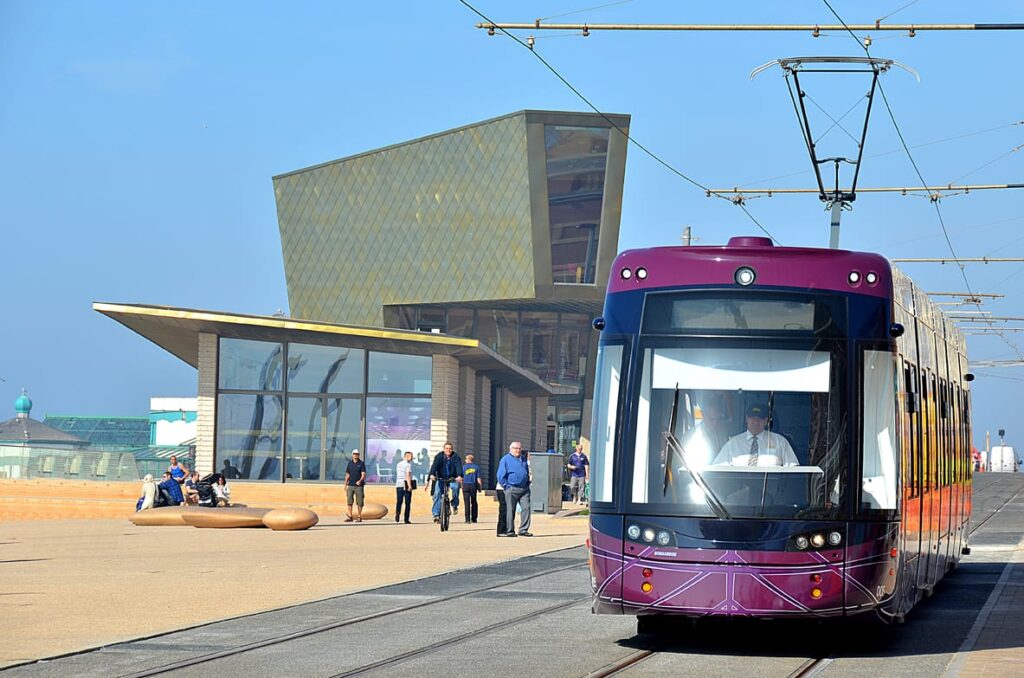 In its prime spot right against the sea it's the home to the Visit Blackpool Tourist Information Centre.
Upstairs is the Wedding Chapel where you can get married looking at the Tower. You'll see it through the window that you can see in the above photo, just at the top left of the tram. There are breathtaking views of the beach through the front windows.
The rest of the building is The Beach House, a seafront cafe restaurant.
Award Winning Design
In July 2012, Festival House was named as one of Britain's 50 best new buildings by RIBA (the Royal Institute of British Architects). Just three north west buildings were chosen as amongst the best in Britain for architectural excellence. Festival House was one of two in Lancashire. cRMM are the architects for Festival House, and Parkinson Building Contractors of Blackpool the building contractors. The project was managed by Blackpool Council's Capital Projects Team.
In November 2012, Blackpool Tower Festival Headland won the Design Excellence Award in a national design competition.
The Regeneration and Renewal Awards, held in London, recognised independent design consultancy LDA Design.
LDA Design began working on the project in 2007. They won an international design competition calling for a playful and surreal landscape for Blackpool's seafront. It's inspired by Blackpool's tradition of fantasy and escape, recalling the natural dunes that once formed the coastline.
Blackpool Central Beach & Tower Festival Headland – Made Possible by the Sea Defences
Between north and south piers, the whole of Blackpool seafront has been transformed over recent years. It's now a curvaceous piece of engineering from end to end.
The modern design includes Spanish Steps that link the beach to the promenade and also incorporates traditional vertical areas of sea wall into the design.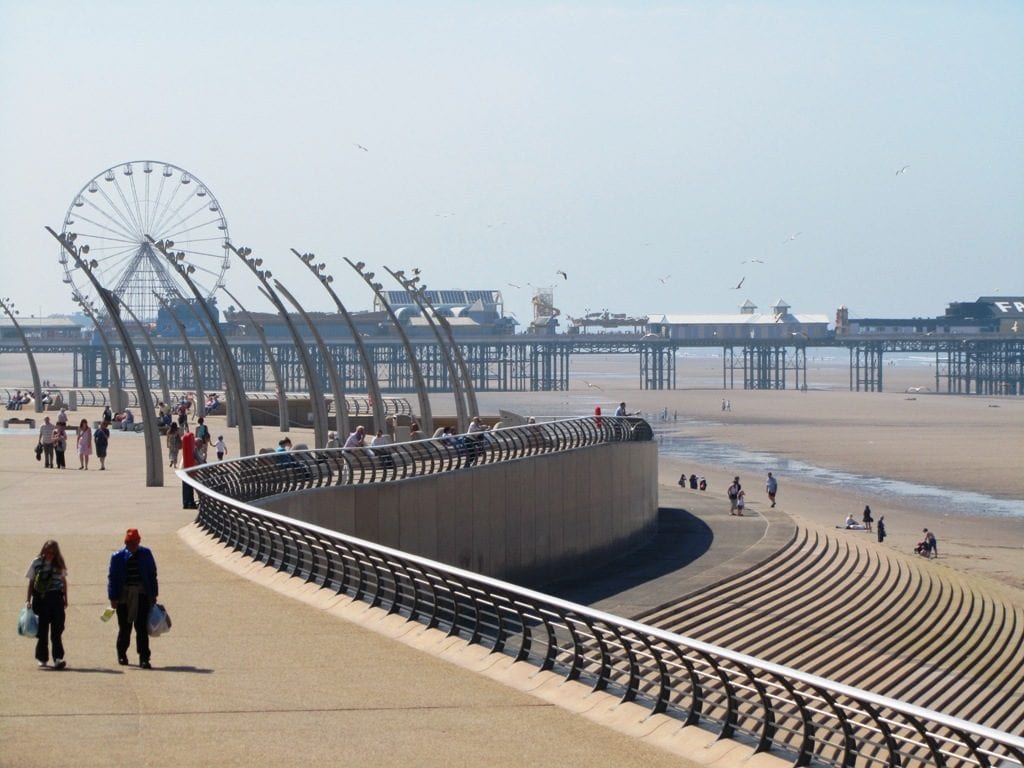 It's primary purpose is to reduce the risk of flooding and erosion. But the attractive design has transformed a huge, practical area of concrete into our lovely seafront. It makes fabulous access to miles of golden sandy beaches!
Have you been to Blackpool promenade recently? Why don't you take a look!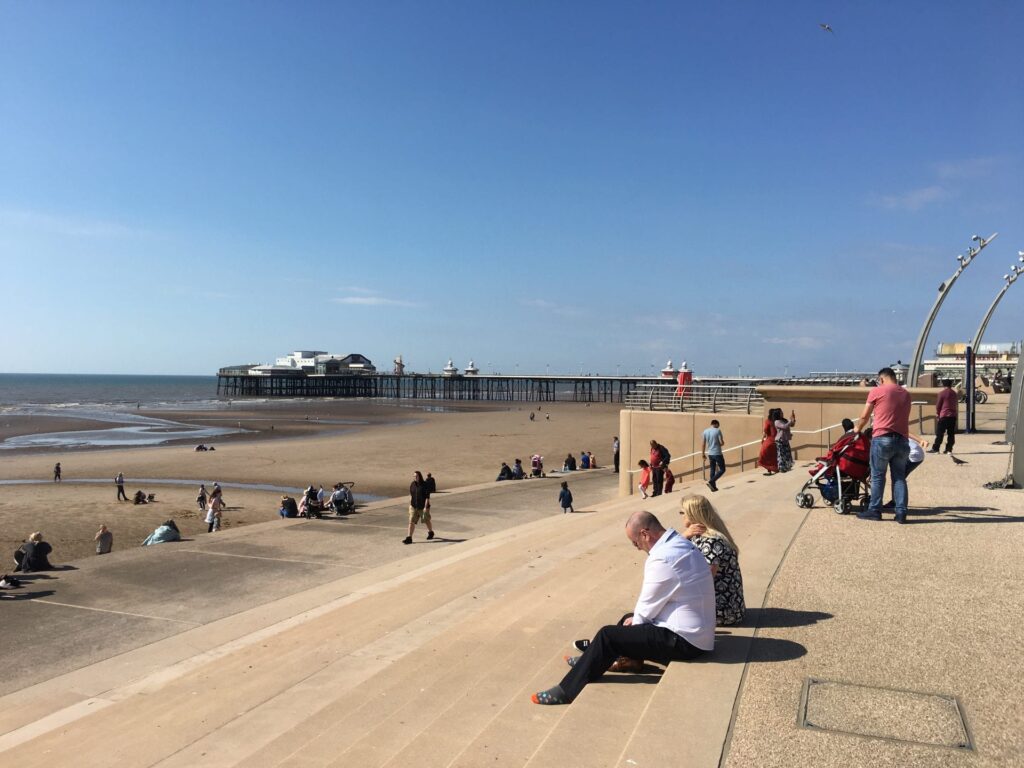 Stand against the steps at high tide and you'll see how they work.
As the waves reach the steps you can see their energy washing away as the water tumbles against them. It's a simple design but very effective. The next clip is an old one, taken from North Pier. You can see the steps in action at high tide –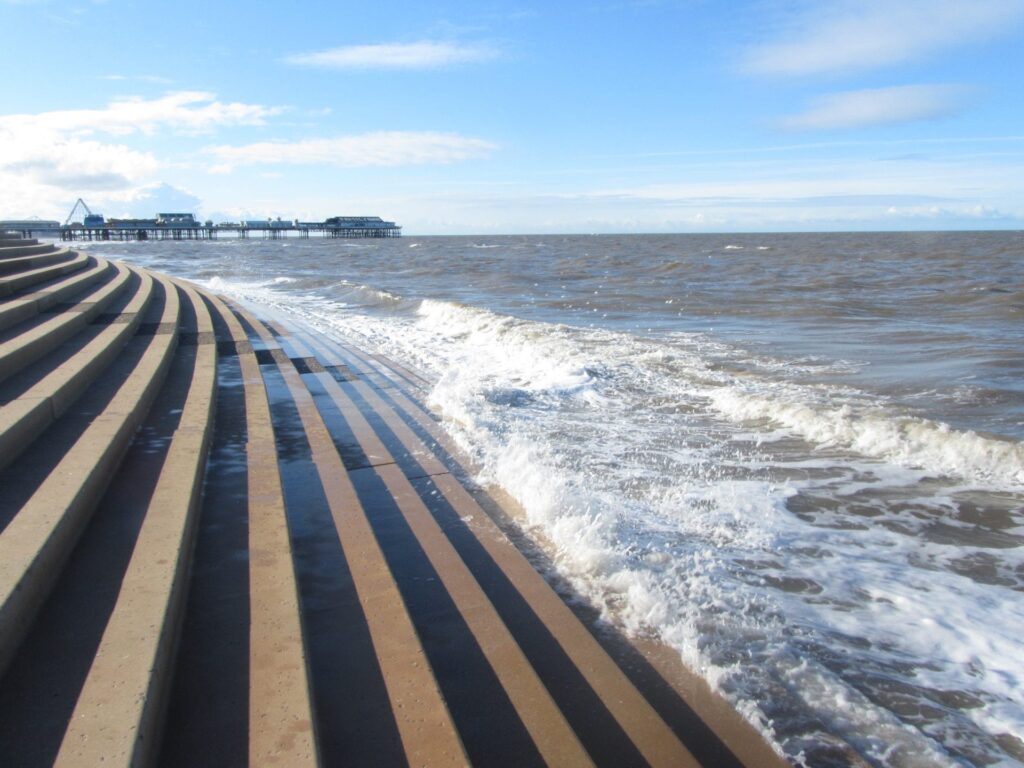 Enjoyed this video? Why don't you subscribe to our Visit Fylde Coast YouTube channel – make sure you don't miss out!
Not only are they effective and attractive, but the Spanish Steps make for fabulous access to the sands and unlimited seating. It's a great place to sit and enjoy the seaside view of miles of unspoilt golden beaches.
Rebuilding the sea defences is the reason why engineers were able to create Tower Festival Headland.
Own your own Blackpool Seafront!
Have you seen our very own Seaside Emporium website? It's full of our own original art and photographs.
This is our original watercolour painting of Blackpool Seafront. It's available in various sizes and formats. Take a look!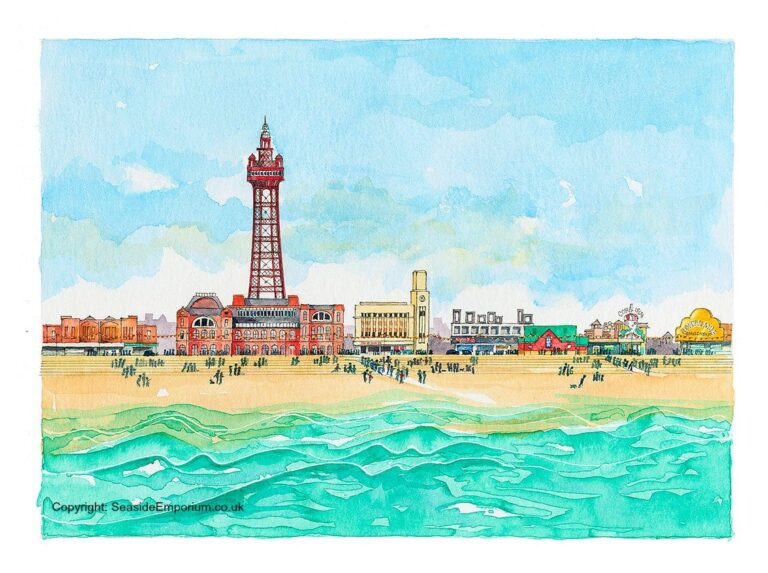 There are loads more local scenes and traditional seaside views – find them all on the Seaside Emporium website.
Live Blackpool (and Seaside Emporium) is part of Visit Fylde Coast, a digital media product independently published by us here at The Rabbit Patch Ltd. We're a design and creatives company here on the Fylde Coast.
While you're here…
Have a look at the homepage of the Live Blackpool website for more of the latest updates.
Love the Fylde Coast? Sign up for your weekly email newsletter. Packed full of interesting things it arrives in your inbox all 52 weeks of the year.
Join us on Facebook at our Visit Fylde Coast Facebook Group and follow us on Twitter @visitFyldeCoast
Plus hundreds of videos to watch on our YouTube channel – from all over the Fylde Coast!
Booking a stay? Pick a safe, clean and legal place to stay, at the very best price. Book with the Visit Fylde Coast and StayBlackpool guide.