'Shopping by the Sea' is a great way to describe Blackpool Town Centre. Here, you can mix a trip to the seaside with a visit to the high street! It's the inland area behind the promenade. From North Pier to Coral Island, at the rear of the Golden Mile and Blackpool Tower.
We've made LOADS of videos in Blackpool town centre, but you might enjoy this recent one where we visited some of the traders. Take a look at the Live Blackpool playlist on our YouTube channel for lots more.
Enjoyed this video? Why don't you subscribe to our Visit Fylde Coast YouTube channel – make sure you don't miss out!
Look around Blackpool Town Centre
Pedestrian Friendly
Many of the main shopping areas in Blackpool town centre are pedestrianised. A lot of the highways are also one-way. If you're new to the area and travelling into town by car it's best to use sat-nav or plan your route first.
Bank Hey Street (below) is the pedestrianised road which runs parallel to the promenade. It's the street which runs behind The Blackpool Tower and the block of buildings where you'll find Viva.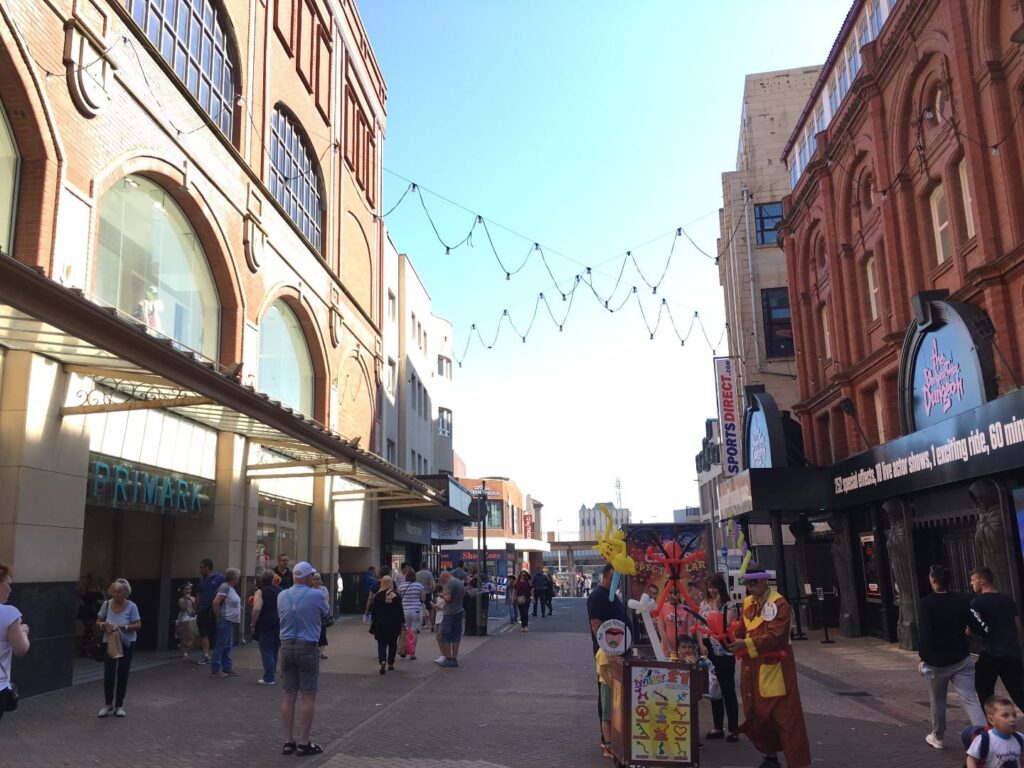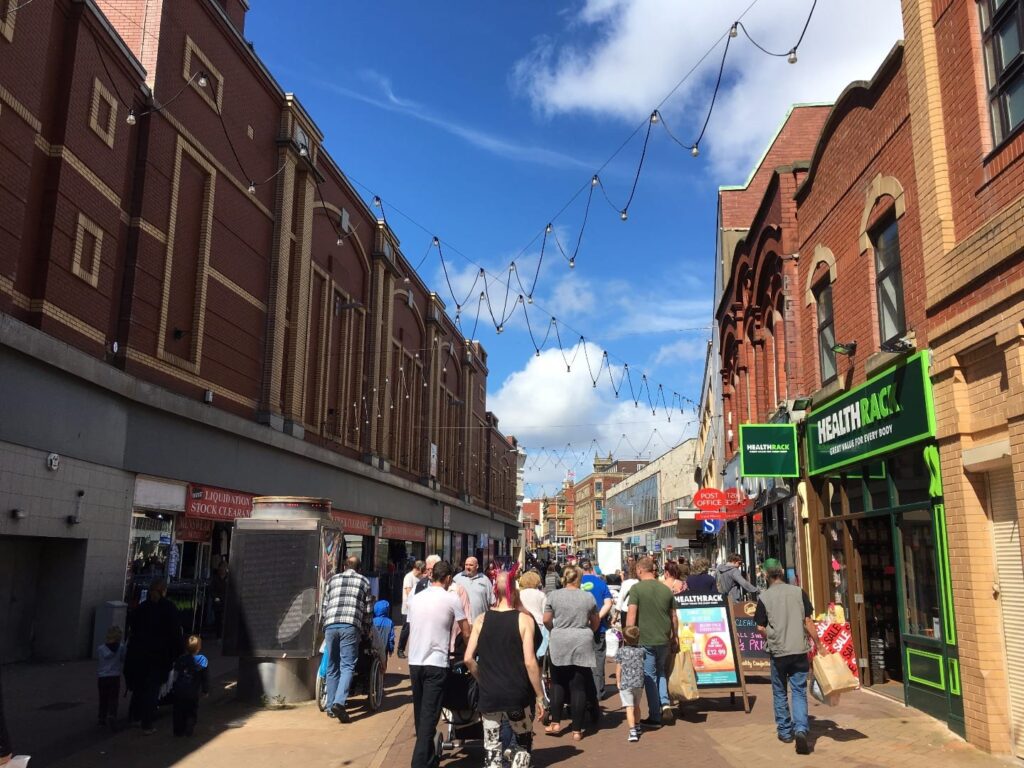 St John's Square is the pedestrianised area outside the Winter Gardens. It's a central spot between Abingdon Street and Church Street.
Here, there are pavement cafes, restaurants and an open performance space, where you'll often find events and entertainment.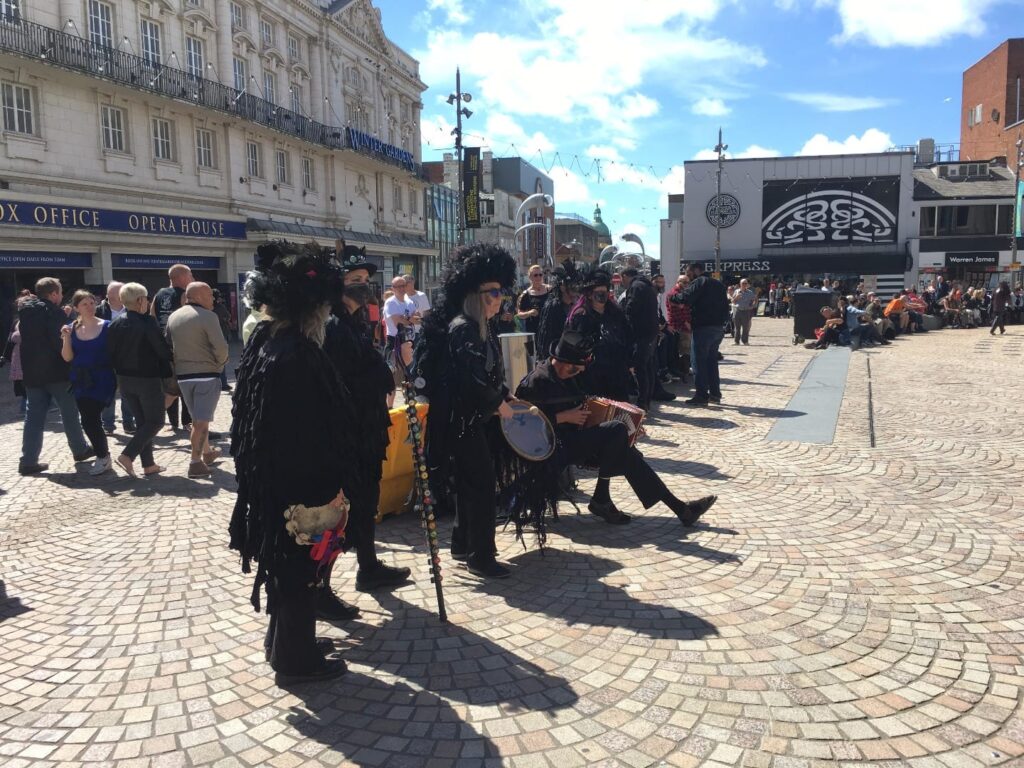 Church Street is also pedestrianised. That's the one that runs at right angles to the sea, past the front of the Winter Gardens, Marks and Spencer, the Grand Theatre and Viva to join the promenade near Festival House.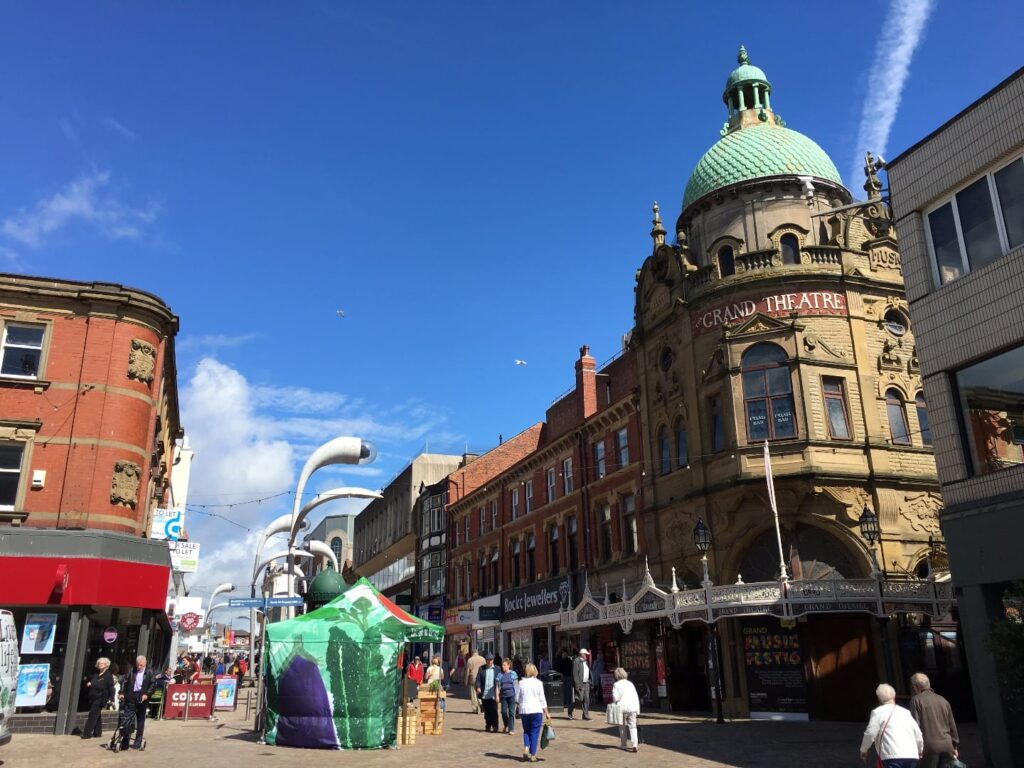 Blackpool Town Centre – whatever the weather
Although it's a traditional outdoor town centre, Blackpool is actually quite kind to shoppers who are out in poor weather.
Although it covers quite a large area, the shops in Blackpool are quite close together. You don't waste loads of time and energy walking from shop to shop. And when it's raining you can dodge most of the raindrops!
Undercover Shopping
Not forgetting the Houndshill Shopping Centre which is all undercover. You won't get wet in the rain – or sunburnt if it's boiling! Inside the Houndshill are national names including Superdrug, Next, New Look and Primark, along with take away and cafe food outlets.
We went for a walk-through only a couple of days after non-essential shops reopened following lockdown for coronavirus. Take a look –
Enjoyed this video? Why don't you subscribe to our Visit Fylde Coast YouTube channel – make sure you don't miss out!
It's on the left of the photo below and under the watchful eye of The Blackpool Tower. There you'll find around 70 retailers, and a multi-storey car park.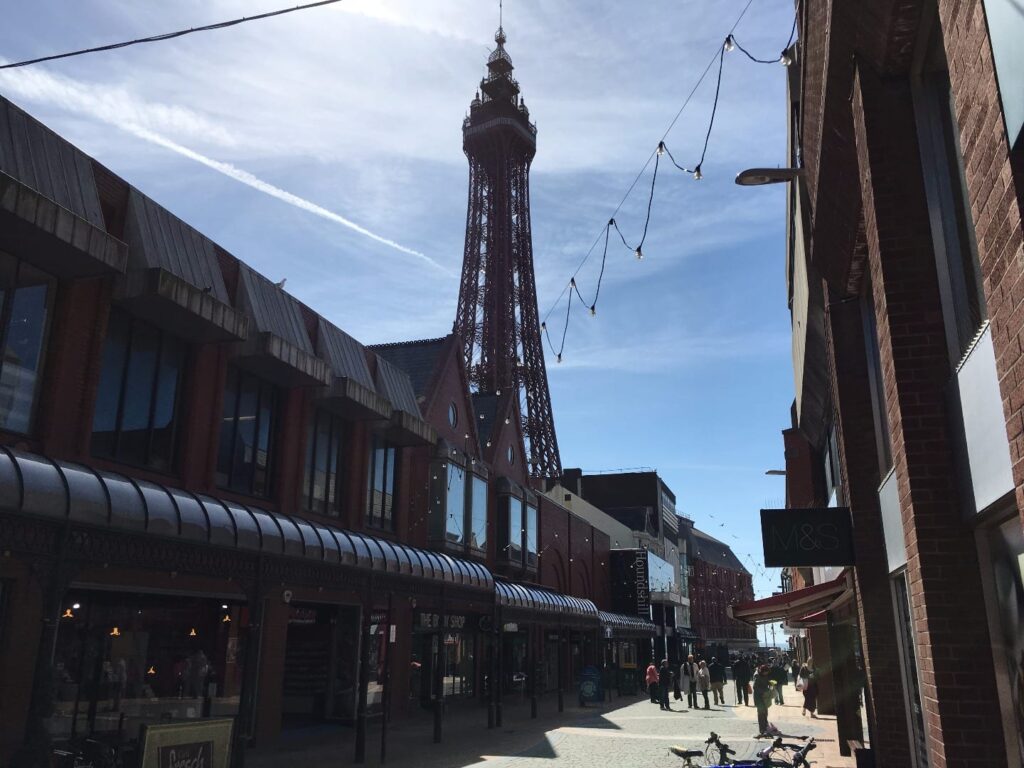 Did you know? The Houndshill Centre first opened in August 1980. It was fully refurbished and extended before re-opening in its current form in September 2008.
We've got another interesting article about the history of the Houndshill Centre here. Not forgetting that another phase of redevelopment is underway, to build a new cinema and Wilkinsons extension.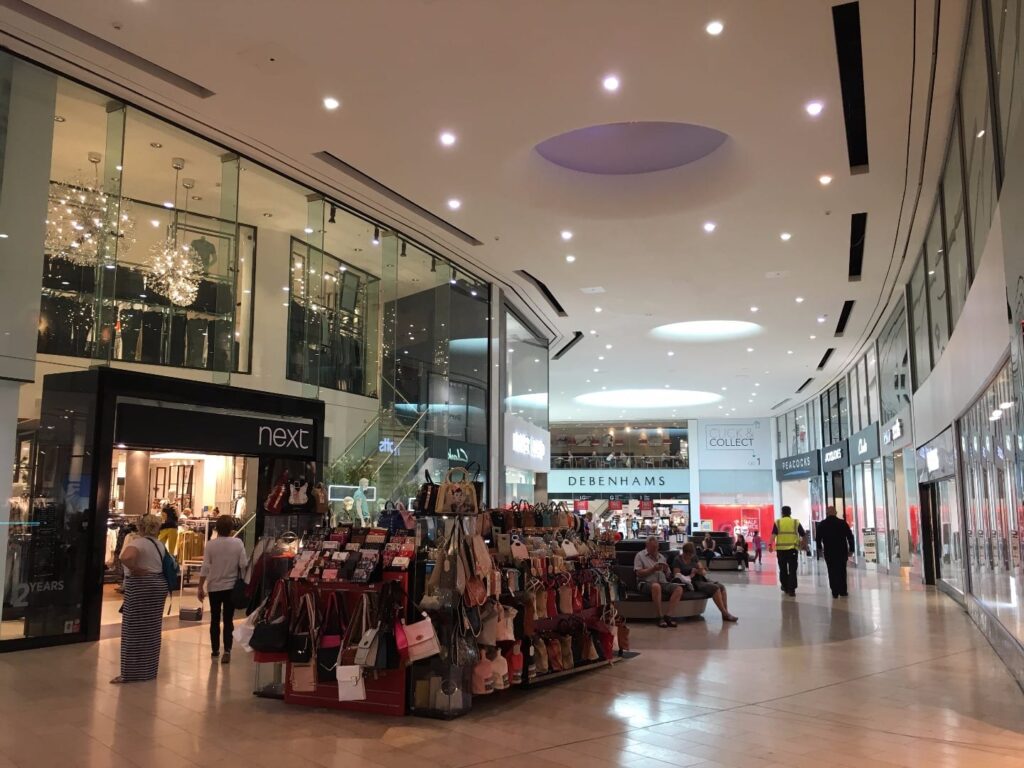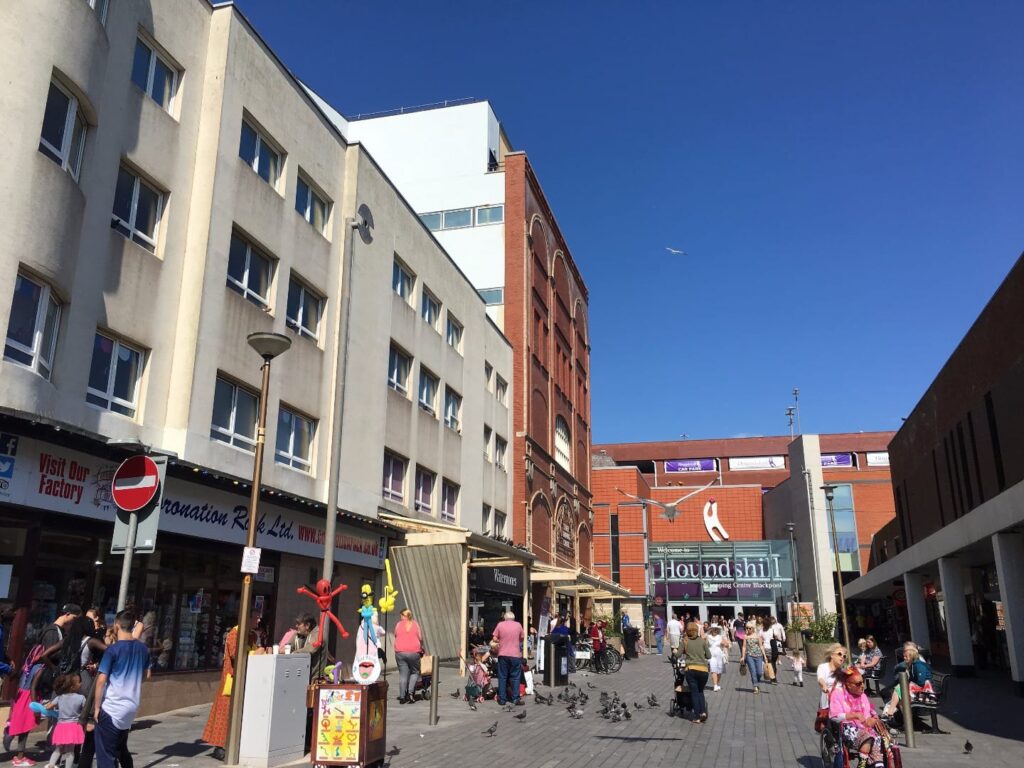 Houndshill Shopping Centre, Blackpool town centre. Behind where this photo was taken is the sea!
Primark (on the right in the photo below) opens out onto Bank Hey Street. That's the pedestrianised area to the rear of The Blackpool Tower.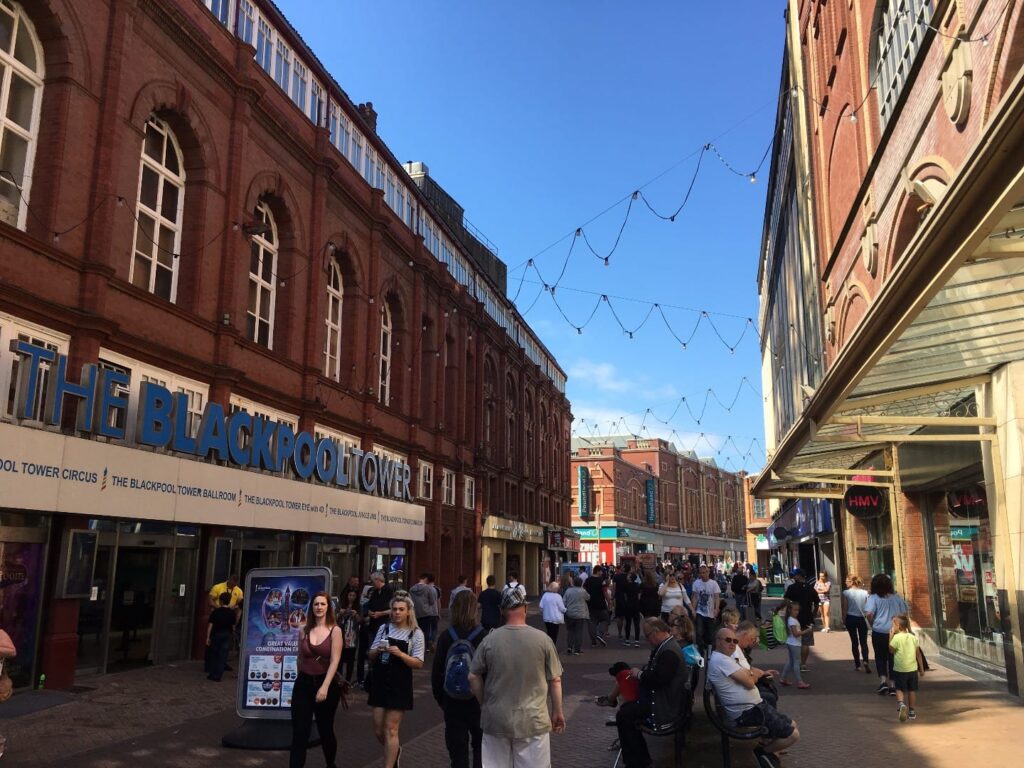 National Names in Blackpool Town Centre
National, high street names are well represented in Blackpool. There's Marks and Spencer, WH Smith, Boots, Costa and Starbucks and plenty more national brands with stores in town.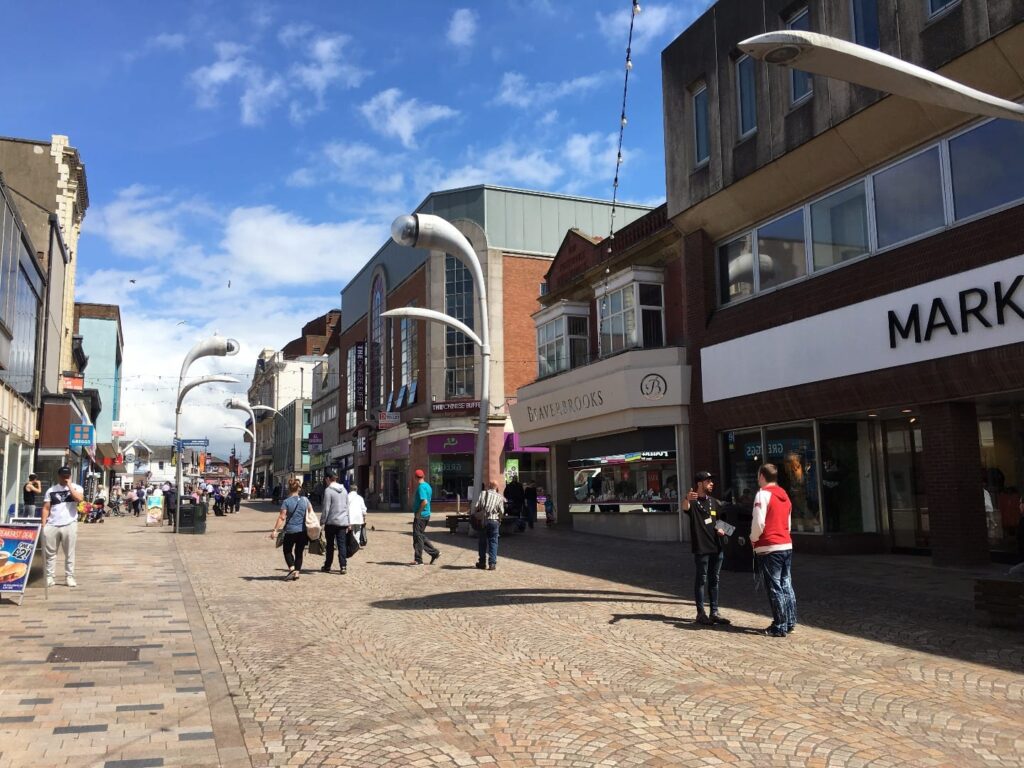 Further up Church Street, around Abingdon Street Market and St John's Square are the smaller, independent stores. They sell all kinds of things from jewellery to designer clothes, homewares and accessories. Plus of course there are hairdressers, nail bars and other similar businesses there too.
Town Centre Supermarkets
2011 saw the return of the first town centre supermarket when the Co-op opened on the corner of Birley and Abingdon Street. It was followed by the new flagship Sainsbury's supermarket which is part of the Talbot Road development.
Various world foods and grocery stores have followed. So along with plenty of places to eat-out you can buy food to take home too.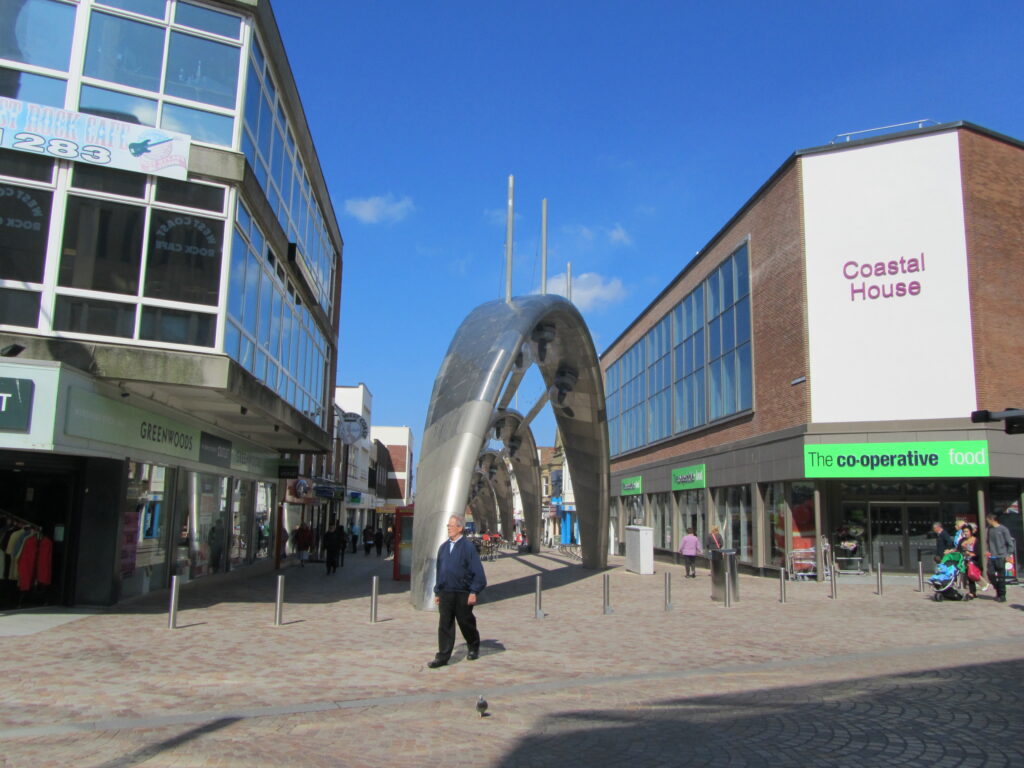 Places to Eat and Drink
The arches in the photo above are Brilliance on Birley Street.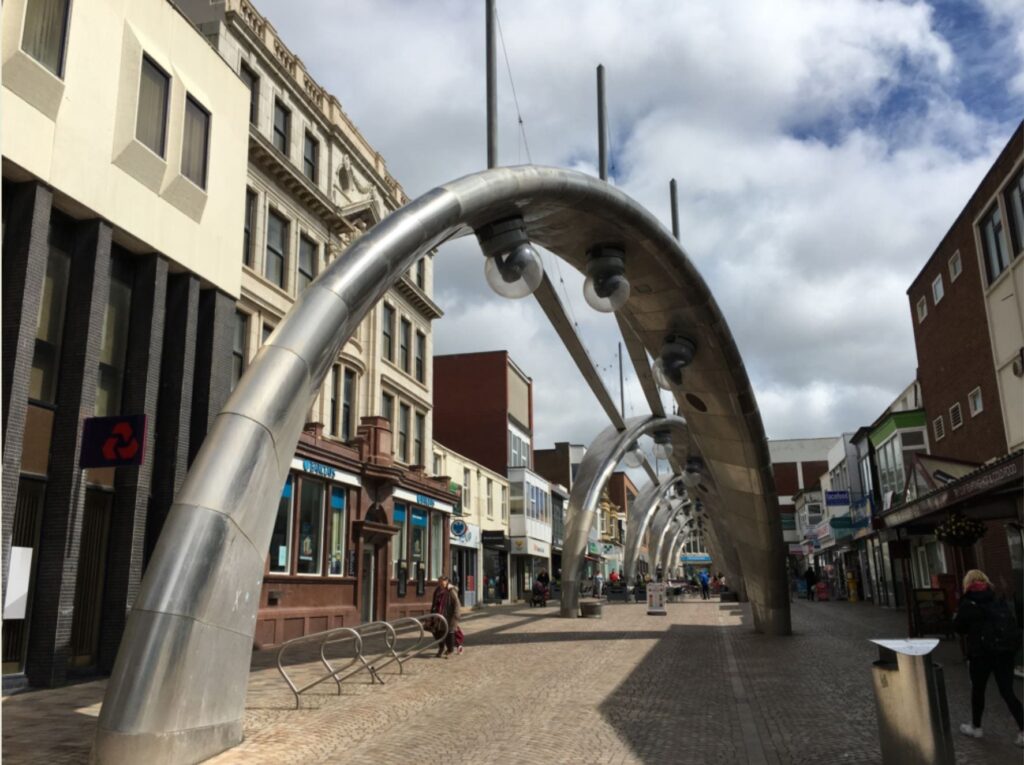 Birley Street is designed to come to life at night, in a show of light and music.
In daylight, the huge arches create a sculpture along the skyline. They play music to create a pleasant atmosphere for people eating at the pavement cafes. And it's pedestrianised. That's a great atmosphere for the pavement cafes and bars, and an ideal place to sit and watch the world go by.
There are plenty of pavement cafes, restaurants and more throughout Blackpool town centre. Some are independents, others are high street names.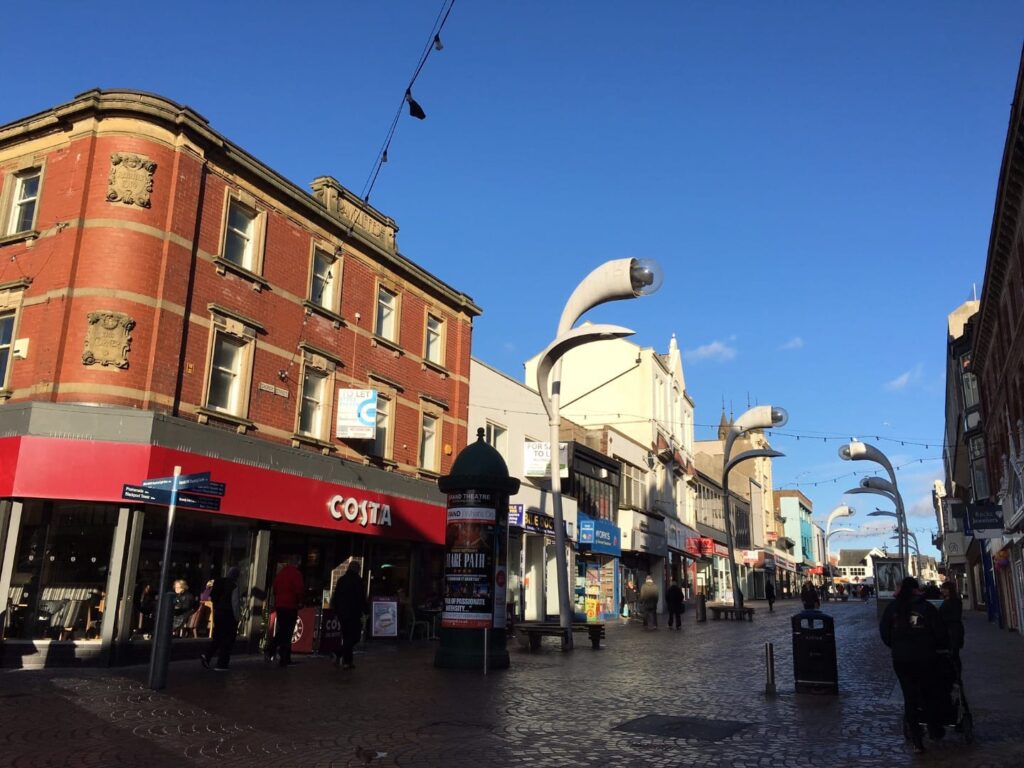 There's a whole playlist dedicated to food and drink reviews – mostly in Blackpool but other Fylde Coast towns too. Take a look
Entertainment and Things to Do
Blackpool town centre has it all! Along with the usual shops and places to eat, there are also plenty of things to do.
And that's before you get to the simple pleasures of people-watching, strolling about and sunbathing!
Seafront Shops
Blackpool seafront is lined with the attractions we all love, along with gift and souvenir shops.
You'll find all this more or less from North Pier to the junction at the Manchester Hotel. Bonny Street Market (below) is at the rear of the SEA LIFE centre.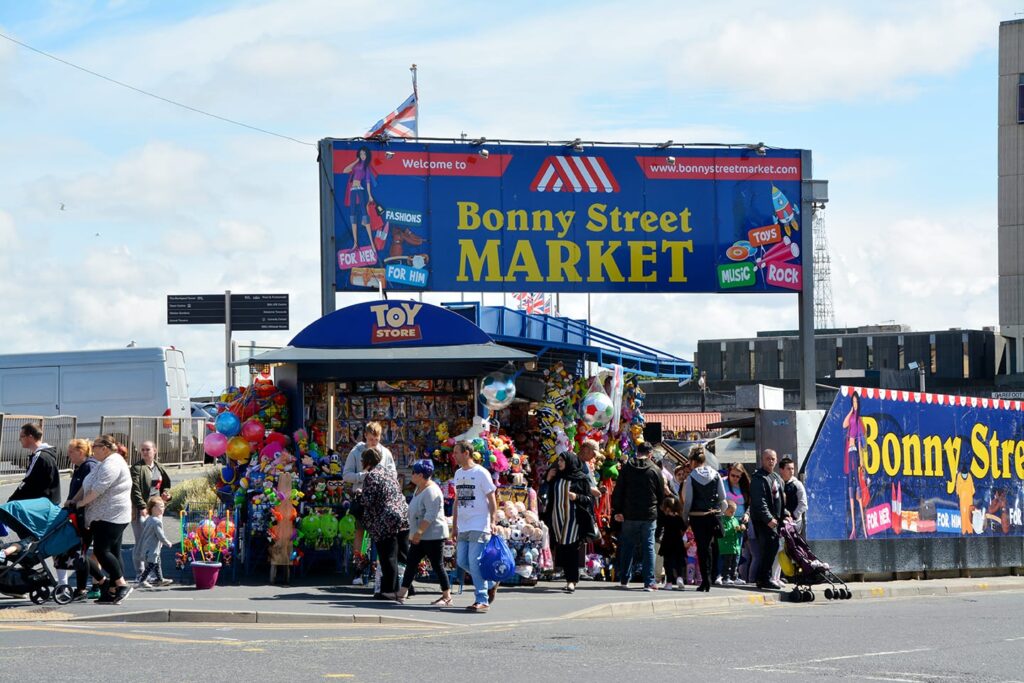 After a run of seafront hotels and places to stay, there are more shops and attractions at South Shore.
Getting to Blackpool Town Centre
It's quite a compact space, with a good selection of transport links, however you choose to travel. Walk, cycle, drive or take public transport – the choice is yours.
Parking in Blackpool Town Centre
Blackpool has numerous handy town centre car parks. There are multi-storeys including the Houndshill Centre and Talbot Road (below), plus surface car parks including the huge Central Car Park.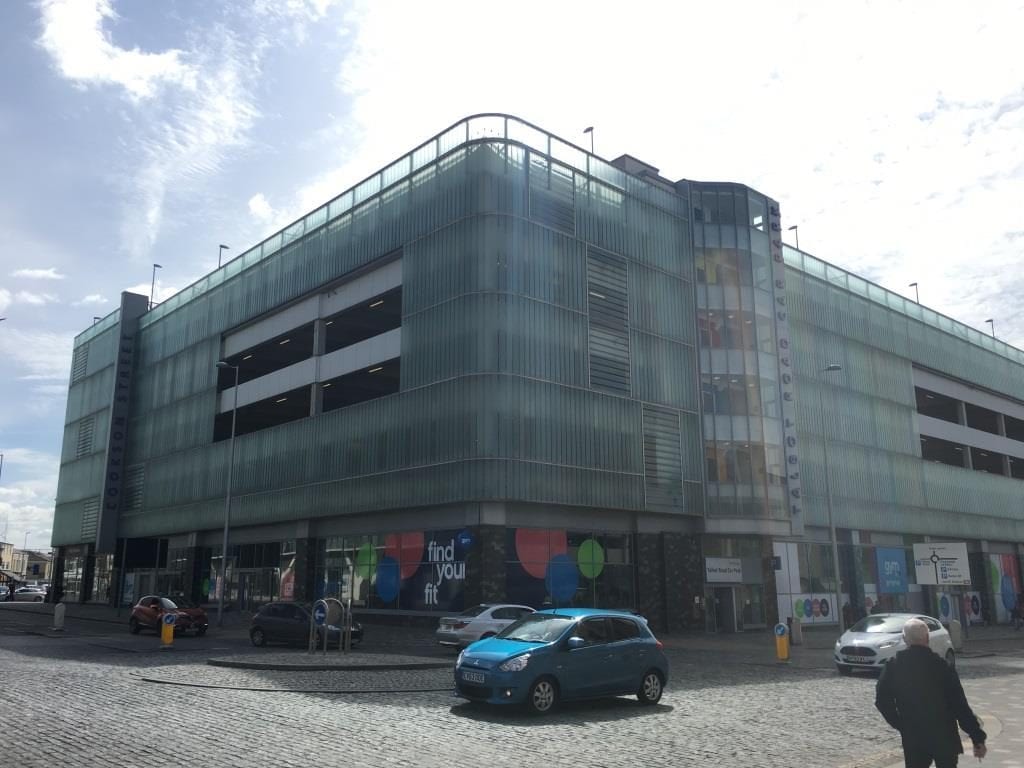 Public Transport
In 2019 a new bus hub opened in the town centre. It's in a really handy place, easy to get to and use.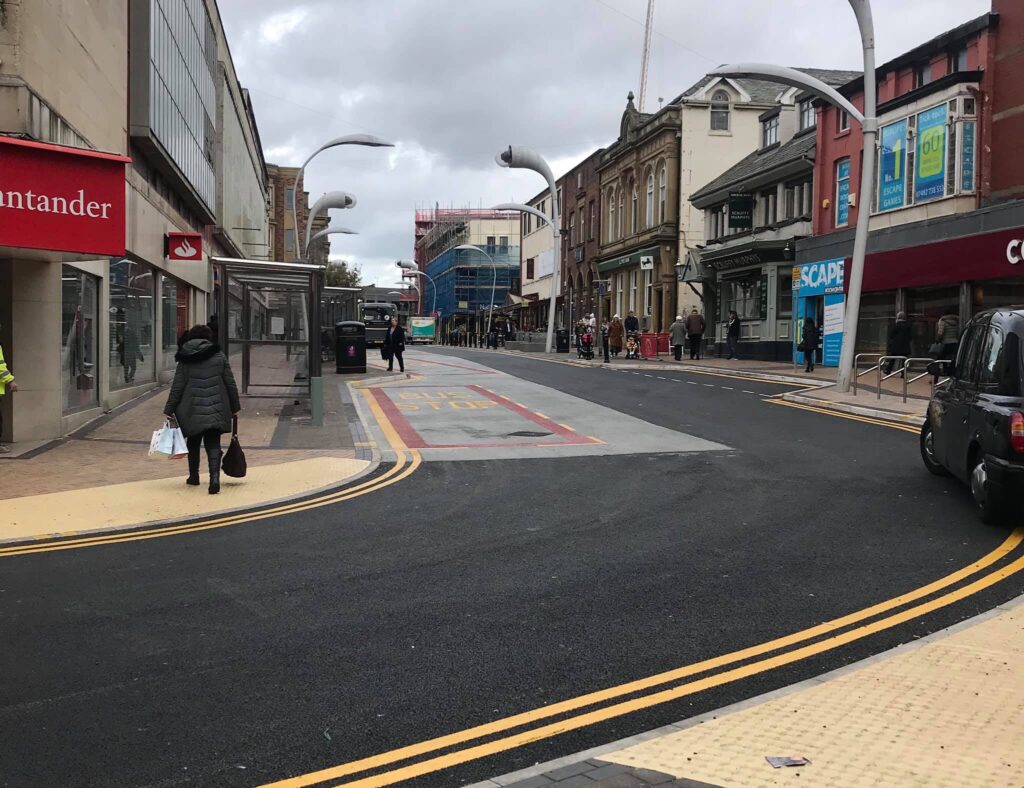 Find it around the block of buildings that includes B&M (formerly BHS) and West Street car park.
Of course that you can also travel along the seafront on a Blackpool tram – a new purple one or an old Heritage one. Blackpool Transport Services is the main Fylde Coast provider.
Blackpool North Railway Station
Inland, the town centre area includes Blackpool North railway station. A major building project is almost complete, to build an extension to the tramway at Talbot Road. It will connect the seafront tram lines with the train network.
It's also where you'll find the large Sainsbury's (below) and Blackpool Council offices at Bickerstaffe Square. It's part of the Talbot Road Gateway project.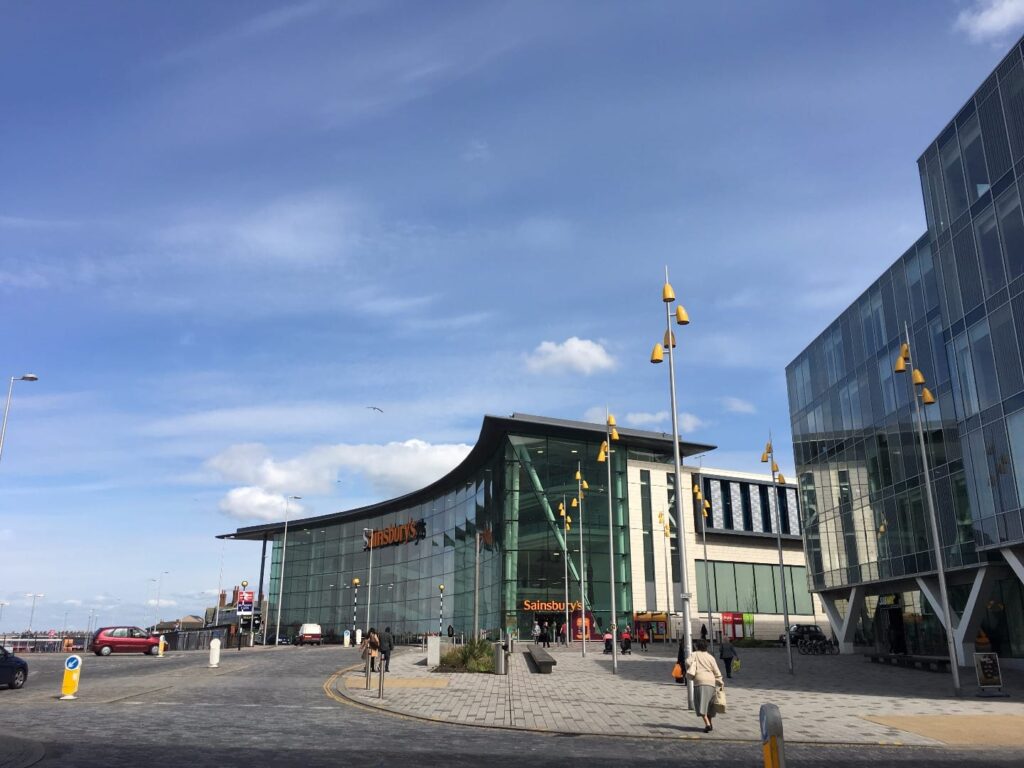 A Great Day out with Something for Everyone
Whether you're a Fylde Coast resident, here on holiday or visiting for the day – we hope that you enjoy visiting Blackpool town centre.
Be entertained, enjoy something to eat, do a spot of shopping and take a walk along our fabulous seafront. What more could you want.
Fill your lungs with sea air and enjoy the seaside! Here's another video to enjoy –
Enjoyed this video? Why don't you subscribe to our Visit Fylde Coast YouTube channel – make sure you don't miss out!
While you're here…
What do you think? Why don't you join in and leave a comment below?
Have a look at the homepage of the Live Blackpool website for more of the latest updates.
Love the Fylde Coast? Sign up for your weekly email newsletter. Packed full of interesting things it arrives in your inbox all 52 weeks of the year.
Join us on Facebook at our Visit Fylde Coast Facebook Group and follow us on Twitter @visitFyldeCoast
Plus hundreds of videos to watch on our YouTube channel – from all over the Fylde Coast!