Talbot Square is the area outside Blackpool Town Hall and the Clifton Hotel, opposite North Pier. Next time you pass through it, stop a while and really take a look at the buildings. Imagine life in Blackpool in the late 1700's when they were built!
Thomas Clifton, Squire of Lytham, bought a large piece of land in December 1843. Named after his son, it was later to become dedicated as Talbot Square – alongside Clifton Street. He built 'Talbot Street' from his estate at Layton Hall to the sea front. Then, after being known as 'New Road' for some years, in 1924 it was renamed Talbot Road.
Did you know? that Talbot Square is one of the oldest parts of Blackpool, dating back to 1750?
Take a Look Around Talbot Square
We went to take a look around in February 2021 –
Blackpool Town Hall
Completed in 1900, Blackpool Town Hall became Grade II listed on 1 January 1974. Todays impressive building replaced a previous 18th Century one near to St John's Market.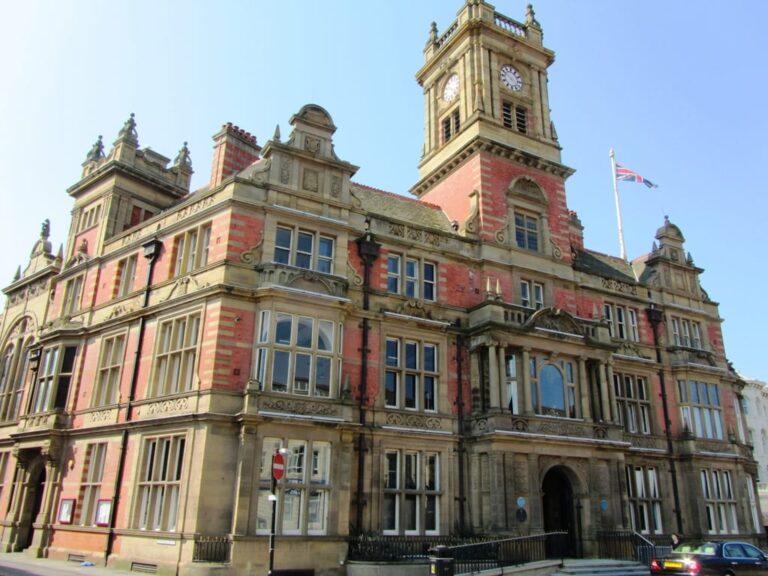 Hotels at Talbot Square
The large white hotel opposite North Pier has had various names over the years, dating back to 1780 when this space was previously known as Belle Vue Square. By 1827 it was Forshaws Hotel – which it is again now – and the first place in Blackpool to adopt promenading and have a walkway. The rest is history and ever since then it's been a popular hotel location.
The Clifton Hotel – now Forshaws
Recently the Ibis, and now once again Forshaws, but still recognised as the Clifton Hotel. This landmark building was the Clifton Arms on opening in 1780. Also Grade II listed, it was partly demolished in 1865. John Talbot Clifton rebuilt it, reopening it in 1874.
Fast forward to 2021 and a project to replace the failing render on the exterior of the building is complete. It looks like a fine building once again, standing on this prominent corner opposite North Pier.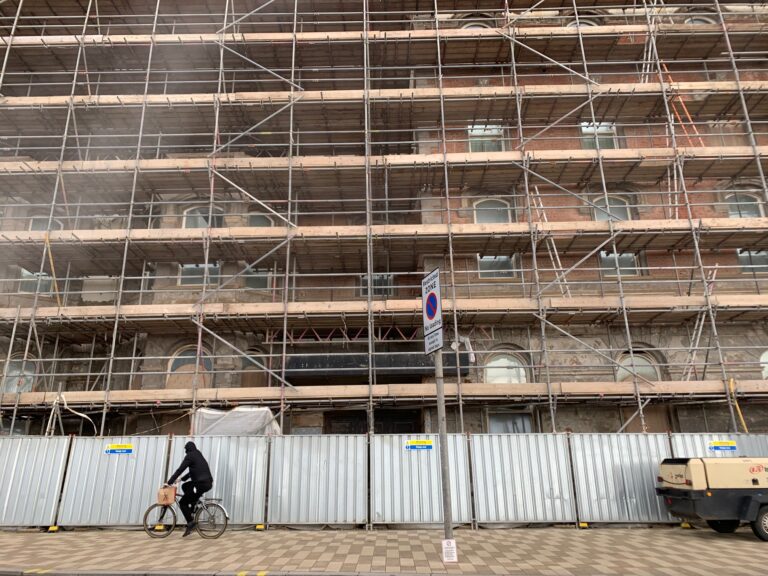 Premier Inn
Yates Winelodge once occupied the cheese-shaped wedge between Talbot Road and Clifton Street. Sadly, it met a sticky end in a serious fire which led to the demolition of the building.
Now, a brand new Premier Inn hotel stands proudly on the site. The rotunda of Yates replaced with a very attractive art-deco inspired frontage, topped off with a clock. This new hotel opened in Spring 2021.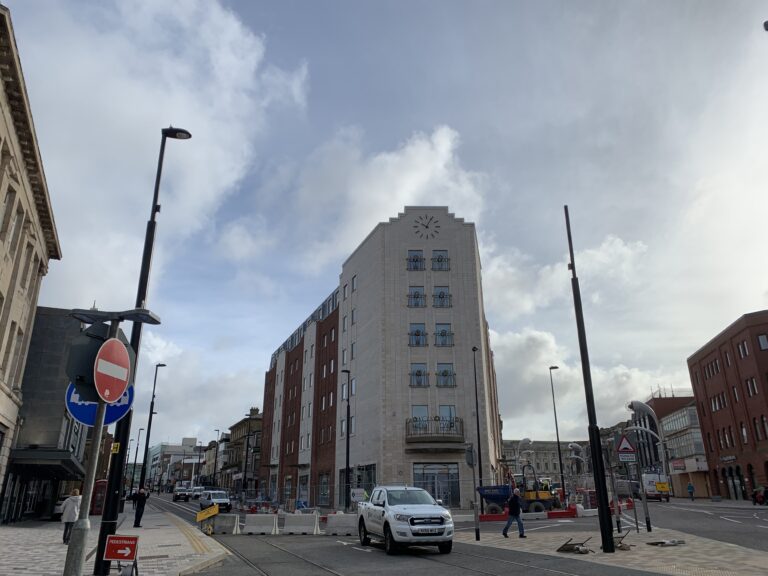 The Old Bank Apartments
The former RBS Bank premises opened in Spring 2022 as luxury serviced accommodation in the heart of Blackpool. The bank had closed in 2018 and more recently the violin shop was based there. It was 7 September 1900 when it originally opened as Williams Deacon and Manchester and Salford Bank Ltd opened, built on the site of a former Rowley's tobacco store. Substantially rebuilt in 1927, a number of name changes followed over the years, until it eventually became the RBS (Royal Bank of Scotland).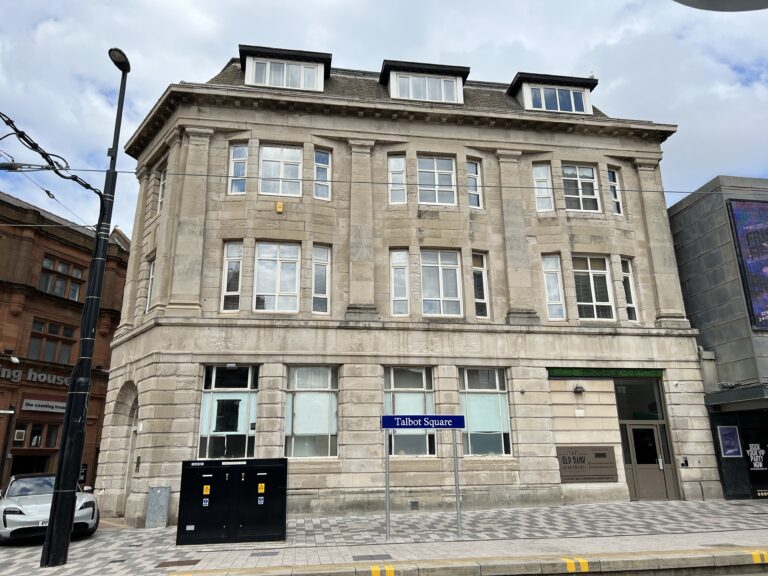 However, although Listed, the building had fallen into disrepair. Bought by a Blackpool family group in 2021, including property developer Chris Chadwick and daughter Charli Johnson, it's been transformed into luxurious and stylish accommodation. Thankfully they've retained a number of the original features too – including the downstairs wooden panelling and the black caged lift. The Old Bank Apartments is a member of StayBlackpool.
Book a Stay
Visit Fylde Coast has partnered with independent hoteliers association, StayBlackpool, to help you to find trusted accommodation for your next stay. All the properties listed on the Visit Fylde Coast websites by StayBlackpool are annually inspected. This means that you can book with confidence, safe in the knowledge of a great stay.
Search for Accommodation
Accommodation you can trust from StayBlackpool
Bookings from these sites are also ultra-low or zero commission, unlike using online travel agents. This means that more of the money from your booking helps to support the local economy.
If you'd prefer, browse our accommodation guide where you can also search and book
Tramway Extension
The old tram route to Layton once passed through Talbot Square until it closed back in 1936. Now, work is underway that will see trams travelling through Talbot Square once again. The £18m tramway extension joins the promenade route to Blackpool North Station. Passengers will use new stops at Talbot Square and Topping Street.
We were lucky enough to get a ride on one of the first test trams, 12 months before the project's completed. Join us for a look at the new terminus –
Counting House
Aptly, what's now the Counting House began life as a bank, first opened in 1863 by Preston Banking Co. Rebuilt in 1891 as London and Midland Bank – 1956 saw it extended to cover the block from The Strand.
With the changing face of high street banking, it's new life as a pub began in September 1992. The banking hall is now a bar.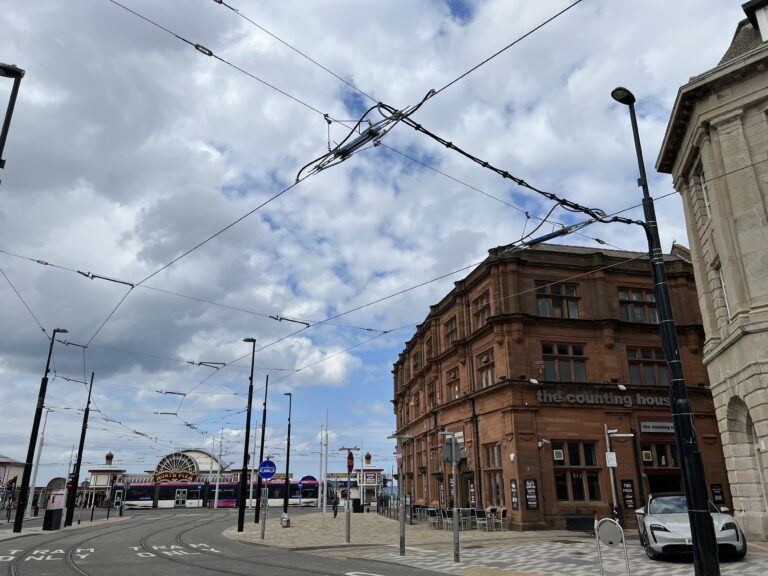 A Mermaid in Talbot Square
There's a Mermaid outside the Counting House in Talbot Square – she celebrates the importance of protecting our beautiful natural coast and marine life.
Enjoyed this video? Why don't you subscribe to our Visit Fylde Coast YouTube channel – make sure you don't miss out!
Unveiled on 10 June 2021, you'll find it sited at the corner of Talbot Road and the Promenade. It's one of a number of unique works, commissioned as part of the ongoing regeneration plans. All these improvements are making the town centre more attractive to shoppers, residents and investors.
Artist Laurence Payot wants the life-sized statue to become a new local character inspired by sea goddesses and heroes across cultures. Covered in replica shells and sea life, they're based on those found locally. A message of hope for a globally threatened marine environment.
The design grew out of the results of community consultation led by the artist. It plays with Blackpool's link to performers using magic and illusion to entertain people, and in particular the traditional street performer disguised as a statue. Laurence spent time with fashion students from Blackpool and The Fylde College and pupils from Blackpool Gateway Academy. The council's beach patrol team also joined in creative workshop sessions before she finalised her design.
Bringing a Mermaid to Life
Blackpool-born Charlotte is the girl chosen as the female model for the sculpture. She has a passion for the environment and interest in marine conservation.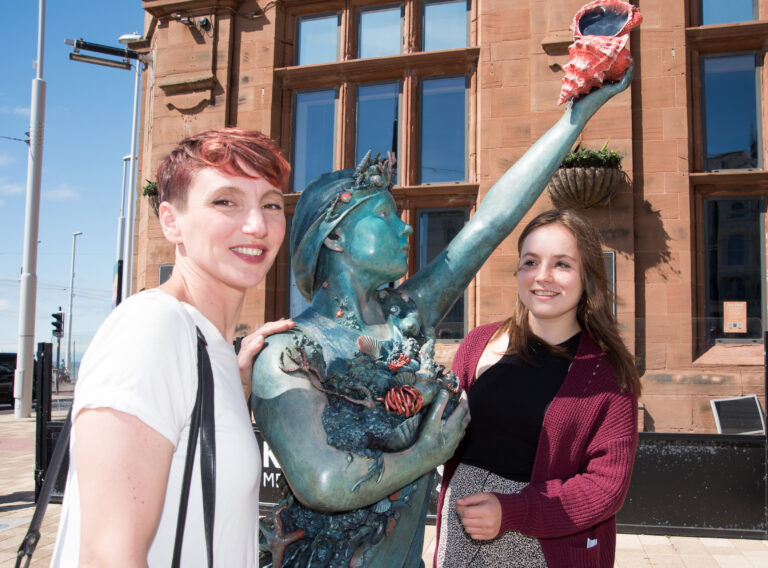 Charlotte said: "I was born in Blackpool and I couldn't imagine living away from the sea. It has so many hidden features – a beautiful and mysterious world. From seeing the initial children's designs, to testing outfits and positions, to being 3D scanned, it was fascinating seeing the process from casting in wax, to bronze, and painting. I'm representing my generation. We've become more aware of the problems we now face. We live at a turning point – we need to take action, and this is what this statue represents, looking after and fighting for our environment and our future."
Making a Mermaid
The funding for the statue came to Blackpool from a grant through the Lancashire Enterprise Partnership under its Growth Deal. Castle Arts Foundry made the sculpture. A state-of-the art 3D scanner was used on the live model so the statue is as realistic as possible. Cast in bronze, it's painted an array of colours – reflecting the natural vibrant colours of an undersea coral bed.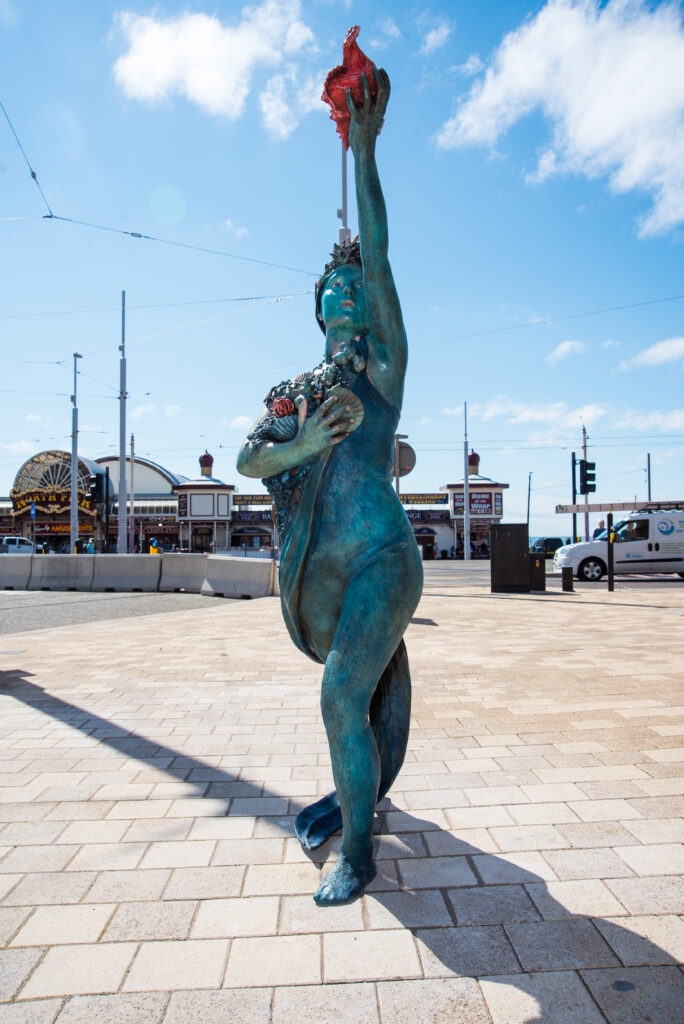 Find the sculpture installed near to the heritage tram benches by artist Andy Hazell. More about the tram benches below. Blackpool's renowned for its golden coastline so it's very fitting that the statue celebrates our beautiful natural coastline and quality beaches.
Tram Benches in Talbot Square
Two new tram benches in Blackpool town centre celebrate the areas tram heritage. Find them outside the Counting House.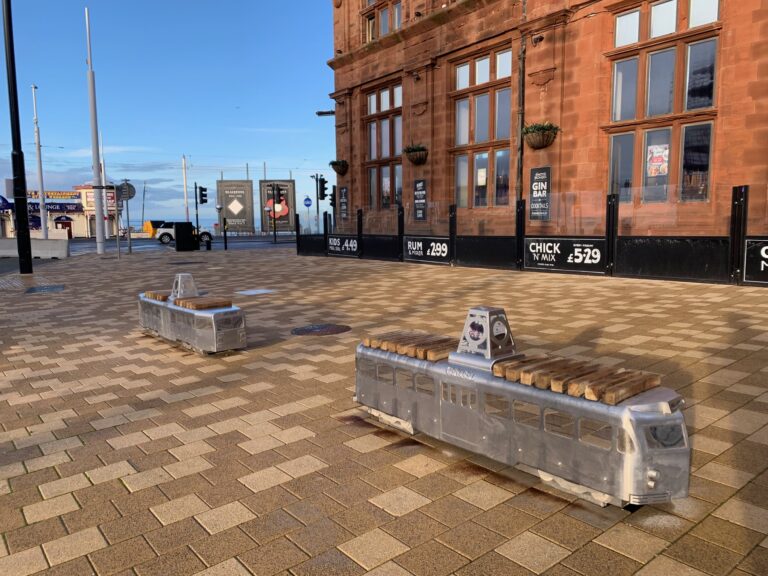 Two of the four new pieces were installed in Talbot Square back in November 2020. The final two benches will be installed once the new Tram Terminal Interchange is completed at North Station.
Made in stainless steel, one depicts a Blackpool 'OMO' built in the mid-1970s, rebuilt from 1934 English Electric Rail coaches. The other 'Brush' built originally in 1937. 'OMO' stands for One Man Operated, which was later changed to OPO [One Person Operated] for political correctness.
Designing the New Tram Benches
After visiting Blackpool Transport Rigby Road depot, artist Andy Hazell came up with the designs for the steel benches. Taking inspiration from Blackpool's rich tram heritage, Andy created four unique designs for them. They're a good addition to the ongoing town centre improvement works.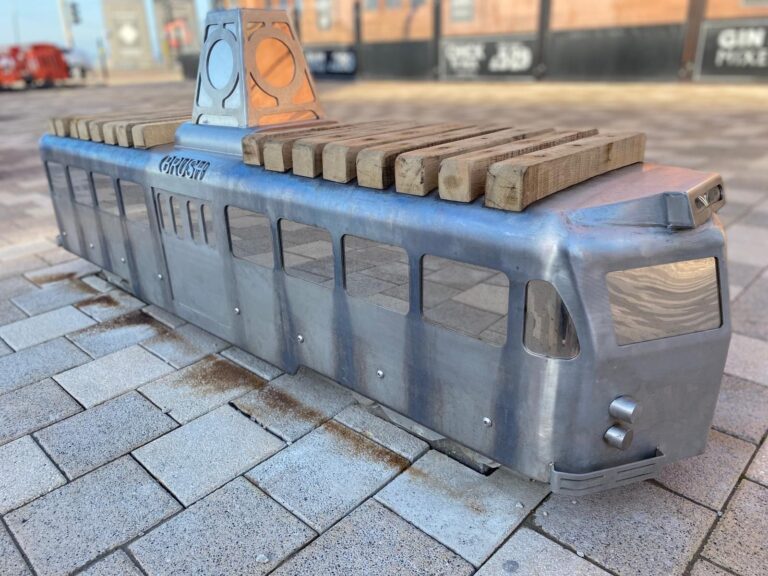 Celebrating the Town's Tramway
The artist's latest works celebrate the remarkable history of the town's tramway. Blackpool can proudly boast at having the oldest electric tramway in the UK. It's also the only one to have been continually in use for 135 years and counting.
The 11-mile tramway runs from Starr Gate in Blackpool, through Talbot Square to Fleetwood Ferry. The service operates with ten minute frequency during the summer season.
Current works will create an integrated transport network, with trams running all the way to Blackpool North Station. This will provide direct services from North Station to the north and south of the town.
Remember the Underground Toilets?
Do you remember the old underground toilets at Talbot Square? The entrance was marked by a wrought iron fence around the downwards descending staircase, between the Mermaid statue and the traffic lights at the Clifton Hotel. Now, the old access point is covered by the new tramway lines.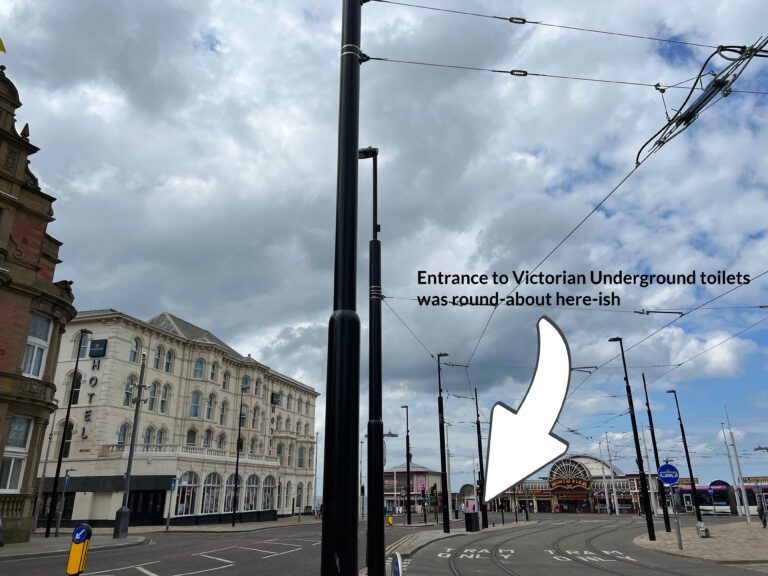 The subterranean world shone with Victorian glazed tiles, mahogany doors and toilet seats. Closed for a long time, they're now relics of a long-gone past. It's not the only underground space in Blackpool.
More History of Blackpool
Interested in the history of this fine town? We are too! We've been systematically working our way through different places, events and things from the past in the History section on this website.
While you're here…
Go to the homepage of the Live Blackpool website for the latest updates.
Love the Fylde Coast? Sign up for your email newsletter. Packed full of interesting things it arrives in your inbox all 52 weeks of the year.
Join us on Facebook at our Visit Fylde Coast Facebook Group and follow us on Twitter @visitFyldeCoast
Plus hundreds of videos to watch on our YouTube channel – from all over the Fylde Coast!
Booking a stay? Pick a safe, clean and legal place to stay, at the very best price. Book with the Visit Fylde Coast and StayBlackpool guide.