Waterloo Road joins the promenade at the headland of the same name, not a long way North of South Pier. It's another one of the old, straight roads laid down by our forefathers, that forms the skeleton of today's resort.
Waterloo Road
Waterloo Road meets the seafront and extends way inland to the junction known as Oxford Square – where the A583 Preston New Road meets the B5390 Park Road. Continue straight through the junction and Waterloo Road becomes Whitegate Drive. See it marked on the map below – click on it to explore.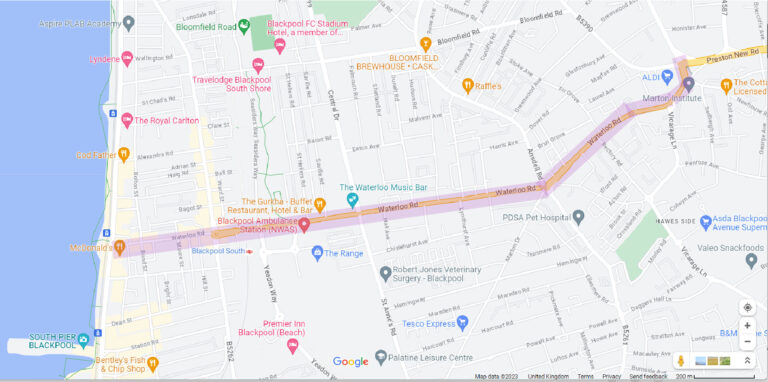 Towards the Western, seaward end of Waterloo Road is a busy little community, with local shopping at South Shore. We went for a walk on a bright and crisp morning in February 2021 –
Enjoyed this video? Why don't you subscribe to our Visit Fylde Coast YouTube channel – make sure you don't miss out!
Some Interesting Buildings at Waterloo Road
Most notably, Waterloo Road is home to Brooks Collectables with its amazing Toy Museum, and Notariannis Ice Cream! Find them just at the corner as you turn off the promenade.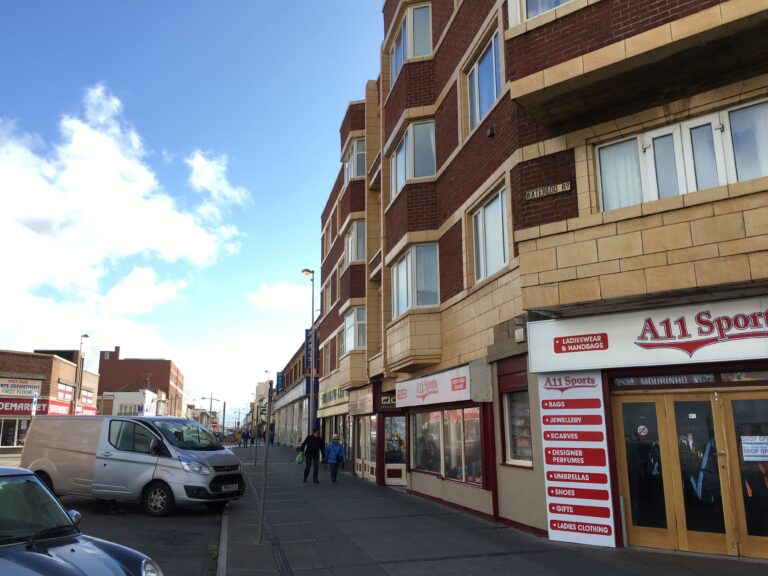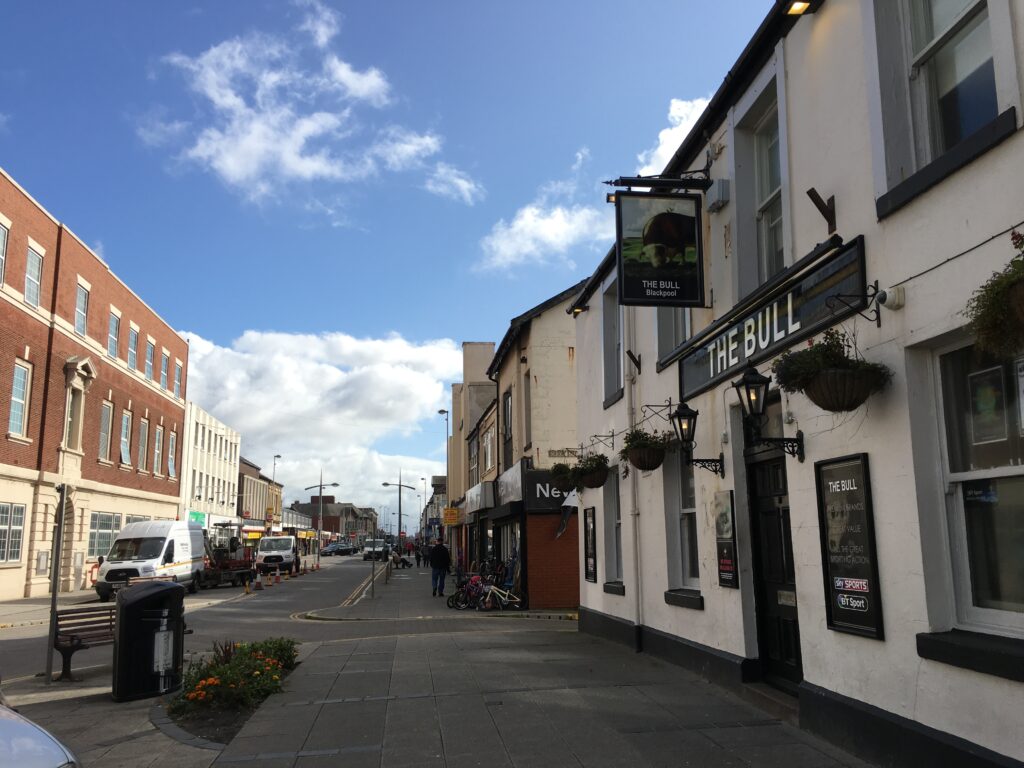 The Royal Oak Pub
This dates back to the late 1890s and by 1893 had been bought by the C&S Brewery, refurbished and renamed the Royal Oak. Much of it was rebuilt, using brick salvaged from Whinney Heys Hall and faced in glazed terracotta, then it reopened on 12 July 1930.
The fireplace includes hidden carved mice and is believed to have been made by Robert Thompson, the famous mouse-man.
The New Market
Today it's packed with modern day goods and different traders selling their wares. But look up above the modern acrylic sign to see the architecture of a once fine building. This originally opened as a Masonic Hall in 1893 and then became the site of South Shore Collegiate School.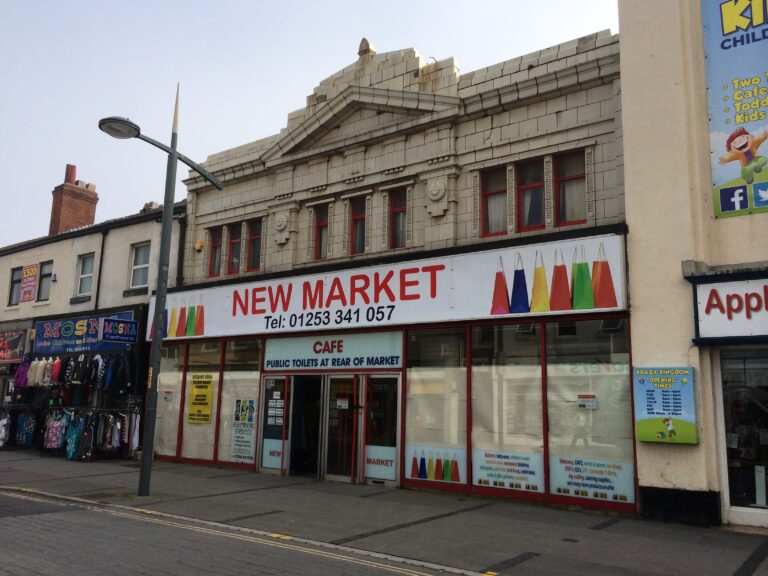 The Wonder of Woolworths
Blackpool's second Woolies opened at 7-11 Bond Street on 17 March 1928 – as store number 309. Extended in 1938 it was used by the War Department from 1942-1946. For many years it was a busy, popular store and a great addition to this local shopping area. Sadly though the store closed on 8 January 1993.
With Woolworths gone, the store had a number of new tenants. First it became Browsers Indoor Market. It reopened in 1994 as Hartes Homestore before closing at the end of the 2015 season.
Empty since January 2019, now, the building is derelict and boarded over. The owner wants to demolish it and use the space for car parking but Blackpool Council is opposed to the plan. So meanwhile it stands there as a rotting corpse of better days gone by.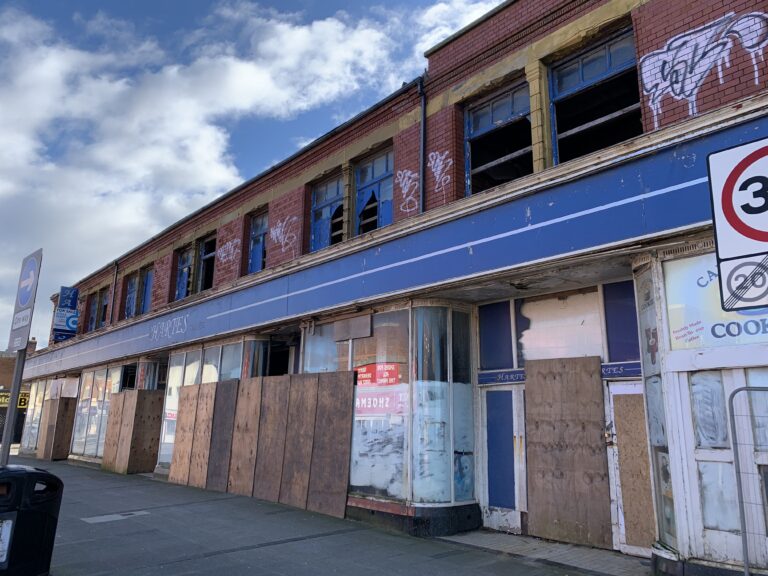 Waterloo Headland
Waterloo Headland is one of a series of curved outbuilds at Blackpool South Shore, added with the redevelopment of the seafront. The £100m seawall project completed in 2012 and includes new headlands, curves and steps.
Take a look around in this vlog, filmed on a brisk cold day in January 2023
Enjoyed this video? Why don't you subscribe to our Visit Fylde Coast YouTube channel – make sure you don't miss out!
Waterloo Road in the Past
MANY THANKS to Nick Moore and his fascinating History of Blackpool for some of the historical information used in this page. You can read it here
We drive and walk along these old, straight roads and never give a thought to what went before or the years of history that they've seen. But dig a little and it's amazing how many landmark times and events they've seen.
Before Waterloo Road
It was way back in 1692 when Thomas Wilkins built Damstid Cottage near Spen Dyke. This was at the corner of Vicarage Lane and what's now called Waterloo Road, not far from the main junction with Preston New Road.
So few people were literate at the time – there was no internet or even pen and paper for most people. With records being patchy back then, the next reference in the history books takes us fast-forward to 1767. Blackpool landowners petitioned petitioned parliament for the enclosure of 1800 acres of common wasteland called Layton Hawes. Before this, anyone would have been free to graze animals, forage and collect wood on the open land.
The Layton Hawes Enclosure of 1 April 1769 changed all that. Plots of land were allocated to landowners in Bispham, Layton, Great and Little Marton. This also laid the foundations for the development of a hamlet at South Shore.
Most of the long, straight roads of Blackpool were originally laid out to separate this newly enclosed land. It's the origins of Waterloo Road, Lytham Road, Bloomfield Road and numerous others.
Did you know? By 1819 the first house had been built facing the shore. Homeowners started to rent out bedrooms – and the hotel boom began!
Consolidating the Road Name
Originally, lots of little bits of road with different names made up what we know as Waterloo Road. Road and place names often change over time and this is no exception.
Originally, the road from the sea in the West to Cow Gap Bridge on Hawes Side Lane was called Cow Gap Lane. Another way continued from the same bridge to what's now Oxford Square – where Greggs is! But he whole of the route was renamed Waterloo Road in 1898, said to be renamed after the victory at the Battle in 1815.
While you're here…
Go to the homepage of the Live Blackpool website for the latest updates.
Love the Fylde Coast? Sign up for your email newsletter. Packed full of interesting things it arrives in your inbox all 52 weeks of the year.
Join us on Facebook at our Visit Fylde Coast Facebook Group and follow us on Twitter @visitFyldeCoast
Plus hundreds of videos to watch on our YouTube channel – from all over the Fylde Coast!
Booking a stay? Pick a safe, clean and legal place to stay, at the very best price. Book with the Visit Fylde Coast and StayBlackpool guide.