Blackpool Art Society is one of the oldest Art Societies in Britain. It's one aim is to encourage members to experiment with and enjoy all forms of art.
The Society maintains a consistently healthy membership and a busy studio which includes daily painting groups, workshops and professional demonstrations. They operate from their studio on Wilkinson Avenue, Blackpool.
Pictured above: Opening of the 2018 exhibition by Mayor and Mayoress of Fylde Council Mr Peter Collins & Mrs Caroline Collins with Blackpool Art Society President Rod Robinson (right)
Join Blackpool Art Society
Do you love to create art? Then Blackpool Art Society is the place for you. Everyone is welcome, whether you're a leisure painter of any ability or a professional artist.
The interests of members are very diverse, encompassing traditional and contemporary styles in all kind of media. This makes exhibitions really interesting, dynamic events.
The 'Seaside Stitchers' are members of Blackpool Art Society. They create artwork using textiles.
Further details on the society are available by emailing exhibitions@blackpoolartsociety.co.uk or from their own website.
More about Blackpool Art Society
Blackpool Art Society began life in 1884 as Blackpool Sketching Club. The Grundy brothers were among the original members (as in Grundy Art Gallery).
Find Blackpool Art Society at The Studio, Wilkinson Ave, Off Woodland Grove, Blackpool FY3 9HB. It's their own studio, which was purpose built in 1972.
Studio facilities are available for members to use and host several weekly studio groups, catering for various interests. There's also a varied schedule of workshops, demonstrations and talks throughout the year. The day to day running of the Society is handled by a dedicated Committee of unpaid elected volunteers.
Exhibitions of Members Work
2018 marks the 134th year that Blackpool Art Society has publicly exhibited the work of members on the Fylde Coast.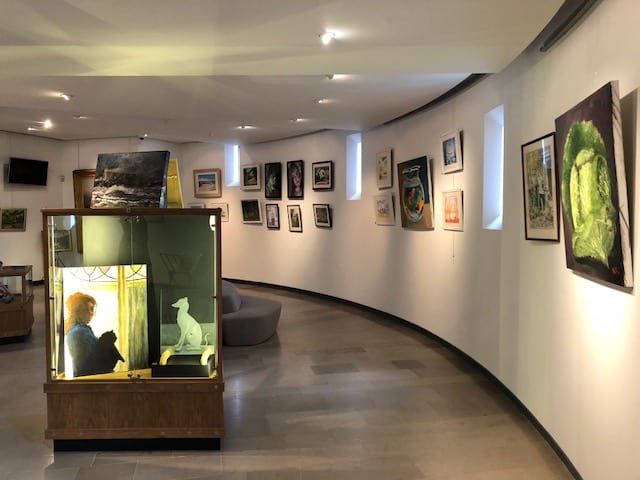 Mayor and Mayoress of Fylde, Mr Peter Collins & Mrs Caroline Collins, opened the exhibition of more than 100 pieces of work at the Fylde Gallery at Booths in Lytham. All of the work is for sale and a percentage of the purchase price donated by the artist to the Friends of Lytham St Annes Art Collection.
Find out More
Have a look at the Live Blackpool website homepage for more of the latest updates.
Love the Fylde Coast? Sign up for our weekly email newsletter. It's packed full of interesting things and will arrive in your inbox all 52 weeks of the year.
Join us on Facebook at our Visit Fylde Coast Facebook Group
Don't forget to follow us on Twitter @visitFyldeCoast