There are more Seaside Awards for Blackpool Beaches in 2019! The national awards, announced by Keep Britain Tidy, once again recognise Blackpool Central, South, North and Bispham for high standards.
Unfortunately, the Blue Flag at Blackpool South Beach which had been in place for three years, has been lost due to a 1.89% drop in water quality. Still, the resort has an entire coastline of award winning beaches.
Video: Looking over Blackpool Beach from pier to pier
Seaside Awards for Blackpool Beaches
These awards celebrate some of the best beaches in the country. The beaches which have once again won Seaside Awards are Blackpool North beach opposite the Tower, Blackpool Central beach and Bispham beach. South Beach also won a Seaside Award this year.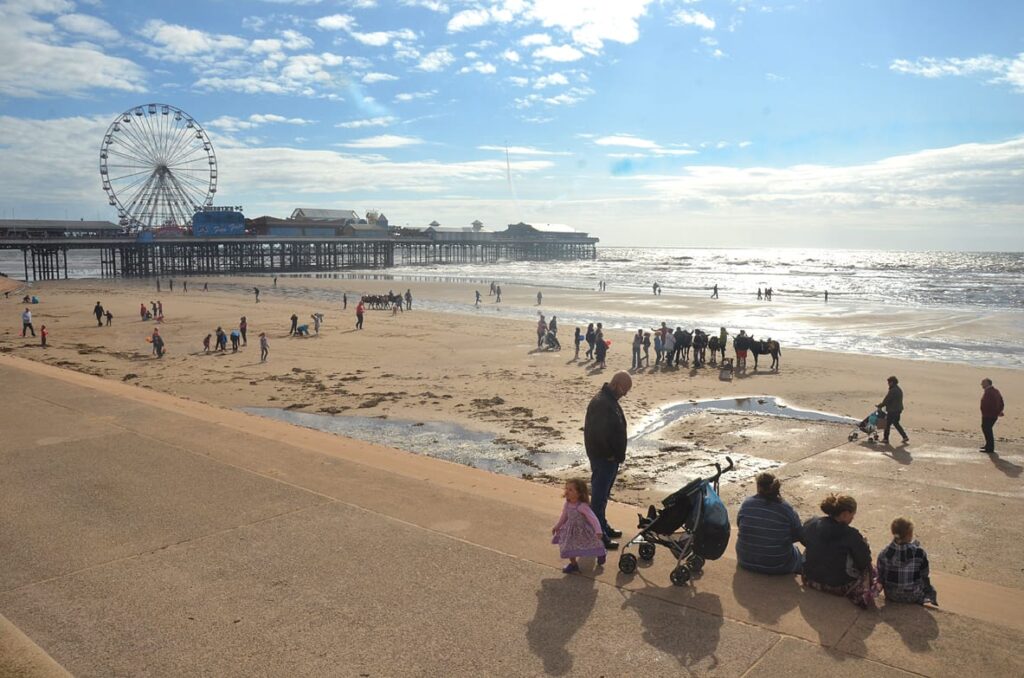 The flag is a symbol of quality which ensures visitors are guaranteed to find a clean, safe, attractive and well-managed coastal stretch.
There are miles of coastline for you to explore and enjoy in Blackpool. Go and take a walk on our golden sandy beaches – it's good for the soul!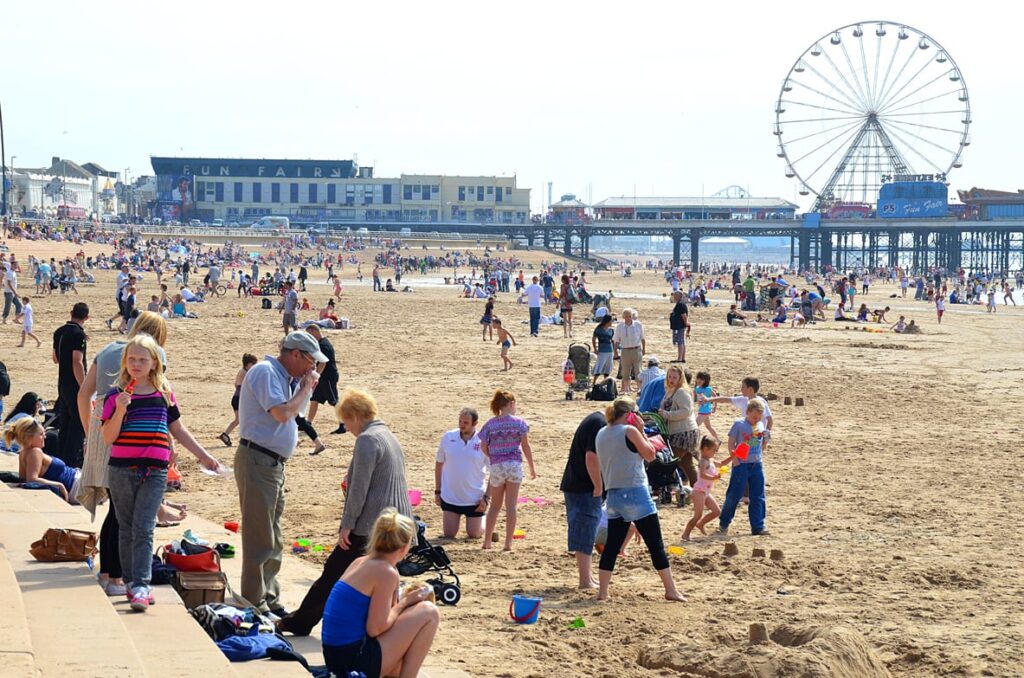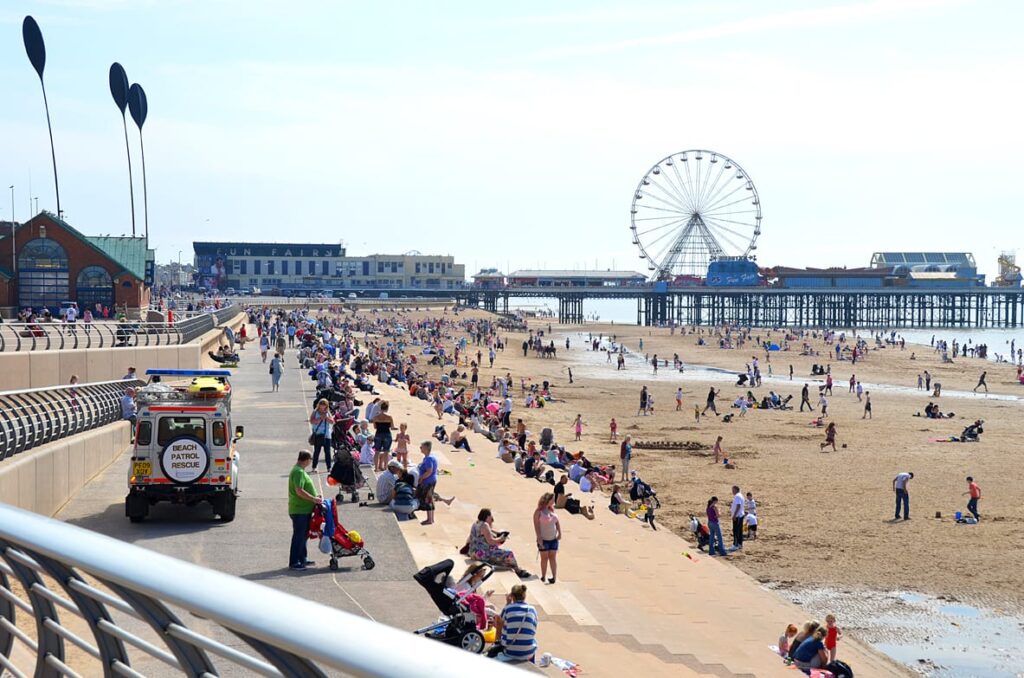 Dogs on Beaches
In order to keep Blackpool's beaches clean, dogs are excluded from the beach from 31 May to 1 October.
This includes the area between the southern side of North Pier and Mirror Ball at the Solaris Centre on New South Promenade, plus all the slopes and staircases leading to the beach.
More details about dogs on beaches here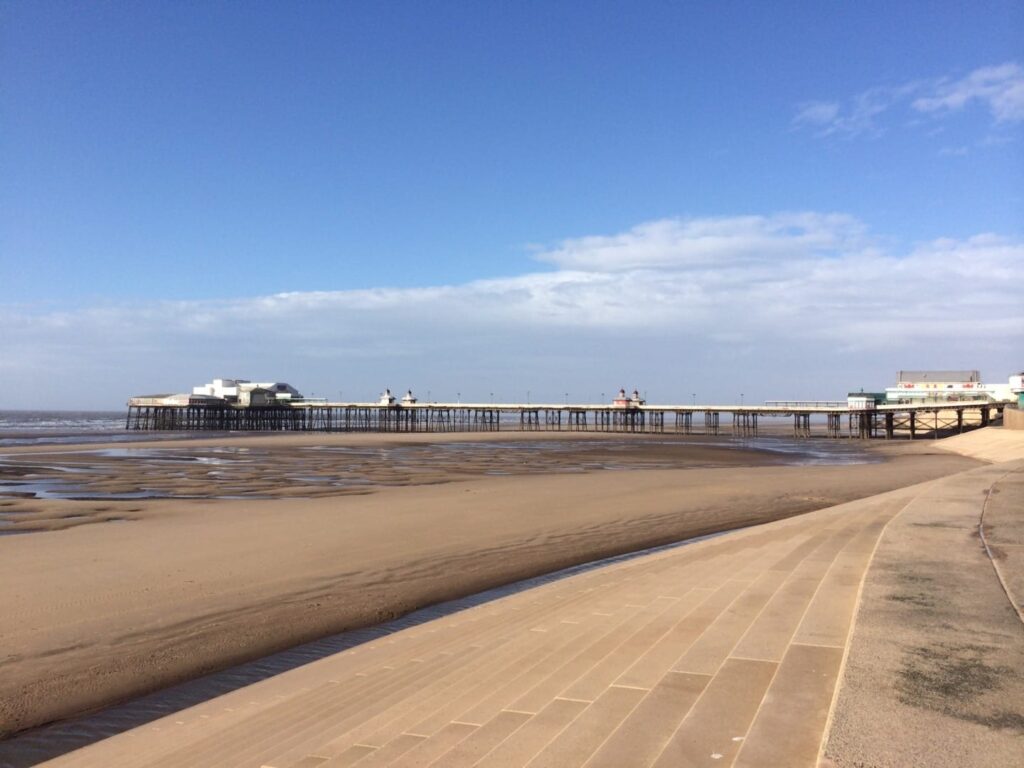 Bathing Water Quality in Blackpool
Sea water quality at Blackpool's most northern beach, Bispham, has been classed as being 'excellent'. That's according to results released in November 2019 by the Department for Environment, Food and Rural Affairs (Defra).
In addition to this top classification for Bispham beach, high standards of bathing water quality have also been recorded by Defra at the resort's three other beaches, Blackpool North, Central and South with each one classified as 'good'.
The tough cleanliness standards are based on World Health Organisation (WHO) guidelines. They're the result of a remarkable turnaround for the resort's beaches in the last few years, where heavy investment coupled alongside work with businesses, communities and public sector partners has contributed to making sure the town has a coastline to be proud of.
The Fylde Peninsula Water Management Partnership was established in 2011. It's made up of public and private sector companies, and has worked to increase investment in the area's sewer network, as well as creating teams of volunteers and businesses to look after the quality of Fylde Coast seas.
Turning Tides
At the same time, the Turning Tides partnership in the North West is creating bathing waters that the region can be proud of. They're working with key local authorities across the region, along with environmental charity Keep Britain Tidy, United Utilities, Environment Agency and the National Farmers Union.
Since its inception in 2012, the Turning Tides Partnership has helped reduce the impact of pollution in our sea water. That pollution can come from inland, coastal and river sources. It's about protecting bathing water quality and helping to sustain seaside economies.
John Blackledge, Blackpool Council's Director of Communities and Environmental Services, said: "It is fantastic news that the water quality at Bispham beach has been classified as 'excellent' and that bathing waters at our three other beaches are also of a high standard.
"The overall improvement in our seawater over the last few years has been significant. Not only is that good for the town's local economy but also has big health and environmental benefits too.
Hard Work pays off
"The turnaround in our fortunes hasn't happened by chance. But by close working with our partners, heavy investment from United Utilities and excellent work from local businesses and communities.
"Thank you also to everybody who took part in beach clean ups throughout the year which has also helped to improve our water quality along with things such as not putting the wrong thing down the toilet, it all makes a difference."
The directive is based on up to four years' worth of samples, taken by the Environment Agency, with bathing waters classified as excellent, good, sufficient or poor.
While you're here…
Have a look at the homepage of the Live Blackpool website for more of the latest updates.
Love the Fylde Coast? Sign up for your weekly email newsletter. Packed full of interesting things it arrives in your inbox all 52 weeks of the year.
Join us on Facebook at our Visit Fylde Coast Facebook Group
Don't forget to follow us on Twitter @visitFyldeCoast