As you approach Cleveleys from Blackpool, you pass through Anchorsholme at the cross roads near to the petrol station and Lidl. Anchorsholme is actually part of Blackpool, although it is so near to Cleveleys.
The local shopping centre heads inland at right angles to the sea, with a wide high street and pavements plus plenty of free on street parking. It's also handy for both buses and trams, being right on the main coastal route for both. There are the motor spares and angling shops right on the corner of the junction, and we popped into both for a quick chat. The chemists is also in a prominent spot on the corner, followed by a wide variety of different shops as you head inland.
You can get all your beauty needs seen to with the hairdressers and tanning shop, there's a lingerie shop, pet shop, convenience store, Chinese takeaway and a fish and chip shop, plus somewhere to buy and sell your nearly new white goods and household appliances instead of sending them to the tip. Right at the very end of the high street, or if you're heading towards the coast it would be the very first thing that you see, are the florists and the bakery.
Willows Florists makes a lovely corner plot, all decked out in shades of eau de nil with a pretty shop window full of flowers and plants, and the shop smells lovely when you go inside it!
Across the road is Taylors Bakery. I knew about this shop, but being from the other end of Cleveleys it's one that I haven't been in personally before, and I was in for a surprise! First of all I was caught by the aroma around the shop of what seemed to be baking pork pies (and it being nearly lunch time they smelled delightful).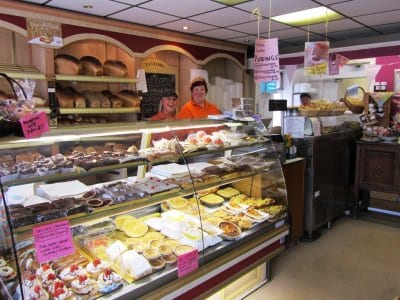 But go into the shop and it's like an Aladdin's Cave of all things delicious! Two things stuck in my mind: the gift bags of biscuits and confections that made me think of a gift shop in Cornwall or at Chatsworth, and the meringues in the chiller cabinet. I like meringues, and these huge ones with strawberries on top looked delightful!
A number of the shops in Anchorsholme now have the infamous Visit Cleveleys postcards stocked on the counter, so why don't you pop along for a look, tell them that you heard it here, and support the local shops of the Fylde Coast.