As you approach Cleveleys from Blackpool, you pass through Anchorsholme at the traffic lights at the petrol station and Lidl. Head inland at those lights and you'll find the Anchorsholme shops at Anchorsholme Lane East. Anchorsholme is actually part of the Blackpool borough, although it feels like it's in Cleveleys!
The local shopping centre heads inland at right angles to the sea as you can see in the above photo. There's a wide high street and pavements plus plenty of free on-street parking. It's also handy for both buses and trams, being against the main coastal route for both.
We went for a look in January 2021. It's extra quiet because we were also in the throes of a Covid lockdown – along with the cold weather!
Enjoyed this video? Why don't you subscribe to our Visit Fylde Coast YouTube channel – make sure you don't miss out!
A good range of Anchorsholme Shops
The shops you'll find here all offer handy goods and services for local people. The handy free on-street parking makes it easy for you to stop by and get what you need.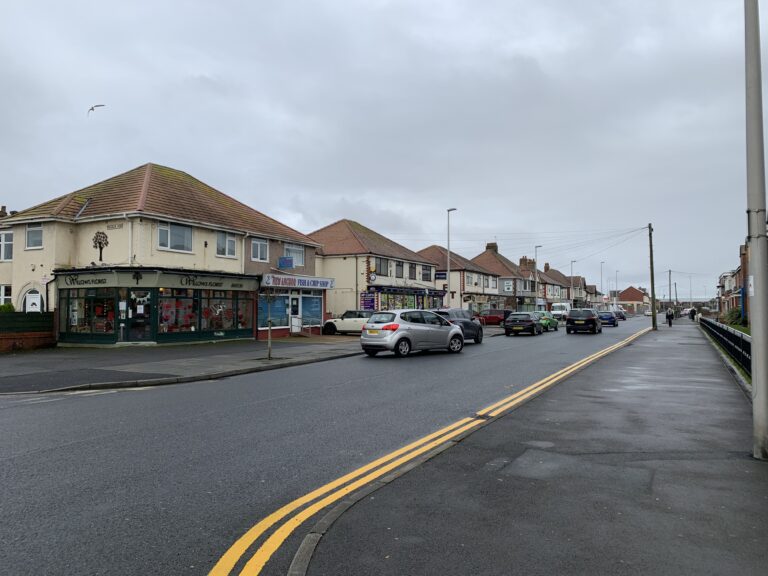 There's a large motor spares on the corner of the junction, and an angling shop next door. Once on the facing corner, the chemists has moved into a larger shop nearby – slightly nearer to Cleveleys in the old tile shop. As you head inland there's a wide variety of shops on both sides of Anchorsholme Lane East.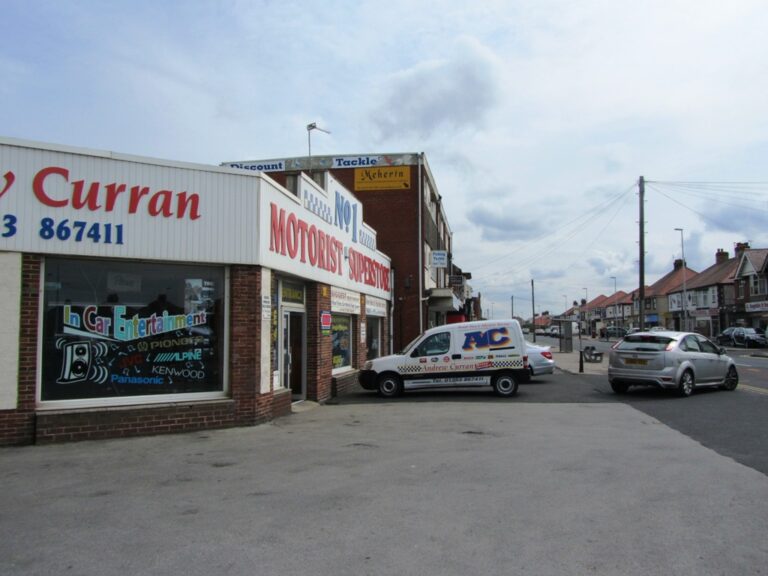 Get your beauty needs seen to with the hairdressers and tanning shop. There's a lingerie shop, pet shop, and convenience store where you can also return parcels. Feeling hungry? Visit the Chinese takeaway or fish and chip shop. There's somewhere to buy and sell your nearly-new white goods and household appliances instead of sending them to the tip.
At the end of the row furthest from the sea are the florists and bakery.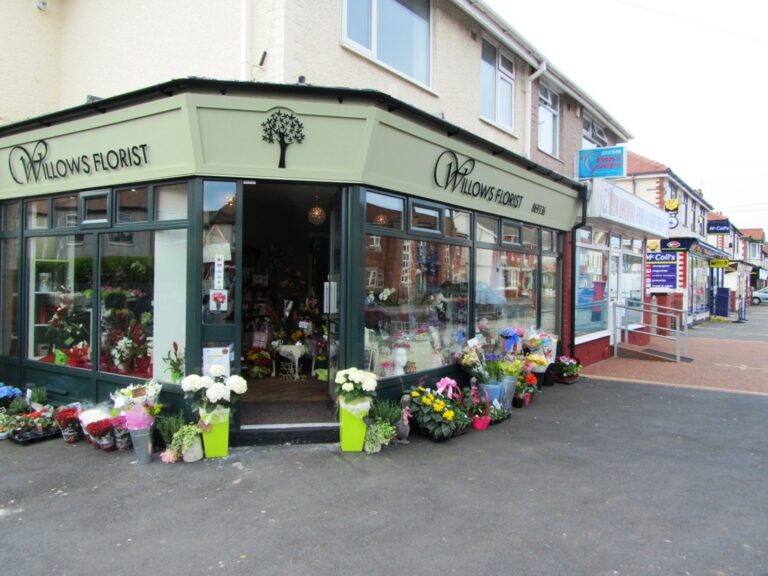 Willows Florists makes a lovely corner plot, all decked out in shades of eau de nil with a pretty shop window full of flowers and plants, and the shop smells lovely when you go inside it!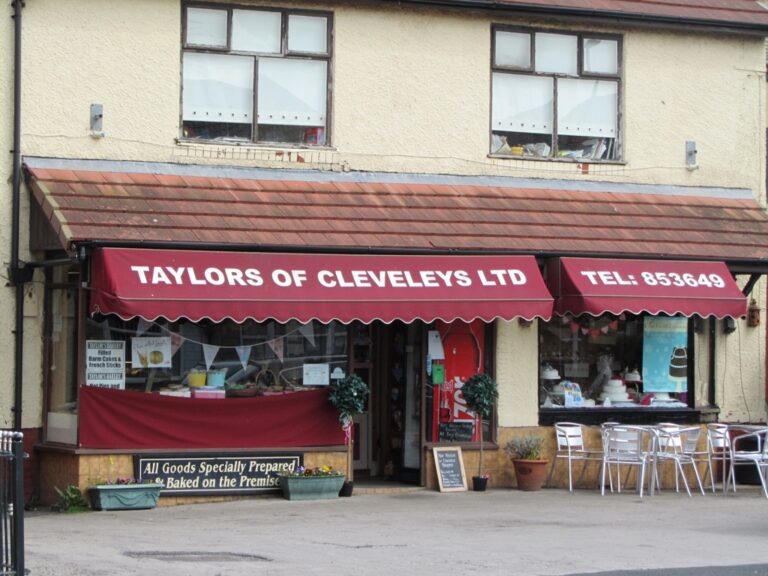 Across the road is Taylor's Bakery. If you haven't been in here, go and enjoy a delicious surprise! Two things stuck in my mind last time I went there. The gift bags of biscuits and confections which made me think of a gift shop in Cornwall or at Chatsworth, and the meringues in the chiller cabinet. I like meringues, and these huge ones with strawberries on top are delightful! (Yes, I have tried them 🙂 )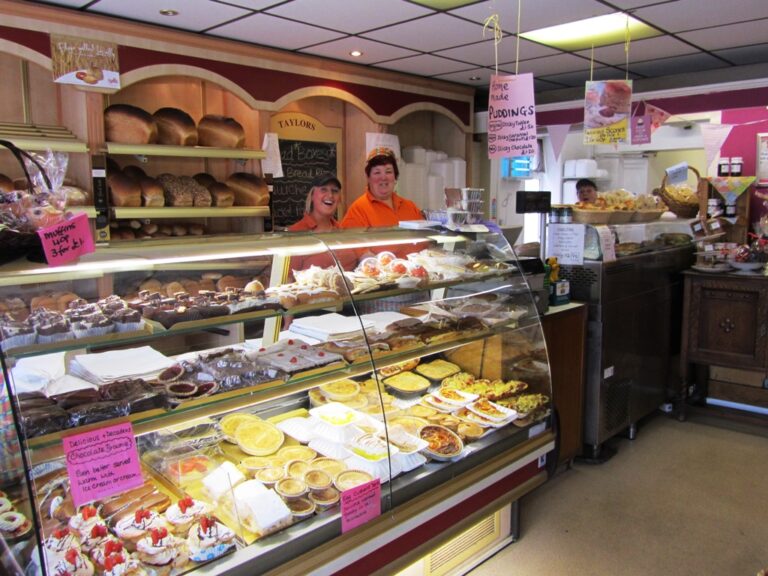 Why don't you pop along for a look and support the small local shops of the Fylde Coast. If you do, tell them that you heard it on Visit Fylde Coast!
Near the Shops at Anchorsholme…
We already said that Anchorsholme Lane East is near to the petrol station and Lidl – handy because you can get your jobs all done at once! And when those tedious domestic duties are completed, you can enjoy yourself at the nearby park and amazing seafront!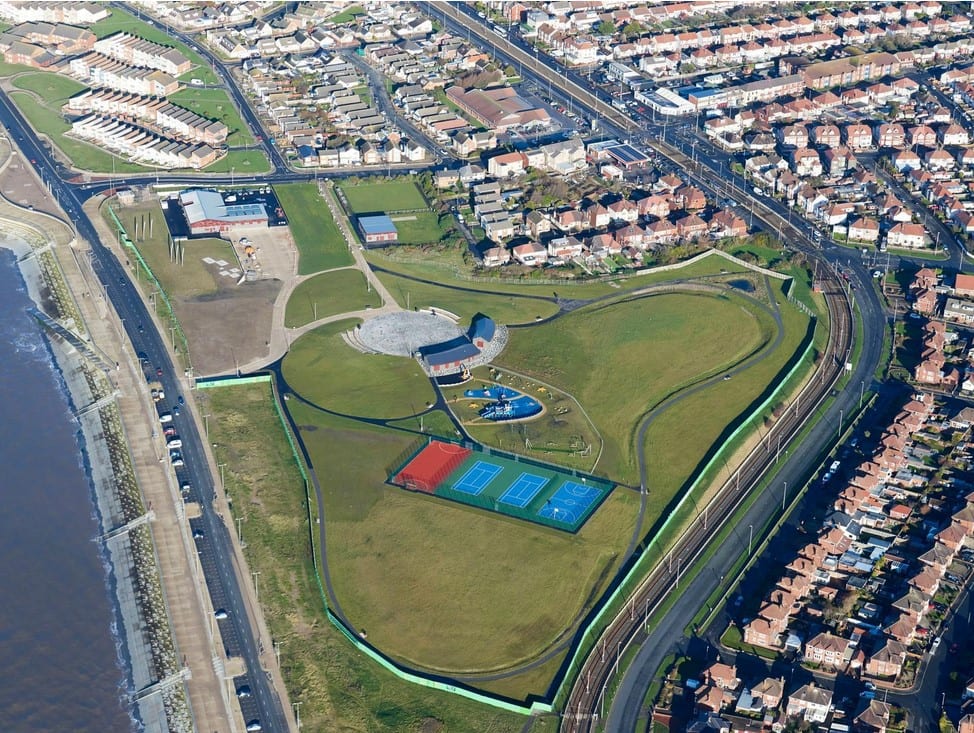 Anchorsholme Park
This huge park has recently been completely remodelled after the completion of a huge United Utilities infrastructure project.
With a cafe and brilliant children's playground in the centre, plus lots of other facilities and plenty of green space.
Seafront, Promenade and Beach
This is the most northern part of Blackpool seafront, before you reach Cleveleys. Here, the promenade and sea defences have recently been rebuilt, leading you straight into the adjoining Anchorsholme Park.
Park your car against the seafront and enjoy the amazing views, before taking a walk and exploring the big, golden beach. There's even a real life shipwreck here too!
While you're here…
What do you think? Why don't you join in and leave a comment below?
Have a look at the Live Blackpool website homepage for more of the latest updates.
Love the Fylde Coast? Sign up for your weekly email newsletter. Packed full of interesting things it arrives in your inbox all 52 weeks of the year.
Join us on Facebook at our Visit Fylde Coast Facebook Group
Don't forget to follow us on Twitter @visitFyldeCoast