The bad news is that there's NO Blackpool Christmas Lights Switch On in 2021. Christmas Tree Photo: thanks to Andrew Hudson.
Blackpool Christmas Lights Switch On
Friday 19 November 2021
But the GOOD news is that there's a packed Christmas programme in Blackpool this year!
From Friday 19 November the town centre lights will be turned on along with the Blackpool Illuminations. They stay on until 3 January this year for a fabulous winter light show.
There's something for everyone in Blackpool this year – take a look here to find out more.
---
Look Back to the Christmas Switch On 2018
Event began from 2pm, Switch on at approx 5pm
Blackpool BID will promote the Christmas Lights Switch On again this year, in association with Radio Wave.
Come along for an afternoon of FREE fun, to see the Christmas tree and lights switched on, plus festive fun for all the family.
Join Emmerdale star Danny Miller as he flicks the switch!
Your hosts for the afternoon are the one and only Joey Blower and Scott from the Radio Wave breakfast show. Plus guest appearances and performances from:
The cast of the Wizard of Oz from the Winter Gardens
Cast of Viva's Christmas Show
Owen Holt • Birchall • Nicola Hayton
Demon Pixies from The Up Beat Rock Academy
Plus other local acts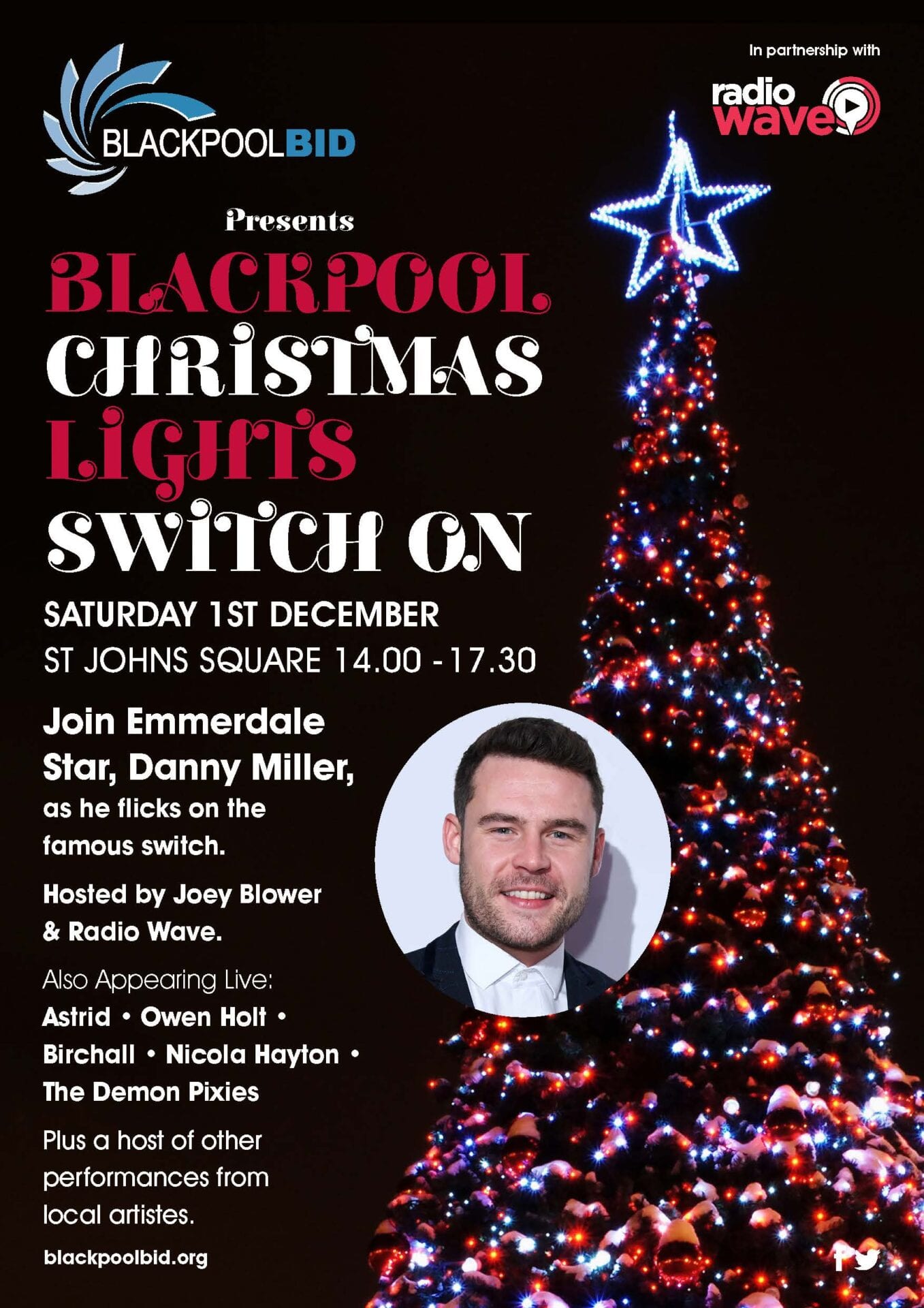 Christmas Begins in Blackpool
The Christmas Switch on announcement followed hot on the heels of news about discounted parking and public transport fares. It's a joint campaign to encourage people to shop local in Blackpool this Christmas.
The Festive Switch On is being funded by Blackpool's Town Centre BID. It takes place on Saturday 1 December (which is also National Small Business Saturday) in St Johns Square from 2pm until 5.30pm.
A spokesperson from the Town Centre BID said: "Blackpool town centre has so much to offer to Christmas shoppers in terms of the mix of independent and national brands, illuminated streets and a vastly-improved range of cafes and restaurants.
"The Switch On Event will launch Christmas in Blackpool and we are delighted to announce that Danny Miller will flick the famous switch.
"Danny is known for playing the role of Aaron Dingle in the ITV soap opera Emmerdale, for which he has won several awards, including winning the British Soap Award for Best Actor three times (2011, 2012, 2016). He'll be joined by a supporting cast of local entertainers and more names will be announced in the coming weeks.
The Switch On Event and discounted car parking offer is a great incentive for people to not just shop in Blackpool this Christmas, but also enjoy some of the rich entertainment that is on offer in our theatres and venues.
Christmas Lights in Blackpool
There will be three big Christmas trees in Blackpool town centre this year –
As usual, the big, traditional Christmas tree and festive feature will be in front of St John's Church – that's the one opposite the Winter Gardens. There will also be trees outside Bickerstaffe House and Sainsbury's, and the third one outside the Town Hall.
Take a look at buskers playing on a bright winter morning, and the Christmas Tree in St John's Square:
[arve url="https://www.facebook.com/LiveBlackpool/videos/1374107655934979/" title="Christmas in Blackpool" description="Christmas in Blackpool" /]
It's done in the same sort of way that the LightPool show was projected onto the front of the Tower during the Illuminations. You can catch this fabulous projection show every day until 4 January.
Although the Blackpool Illuminations were switched off in November for this year, Blackpool Tower is lit throughout the season by just short of 6000 LED lamps.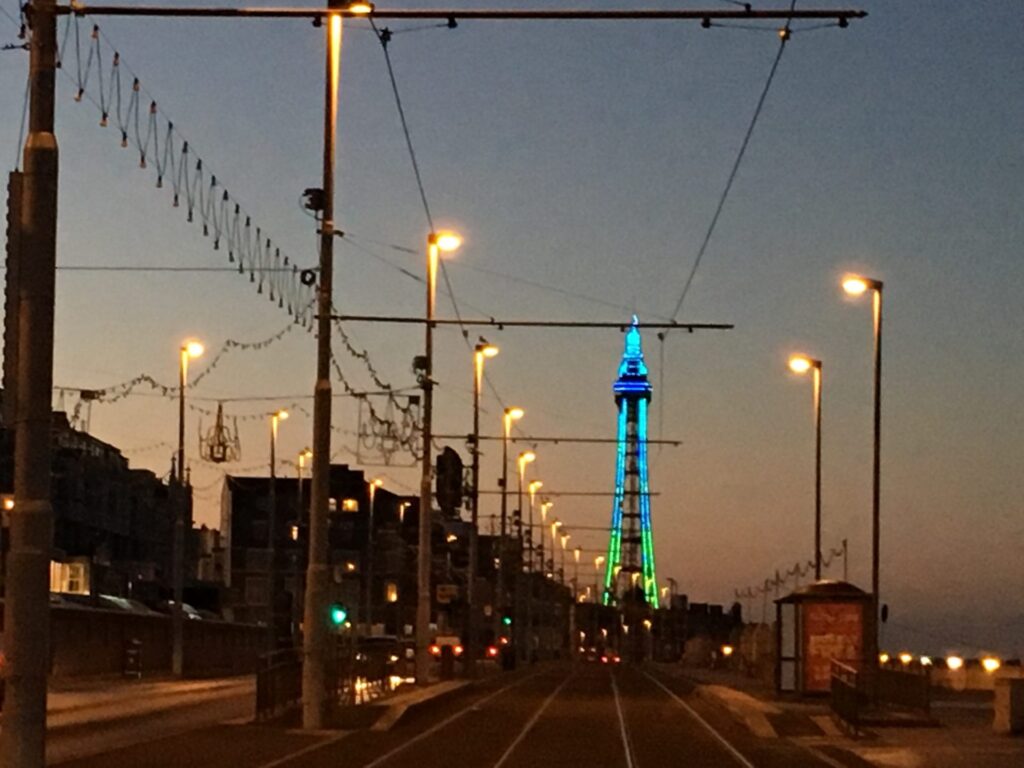 Festive lights are to be found throughout the town centre. Enjoy digital festoons across the streets of the town centre and Christmas trees along the buildings in St Johns Square.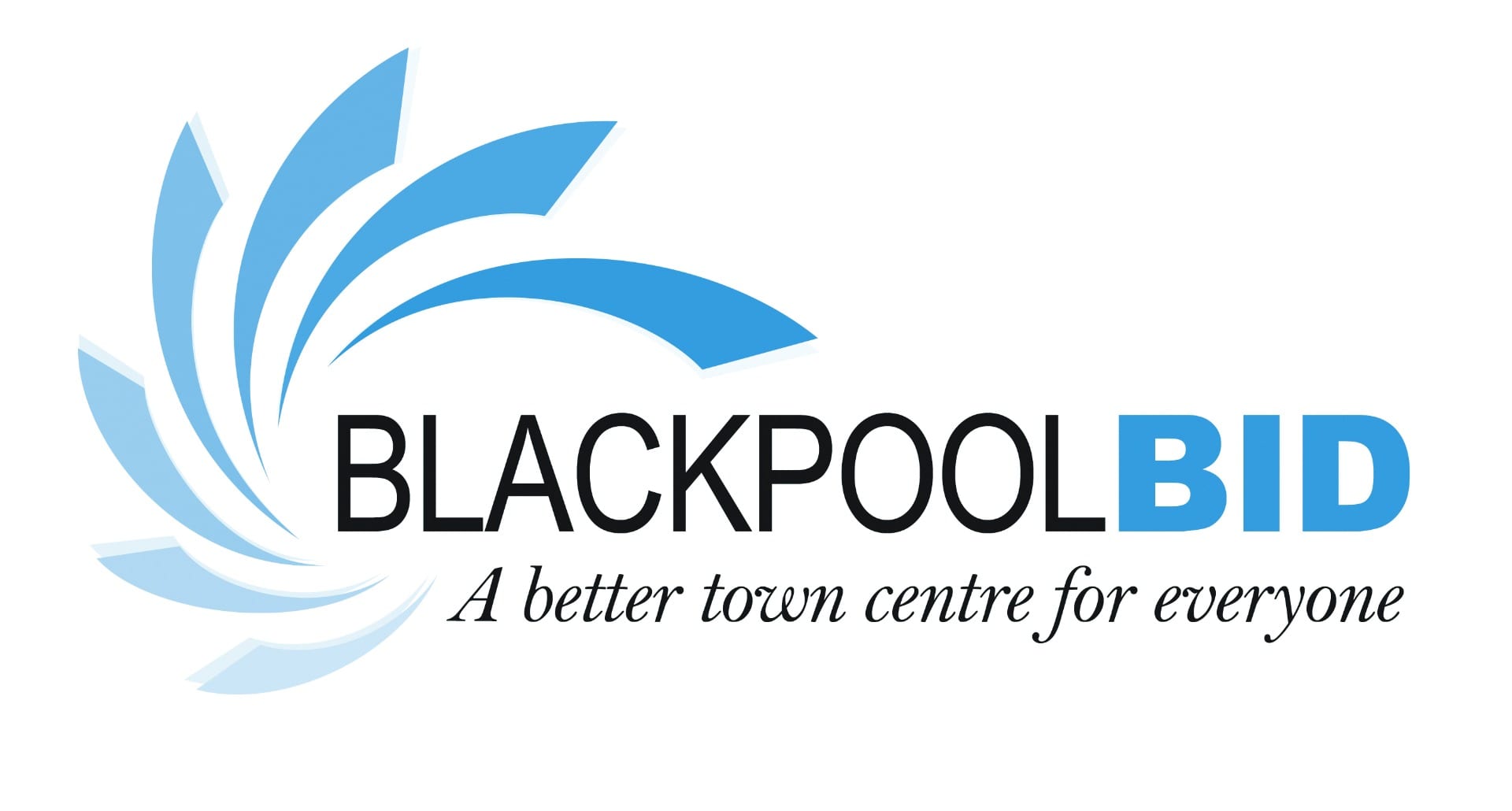 Christmas Parking in Blackpool
Coming to the Christmas switch on, or shopping in Blackpool throughout the festive season?
Take advantage of parking and public transport offers. Merry Christmas!
While you're here…
What do you think? Why don't you join in and leave a comment below?
Have a look at the Live Blackpool website homepage for more of the latest updates.
Love the Fylde Coast? Sign up for your weekly email newsletter. It's packed full of interesting things and will arrive in your inbox all 52 weeks of the year.
Join us on Facebook at our Visit Fylde Coast Facebook Group
Don't forget to follow us on Twitter @visitFyldeCoast