Here at Visit Fylde Coast we're on a mission to find the dog friendly places in Blackpool. We're looking for businesses – shops and cafes/pubs etc – that are dog friendly places where you can go with your pooch.
Many people like to take their dog with them when they go off day tripping and sightseeing. After all they're part of your family and you love them. It's nice to take them when you visit the town centre, or go for a walk on the seafront.
We know some of the dog friendly places in Blackpool and they're listed on this page. There must be many more. Feel free to add your business along with whether all dogs are welcome on foot, small dogs are welcome which are carried, or you'd prefer them only in a dog pram.
BARK Blackpool
BARK – the Blackpool Association for Responsible K9's and their Humans is a new initiative. It's working to make the town more dog friendly.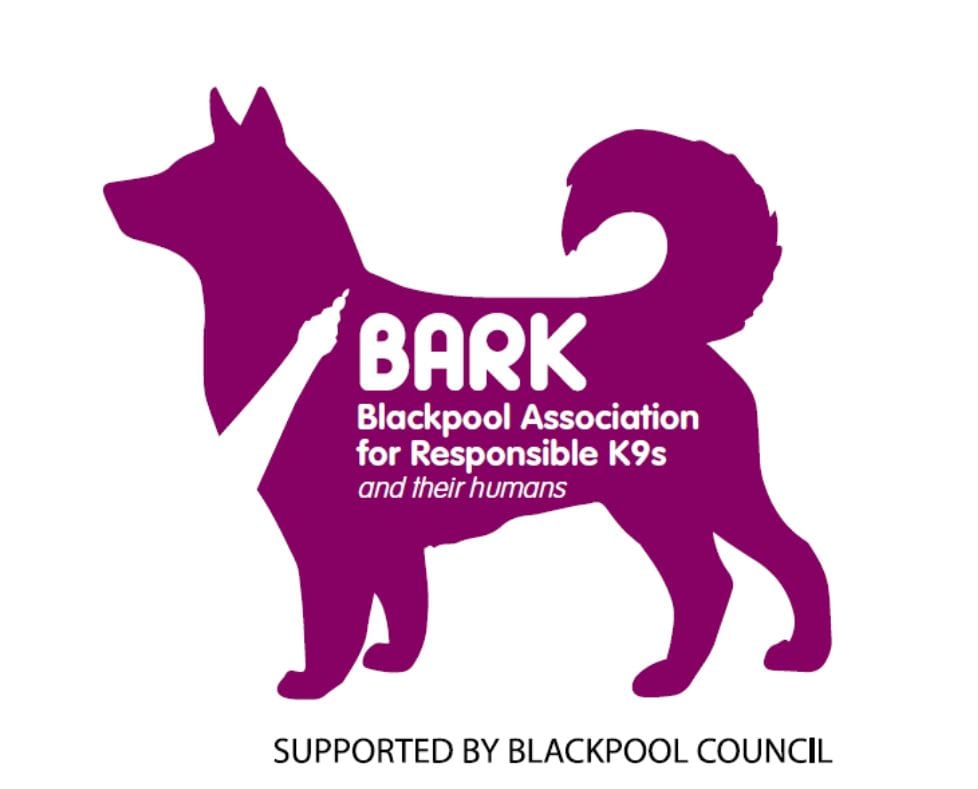 BARK was founded by Blackpool Orders for Dog Control Action Group, Tower Dog Club, Friends of Stanley Park and Blackpool Council. The aim is to promote responsible dog ownership by owners and their pets throughout the Borough.
Find out lots of information on the PSPO (Public Space Protection Order) following the 2018 consultation for dogs in public places. Plus useful dog related facts and guidance.
Dog friendly places in and around Blackpool*:
– Beauchief Hotel, 48 King Edward Avenue.
Small fee of £2 per pet per night (no more than £8 per pet in any one stay) this money is donated to a local animal sanctuary.
– A&B Christie Jewellers
Dog friendly environment with no restrictions – pretty much dog mad!
– Albert's Ale Micropub on Albert Rd accepts well behaved dogs in their cellar bar.
– Blackpool Resort, have two pet friendly properties in their portfolio.
22 Raikes Parade, FY1 4EX, and Bromley Central, 1A Vance Road, FY1 4QD. Each property is a large family home which sleeps up to 11 people. Pets are welcome with a fee of just £20 for one pet, pets must be fully house trained.
– Blackpool Transport
Allow dogs on buses and the modern trams. You must have it on a lead for the whole of the journey. Dogs are not allowed on seats. Guide dogs or recognised assistance dogs travel free on both buses and trams. You can also buy a 7 Day Rover ticket for your dog.
– Cafe Fresch
In the outside seating area – water bowls available too
– Caffè Nero
– Carlton Hotel at North Promenade will make your furbaby as welcome during their stay as you are!
– Cask and Tap
– Common Bar & Kitchen
– Dahlias Kitchen
– Galleon Cafe, is very dog friendly according to Kathleen. She says 'Breakfast there every morning on our visit to Blackpool. Always an extra sausage for our chihuahua'.
– Gynn pub
– Hash Browns, Caunce Street, Layton
– Heritage Trams – Well behaved dogs are welcome and free on Heritage Trams (but not the Great British Night Out). Dogs should be comfortable in a busy environment when travelling on Illuminations tours as they are all usually full. Doggies do have to buy a ticket on the modern trams.
– Highlands Pub Queen's Promenade, Bispham
– Maddison's, Redbank Road, Bispham
– Mandarin Chinese Restaurant
Welcomes small dogs which will sit quietly under the table. Please no wet and sandy dogs 🙂
– Mojo's Coffee Shop – Redbank Road, Bispham. Also provide water and snacks for dogs.
– Party People
An office rather than a customer facing shop, but are pet friendly for employees. A Chocolate Labrador called Floof comes into work every day and has her own profile on the website!
– Pubs at South Shore – the Bloomfield, the Burlington, and the back room at the Dunes and Lane Ends.
– Pump and Truncheon Pub, Bonny Street
This is dog friendly throughout, with the only requirement being that dogs are on a lead.
– Raikes Hall Hotel and Public House, Liverpool Road, Blackpool, FY1 4HE
are super dog friendly!
– Rose and Crown, Corporation Street
Welcomes dogs on a lead in it's extensive (up to 25 table) covered
outside area.
– Skipton Building Society
– Solaris cafe, New South Promenade
– StayBlackpool is the independent hoteliers group, they'll be able to help you with dog friendly places to stay.
– Sutton Park B&B in Woodfield Road 50 metres from the Prom. Just £7.50 per dog for the duration of the stay. Dogs are allowed in the bar on a lead but are not allowed in the breakfast room.
– Sue's Curiositea and Coffee Shop in Layton
– The Corona B&B, Clifton Drive Blackpool
Accept one small dog per room, approx 20kg, free of charge
Must book by phone otherwise a charge will be added to guests account on arrival of £20.00 per night per dog
The dog must be 12 months or older and fully house trained.
– The Gynway Guesthouse, Dickson Road, Blackpool
Pet friendly, and don't make a charge for your pets
– The Hive coffee shop at 80-82 Church Street, Blackpool
Allows dogs and they have a water bowl too
– Trafalgar Hotel – provide as much or as little as you need for your pet.
– Trams. When you're travelling about, don't forget that dogs are welcome on both Heritage trams and the new trams too
– Upside Down Cafe
– Vintro Lounge
– Viva Blackpool allow dogs into the box office when booking tickets (but not into the venue unless it's a pre-arranged private event)
– Viva Vegas Bar and Diner – allow dogs on the terrace and in the bar area
– West Coast Choc Cafe, Birley Street
Dogs and their owners welcome in our large outside street cafe, but not inside.
– Winston's on Highfield Road is also dog friendly.
Dogs are allowed in all gardens, floored areas of the restaurant and bar.
– World Travel Lounge
All dogs, all sizes, with dog bowls for any thirsty canines (plus free hot and cold drinks for any thirsty humans!)
If you know of somewhere else that isn't on this list please get in touch and tell us. We want to know of shops, public buildings, hotels and more. Just email jane@theRabbitPatch.co.uk
* these shops are believed to allow dogs at the time of publication. If in doubt please check first.
Dogs on Beaches in Blackpool
Along with most other UK seaside resorts, there is a dog ban in force on the main beaches of Blackpool during the summer season. It extends from 1 May to 30 September.
Find out more about dogs on beaches in Blackpool
Dog Friendly Fylde Coast
Around the other towns of the Fylde Coast there are a number of businesses who will allow you to come onto their premises with your dog. Are you new to the area? There's more here about generally where you could head to if you're visiting with a dog. Plus information about dogs on beaches.
Many people bring their dogs on holiday with them, and many local people prefer to take them with them when they go out for the day. After all you wouldn't like being locked up all day with no access to a toilet, would you?
Don't forget that Live Blackpool is part of Visit Fylde Coast. Check out our web pages for the other towns:
Dog friendly places in Fleetwood
Where you can take your dog in Cleveleys
Dog friendly places in St Annes
Where dogs are welcome in Lytham
Responsible Owners
The majority of dog owners are responsible and the average dog does much less damage in a shop than a wilful child could with an ice cream!
After all, carried or walking, most people will only take their dog onto commercial premises if they know it can be trusted. You just wouldn't show yourself up if you dog is likely to do something it shouldn't do in the middle of a shop.
Remember, there's no such thing as a bad dog – only bad owners!
Benefits of being a Dog Friendly business
There are over 8 million dogs in the UK. That's a considerable amount of pets – and a considerable number of owners who could all be spending money with your business.
Find out about the benefits of welcoming dogs into your business
While you're here…
Have a look at the homepage of the Live Blackpool website for more of the latest updates.
Love the Fylde Coast? Sign up for your weekly email newsletter. Packed full of interesting things it arrives in your inbox all 52 weeks of the year.
Join us on Facebook at our Visit Fylde Coast Facebook Group
Don't forget to follow us on Twitter @visitFyldeCoast