Looking for somewhere to stay for your next break? We've done the legwork so you don't have to. Here's our guide to hotels in Blackpool – Gynn Square.
If you enjoy the friendly homeliness of a small independent hotel or guest house, you'll love your stay in one of the hotels surrounding Gynn Square. Surrounding attractive parks and gardens and close by the seafront, promenade and tram stops, it's a handy spot. Make the most of everything that Blackpool has to offer, but enjoy the peace of North Shore.
Where is Gynn Square?
It's one of the places to stay at Blackpool North Shore. Find it where the Promenade of North Shore meets Queens Promenade at the big Gynn roundabout.
During Blackpool Illuminations season there's usually a large, feature display right in the centre of the roundabout!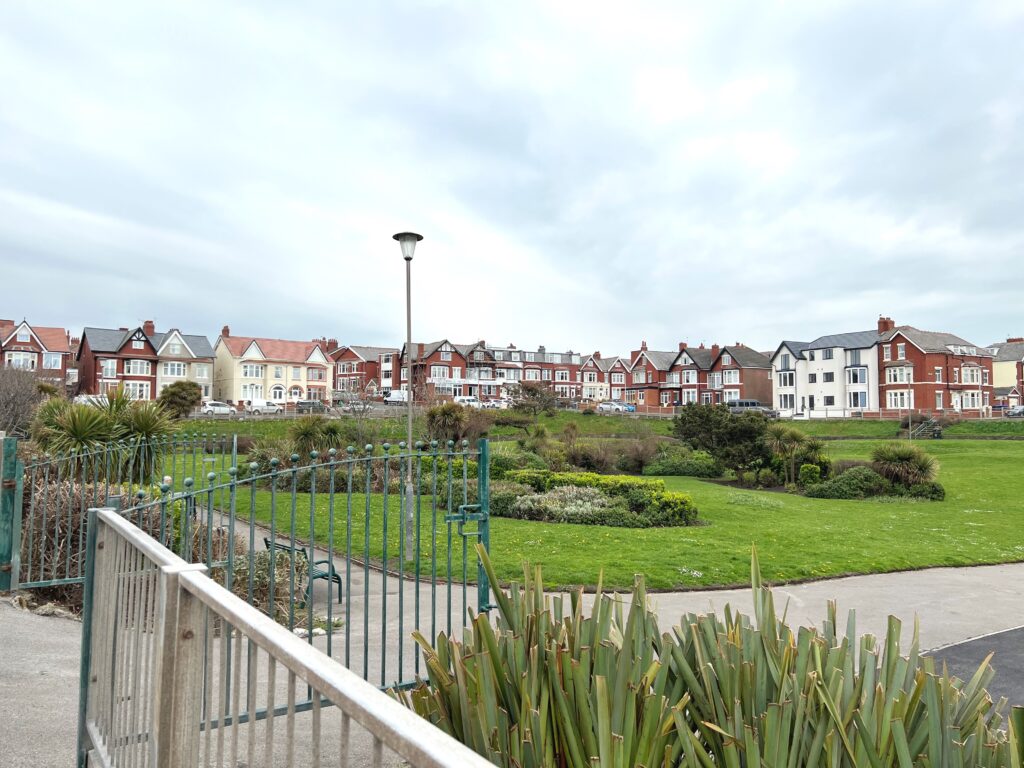 Here's a Google map showing where it is. Click on the map to explore.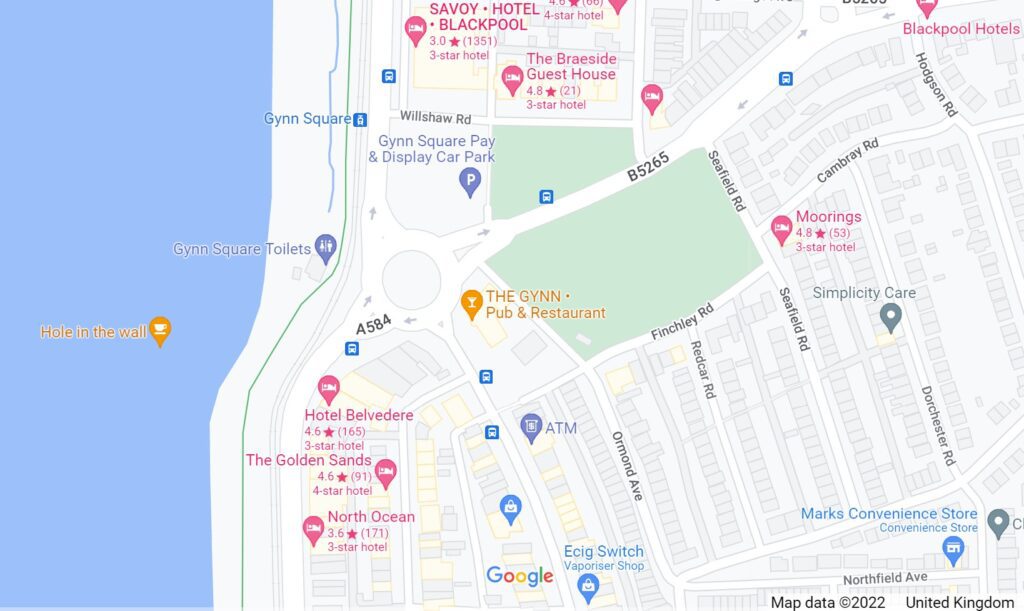 Hotels in Blackpool – Gynn Square
Choose from a wide variety of accommodation at Gynn Square. These are all small, independent hotels, guest houses, bed and breakfast and apartments. You'll get a home-from-home welcome.

We went to have a look in April 2022 –
Hotel guests can take advantage of free parking at the individual holiday properties. There's plenty of nearby parking at Gynn Square car park (pay and display) and on street.
The Gynn is a really handy place to stay. It's in easy reach of everything that Blackpool has to offer, but at the quieter end of town.
Blackpool Transport operate Fylde Coast service buses and trams. Why not buy a pass then you can enjoy unlimited travel during your stay.
There's plenty of parking in the area, both free and paid for.
It's close to the seafront and promenade, with great access to the beach and a number of nearby gardens.
Easily access public transport with bus and tram stops nearby.
Really handy for the Illuminations!
Book with StayBlackpool
Book direct for the best price – and show your support for Fylde Coast tourism providers. Browse and choose StayBlackpool Accommodation – for a holiday place that's clean, safe & legal.
StayBlackpool is the independent association for Blackpool hotels and guest houses. And with something for all tastes and budgets, choosing one of these accredited properties ensures that the accommodation you choose is exactly what you expect.
All StayBlackpool members are rated with Visit Britain, the AA or Blackpool Approved schemes. Be assured that where you stay is clean, safe and legal.

More about The Gynn.
You might be surprised to learn just how old the Gynn area is! Tales of Vikings beaching their longboats in clefts at the cliffs date way back to 793. These long-ago ancestors were raiding inland to Poulton – the prosperous port town at the time.
The small inlet in the cliffs was often used as sheltered anchorage for passing vessels over the years. So it's no surprise that it's also the location of more than one Fylde Coast shipwreck.
Did you know? The Gynn Gardens was once the site of The Brickcroft – the source of clay for many of Blackpool's red brick buildings.
Here and Gone
Like most of the Fylde Coast (and in fact the UK) the Gynn area was once farmland. In 1680, Oxendale was the farm above Warbreck Gynn. The path in the small valley led from the hill to the sea and the stream alongside it was later culverted under Gynn Gardens.
The original Gynn Inn dates back to 1715 – it was one of Blackpool's earliest hostelries. Originally located roughly where the roundabout is today, it closed on 2 May 1921 before being demolished later that summer, from 15 August. Then, Gynn Square was redesigned to enable the Promenade Tramway and the Fleetwood Tramway to be joined. Previously they'd been two separate systems!
For many years there wasn't a road north beyond the Gynn. Patrons of the by now very popular Uncle Tom's Cabin had to hire a carriage or walk the rest of the way.
It was 27 May 1939 when the current Gynn Hotel opened. The semi-circular building is designed to sit alongside the landscape, following the sweeping corner of Dickson Road.
Did you know? Blackpool's oldest postbox can be found at Gynn Square! Marked 'VR' this antique stands at the corner of Gynn Avenue and Dickson Road.
Illuminations Features at Gynn Roundabout
If you love Blackpool you'll know that Gynn Roundabout has been home to plenty of Illuminations features over the years.
In 1997 it was the beautiful Carousel, complete with horses. Then in 2012 the Rocket Tram and last year the Spitfire.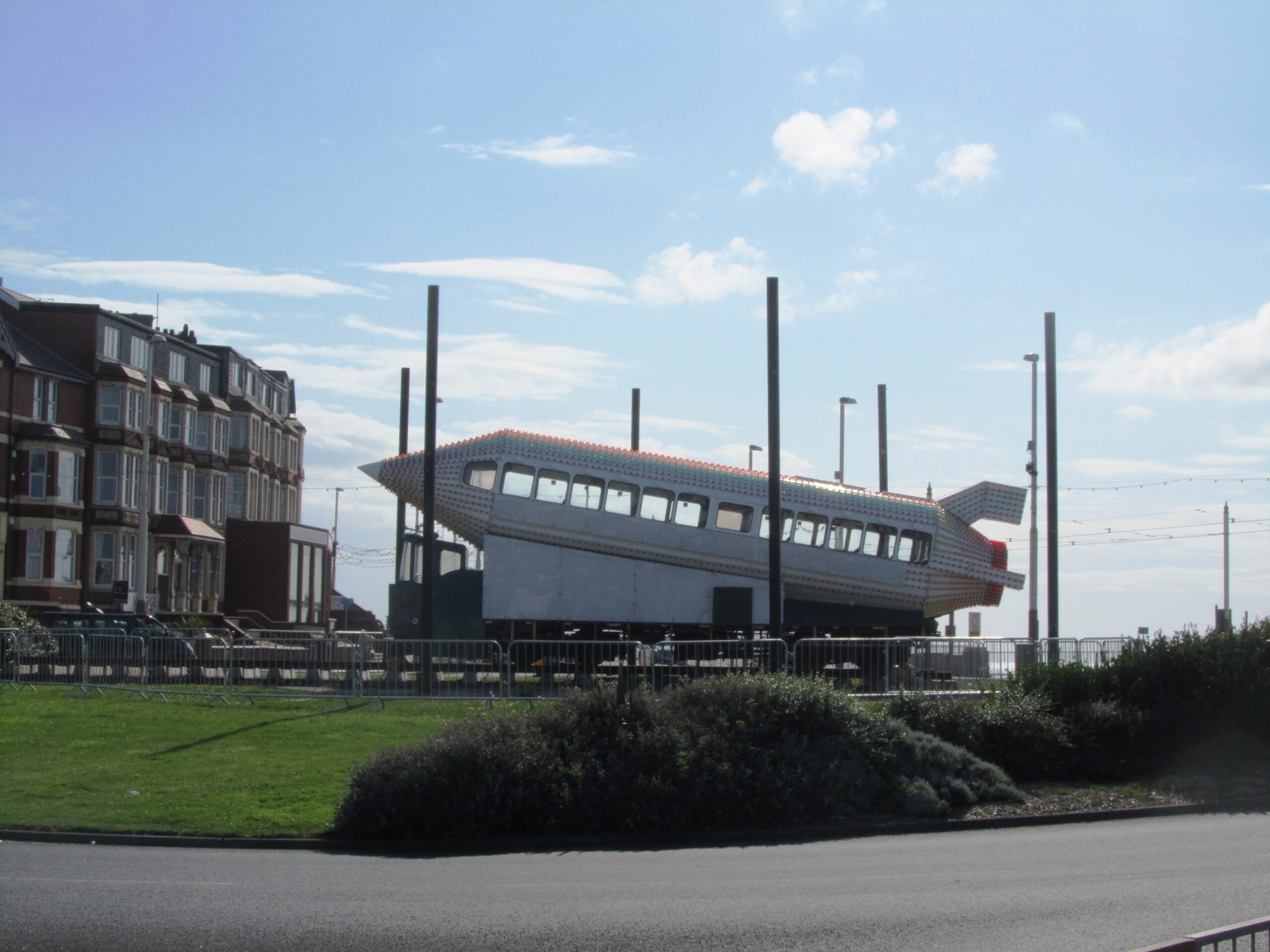 MANY THANKS to Nick Moore and his fascinating History of Blackpool for historical information used in this article. You can read it in full here.
Memories of Gynn Square
Many of our readers have old treasures and collections of postcards, brochures and receipts. Have you got any old literature relating to Gynn Square? If you have please email it to jane@theRabbitPatch.co.uk and we'll include it here. Full credit given of course.
Peter Holt shared this photo from one of his past holidays in 1967/68. It still looks very familiar!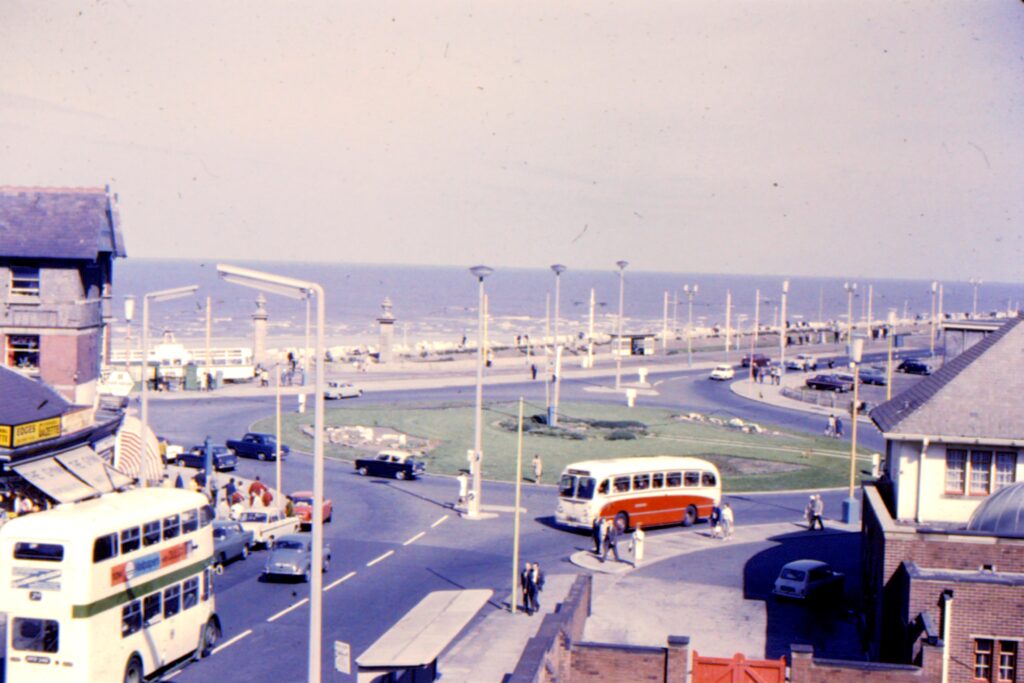 While you're here…
What do you think? Why don't you join in and leave a comment below?
Have a look at the homepage of the Live Blackpool website for more of the latest updates.
Love the Fylde Coast? Sign up for your weekly email newsletter. Packed full of interesting things it arrives in your inbox all 52 weeks of the year.
Join us on Facebook at our Visit Fylde Coast Facebook Group
Don't forget to follow us on Twitter @visitFyldeCoast