The long awaited Blackpool to London direct train service started this morning (15.12.14), and regular reader Barrie C Woods was at Poulton station to see it leave the Fylde Coast.
On Monday 15th December the 05.25 left Blackpool North, platform 3, on time, formed of five-car Super Voyager No. 221143, working as 1K14.
It arrived at Poulton 1 minute early and left on time. the train will subsequently stop at Kirkham & Wesham, Preston, Wigan, Warrington and Crewe where it is connected to the 1R13 from Holyhead. The whole ensemble then stops at Nuneaton prior to arriving in Euston at 08.34.
The return working departs Euston at 16.33, stopping at Rugby, Stafford and Crewe, then the same stops as on the outward journey, planned arrival in Blackpool North, platform 6 is at 19.31. The maximum speed for these trains is 125mph.
The First Class section in the front coach (26 seats) was more or less full, but the Standard accommodation (224 seats) had only about four people in there. Obviously the latter will fill up as the journey progresses.
There were four Virgin staff on duty at Poulton and interestingly giving out tiny sweets of what at first appeared to be mouth-sized pieces of Blackpool Rock but were lettered "VIRGIN TRAINS" .
---
On 25 November 2014 the first of the Crew-training/route-learning trains came into Blackpool North. (Published 26.11.14)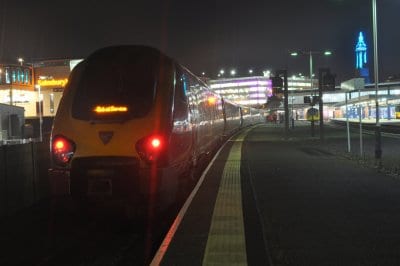 The view from the country end with the illuminated tower in the background.
The object behind these workings is to familiarise the crews with the route and signalling in readiness for the commencement of through services to London on 15th December 2014.
The train was a five-car Voyager multiple unit operated by Virgin Trains.
Introduced in 2002 with tilting mechanism to give a top speed of 125mph. Each coach is powered with a Cummins diesel engine. They were built by Bombardier in Belgium, the same company that built the Blackpool flexi-trams, although they were built in Germany. There were 44 sets built.
The train arrived at the station in platform 1 at 20.03 on working 1Q96 and departed a few minutes later at 20.14 as 1Q97.
It's fleet number is 221 105 and it is named 'William Baffin', He was an explorer in the 17th Century who was credited with being involved in the discovery of the North-west Passage through the Arctic Ocean.
Thanks to Barrie C Woods, regular reader and contributor, for sending in this piece and photos.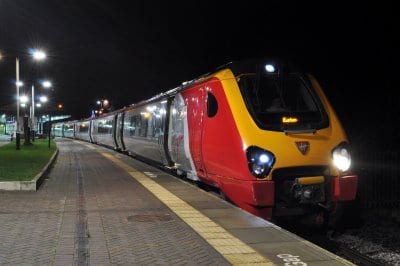 General view at Poulton-le Fylde of the five coach Super Voyager 22114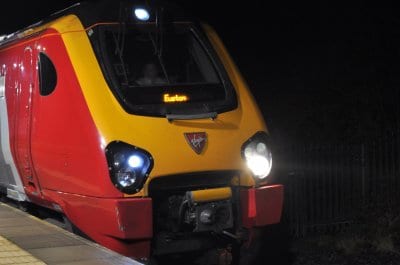 Close up of cab showing the 'Euston' destination on display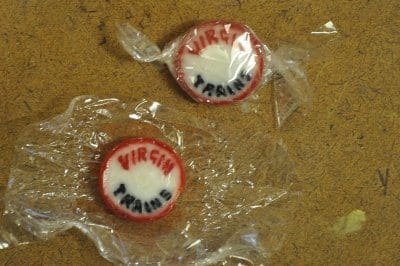 Virgin Trains Blackpool rock!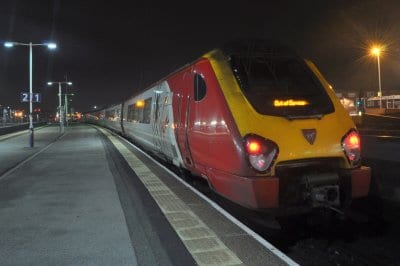 Looking the other way, the illuminated sign in the window reads "Out of service".