Summer or winter there's nothing like a walk on the many miles of golden sand on Blackpool beach!
Along the whole of the Fylde Coast from Fleetwood in the north to Lytham and St Annes in the south is a golden, sandy beach.
Golden Sands and Miles of Blackpool Beach!
Blackpool has a very long seafront – it's 7 miles from end to end.
It stretches from the south and its boundary with St Annes at Squires Gate Lane, all the way to Anchorsholme in the north and the boundary with neighbouring Cleveleys.
Take a look at just one part of it – and find out what all 7 miles have in common –
Enjoyed this video? Why don't you subscribe to our Visit Fylde Coast YouTube channel – make sure you don't miss out!
Blackpool South Shore
It's quiet and peaceful beyond South Pier and the Sandcastle, with a wide promenade, plenty of space and even an art trail to follow.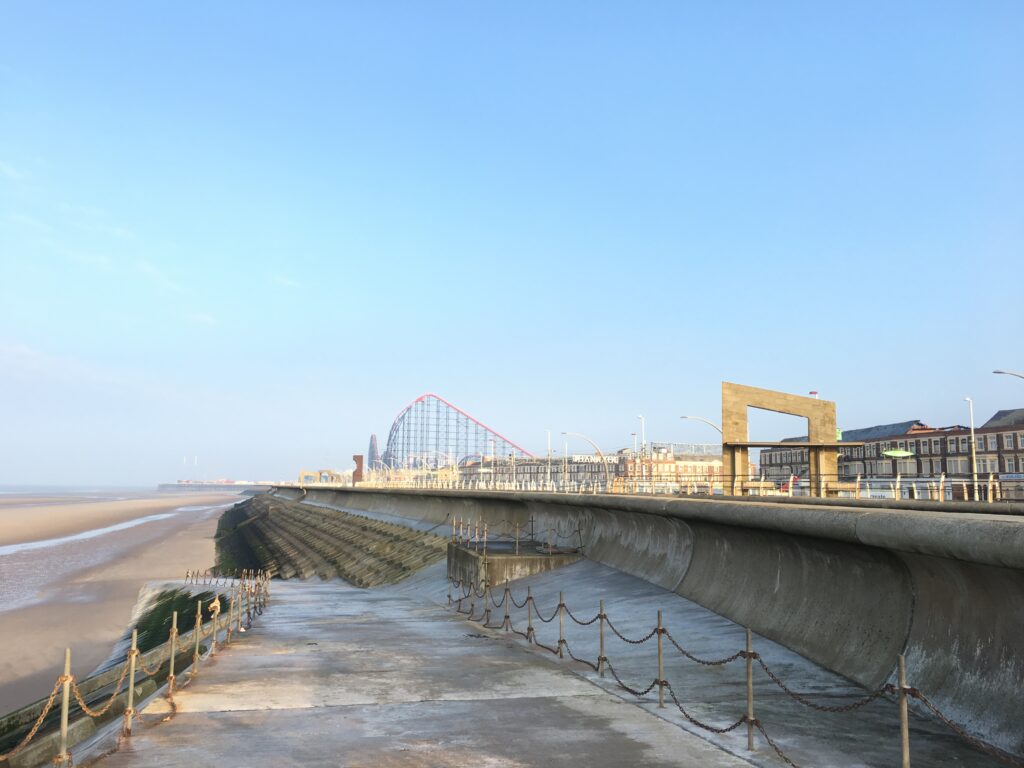 Pop into the Solaris Centre Cafe for a brew and a bite to eat – with public toilets close on hand here too. You can park against the beach in one of the many on-street pay and display bays.
If you're going to see dolphin or porpoise, here's where you're most likely to spot them! Explore the sea-bees which form the sea wall. These artificial concrete cogs create perfect rock pools when the tide goes out.
Between South and Central Pier is a reasonably quiet beach too. Waterloo headland (pictured below) is wide and open with amazing views over the beach.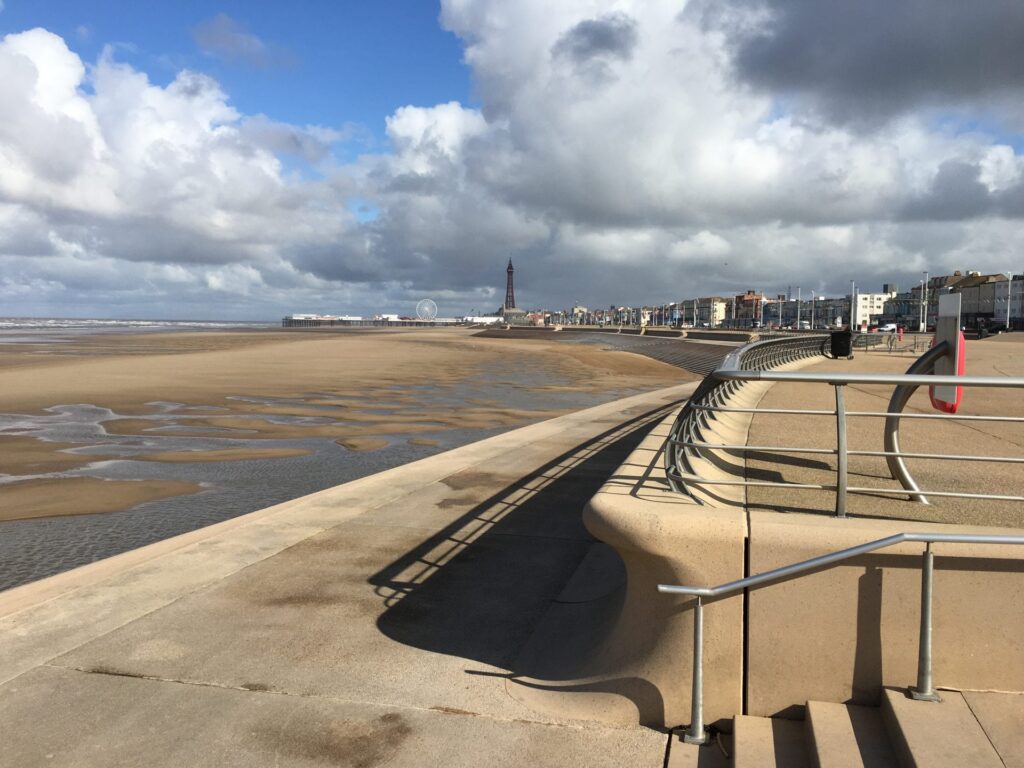 Central – the Busiest Blackpool Beach!
Between Central and North Pier, adjacent to Tower Festival Headland is the busiest seaside beach. It's where you'll find attractions, amusements, donkeys, deckchairs, and lots of people! This is Blackpool at its best – full of life, noise, sights and sounds!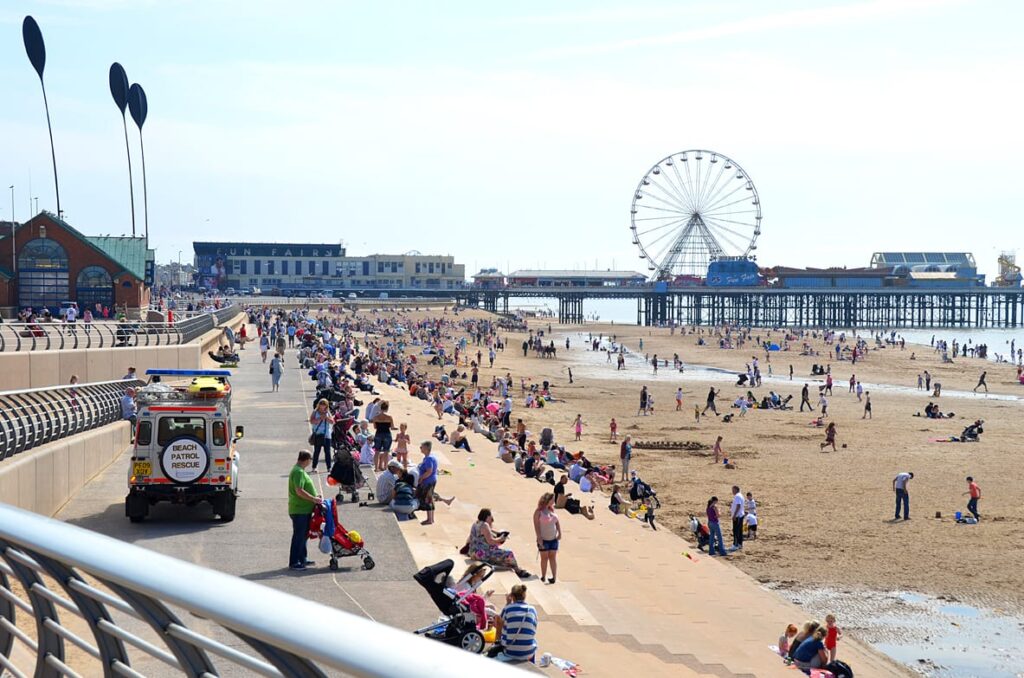 Central beach in front of The Blackpool Tower is the busiest bit of beach. It's where families play and people set up camp for the day, to sunbathe and enjoy time at the coast. As of the summer of 2021, deckchairs ae back, and the huge stepped sea defence is a big enough seat for everyone!
Walk a few metres out from the promenade onto the golden sand… and peace descends, especially when the tide is out. It's the best of both worlds and curious how, by walking just a few yards, the world completely changes from one extreme to another.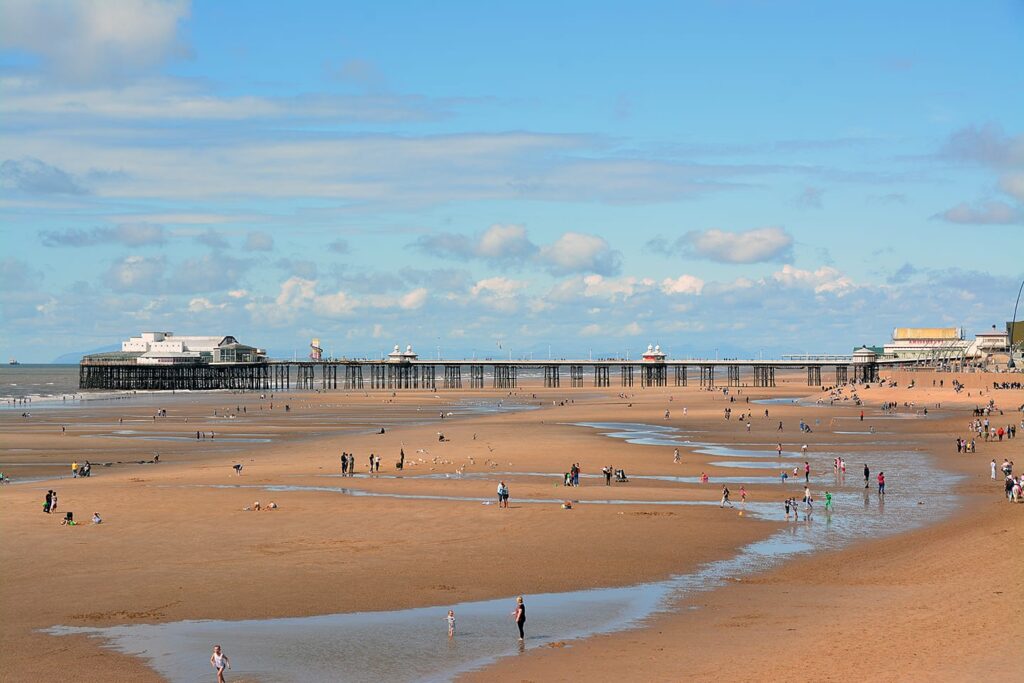 Blackpool North Beach
Beyond North Pier is another world again. It's quieter on the beach here. Enjoy the views from the higher seafront promenade walks at the Colonnades adjacent to the Imperial Hotel.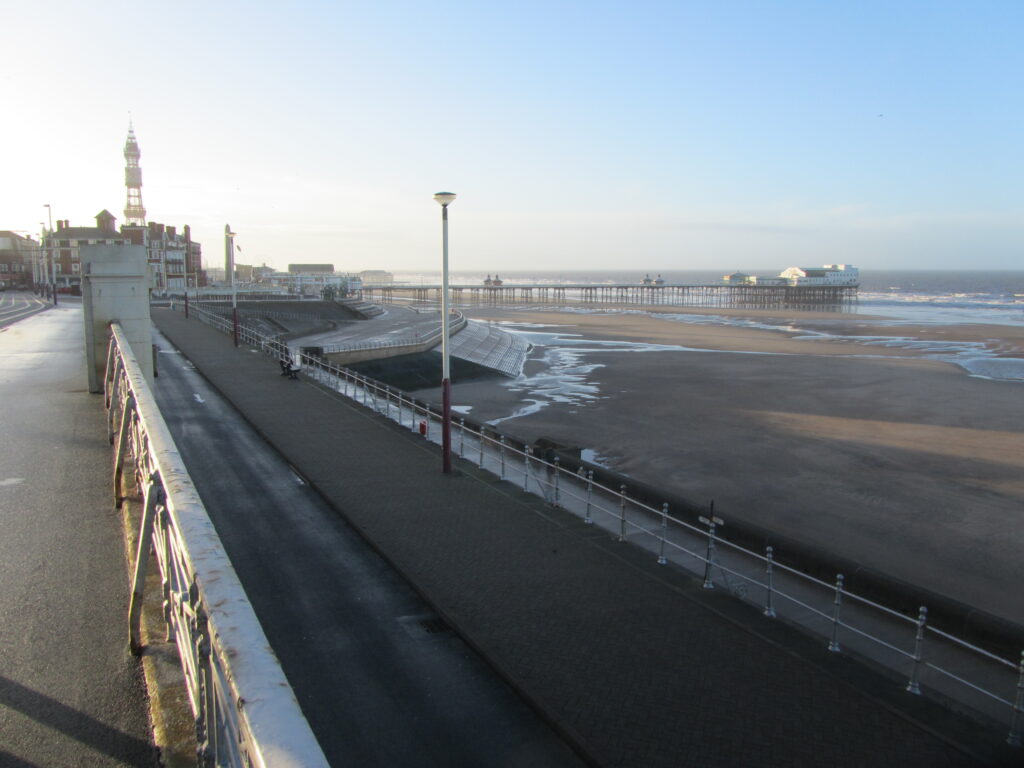 Travel further north, beyond Gynn Square to Bispham, and the seafront changes quite dramatically, rising to tall grassy banks and cliffs. Here you've got a perfect view over the beach.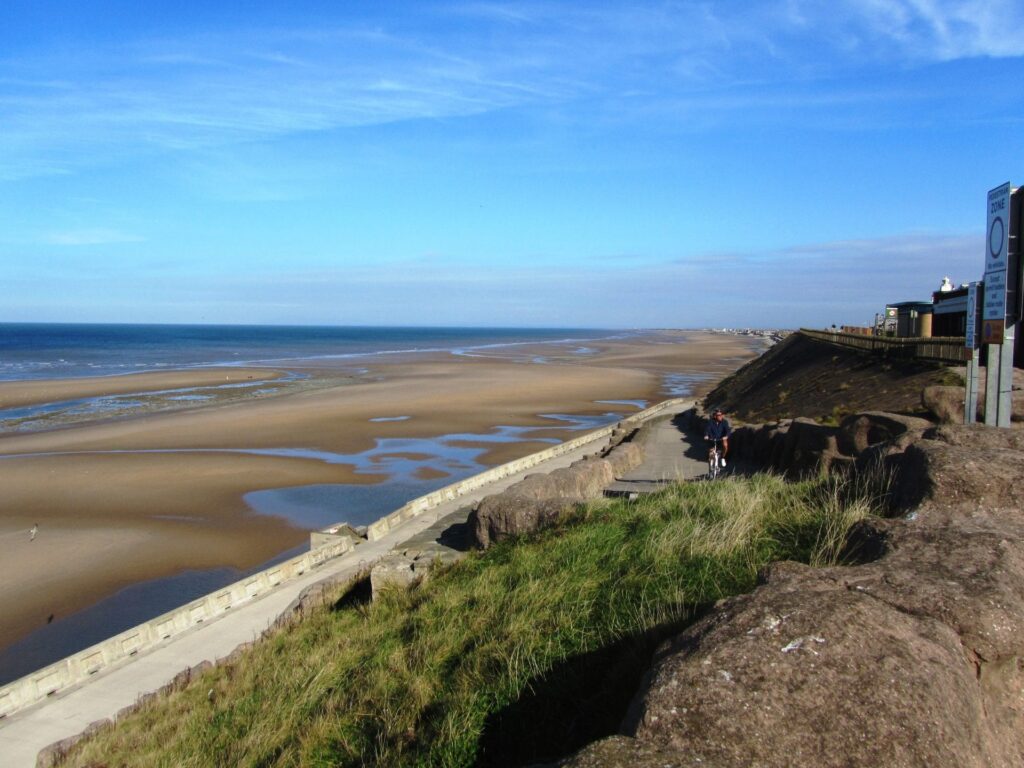 Watch the Tides
Most of the seafront from Blackpool to Cleveleys is tidal – it's covered completely by the incoming sea twice a day.
A couple of small areas of beach remain dry at high water along the main seafront of central Blackpool. Head for these if you fancy a day on the beach when the tide is in. One of these dry beaches is near to Central Pier.
Always be aware of keeping safe when you're on the beach. Remember that the sea can be dangerous. Always read and observe the safety signs at the entrance to the beach.
Enjoy the beach to your heart's content, but remember basic beach safety. You will never outrun the tide and the sea can kill. Don't use a lilo or similar on an outgoing tide, watch the incoming tide, and don't get cut off on sandbanks.
If in any doubt ring 999 and ask for the Coastguard.
Why everyone loves Blackpool Beach!
These gorgeous, golden sandy Blackpool beaches are enjoyed by people for many reasons.
Here's our list of top 10 reasons to come to Blackpool Beach. What else would you do? Why don't you leave a comment below?
1. It's a perfect place for a long walk in winter or summer
2. Brilliant for building sandcastles
3. Sit in a deckchair and sunbathe
4. Take a donkey ride!
5. Great for sea angling and fishing
6. Great for kayaking
7. Usually plenty of wind for kitesurfing
8. Likewise, plenty of space – and wind – to fly a kite
9. Photographing the beautiful sunsets and views
10. Enjoy the Great British Weather!
…. and loads of other good reasons you can probably think of!
Donkey Rides on Blackpool Beaches
Everyone's favourite – the seaside donkey – can still be found on central Blackpool beach.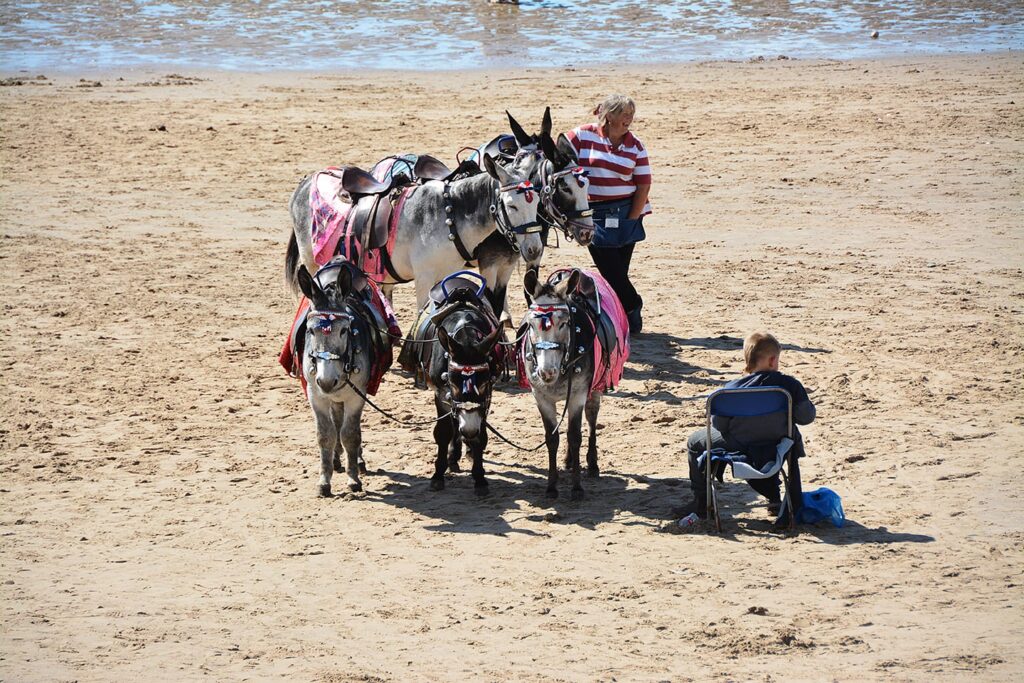 The donkeys are very well looked after. They have an annual veterinarian inspection and aren't allowed to work more than 48 hours a week. Did you know they also have Fridays off!
Look After the Beach
Please look after the beach. When you come to the beach, please either take your litter with you or put it in one of the many bins which are provided.
Remember that litter left on the beach or promenade can end up in the sea. It not only pollutes the water, but it's a big danger to wildlife.
Did you know? the rubbish that you leave on Blackpool beach usually washes up a few days later on the beach a bit further north at Cleveleys?
Dogs on Blackpool Beaches
In common with most seaside resorts, dogs are prohibited from the main Blackpool bathing beaches during the summer season. Find all the details at the link.
Please, wherever your dog does it's business, at whatever time of the year, be a responsible owner. Pick up the poo, bag it and bin it.
Enjoy Blackpool Beach all Year Round
We bet the first thing you'd associate with 'Blackpool beach' is a hot, sunny day, packed with people.
But the beach is a great place to visit all year round. You can enjoy great weather in the middle of winter – albeit perhaps not quite as warm! Not the middle of winter, but March when this next clip was filmed. Mad March winds!
Enjoyed this video? Why don't you subscribe to our Visit Fylde Coast YouTube channel – make sure you don't miss out!
You might actually be a fan of bad weather – lots of us are. OK, so really bad weather is a nightmare to go out in. By 'really bad' we mean heavy winds and driving, horizontal rain!
You know what they say. There's no such things as bad weather – just the wrong clothes!
But on a sunny, windy day the seaside is bracing. It makes a fabulous display with the waves and it really invigorates!
Then of course there's the amazing West coast sunsets, lighting up the sky in red, yellow and gold. Add the spectacle of a starling murmuration and it's a sight to be seen!
While you're here…
What do you think? Why don't you join in and leave a comment below?
Have a look at the homepage of the Live Blackpool website for more of the latest updates.
Love the Fylde Coast? Sign up for your weekly email newsletter. Packed full of interesting things it arrives in your inbox all 52 weeks of the year.
Join us on Facebook at our Visit Fylde Coast Facebook Group
Don't forget to follow us on Twitter @visitFyldeCoast