Take a look around the area known as Blackpool South Shore. In this page we're going from the south side of Central Pier, heading south past Waterloo Headland, towards South Pier. Then past the Sandcastle and Pleasure Beach, beyond to Squires Gate.
South Shore – starting at Central Pier
As you know, Blackpool is unique in that it has three piers. Central Pier is the one with the huge big wheel. It's the one that's across the promenade from Madame Tussauds and SEA LIFE Blackpool.
Carry on heading southwards along the promenade and the shops and attractions of the Golden Mile peter out to be replaced with seafront hotels and guest houses. There's plenty of places to stay – all really accessible with great sea views! When you get to South Pier the razzmatazz starts again!
Book your hotel accommodation with the Visit Fylde Coast and StayBlackpool guide. Know that you'll have a great place to stay with Trusted accommodation. All the properties listed on the Visit Fylde Coast websites by StayBlackpool are annually inspected. This means that you can book with confidence, safe in the knowledge of a great stay.
Bookings from these sites are also ultra-low or zero commission. This means that more of the money from your booking helps to support the local economy.
Search for Accommodation
Accommodation you can trust from StayBlackpool
A Fabulous Sea Wall & Promenade!
All of Blackpool's main seawall is relatively new. The £100m+ project was fully completed in 2012. It incorporates revetments known as 'Spanish Steps'. They're fabulous at dissipating the energy of the waves – with the added bonus of creating unrestricted access to the beach and plenty of places to sit. You'll also see some smaller sections of more traditional sea wall.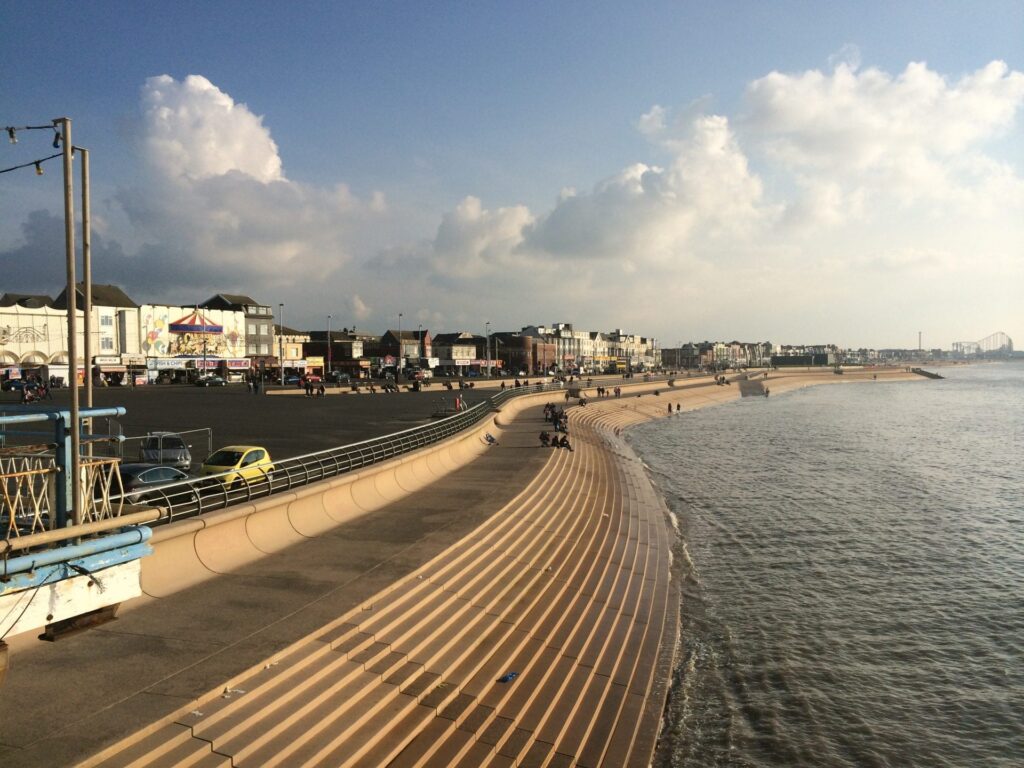 They're designed to sap the energy out of the sea and prevent overtopping. Stand against the steps at high tide and watch the waves bash into them. You can actually see their energy being dissipated as the waves climb the stairs.
South Shore's Grassy Wave
Between the tram tracks and the open pedestrian spaces of the promenade, there's a grassy strip. It weaves its way along the seafront like a green wave. It breaks the promenade up, changes the view and it's somewhere to sit and enjoy good weather.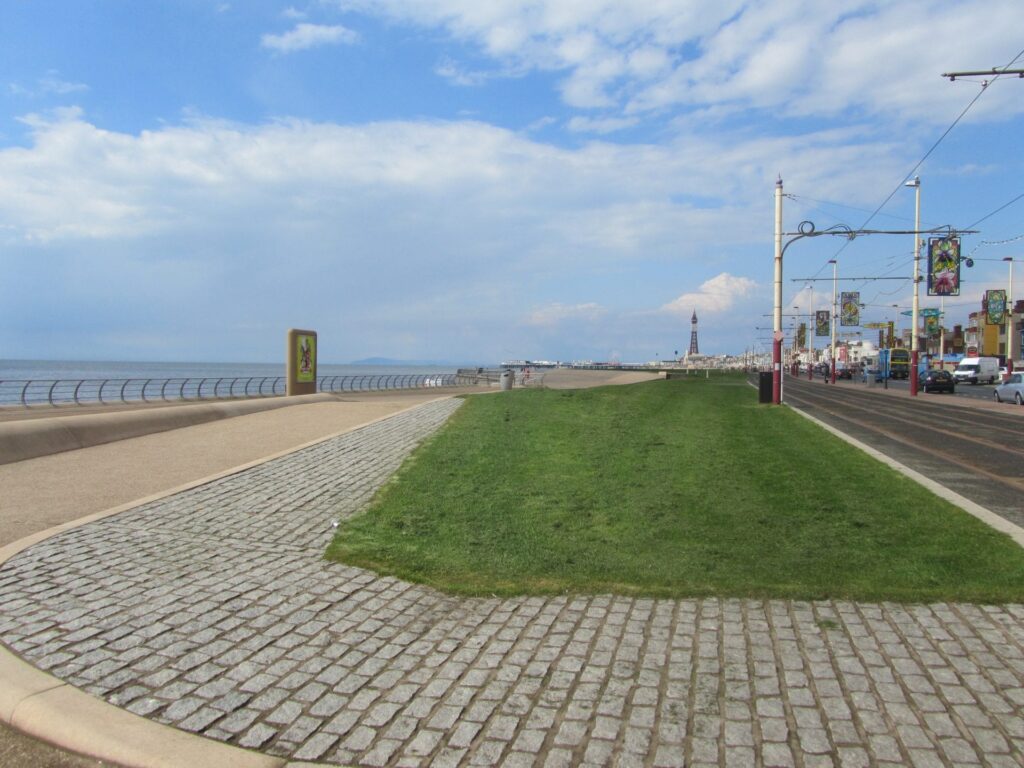 Manchester Square
A little further south past Central Pier you come to Manchester Square. Only it's not really a 'square' at all! Rather it's the forked junction where Lytham Road veers inland from the promenade. Famously, it's home to the pub of the same name.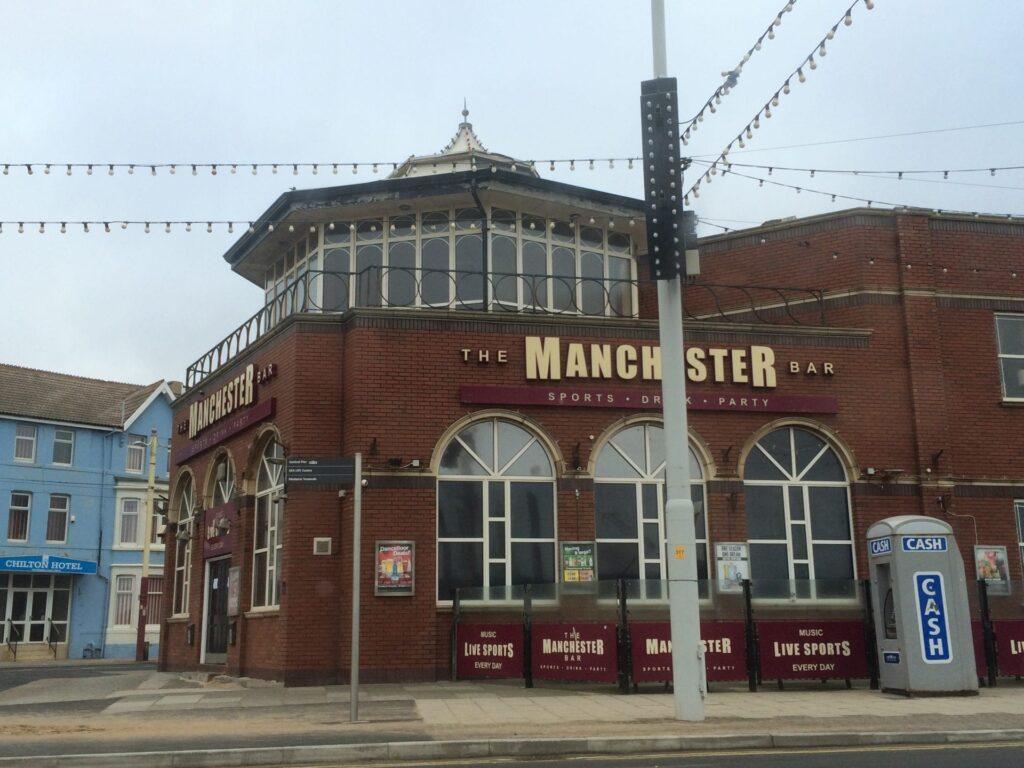 You'll notice that the tram tracks also veer left at this junction, to the old tram sheds at Rigby Road. The Blackpool Heritage Trams are still kept at Rigby Road. Keep an eye out for their distinctive shapes because it's where their journeys begin from.
The modern, burgundy trams are operated by Blackpool Transport. They're kept at the new tram shed at Squires Gate, at the far southern end of the seafront.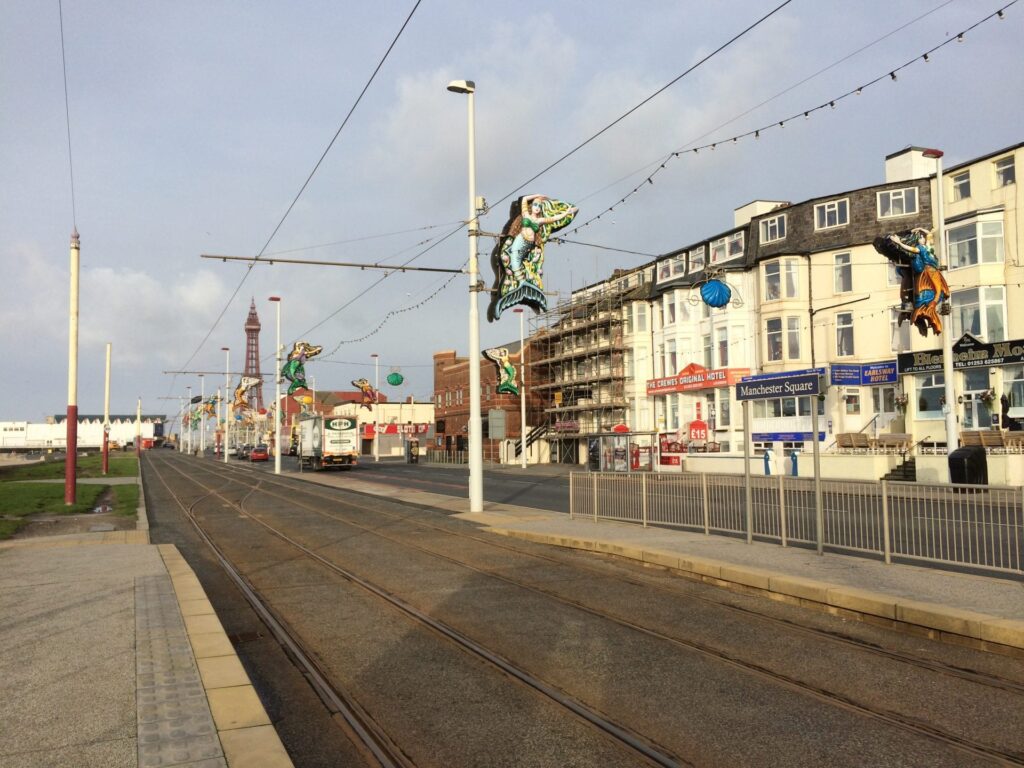 What lies underground at Blackpool South Shore?
At Manchester Square you'll also notice a small building against the seawall. Have you wondered what it is? Half a dozen slightly curved pipes stick out of the ground next to it. It's actually a United Utilities pumping station.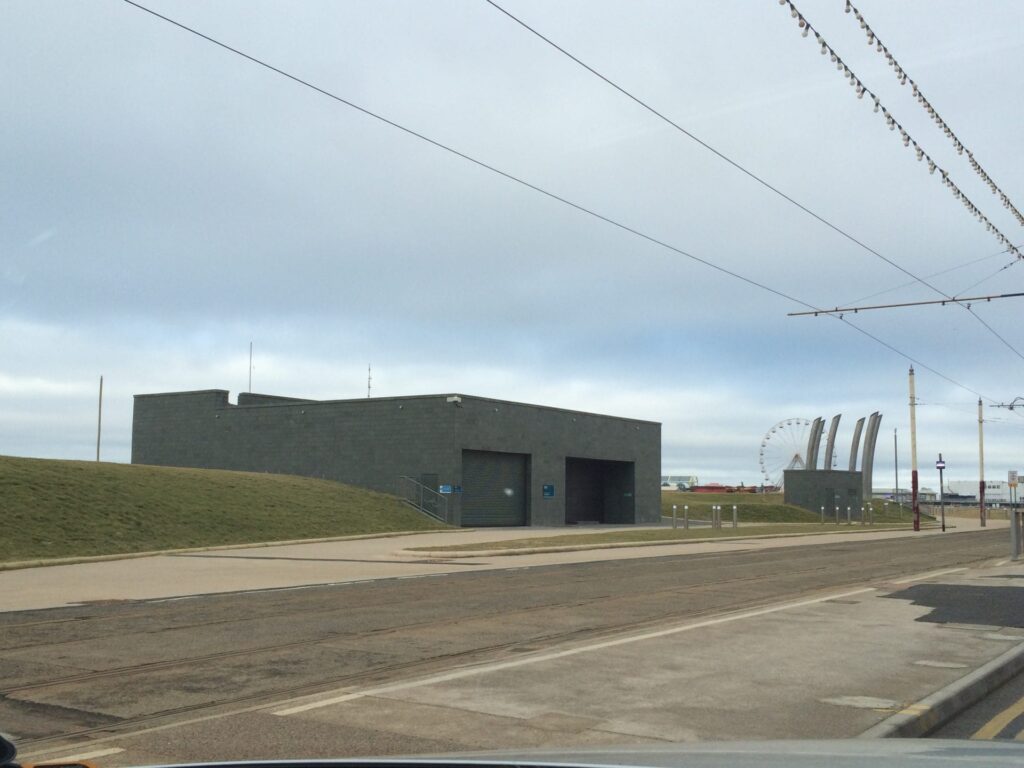 A lot of work has been carried out in recent years at the pumping station. Not just to the mechanics but also the buildings and surrounding landscaping. The new building is clad in subtle green granite-effect tiles. The headland area is now lawned with grass which goes around the back of the buildings.
Did you know? There's a huge mains sewer directly underneath here. It runs along the entire Blackpool seafront. Deep underground, it carries all the sewage and waste water from the Fylde Coast to a state-of-the-art treatment facility at Fleetwood.
Do you remember the famous windmill which once stood here? It used to house the old pumping station before the sewage system was upgraded. You can just see it in this old photo below. There are more old Blackpool photos here.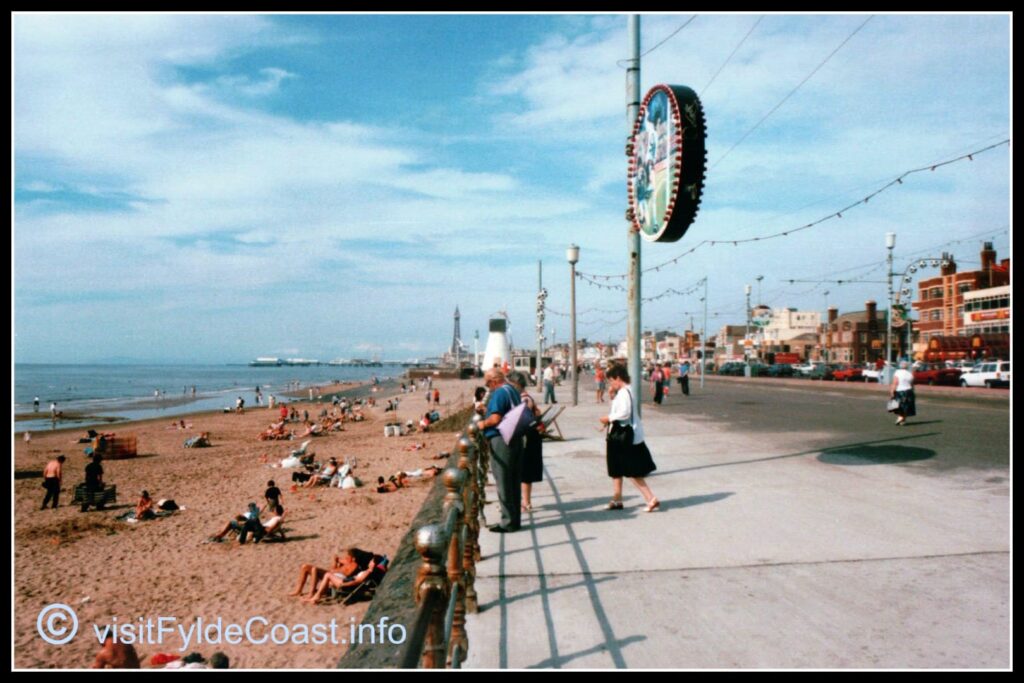 Waterloo Headland and Blackpool South Shore Beach
Created during the sea wall works, Waterloo Headland is a huge, curved area of land. It's opposite Waterloo Road and Blackpool South Shore shopping area.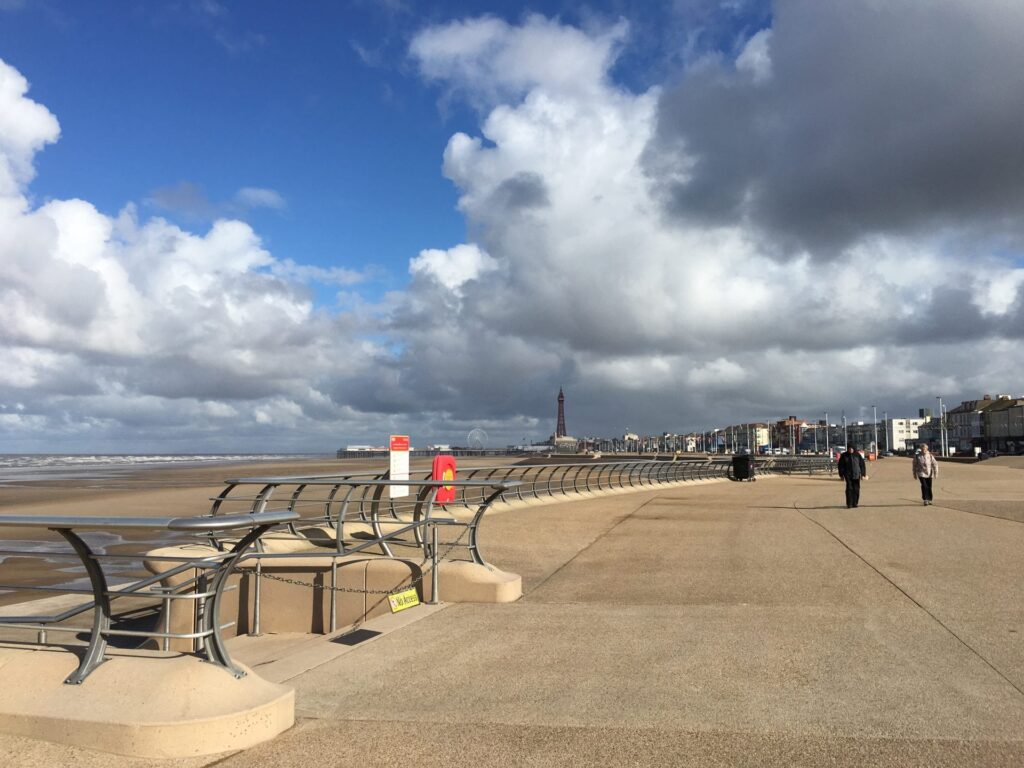 It's not easy to see just how big it is from a photo. You get some idea of the size of it in the next video, filmed on a windy day in March 2019.
Why don't you go and explore for yourself?
It's a great big, wide open space. Perfect for walks in winter or summer, with great access to the beach. There are more miles of golden sands for you to explore at Waterloo Headland, and more Spanish Steps to sit on, catch your breath and enjoy the views.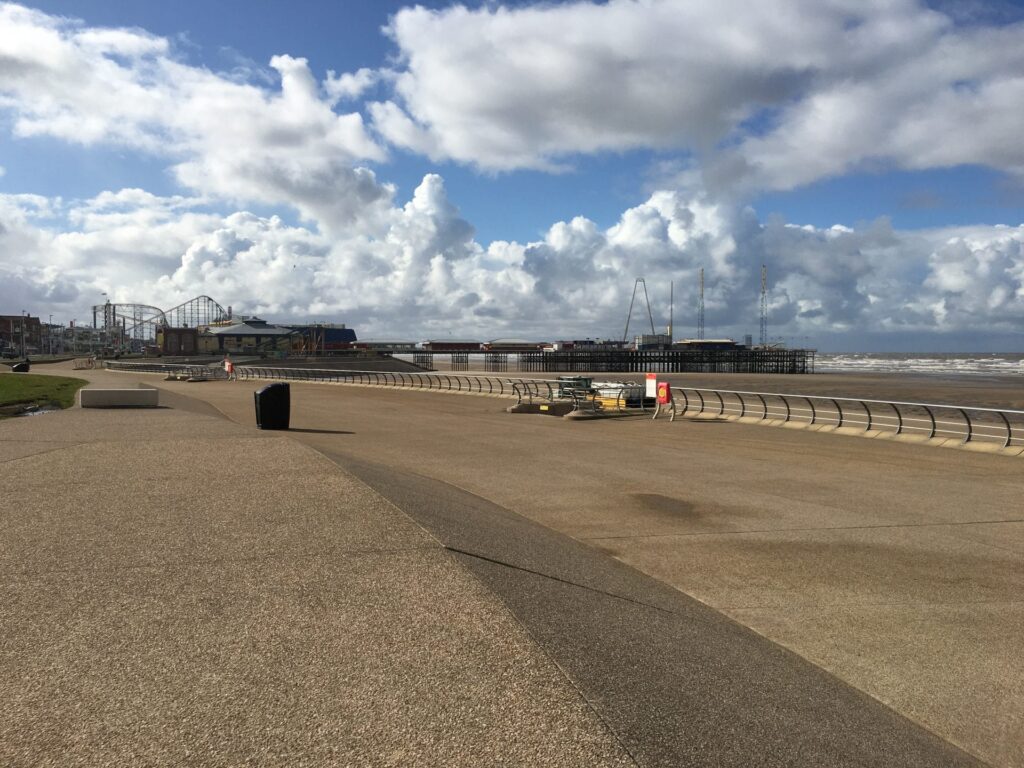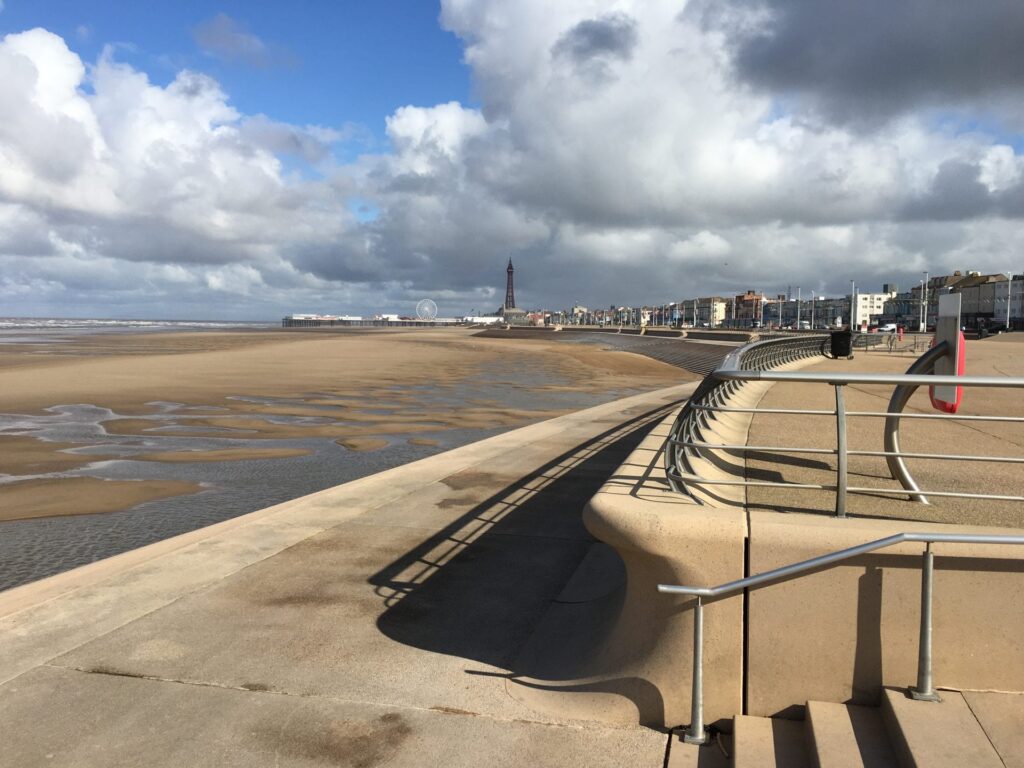 South Shore Shopping Area
Waterloo Road (pictured below) is just around the corner from Notarianni's Ice Cream Parlour. It's not far from McDonald's, before you get to South Pier.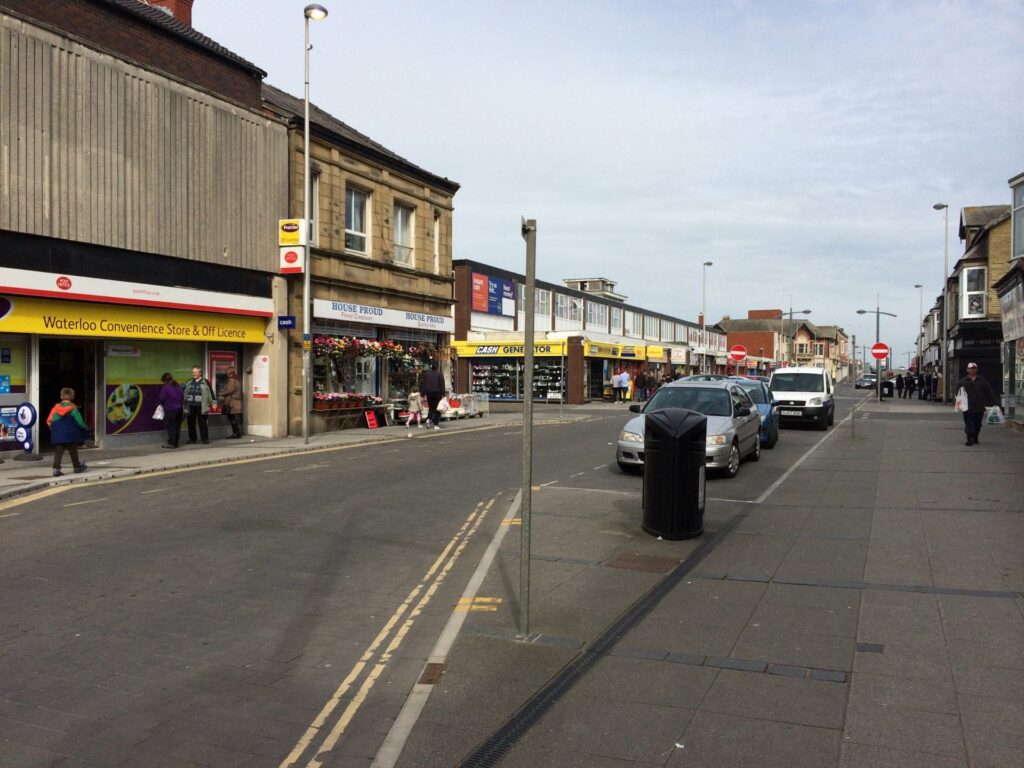 South Shore shopping area is always popular with locals and tourists. There are shops here for visitors along with local convenience and food stores and indoor markets.
Along the prom are seafront hotels and guest houses of different sizes, interspaced with shops, cafes and takeaways. It's a fascinating mixture of sights, sounds and smells.
Your next stop is South Pier.
South Pier and Pleasure Beach at Blackpool South Shore
On your journey southwards along the promenade with the sea on your right, you'll next come to South Pier.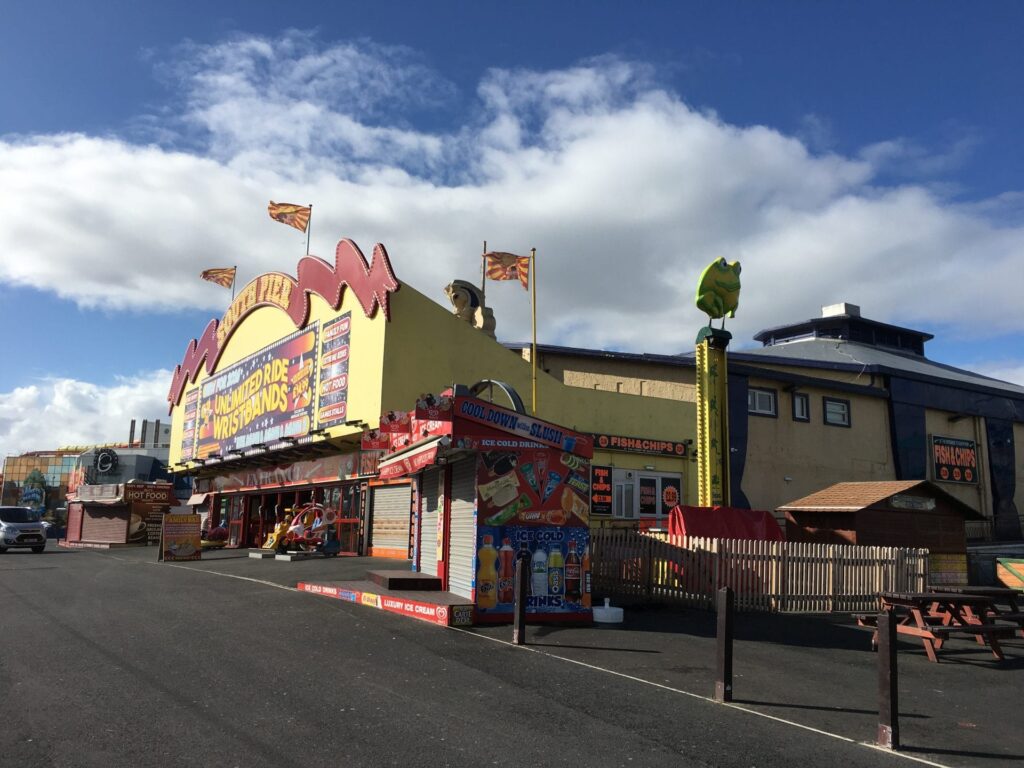 If you've got a strong enough stomach, you'll enjoy the adrenaline rides at the end of South Pier!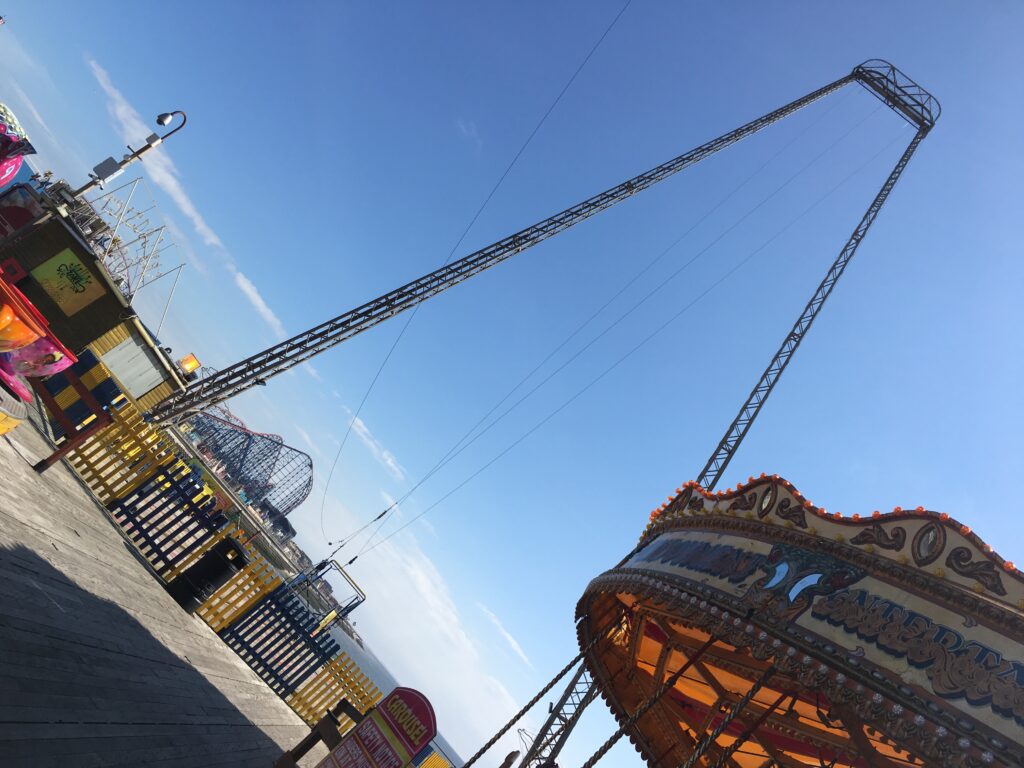 South Piers next door neighbour is Sandcastle Waterpark where you can enjoy slides and rides, whatever the weather!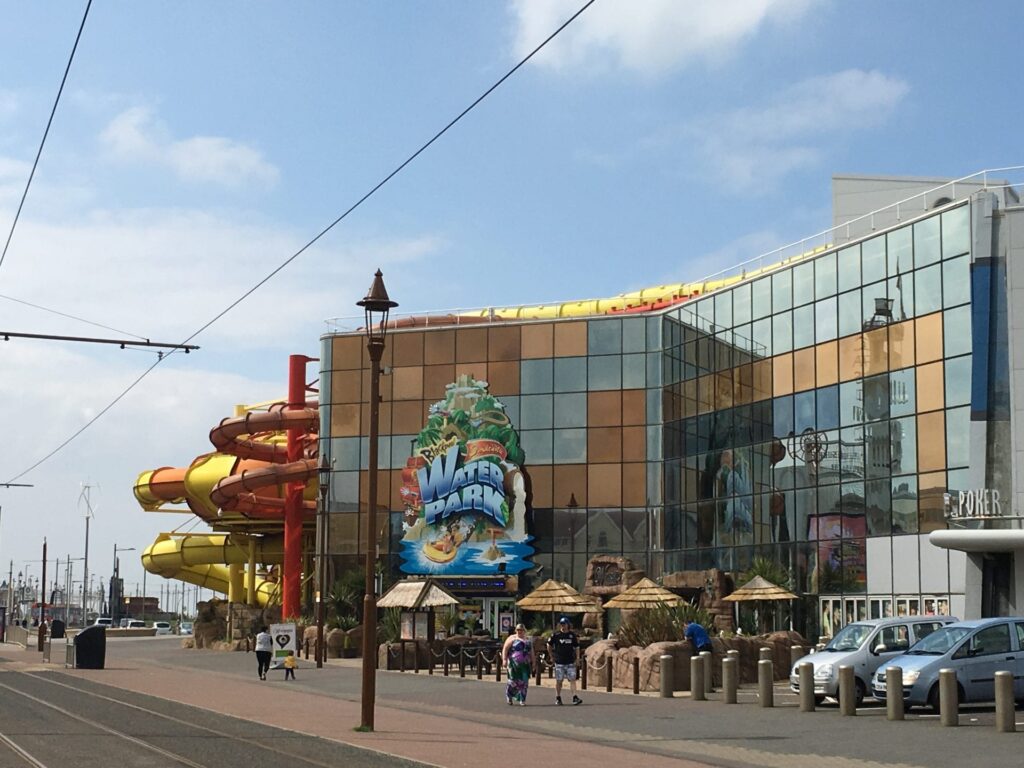 In the next video, we walk right around the Sandcastle, looking at the seafront there, against South Pier.
On your left, opposite the Pier and Sandcastle, is Blackpool Pleasure Beach. Around this area everything is bright and vibrant. It's full of life and colour!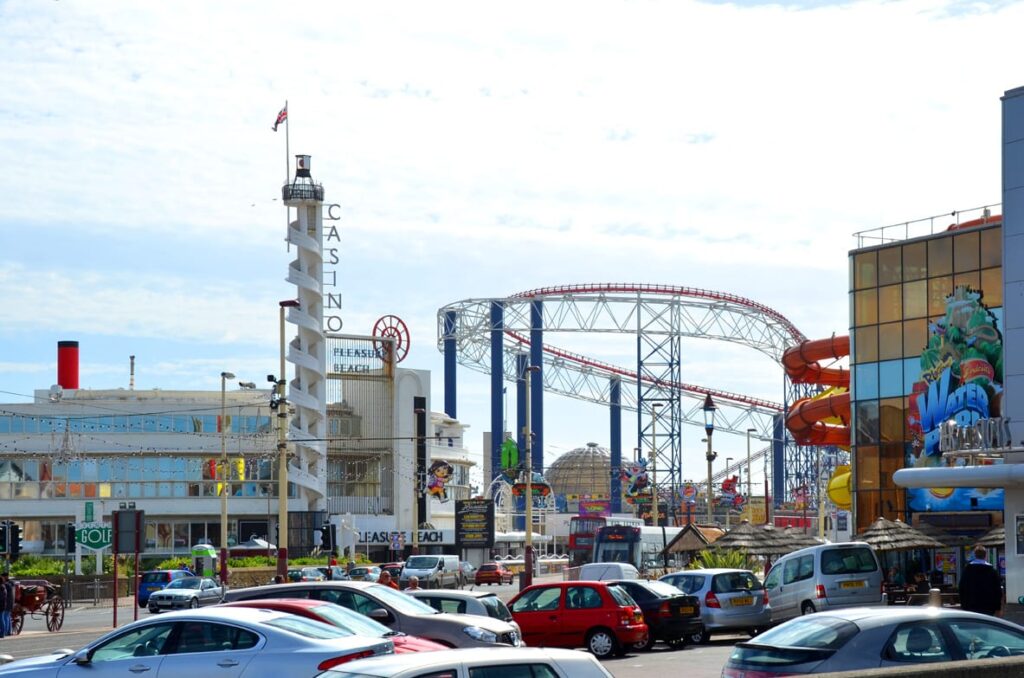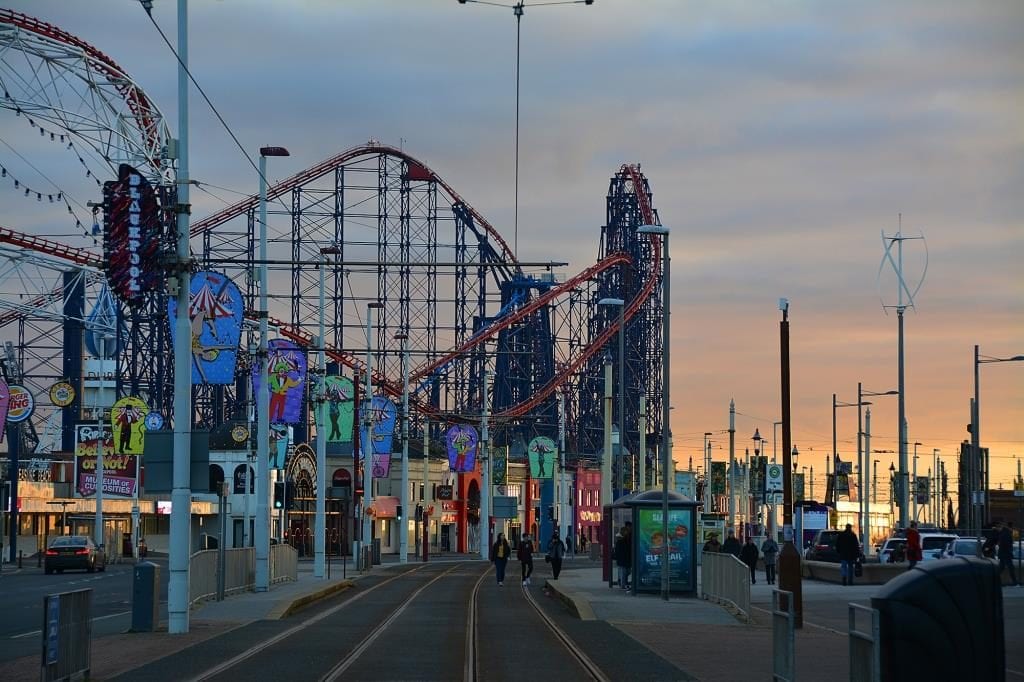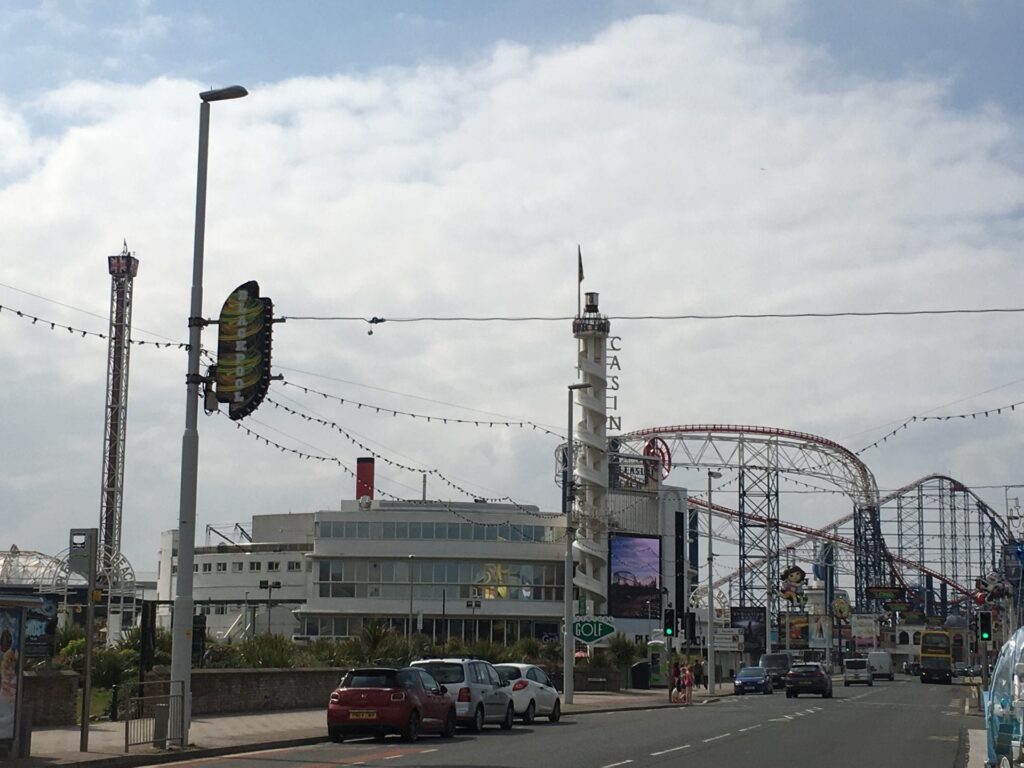 Continue along the promenade and there's a row of shops painted in different colours. They're part of the Pleasure Beach. Once you're past the Pleasure Beach the seafront changes pace again, giving way to hotels and private accommodation.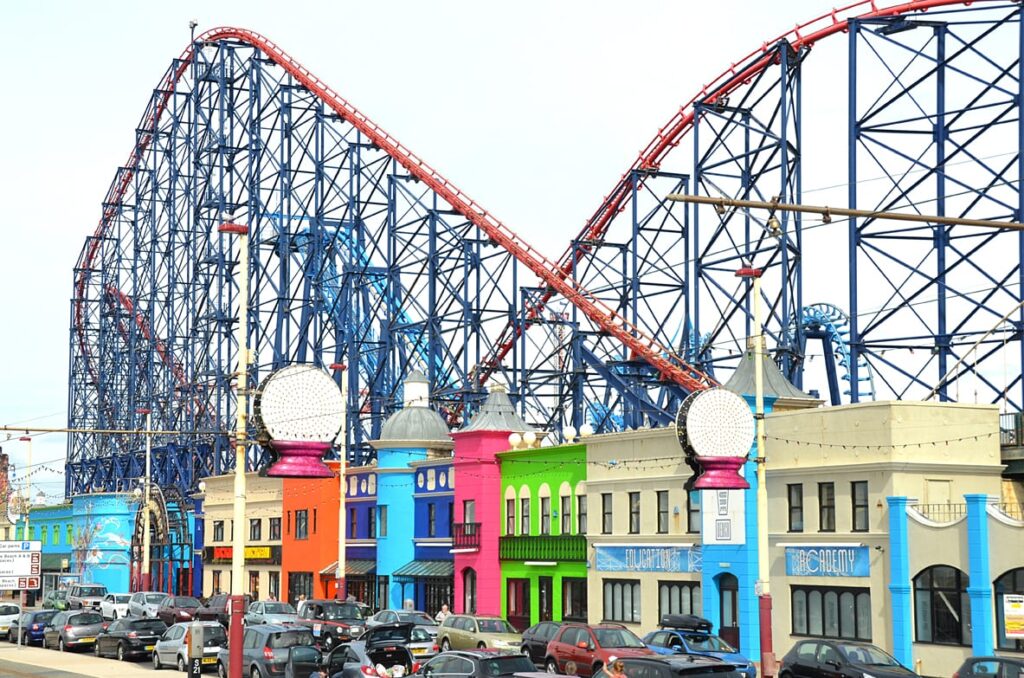 Blackpool South Shore at its southernmost end
It's called New South Promenade beyond the bright lights and attractions of Blackpool. Is wide, flat and open – perfect for walking, cycling and enjoying the beach and views.
It's a perfect place to take your dog for a walk – or maybe you'd prefer to jog or ride a bike. It's a great public open space for everyone to enjoy at any time of the year.
Have a look around in this short video clip. It was filmed in December and as you can see, the middle of Winter can be just as beautiful as summer!
There's plenty of space for everyone, it's a safe place for children to run off their steam and it's very flat too. You'll be pleased to know that there aren't any big hills to navigate! It's a broad promenade walkway, with seating places and shelters for you to enjoy. Take in the spectacular views.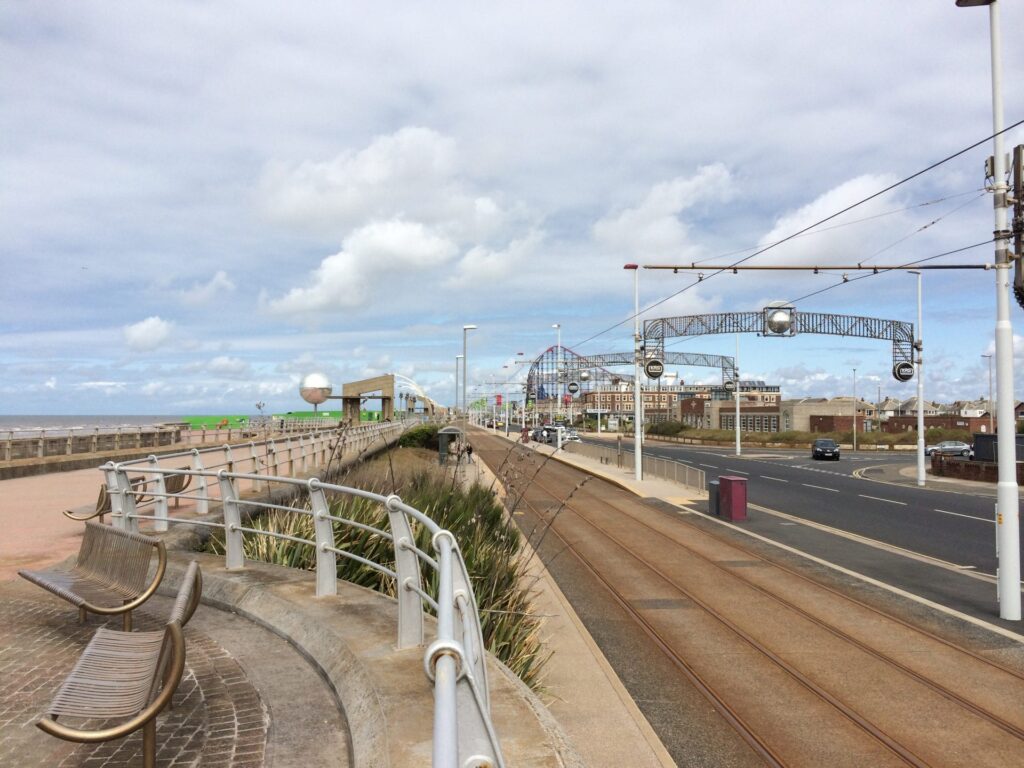 Recharge your batteries and enjoy the views over acres of golden sands. Blackpool South was also the first beach on the Fylde Coast to secure a prestigious Blue Flag for the high quality of the beach and bathing waters.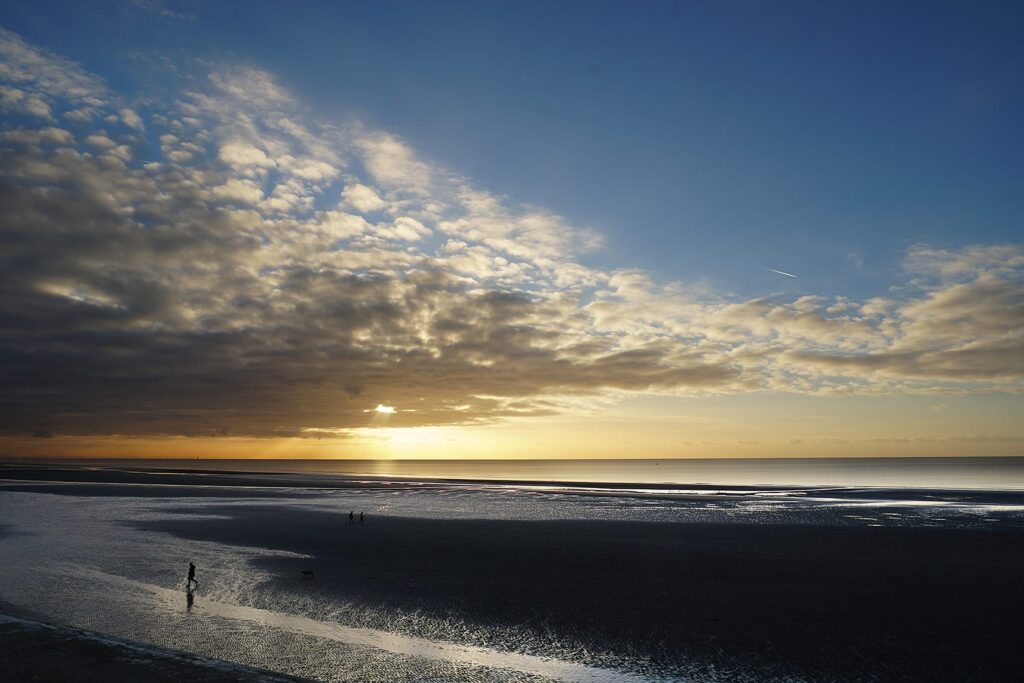 Getting to South Shore
Unless you're lucky enough to live nearby, or even better still right on the seafront, you'll probably need to travel to get to South Shore.
There's a fairly big car park at the sea side of the tramway (below) near to the Sandcastle Waterpark. More surface car parks can be found around the Pleasure Beach, and some on-street parking too.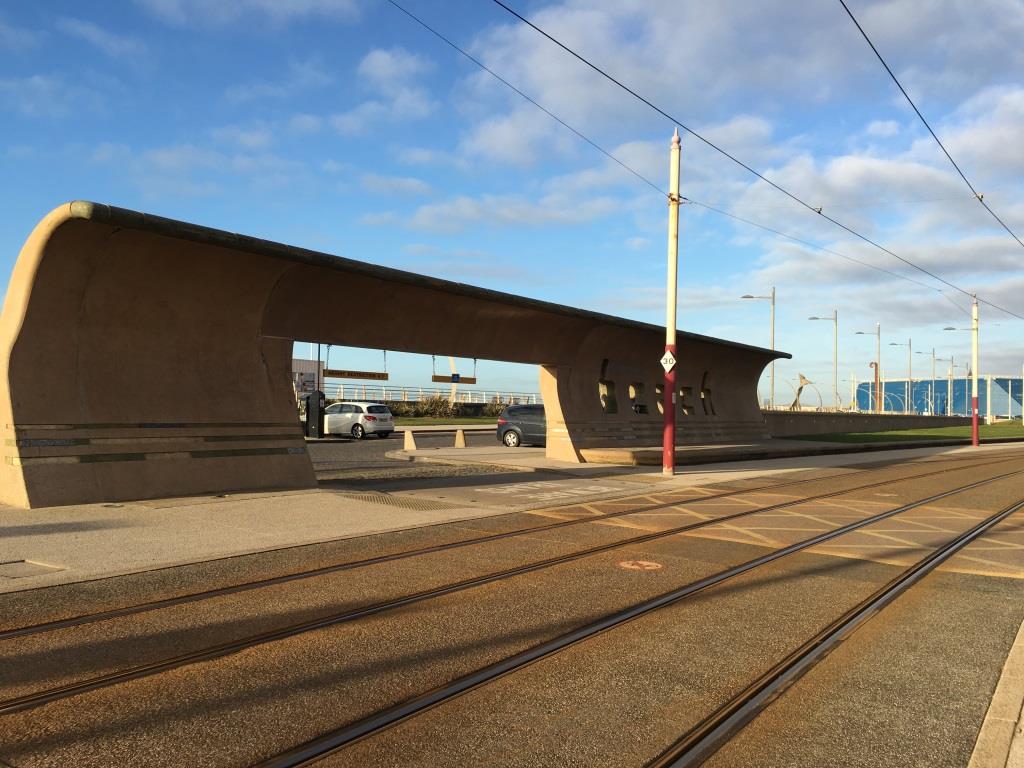 From the Pleasure Beach southwards, the promenade highway is wide and flanked by on-street pay and display car parking bays. Find bays along the full length of Blackpool New South Promenade, almost to the Blackpool boundary with St Annes at Squires Gate Lane. There is some limited free parking on adjacent side roads.
The Blackpool tramway travels the full length of the promenade on its journey through to Fleetwood. Take your pick from a sleek new tram or ride one of the Heritage Tram fleet. Not forgetting Blackpool Transport buses.
Two railway stations are also just a short walk from the seafront. Squires Gate Lane leads to Squires Gate Station, and Waterloo Road leads to Blackpool South Station.
You can easily get about with the excellent public transport links.
What's at New South Promenade?
The Blackpool Illuminations end at the Welcome Arch at Squires Gate. The arch is adjacent to the new tram depot, which stands between the main road and the beach.
Public Art Trail
New South Promenade is also home to a public art trail. The largest and most obvious piece of which is the huge, twinkling Glitterball.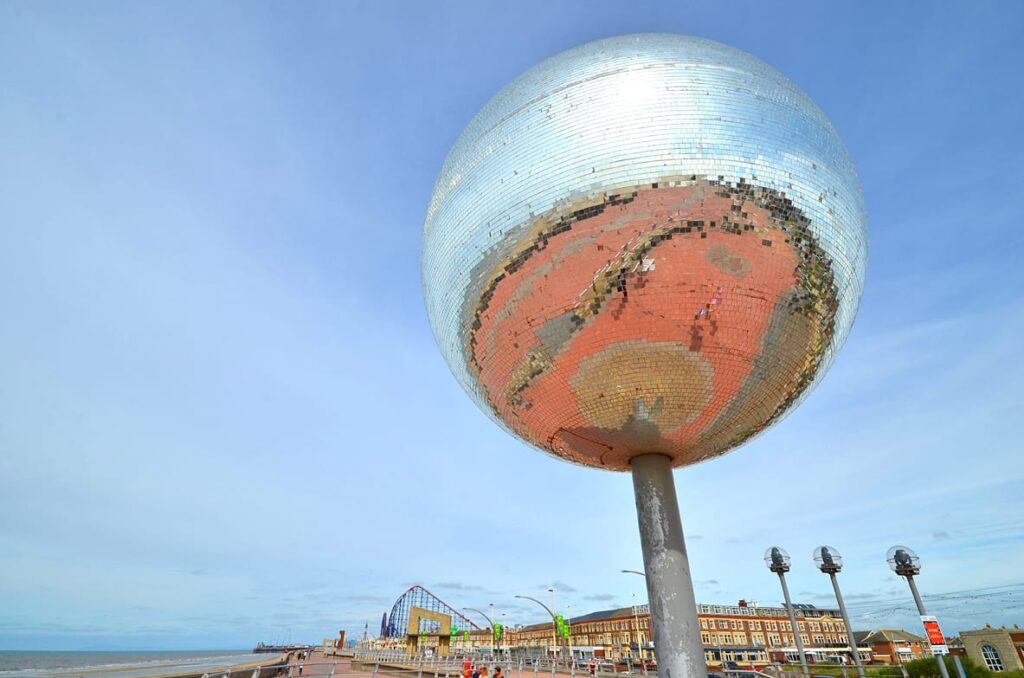 The Great Promenade Show is a trail of public artwork at New South Promenade that's designed to celebrate the uniqueness of Blackpool. Covering the whole two kilometres from Squires Gate to South Pier it includes ten unique pieces. Some come to life at night, others move, some make a noise, like the wave powered Musical Organ. You might not like them all, but there's certainly something for everyone!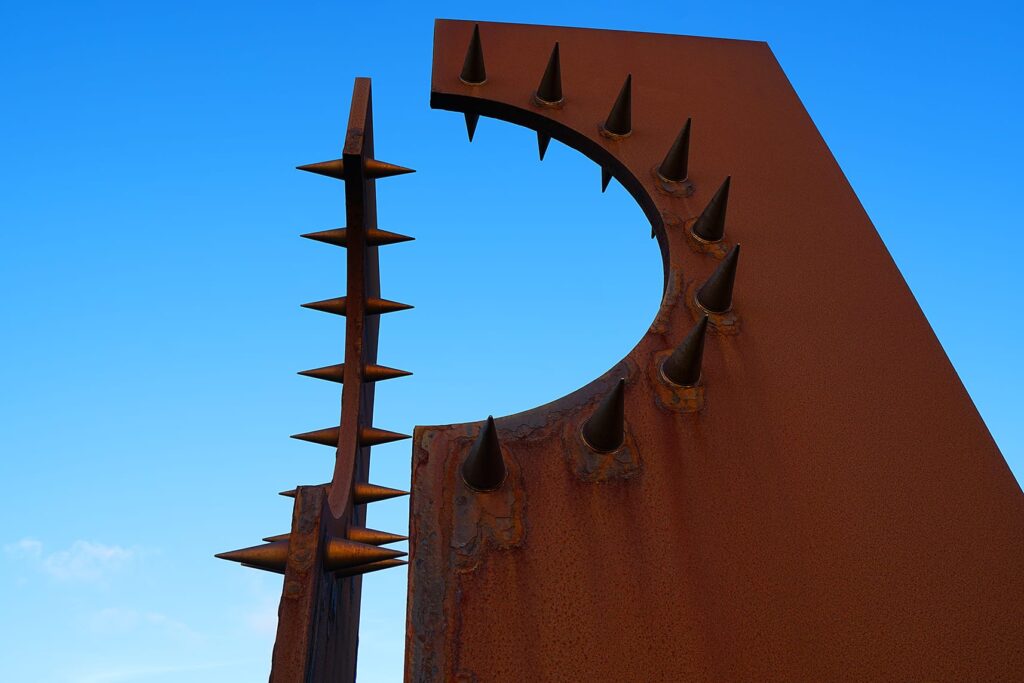 West Coast Sunsets
The West Coast is famous for it's amazing sunsets. All through the year you'll see the most spectacular sunsets, as you look across the Irish Sea. We're treated to endless displays of red, gold and amber as the sun goes down over the horizon creating the most beautiful sights. Each one is slightly different. We can even tell you what makes the sky so pretty at sunset!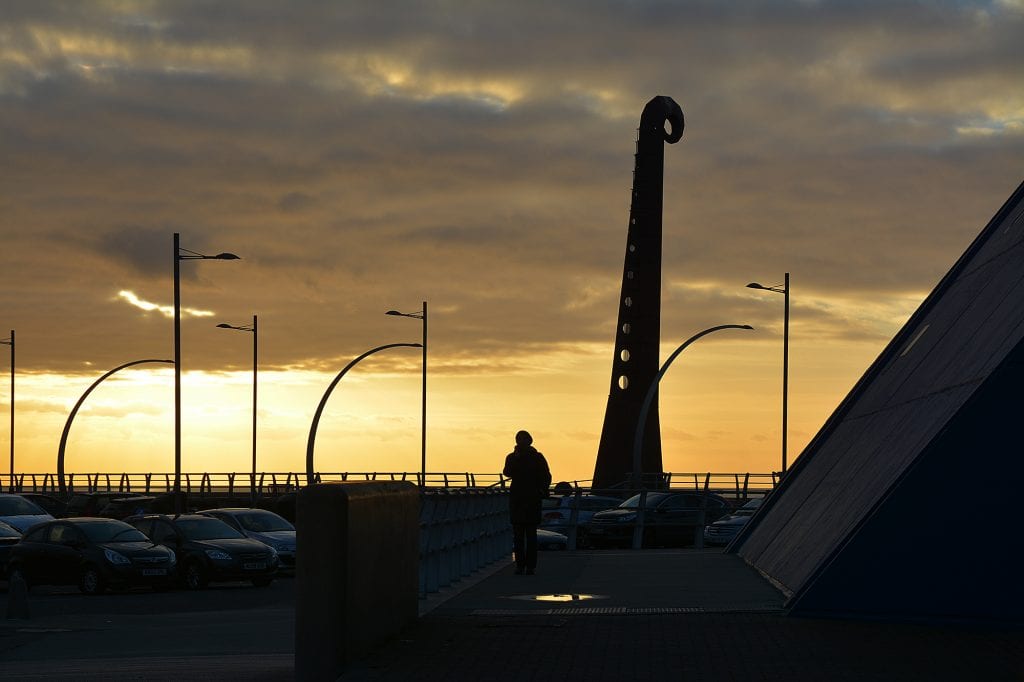 If you like to see a Fylde Coast sunset, head to the seafront in the evening following a clear, sunny day. Winter or summer that's when you'll get the most impressive ones.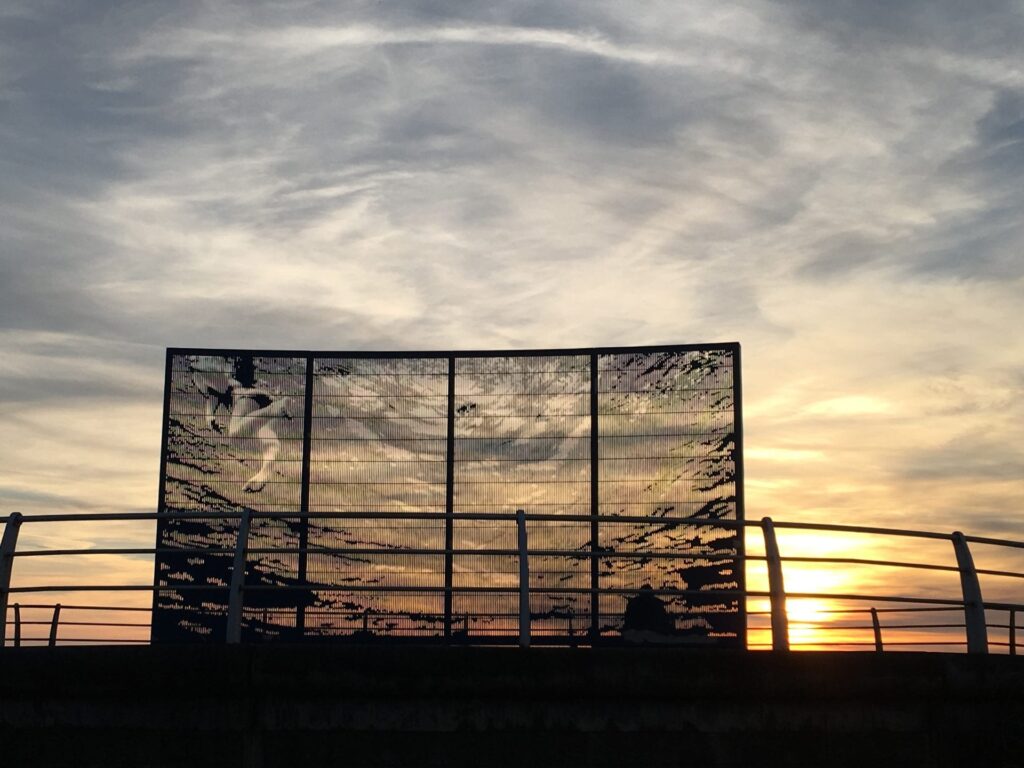 Stop for a Brew
The Solaris Centre is opposite the Mirror Ball on New South Promenade. Run by Blackpool Council, it's home to a number of offices and small businesses. There's a cafe there which is open to the public who are in need of tea, cake and biscuits!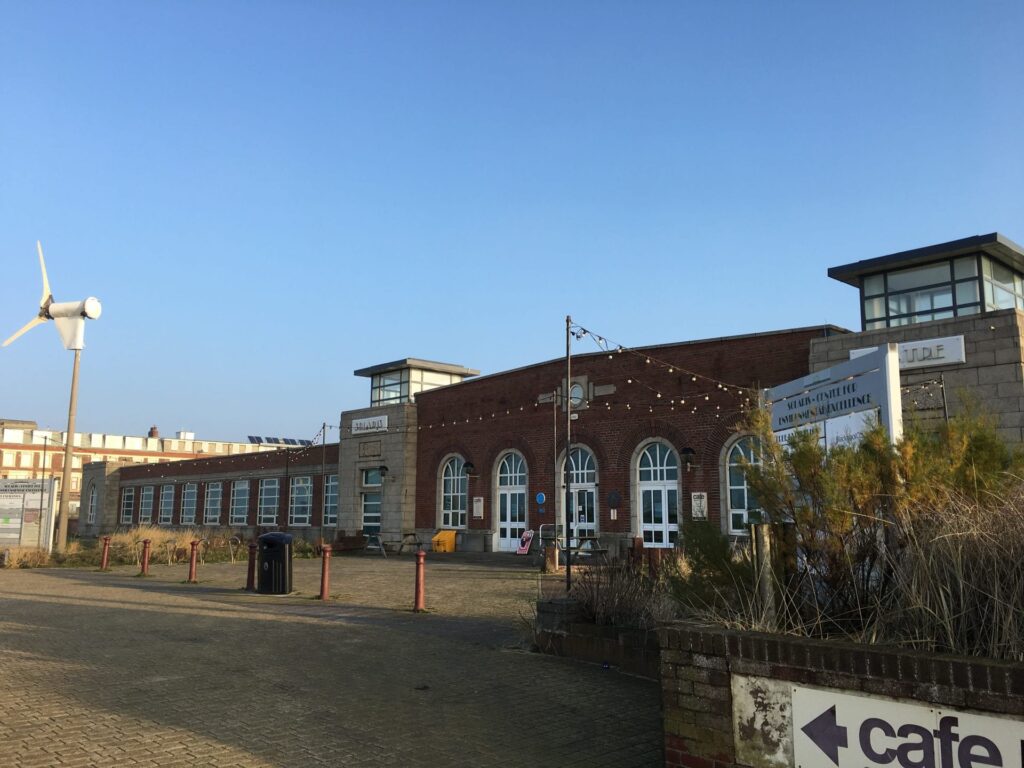 Behind the Solaris Centre there's a green space and small children's playground – also open to the public. The Solaris Park is looked after by a Friends group. They've already made a big difference, why don't you join in? Keep your eyes peeled when you visit. It's amazing how much wildlife lives in the bushes and undergrowth surrounding the plot.
At the right hand side of the Solaris Centre you'll find a block of Danfo public toilets.
Places to Stay
South Shore was once the place to stay when you holidayed in the resort. Sadly it's seen a period of decline, but things are on the up again!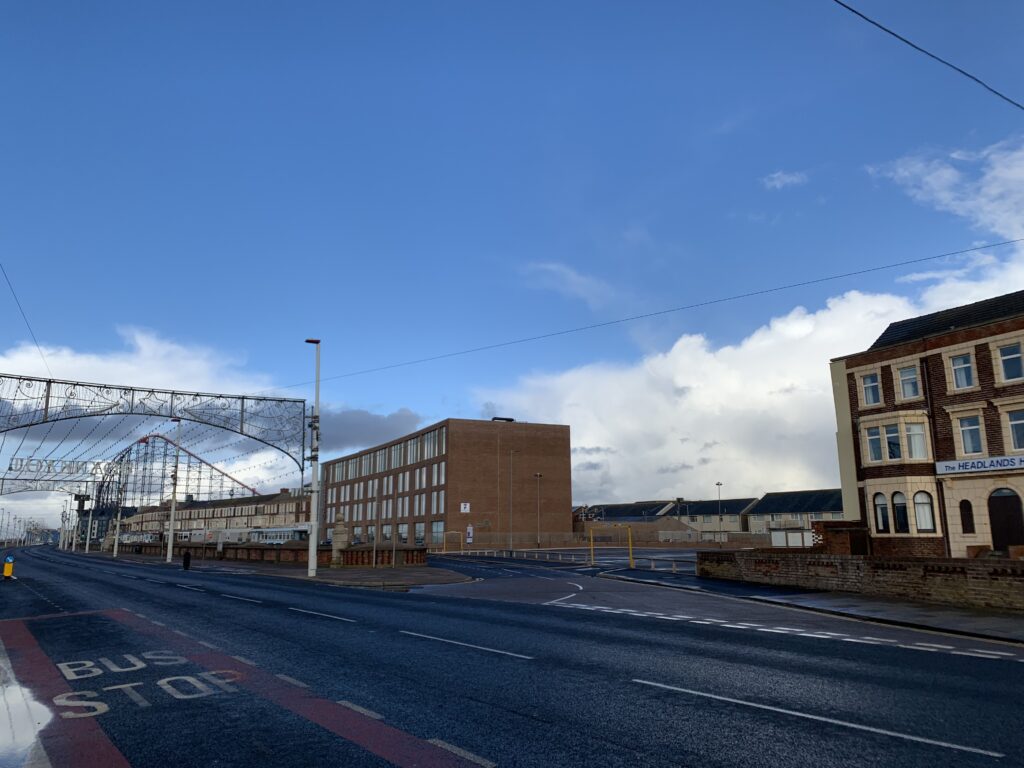 Investment is being made into land clearance, with new hotels and residential property being constructed. You can see the area regenerating back to its former glory!
Search for Accommodation
Accommodation you can trust from StayBlackpool
The Sea Wall at New South Promenade
The sea defences and promenade itself at Blackpool South Shore are relatively new. They were completed in 2001. Strengthening the sea defences and protecting residents and businesses from flooding is the primary reason for construction work like this.
However, new sea defences bring a huge transformation to the seaside resort. Each new addition makes an attractive welcome, both for the people who use it and traffic approaching the town.
New home for wildlife
This sea defence is a mix of traditional sea wall and 'sea bees'. They're hexagonal concrete structures that look similar to the nut from a nut and bolt. They dissipate the energy of the waves when they crash against them.
An added bonus of the design is that they act as artificial rock pools. They actually harbour a lot of wildlife. Go take a look!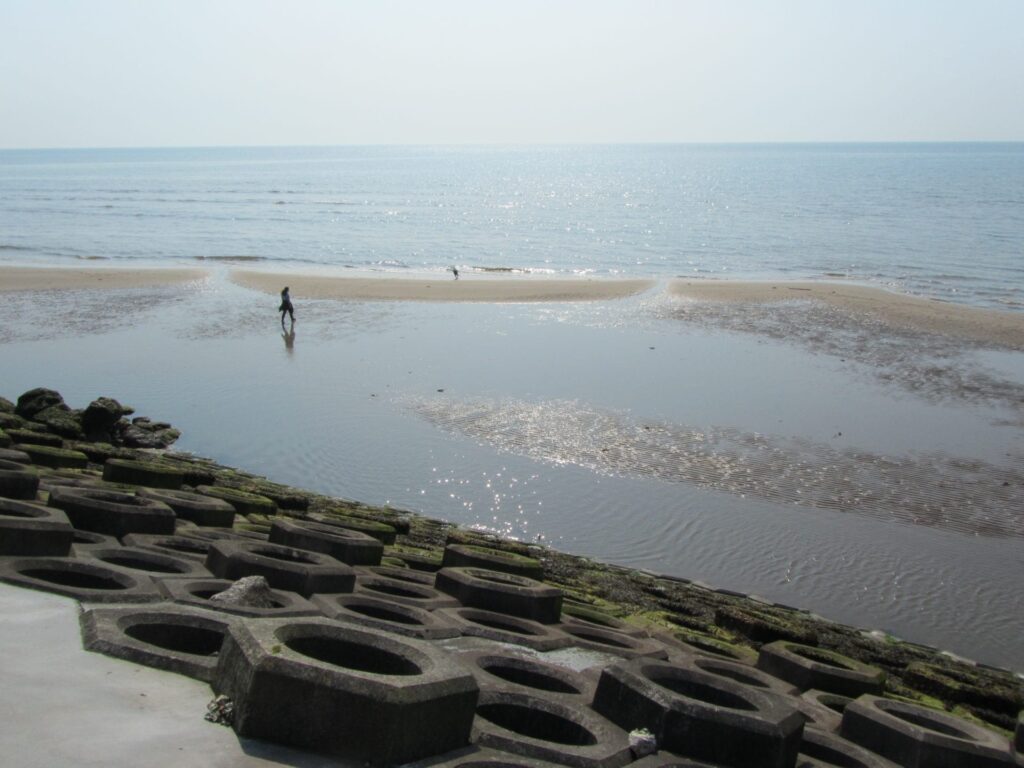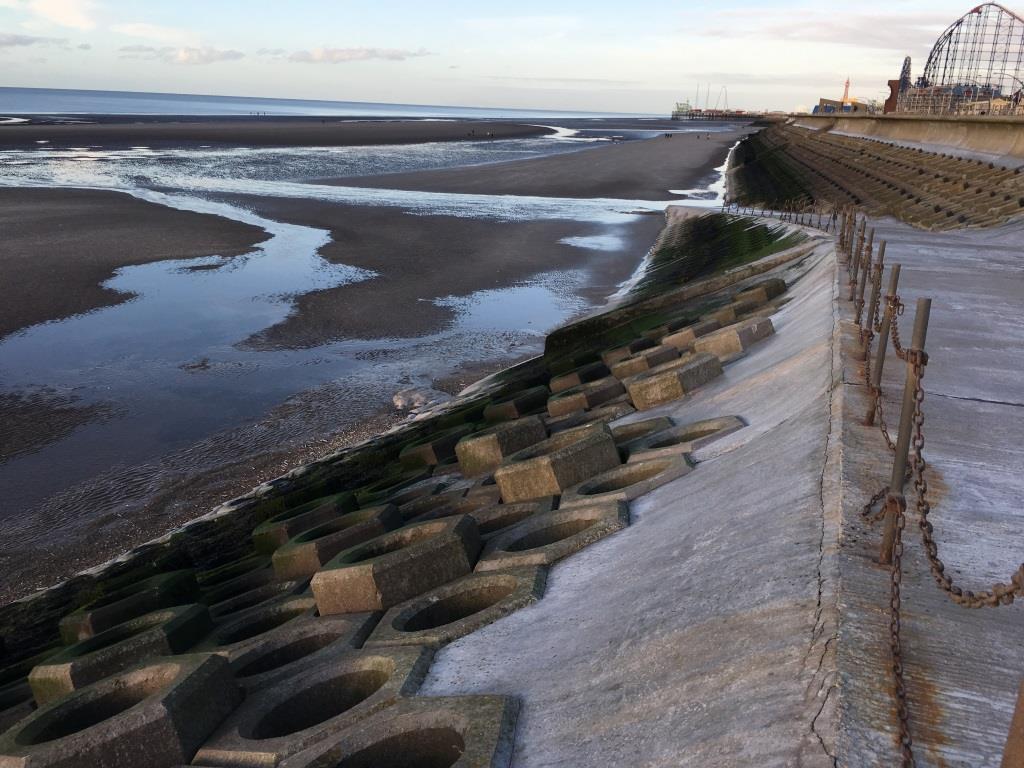 You also find two plaques side by side near to the Mirror Ball. This one (below) celebrates the original opening of the first sea defences on 2nd June 1926.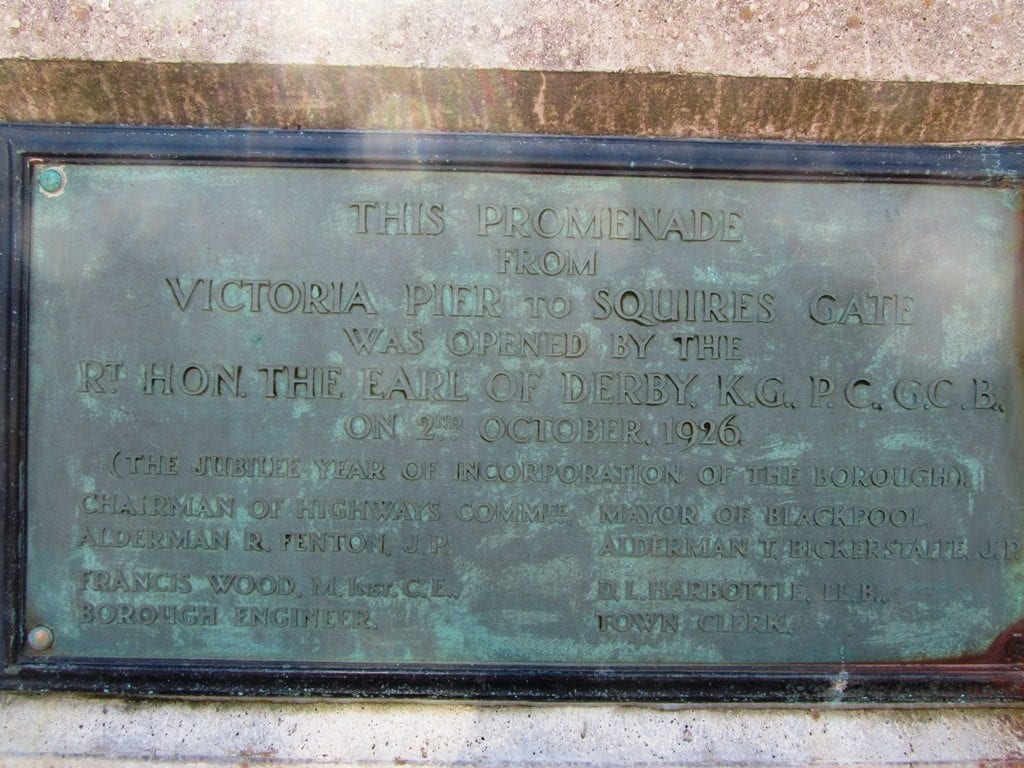 And next to it is another one from the opening ceremony held on 10 September 2001.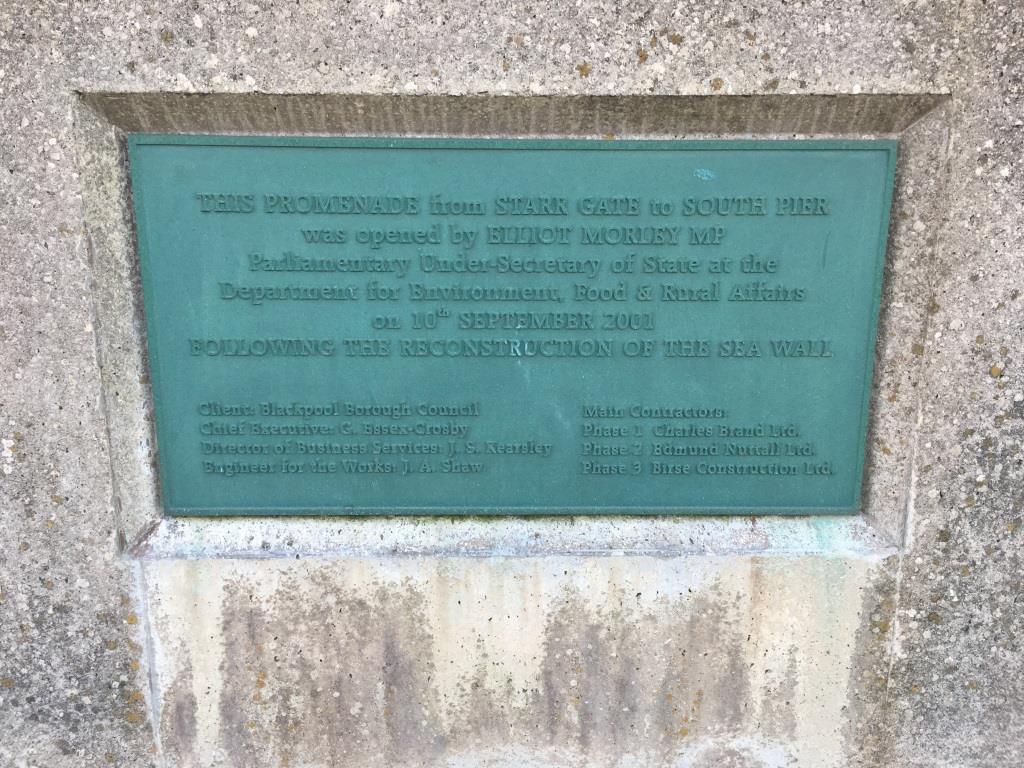 There are steps down to the beach along this stretch of seafront. At high tide, chains block the way to keep pedestrians safe from the force of the sea.
Why don't you take a look around, and remember to share your photos with us!
While you're here…
What do you think? Why don't you join in and leave a comment below?
Have a look at the homepage of the Live Blackpool website for more of the latest updates.
Love the Fylde Coast? Sign up for your weekly email newsletter. Packed full of interesting things it arrives in your inbox all 52 weeks of the year.
Join us on Facebook at our Visit Fylde Coast Facebook Group and follow us on Twitter @visitFyldeCoast
Plus hundreds of videos to watch on our YouTube channel – from all over the Fylde Coast!
Booking a stay? Pick a safe, clean and legal place to stay, at the very best price. Book with the Visit Fylde Coast and StayBlackpool guide.