Work has now begun, as of 7 February 2023, on the new £100m DWP office block off East Topping Street. Blackpool Council previously announced on 10 November 2021 that the Civil Service is to relocate more than 3000 staff to the new Blackpool town centre offices being built at Phase 3 of Talbot Gateway.
Pictured above L-R: Alan McBride, Projects Director at Muse, Mike Horner, Development Director at Muse, Cllr Mark Smith, Cabinet Member for Business, Enterprise and Job Creation, Cllr Lynn Williams Leader of Blackpool Council and Cabinet Member for Tourism, Arts and Culture and Gary Bowker, Regional Managing Director at VINCI Building
They'll be relocated to the new £100m office development in Blackpool town centre from existing sites at Warbreck House and Ryscar House. Both are under-utilised and in need of significant investment. The offices will be called the Blackpool Hub and Centre for Health and Disability Assessment (CHDA) when they're completed in the autumn of 2024.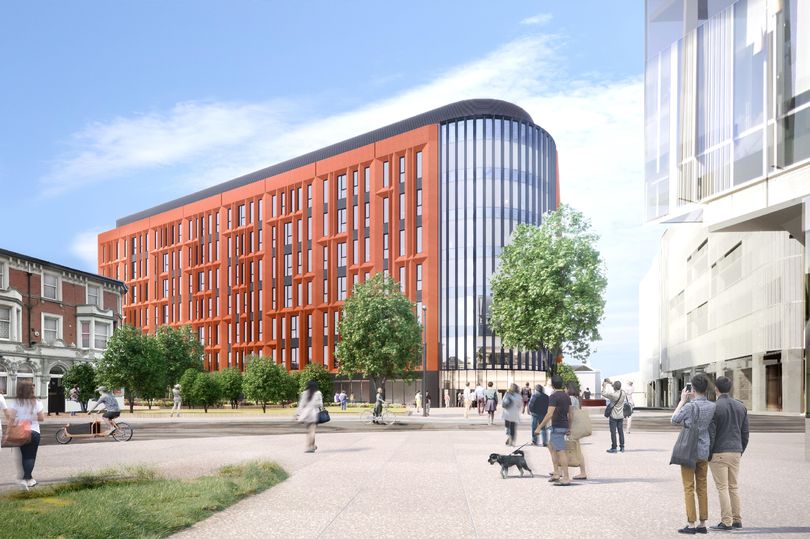 The Department for Work and Pensions (DWP) has come to an agreement with Blackpool Council and partner Muse Developments to develop the new regional hub in Talbot Gateway. DWP has signed a 25-year lease to occupy the highly-sustainable, purpose-built offices. It's part of a strategic plan to centralise civil service jobs in the heart of Blackpool.
The Council has been negotiating this deal for several years. It's part of its stated ambition to rejuvenate the town centre by the introduction of high-quality office developments. This will create and protect local jobs, drive footfall and breathe new life into the retail economy.
We went to take a look around, in November 21 when approval was granted –
Enjoyed this video? Why don't you subscribe to our Visit Fylde Coast YouTube channel – make sure you don't miss out!
Work begins on transformational Civil Service office site in Blackpool town centre
Published February 2023
Work has now started on a new £100m office building, which forms part of the place-changing £350m Talbot Gateway regeneration that is transforming the heart of Blackpool town centre.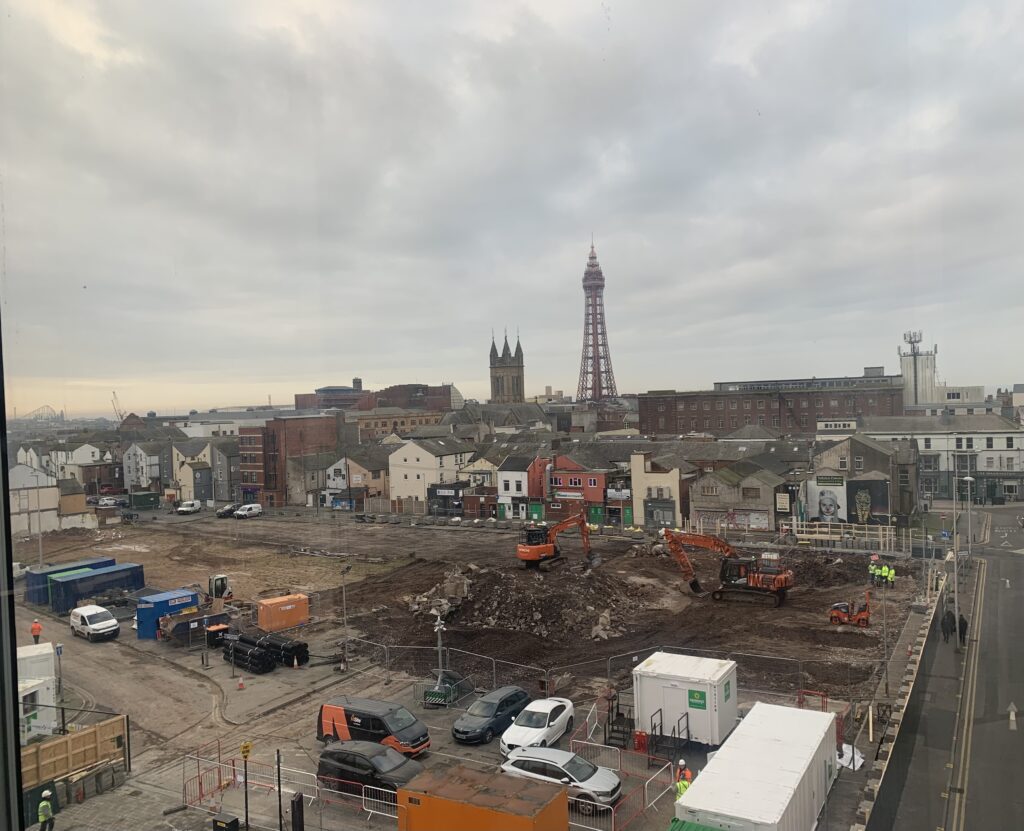 Nationwide placemaker, Muse, and its partner, Blackpool Council, have started work bringing forward a 215,000sq ft highly-sustainable office building for the Civil Service after naming VINCI Building as the contractor.
More than 3,000 public servants will relocate to the striking, seven-storey regional hub, when it completes in March 2025.
The new offices will generate significant new footfall to the area, boosting trade to local businesses, retailers, restaurants, cafes and leisure facilities, alongside a wealth of new job opportunities for local people.
An Environmentally Friendly Building
Low energy and low carbon design and material choice has been at the heart of decision making and this will result in a truly energy efficient, low carbon building.
The new building has been designed by renowned architects, Make, to BREEAM "Excellent" standard, which means it will operate on low energy and promote both sustainable development and wellbeing.
An inclusive approach to sustainability was taken from the outset to make sure the building will be as energy-efficient as possible, with high levels of insulation and air source heat pumps to provide low-carbon heating and cooling. Demand-driven ventilation will improve indoor air quality, while at the same time allowing energy savings during times when the building is not occupied.
…the science bit
During the building's inception, partners completed early-stage whole life and upfront embodied carbon assessments, to eliminate inefficiencies where possible and reduce the building's whole carbon footprint. This results in the new offices aiming to reduce its upfront embodied carbon intensity to 800 kgCO2e/m2. compared with 1100kgCO2e/m2 for a typical office development.
Well Connected for Public Transport
The site includes a new town centre square with cycle and pedestrian routes. It's within easy walking distance of the new tram interchange at Blackpool North Station which is nearing completion.
The interchange forms part of phase two of Talbot Gateway along with a new 144-bedroom Holiday Inn hotel, which will open later this year, creating 50 new full-time jobs to the town.
While some of the parking has been taken away due to the construction of the new building, there will still be a limited number of spaces on East Topping Street car park.
Sustainable Office Space
Published November 2021
The c.215,000 sq ft (GIA) seven storey offices on a 2.4 acre site on King Street, is the third phase in the Talbot Gateway regeneration scheme.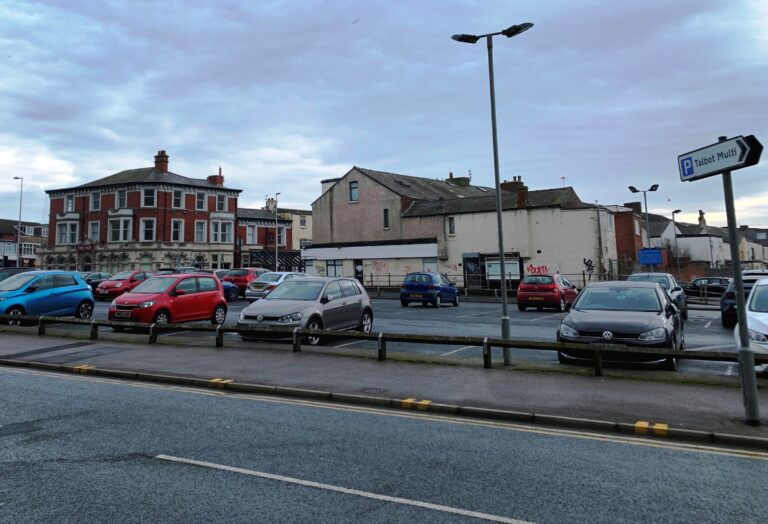 They'll be located in a new, leafy town centre square. New cycle and pedestrian routes are included, with storage for over 100 bicycles to encourage cycling to work. The offices are within walking distance of the new tram interchange at Blackpool North Station.
The design of the building by London-based Make Architects, will draw on Blackpool's rich Art Deco architectural heritage.
The BREEAM 'Excellent' building has been designed to be ultra-low energy and as energy efficient as possible. The design has high levels of insulation, low-carbon heating and cooling, and demand driven ventilation. These features all help to reduce the building's overall carbon footprint.
The inclusive design benefits from ground floor showers and changing facilities for commuters to use before reaching the upstairs offices. There are automatic doors, a large reception lobby, accessible tea points, meeting rooms and quiet zones. Plus flexible activity spaces, and high, airy ceiling heights throughout.
Supporting Blackpool's Economic Growth
Secretary of State for Work and Pensions is Thérèse Coffey. She said: "Moving more than 3,000 DWP staff into this state of the art sustainable building in Talbot Gateway will drive footfall in the town centre and support Blackpool's economic growth as the country builds back better from the pandemic."
Steve Barclay is Chancellor of the Duchy of Lancaster and Cabinet Office Minister. He said: "We're getting on with the job of levelling up across the whole country. It's fantastic to see this new hub in Blackpool consolidating jobs under one roof and making the public estate more efficient.
"I know Blackpool well, having grown up in Lancashire. I'm optimistic the town will see significant economic benefits with a new flagship town centre office space driving footfall and breathing new life into the economy."
Historic Point in Town Centre Regeneration
Cllr Lynn Williams is the Leader of Blackpool Council. She described the agreement as "an historic moment" in the ongoing regeneration of the town centre.
Cllr Williams added "We have been working on plans with our partners Muse to introduce a new Fylde Coast Civil Service Hub for several years. We are thrilled that DWP share our vision and are committed to this long term investment. The relocation of just over 3,000 DWP employees will bring considerably more footfall into the area, providing a massive boost to local businesses, retailers, restaurants, cafes and leisure facilities. It also brings new, high quality job opportunities for local residents.
"The Civil Service has been looking to combine and streamline its UK administrative functions into more modern, efficient, sustainable and fit-for-purpose Hubs, in line with the principles of their own 2020 Vision. Talbot Gateway, Blackpool's Central Business District, offers an ideal location. It's highly accessible, well located and supported by excellent transport links. The sustainable location and the long list of environmental credentials and innovative design associated with this building, will also have a positive contribution to our climate emergency agenda and promote employee wellbeing."
Driving Opportunities to the Heart of the Town
Mike Horner is development director at Muse. He said: "We're looking forward to welcoming the DWP to Talbot Gateway with our latest sustainable building becoming its new home. This is a resounding endorsement of our collective commitment to bringing forward developments that offer tangible environmental and social outputs to benefit local communities. We've got some real forward momentum here at Talbot Gateway. We're working hard to build back better and further drive inward investment and opportunities right into the heart of the town.
"We're focused with partners, as we repurpose and re-energise the town centre, by delivering developments that blend the town's rich history with its aspirations for the future. We're delighted to be playing an important role with the Council in delivering the vision for building a better, more attractive and resilient Blackpool for the future."
Outline approval for the development was granted by Blackpool Council back in March 2021.
Transforming Phase 3 of Talbot Gateway
Published March 2021
Along with the £100m Office Block at Phase 3 of Talbot Gateway, there's also new life for the Hop Inn. It's one of Blackpool's oldest pubs.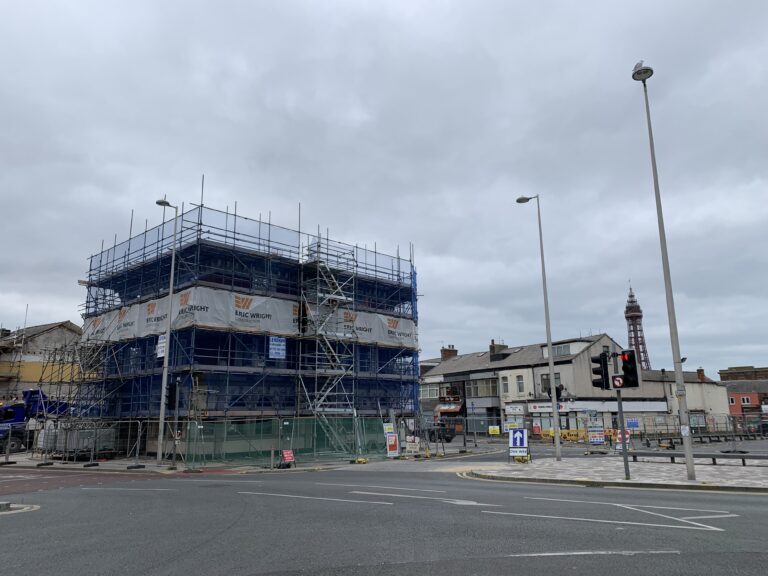 Blackpool Council agreed the 50 document outline planning application at their meeting on 16 March 2021. This will see demolition of buildings at the 1.5 acre site close to Bickerstaffe House.
In May 2021 the council's executive unanimously agreed a set of recommendations. Including funding of almost £100m for the ambitious scheme to redevelop an area of King Street. This includes £55m for the shell of the building plus the cost of fitting it out. And land acquisitions to enable development to proceed. It also includes the cost of relocating a dental surgery to the former Hop Inn. This will be remodelled while retaining its historic frontage.
Demolition includes properties at 5-31 King Street, some fronting Cookson Street, and partial demolition of the Hop Inn. The area is marked in pink on the plan below, and shown with the red dot on the Google map. Reform Gym and Scrooges site is currently being cleared at the moment in preparation for further development in the area.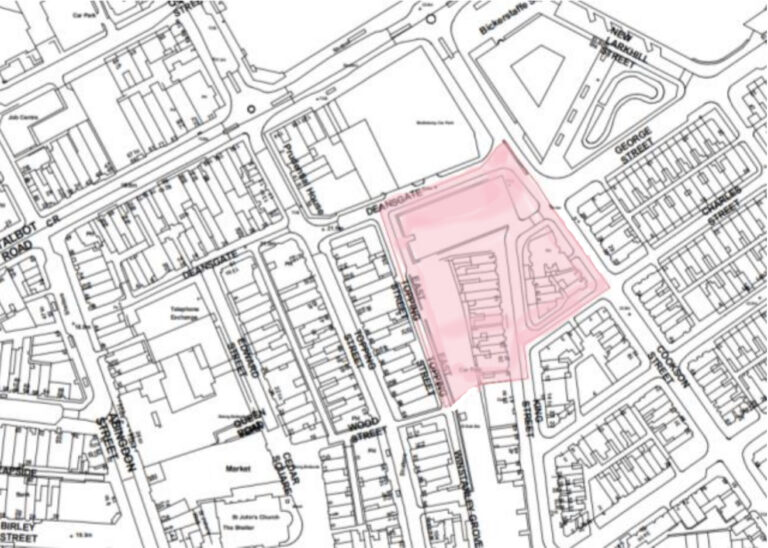 The new-build dental surgery will include the facade of the Hop Inn. A new, seven storey office block and improved public realm will fill the rest of the site.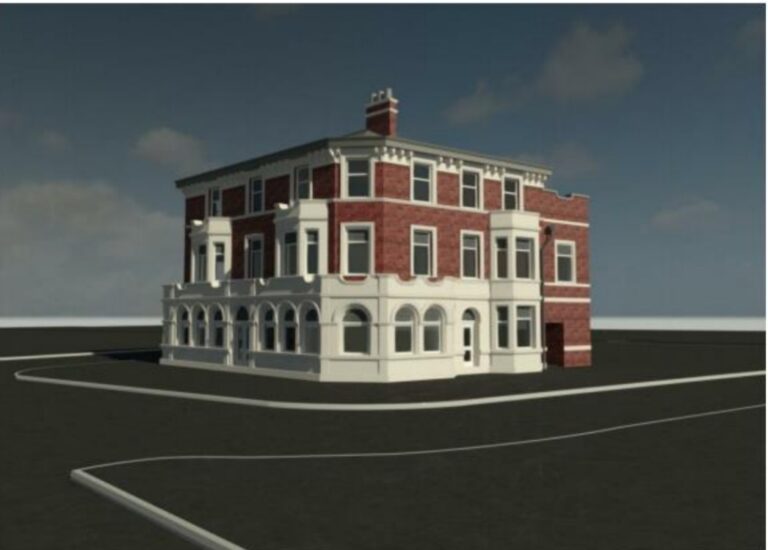 More about Phase 3 Talbot Gateway Plans
This is a run-down, two and a half acre site between Cookson Street and East Topping Street. Its regeneration will make a huge difference to the whole town centre area. This is what it might look like seen from Church Street (Clue: the grey box above the buildings!)

Blackpool Council already owns 90% of the land to enable the development to go ahead. Compulsory Purchase Orders are underway for other properties at King Street.
We took a walk around the site before anything happened, in early 2021 –
Enjoyed this video? Why don't you subscribe to our Visit Fylde Coast YouTube channel – make sure you don't miss out!
New tenants
With an expected build cost of £50m, the seven story office block provides 24,500 sqm of office space. Its main entrance will be on the corner of Cookson Street and Deansgate. Muse Developments posted the invitation to tender for the building works, including clearing the site, on 'The Chest'. The Chest is a procurement hub, used by north west organisations.
An additional 500 sqm will be occupied by the Health Centre. Work includes a surface car park and new public realm works.
History of The Hop Inn
It's known today as The Hop Inn. But this drinking establishment was first called the Veevers Hotel, dating back to 1872!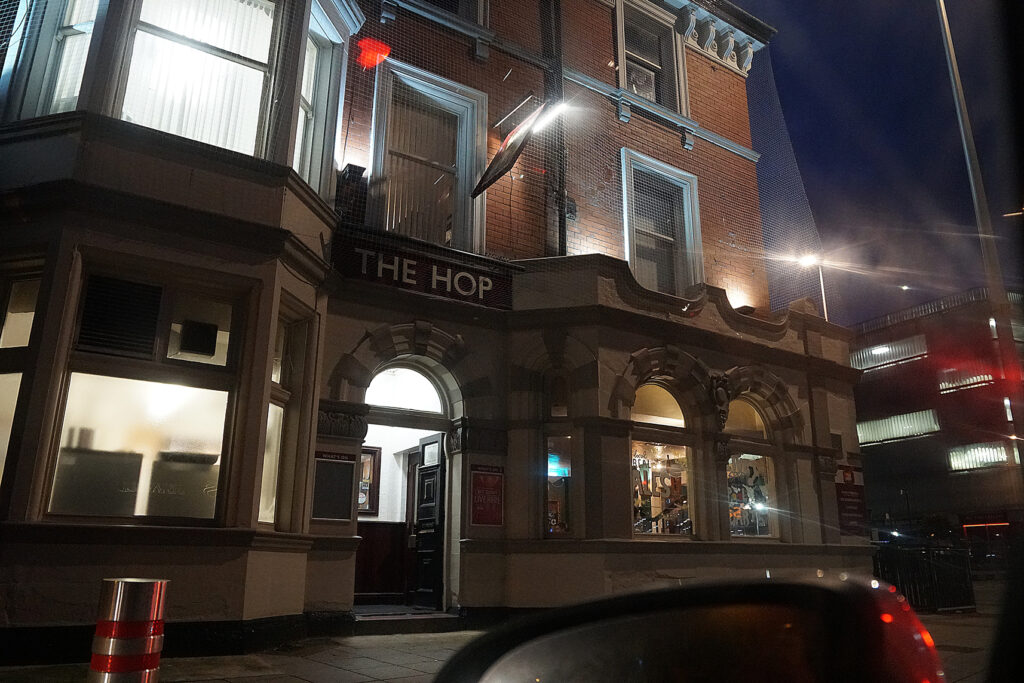 It was built as part of the rapid 1860's expansion of the town. The pub secured its first spirit license on 5 September 1872. And the name? It was after a Richard Veevers of Fulwood, Clerk of the Gorton Estate.
Like many public houses, over the years there have been different owners in charge. On 9 January 1900 it was sold to Threlfall Brewery. Much later, in the 1990's, it was renamed The Hop Inn by then owners Whitbread.
Closure finally came under another brand when Greene King shut the doors for the last time on 25 November 2017. But it was quickly snapped up by Blackpool Council. They bought it soon after closure, in December 2017, for expansion of the Talbot Gateway development.
Blackpool Council briefly made use of their asset while Talbot Gateway plans were being refined. It opened it as a trading pub, operated by Blackpool Entertainment Company. Then the Covid-19 pandemic happened and marked last orders at The Hop.
Watch this space…
As you can imagine we'll be keeping a close eye on the developments in this area of town.
While you're here…
Have a look at the homepage of the Live Blackpool website for more of the latest updates.
Love the Fylde Coast? Sign up for your weekly email newsletter. Packed full of interesting things it arrives in your inbox all 52 weeks of the year.
Join us on Facebook at our Visit Fylde Coast Facebook Group
Don't forget to follow us on Twitter @visitFyldeCoast