Do you work or live in Blackpool? Are you passionate about making a difference to people's lives? Do you think we experience issues of 'unfairness' in Blackpool that other areas might not?
Councillor Simon Blackburn opened the event with an inspirational speech about his hopes for the Commission. He said: "Everyone benefits from living in a more equal society. It's about looking at how we deliver services to make sure what money we have got makes a maximum positive impact.
"This is about getting the breadth and diversity of opinion. We want people from Norbreck and Anchorsholme as much as we want people from Brunswick and Claremont. This is about people becoming involved in the decision-making process"
The event also heard from Professor Richard Wilkinson, an internationally recognised expert in the affects of inequality on society and individuals. The Professor spoke about how income inequality, as well as many other forms of inequality, can affect the life chances and health of people within our society.
His main message to the Commission was that the smaller the gap between rich and poor the better off the society. His research has proven this in many different countries around the world. The same conclusions can also be made within smaller communities, within towns like Blackpool.
If you would like to find out more about the Fairness Commission take a look at the website www.blackpool.gov.uk/fairness where you will find up to date information on the progress of the Commission as well as some interesting facts and figures.
You can also take a look at the Fairness Commission's information leaflet, which outlines some key facts about Blackpool and gives an insight to some of the issues facing the town.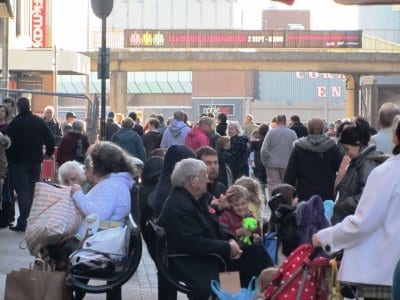 The people of Blackpool