There's a circular outbuild into the sea at North Shore just past Gynn Square near Bispham. It's marked by the Cabin Lift (above) down to the lower level… it was once Blackpool North Shore Boating Pool.
We went to take a look on a bit of a gloomy day in July 2020. Take a look around in this video –
Enjoyed this video? Why don't you subscribe to our Visit Fylde Coast YouTube channel – make sure you don't miss out!
The Cabin Lift at Blackpool North Shore Boating Pool
Whether you walk past on foot or drive along the promenade you can't fail to notice the Cabin Lift.
It's a stand-out building, teetering for nigh on a century against the edge of the shore, opposite Uncle Tom's Cabin. It once ferried holiday makers up and down to save them the steep climb from the upper to lower promenade.
Built in 1930, the Cabin Lift became a Grade 2 Listed Building on 8 March 2010. Externally it looks much the same as it did in its heyday, albeit with a few modifications.
It's accessed from the upper promenade by a little bridge. There was once a front portion to the building which housed a waiting room. It was demolished some time ago.
There were once public toilets built into the artificial cliffs below the lift. Refitted in the 1970's, they're now out of use.
Blackpool North Shore Boating Pool
Below the Cliff top walk there's a huge curved outbuild. It's high concrete wall stretches out into the sea. It was originally the Boating Pool.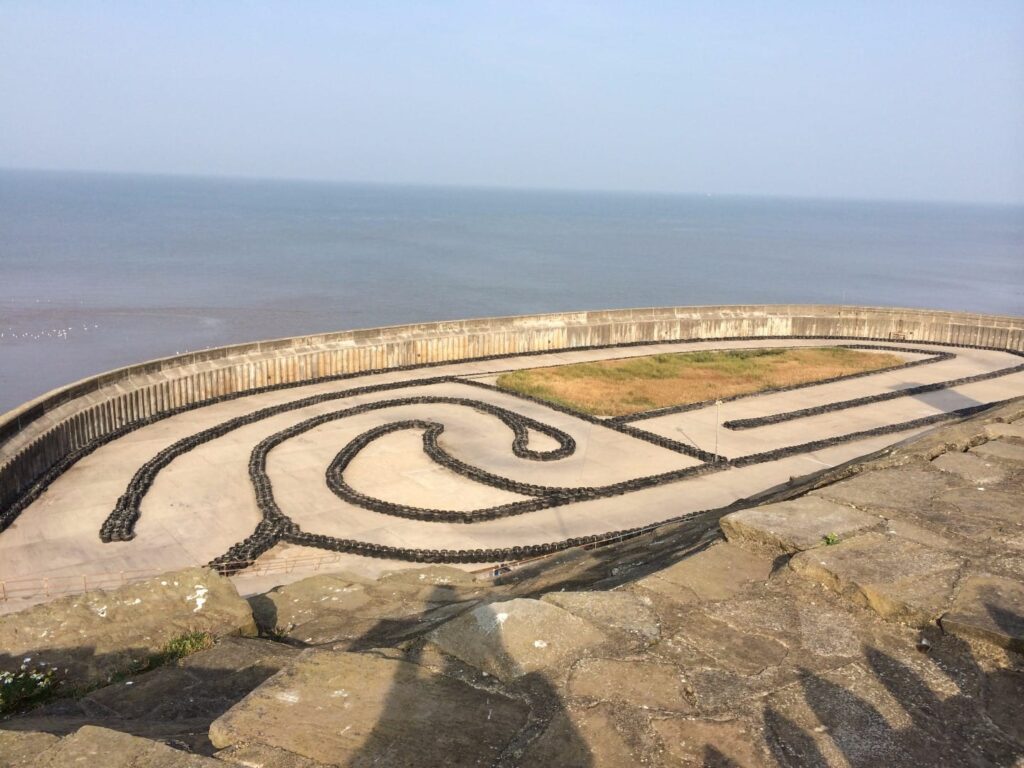 After the Boating Pool closed it lay redundant for some years. It then became a storage area for spoil and rubble during the sea defence works.
In 2003 Blackpool Council put out a plea for a private business to take the land and find a good use for it.
It's now a karting track, fitted out with circuits defined by old car tyres.
Rough Weather At Blackpool North Shore Boating Pool
On a calm, sunny day, Blackpool North Shore is a beautiful spot. The height of the promenade makes for amazing views.
However, in bad weather on stormy days it can be horrendous. It is such an exposed spot, and feels the full force of the Irish Sea with nothing to protect it. There isn't even a beach to absorb any of the energy of the waves. Each wave bashes at full speed against the concrete sea wall, creating overtopping and spray.
The next photo is North Shore Boating Pool, full to the brim with sea water! The calmer water in the centre of shot is the inside of the sea wall. The blue objects are shipping containers, floating around. This can happen at any time of year with the right combination of tide height, wind strength and direction. Not just in winter!
We went for a walk along the lower promenade one day in June 2020, at high tide. Glorious on a sunny and blowy day – but oh – in winter!
Enjoyed this video? Why don't you subscribe to our Visit Fylde Coast YouTube channel – make sure you don't miss out!
History of the Boating Pool & Cabin Lift
The next few photos are from the Bispham Past Facebook group, posted by David Wall.
In the mid 1920's, Blackpool Council built the boating pool, at the same time as the sea defences as far as the Gynn. The rockery wall we see today is artificial – built to stabilise the very steep, eroding cliff.
Then in 1930 the Cabin Lift was built, giving passengers a choice of three levels. Designed by J C Robinson, it's now a grade two listed building.
The interior of the lift, including the lift mechanism, was renovated in the late 1990's. Then the council reopened it and employed lift operators for two seasons. But even with a small charge for passengers it couldn't earn its keep.
David Wall tells us – "To my knowledge the pool itself has had three different shapes and sizes the first one being the largest."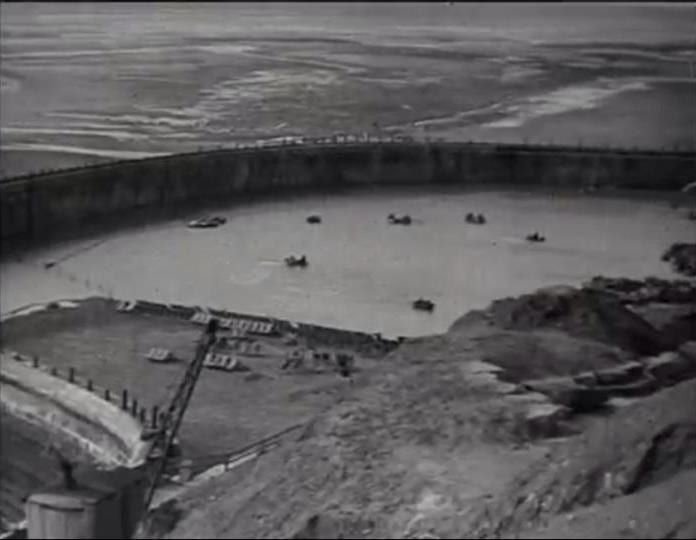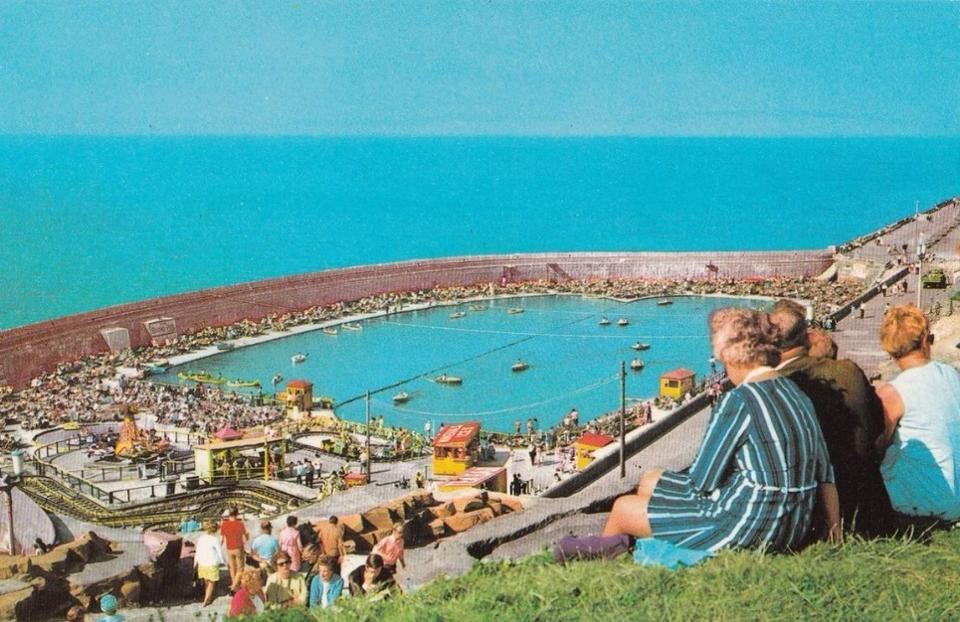 A number of operators tried to make a success of it since it's decline in the 1970's. However plummeting visitor numbers doomed each initiative to failure.
In the mid nineties, the whole of the boating pool was reconstructed and strengthened, along with sea defences from Bispham to the Gynn.
Anything to add?
Can you add anything to the history of the boating pool and cabin lift? Please get in touch, just email jane@theRabbitPatch.co.uk
Your Memories of Blackpool North Shore Boating Pool
One reader remembers there being a lift attendant at Blackpool North Shore Boating Pool, to see you safely up and down. There was a small charge to use the leg-saving lift. As you went up and down in the lift you passed painted faces installed in cut-outs in the sides of the lift!
This fantastic photo (below) of the Boating Pool at Blackpool in 1946 is from the Britain from Above website.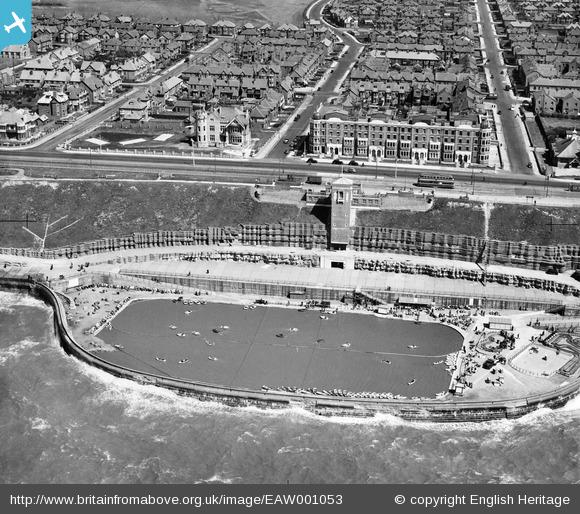 Memories from the 1960's
Peter Holt sent us his memories and a collection of photos of this area and the boating pool, which date from the mid 1960's.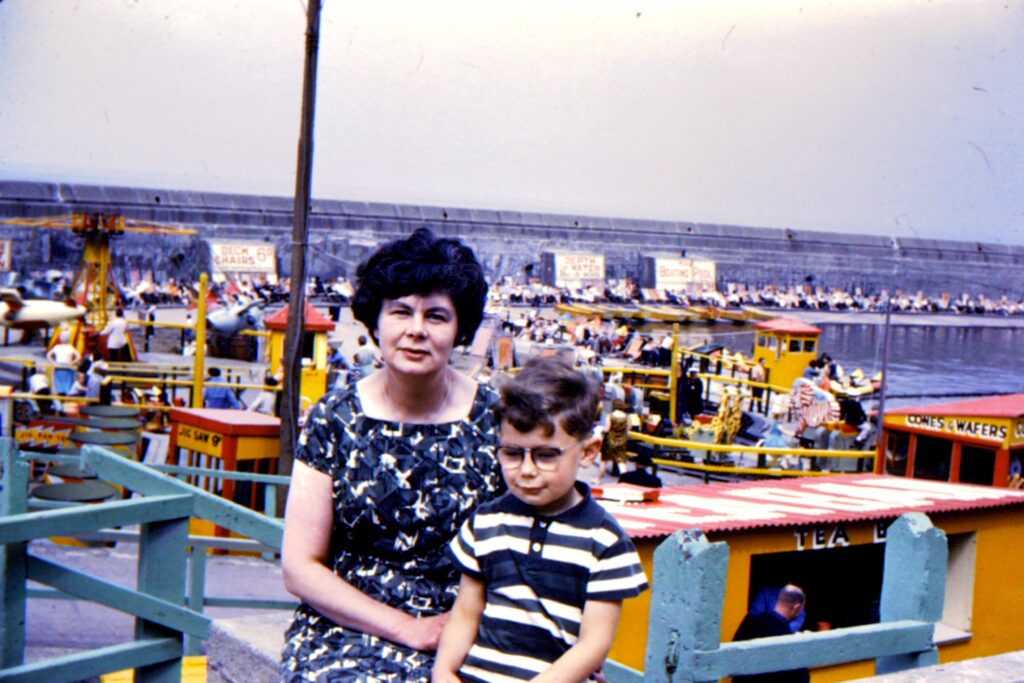 He says "Saw your interesting articles and pictures of Blackpool boating lake and it brought back many happy memories of when I was a kid. We used to go to Blackpool every year on holiday from Bradford. It seemed a magical place to a young boy as it had the colour, glamour, and excitement that weren't as evident in Bradford.
"We always used to stay at Gynn Square, 339 Dickson Road where there was a hotel run by two sisters called Jean and Margaret. We always had the top floor corner room, overlooking the square. I think we wore out the tarmac between Gynn Square and Bispham where we had the treat of a coffee at Elizabeth's Café – a real treat.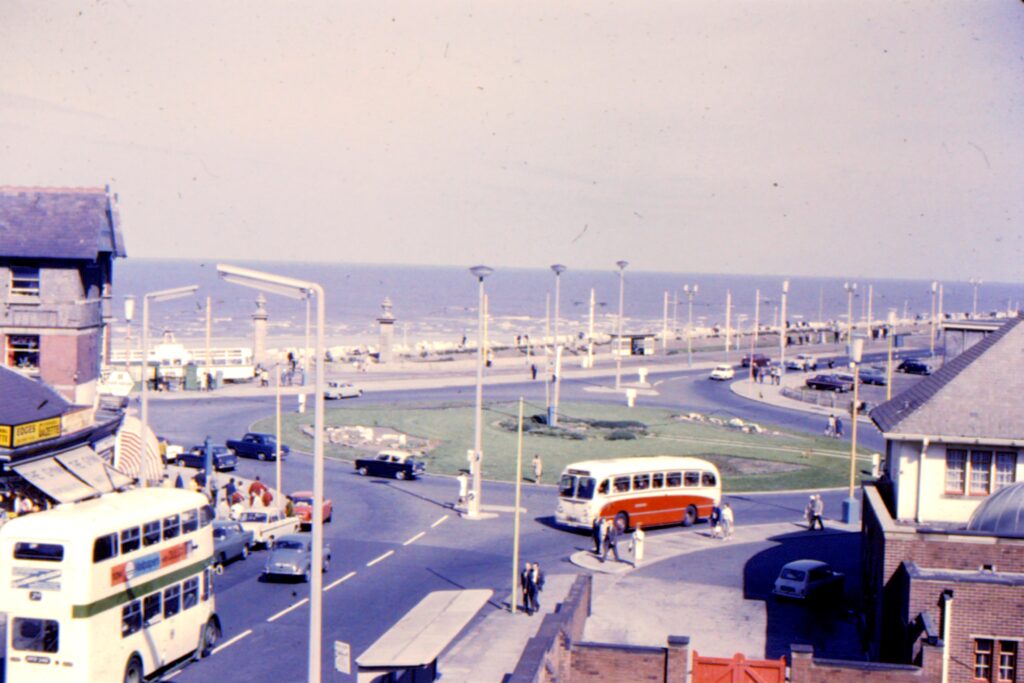 "The boating pool was a very glamorous place and I will never forget the smell of the petrol mixture from the boats and the sound of them chugging, chucking out goodness knows what into the atmosphere.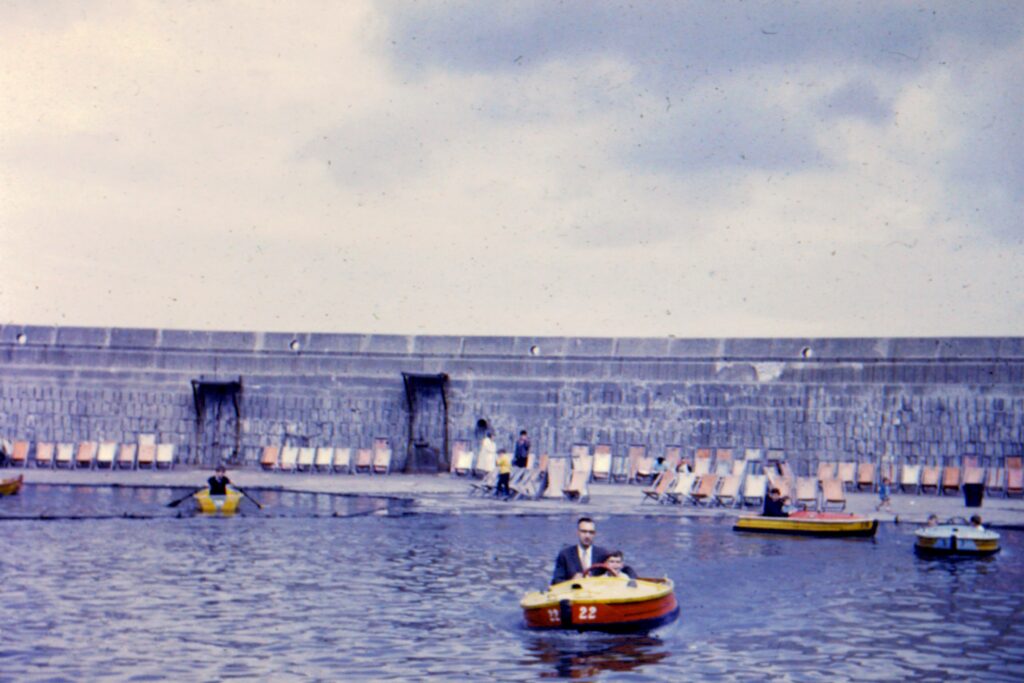 There was the sound of clanking bells from the little train, music from stalls, and the happy sounds of people enjoying their holidays going from one attraction to another. You could easily spend a good hour there just soaking up the atmosphere.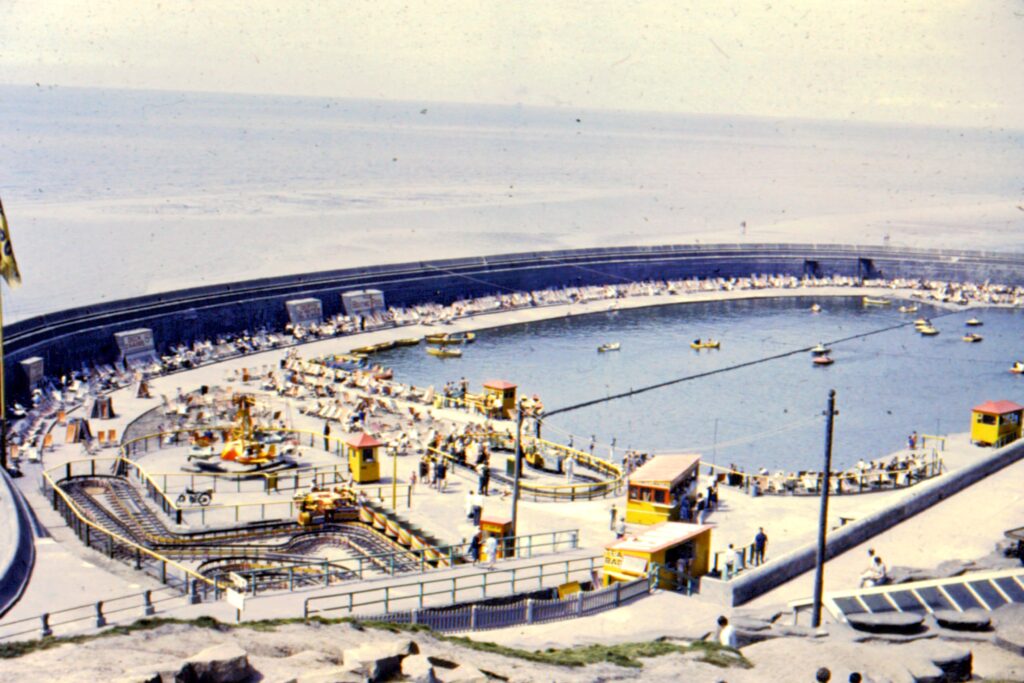 My dad was an avid photographer but only a few slides survive."
Blackpool North Shore Boating Pool in the early 70's
David Coulson got in touch to share this photo and his memories of the boating pool in the early 1970's.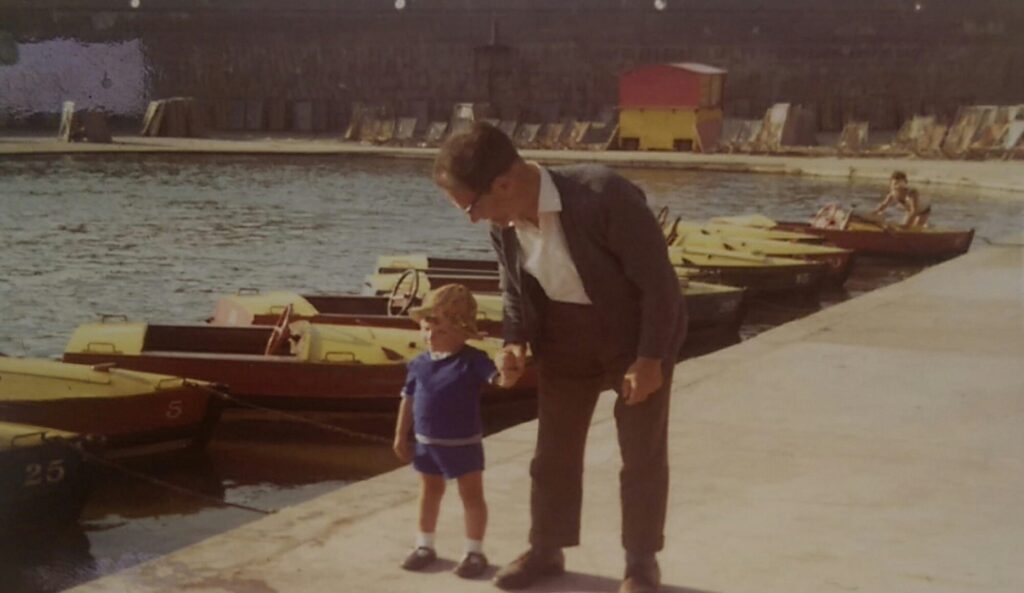 David told us: "This photo is from pre-digital camera days. It's my Dad Thomas and I, the photo taken by my mam, Greta. We're originally from the North East (Darlington) but I now live in Darwen, Lancs.
"My Mam is no longer with us and my Dad is now elderly, but it would mean a lot if you could post it. I'm sure it will bring back so many fond memories to a lot of folks.
"I still travel back practically every week, along the same A66 that we used to travel in my Dad's beloved old 3-wheeler van.
"PS Thanks for the link to subscribe and once again, a fab site, brings back such happy childhood memories."
Fairies in the Lift
Sharon Gabriel enjoyed reading this post and emailed some memories to add of her own. Sharon says "I remember the boating pool well, I went there on weekends and most days after school, my mum worked there selling ice cream for years. I remember the lifts, there was a window in them with fairies. For ages I thought they were real.
"Uncle Tom's cabin was another place, buying cockles along the promenade. I spent my childhood there, born in Bispham, where I went to school. The house where I was born 62 years ago at Salmesbury Avenue was on booking.com. I did a virtual tour – it's been renovated – I ended up in tears.
"So many happy memories. My Aunty used to clean for Jimmy Clitheroe and we lived around the corner from Violet Carson (Ena Sharples). I still watch Coronation street, we live in New Zealand, so it makes me feel like I am still there.
"My mother Elsie is 95, unfortunately she is now in a nursing home. We have heaps of old black and white photos, my parents used to go dancing at the Winter Gardens. I think I must go back and visit."
Fun in the Sun
Anecdotes shared on the Live Blackpool Facebook page remember that the boating pool was a favourite spot for crabbing. Apparently it was full of the little nippers! A piece of string with a mussel on the end was perfect for catching them with.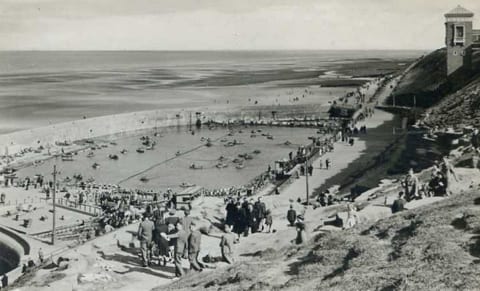 It's a spot which brings back happy childhood memories for many of you, of fun days in the sunshine with an ice cream in the 60s and 70s. Small children's rides were introduced later, in the early 80s, including little aeroplanes and a twisty train.
Thanks to the readers of the Blackpool's Past and Bispham Past and Present Facebook groups for their memories and photographs.