It's the great British seaside town with something to offer to everyone! Fancy a couple of days away or a slightly longer break? Then have a look at places to stay in Blackpool.
A Bed for the Night to a Five Star Break
There's accommodation in this town for everyone, no matter how much you want to spend on your stay.
Bag yourself a cheap break in Blackpool with a bed for the night in one of the many independent boarding houses. Right at the other extreme of extravagance, there's a good selection of luxurious five star accommodation to choose from too.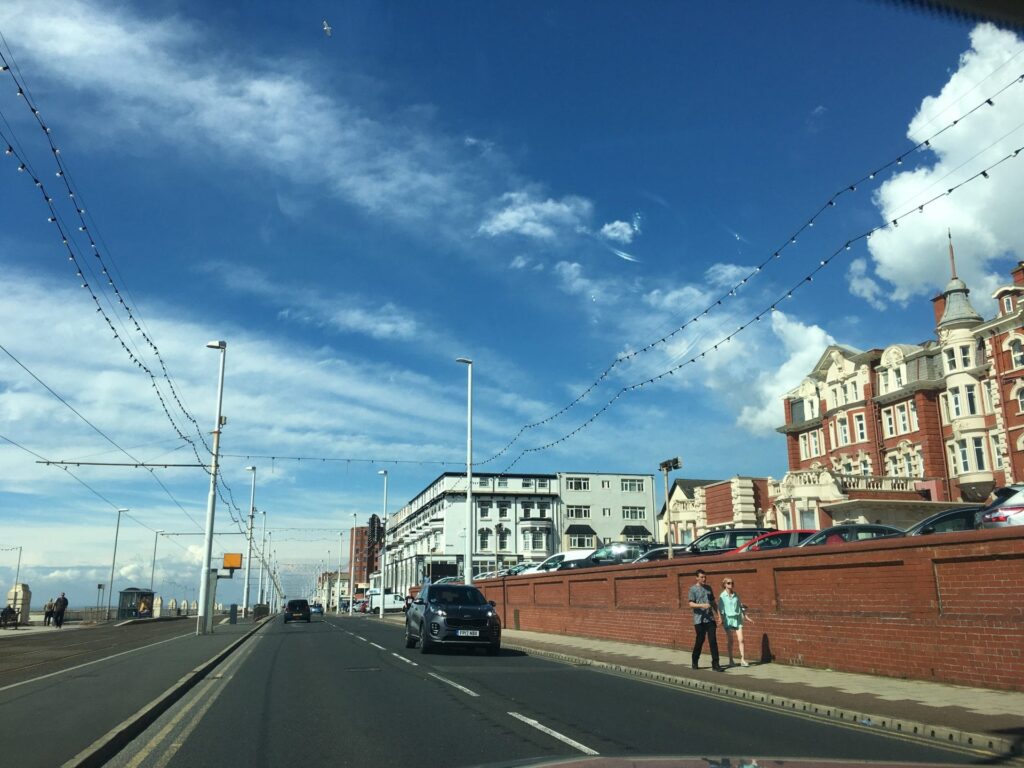 In the middle of the road, the majority of places to stay in Blackpool are clean, well looked after and well run and offer great value for money to guests.
We've got hotels operated by national, well known names. For a homely touch you might prefer a guest house or hotel run by a married couple.
Your Choice of Places to Stay in Blackpool
The next choice is whether you'd like to be looked after during your break, or whether you'd like to go under your own steam. Do you prefer hotel service or self catering?
There's every type of holiday accommodation in Blackpool that we can think of – and probably then some more!
Hotels and Guest Houses
Bed and Breakfast
Self Catering Apartments and Flats
Caravans and Camping
South, North or Central?
Decisions, decisions! Where would you like to stay? The town of Blackpool and it's amazing seafront actually covers quite a big area.
In the South the town boundary with neighbouring St Annes is at Squires Gate Lane, near the big tram shed. Holiday accommodation begins to appear not far from here and around the area of the Pleasure Beach.
Once a select holiday destination, New South Promenade is bouncing back from a period of decline. Some holiday properties are being converted to residential accommodation and brand new, high quality hotels are being built.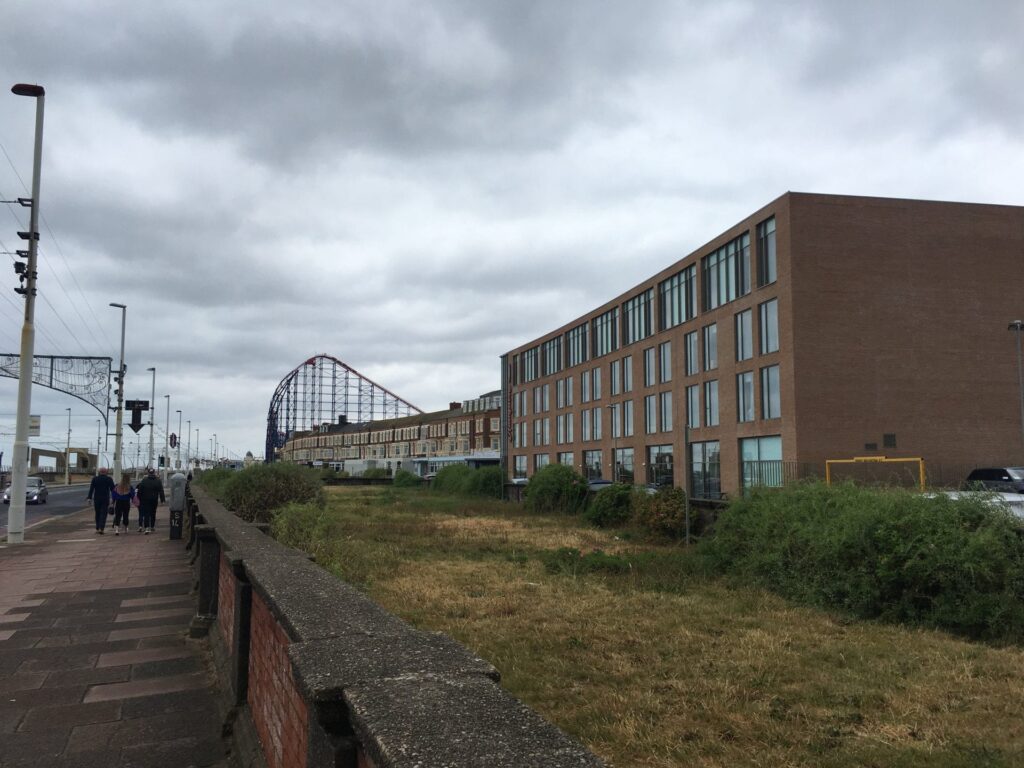 Heading north, most of the promenade is lined with holiday property of all kinds, sizes and prices.
Central
Once you get to Central Blackpool (from Central to North Pier, ish) all of the buildings along the promenade are seaside businesses. There's cafe's, attractions, amusements, shops and such like. If you're looking somewhere to stay in central Blackpool you'll be looking slightly inland.
Heading further North
Going further North, from North Pier to Bispham, the seafront buildings are mostly back to holiday accommodation. Again, there are all kinds of sizes, types and prices of places to stay here.
The Carlton Hotel for example, is on the seafront near to North Pier. It's also right next to a tram stop – how convenient is that!
Blackpool seafront extends right to Anchorsholme where it meets Cleveleys. The family run Briardene Hotel is just about on the boundary of the two towns.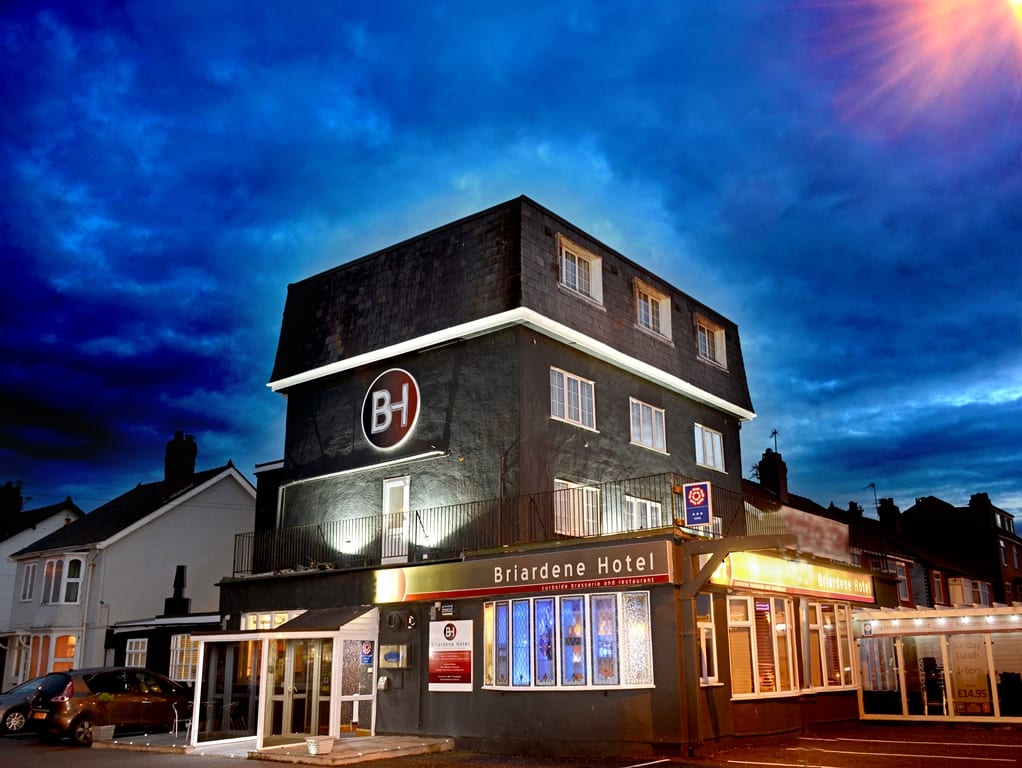 Stay in Blackpool and Enjoy the Fylde Coast
One of the great thing about picking places to stay in Blackpool is that it's a great base from which to explore.
If you drew a circle on a map with Blackpool in the centre there's quite a lot to enjoy without having to travel a very long way.
Right here on the Fylde Coast are the seaside towns of Lytham and St Annes, Fleetwood and Cleveleys and the nearby market town of Poulton. A little further afield there's Garstang, Knott End, Lancaster, Preston and so much more.
StayBlackpool
You'll find lots of choice for your next holiday with StayBlackpool. It's the independent accommodation association for the town. Take a look at their members when you're looking for your next holiday.
You can find other places to stay in Blackpool and the surrounding area with the pages in this section.
Add your Accommodation Business
This website is part of Visit Fylde Coast. It's a big, independently published online media brand, with a huge audience of readers. Get your accommodation business in front of those readers with a listing on all of the websites from just £95 per year. You can't afford not to!
Details about how to promote your Fylde Coast accommodation business here 
While you're here…
Have a look at the Live Blackpool website homepage for more of the latest updates.
Love the Fylde Coast? Sign up for your weekly email newsletter. Packed full of interesting things it arrives in your inbox all 52 weeks of the year.
Join us on Facebook at our Visit Fylde Coast Facebook Group
Don't forget to follow us on Twitter @visitFyldeCoast