Birley Street is at the heart of Blackpool Town Centre. The short pedestrianised area is home to bars, outdoor seating and those big arches!
Birley Street in Blackpool Town Centre
The Mayor of Blackpool opened the newly pedestrianised Birley Street on 1 May 1996. It's another one of the old streets of Blackpool, dating as far back as 1828.
Take a look around –
Enjoyed this video? Why don't you subscribe to our Visit Fylde Coast YouTube channel – make sure you don't miss out!
Where is it?
Birley Street is between West Street and Abingdon Street – almost across from Abingdon Street Market entrance. See the red pin on the map below. Click on the map to explore –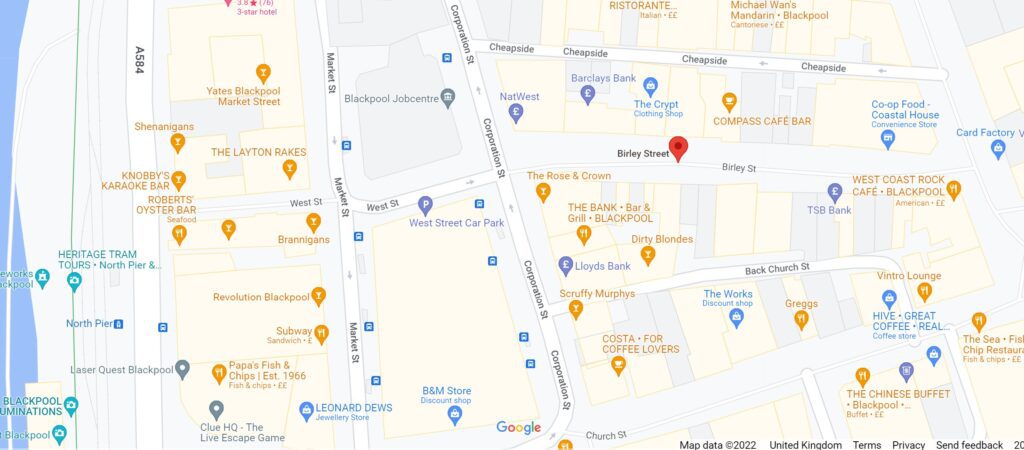 What's at Birley Street?
At the crossroads of West, Corporation and Birley Streets is the Rose and Crown Inn, opened back in 1845 as the Crown Inn.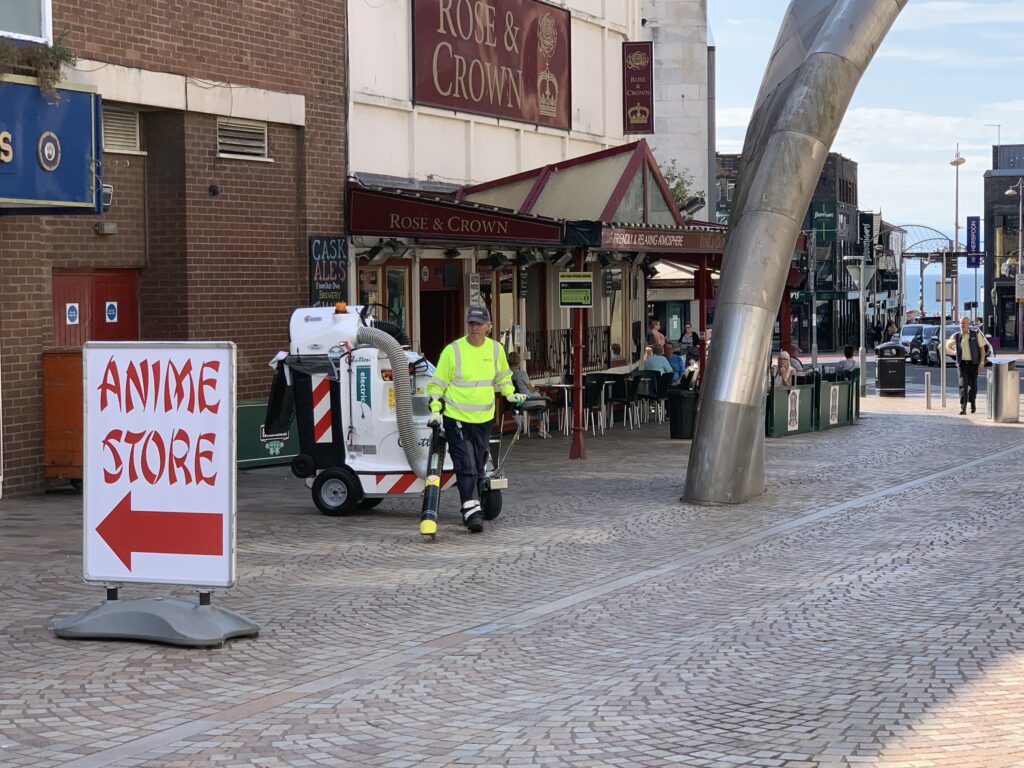 Along Birley Street you'll find a selection of different cafes and bars, all with outdoor seating underneath the arches.
Have you seen the Conch Shells? Artist Philip Bews was commissioned to produce the sculptural seats in 1997. They're one of many pieces of public art in and around Blackpool.
Brilliance Arches
It's not an alien landing from some far away Galaxy! The huge steel arches at Birley Street are the Brilliance installation – to create a sound and light show!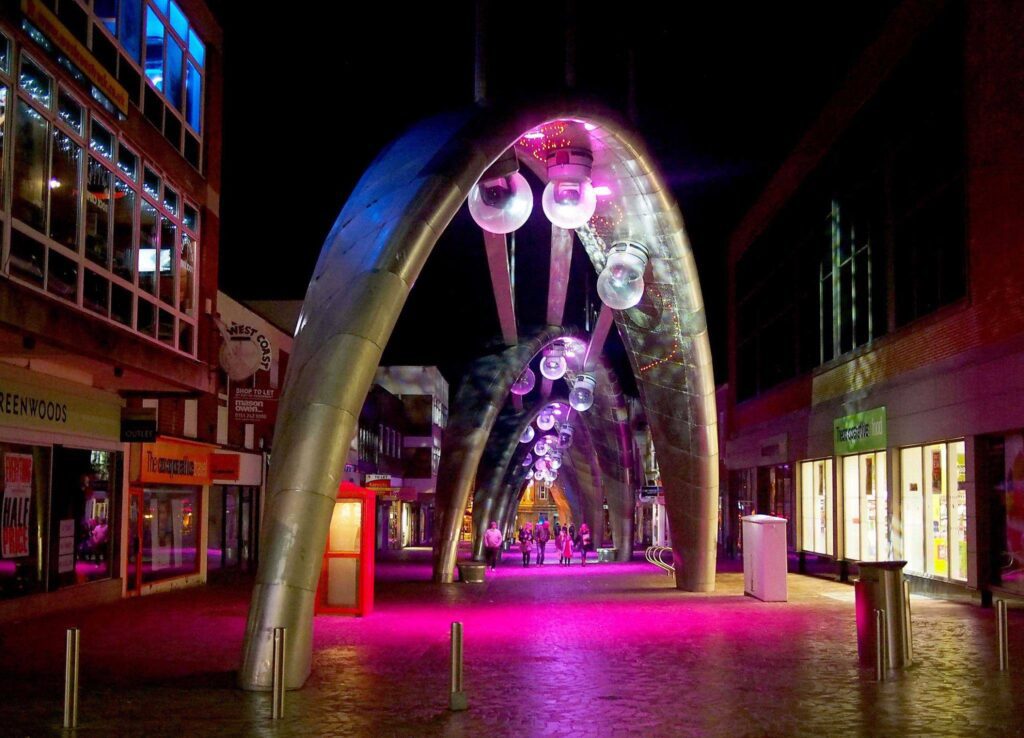 Brilliance was officially switch on on 13 December 2009. The six illuminated arches, project images and play music at night. In the daytime they're an interesting feature to the outdoor eating area.
Birley Street Back in the Day
Did you know? Most of the land that's now Birley Street and Church Street was a large orchard?
But the orchards of 1825 soon changed, when a grass path was laid out in 1828, from the promenade to St John's Church. Covered in gravel it became Birley Street – named after Thomas Birley of Kirkham.
He was one of the trustees of the William Gaulter Charity – which became Lytham Schools Charities in 1773. In 1754, the charity bought land in and around the hamlet of Blackpool for £500.
The Rose and Crown has seen some changes over the years. Originally the Crown Inn, it's had various names and uses over the years. And it was much later, in 1988, when it was lengthened to Rose and Crown. . At one time there was even a private cinema upstairs, with seating for 100.
Keep your eyes open when you walk through these old streets of Blackpool. Look up and around to see lots of decorative features. Like this 1897 ornamental date plaque above one of the buildings –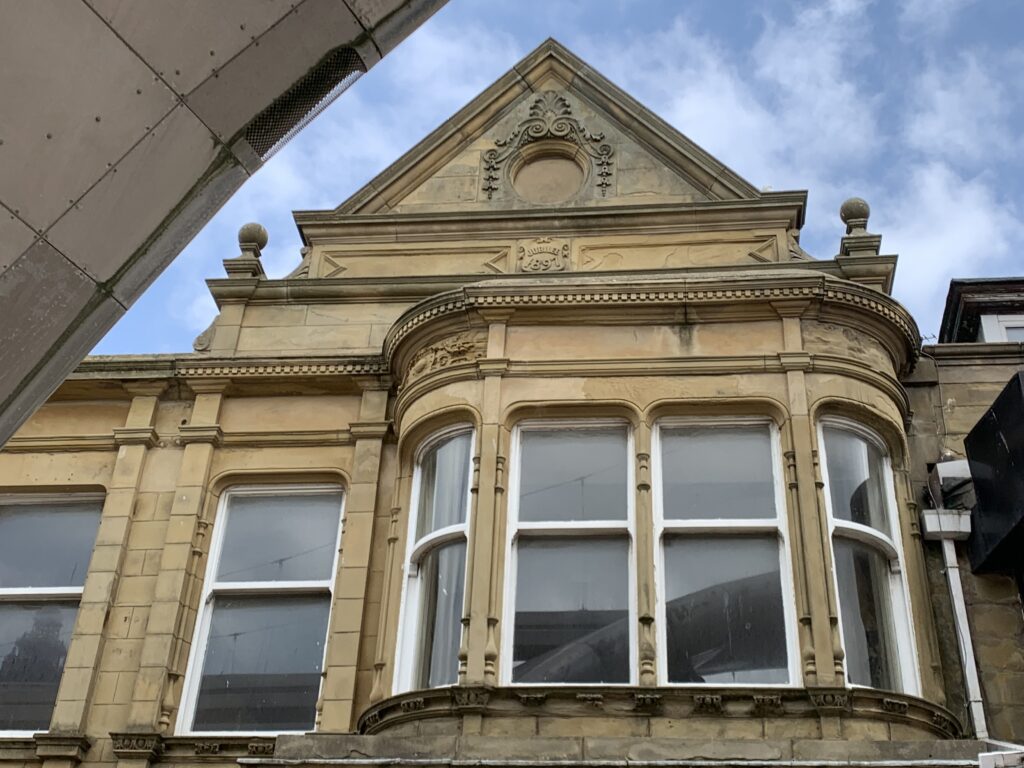 Other streets to explore…
There's all kinds of interesting things to explore in Blackpool town centre. Visit shops, businesses, attractions, cafes and pubs of today. Keep an eye out for traces of the past as you walk around…
And there's much, much more to explore! MANY THANKS to Nick Moore and his fascinating History of Blackpool for some of the historical information used in this page.
While you're here…
What do you think? Why don't you join in and leave a comment below?
Have a look at the homepage of the Live Blackpool website for more of the latest updates.
Love the Fylde Coast? Sign up for your weekly email newsletter. Packed full of interesting things it arrives in your inbox all 52 weeks of the year.
Join us on Facebook at our Visit Fylde Coast Facebook Group
Don't forget to follow us on Twitter @visitFyldeCoast