Blackpool town centre improvements continue, with the current planned works to transform Blackpool on schedule.
Good progress is being made to deliver better public transport, modern streets, new hotels and the conference centre. Together they'll make Blackpool a better, more attractive place to live, work and visit.
The next phase of roadworks to enable these works to be carried out has been announced.
£100m regeneration of Blackpool Town Centre
The traditional retail offer of UK high streets is under serious threat. So Blackpool Council is committed to focusing large-scale investment in a series of major schemes that will breathe new life into the town centre over the next three years.
These projects include:
A £26m investment in a new, state-of-the-art conference centre next to the Winter Gardens. It will open for business in August 2019 attracting visitors throughout the year
Support for the extension of the Houndshill Shopping Centre. There'll be an extended shopping centre, more places to eat and drink and a new nine screen cinema with an IMAX-style screen, making Blackpool the preferred place for shopping and entertainment. It's hoped construction will begin in the New Year to build the three storey extension to the shopping centre with a Wilko store on the ground floor and first floor. A new branded restaurant employing 30 people will also be part of the Tower Street development.
A new £23m tram extension from the Promenade to Blackpool North Station, creating a seamless link to the newly-electrified rail line. The extended tramway will help more people get to where they need to be by providing a direct link to shops, hotels and attractions. As all of the work is being phased, only some areas of Talbot Road and its junctions will be closed at one time. The roadworks phase of the project will be complete by the end of February 2019.
Work is taking place on High Street to create a safe and more modern footway into the train station that will be accessible to all.
A new 144-bedroom, 4-star Holiday Inn and restaurant that will be sited at the North Station transport interchange on the site of the old wilko building
A £7m Quality Corridors programme that will see the refurbishment of King Street, Deansgate, Edward Street, Topping Street, Cookson Street and Dickson Road
The relocation of several hundred private sector office workers into the Council's headquarters at Bickerstaffe Square
Support for the development of Blackpool's first five-star hotel at Sands Venue on Central Promenade. The £20m investment in the new Sands Venue Resort Hotel will see Blackpool's first ever five-star full service hotel opening circa Christmas 2019 and employing more than 100 people.
Development of a museum celebrating Blackpool's unique place in popular culture and creating another year-round visitor attraction in the heart of the resort
In addition, other development work in the town includes:
The construction of a new Premier Inn. Builders are currently on site and expected to complete their works by early 2020.
Plans to increase the level of quality office floor space and associated jobs in the town centre.
Cllr Simon Blackburn, Leader of Blackpool Council said: "The face of retailing is changing more extensively and rapidly than anyone can have expected, resulting in increased levels of high street retail vacancy in town and city centres right across the county.
"We are acutely aware of how these challenges are playing out in Blackpool, where the context of our retailing environment is already somewhat volatile because of the seasonal nature of footfall through the town centre.
"We are also conscious that a number of well-documented, reputable reports have shown that those town centres that are most dependent on retail premises have suffered most badly. Also, those with less retail, more offices and other forms of leisure activities have fared the best.
"All of these investments and proposals address that issue and will bring new footfall, spend and life into our town centre. Put together, they will deliver transformational change."
Progress on the £100m regeneration of Blackpool Town Centre
The first of the projects, the new Winter Gardens Conference Centre, is now taking shape, with phases 1 and 2 of the structural steelwork in place. At the end of August, the Winter Gardens switched over to new electricity and gas supplies, increasing capacity and future-proofing the venue. There are currently 30 live enquiries for new conferences and events in the new facility, with five bookings already confirmed.
The tramway project will see all road closures completed before the end of February 2019 and the new station will then be built once the existing wilko store is demolished. The first passengers will be able to ride up to Talbot Gateway before the end of 2020. The new Holiday Inn and restaurant will also be built once wilko is demolished, opening pre- Christmas 2021 and employing more than 100 people.
Over the next few weeks, the final touches will be put on a complex set of agreements that will result in the relocation of wilko, the completion of the tramway extension and the development of the new Imax cinema and branded restaurant, the Blackpool museum and two new four and five-star hotels.
The sign-off of the various agreements in October will catalyse a sequence of projects that will see the new wilko store being completed  on Tower Street in late autumn 2019 and opening shortly afterwards, safeguarding 60 jobs and securing the future of a major retailer. That will be followed by the completion of the IMAX-style cinema in autumn of the following year, creating 20 new jobs.
Road Closures in Blackpool Town Centre
Blackpool Council is making a better town centre in Blackpool, creating a more attractive place to live, work and visit.
Between June 2019 and March 2020 Blackpool Council will be carrying out improvement works in the following areas:
Topping Street
Wood Street
Deansgate
Edward Street
Leopold Grove
This work will include:
Resurfacing footpaths and roads with better quality materials
New tree planting
New benches, bins and street furniture
Better paving at crossings, using MMa technology and sensors to help blind and partially sighted people
For more information on road closures and diversions as a result of the works see the road closures page.
Working Together on Blackpool Town Centre Improvements
Published 19 June 2018
A new way of working together to tackle policing and anti-social behaviour issues has been agreed by Blackpool Council and Lancashire Police. It will see frontline services of both organisations work even closely together to deal with a wide range of issues. Environmental crime, housing enforcement, street drinking and begging are to be tackled more effectively as part of Blackpool town centre improvements.
The council's community safety team, along with a range of other services, including public protection, security, civil enforcement, parks and cleansing services will become part of a wider, more inclusive, multi-disciplinary team working alongside and with the police, special constabulary and local policing teams.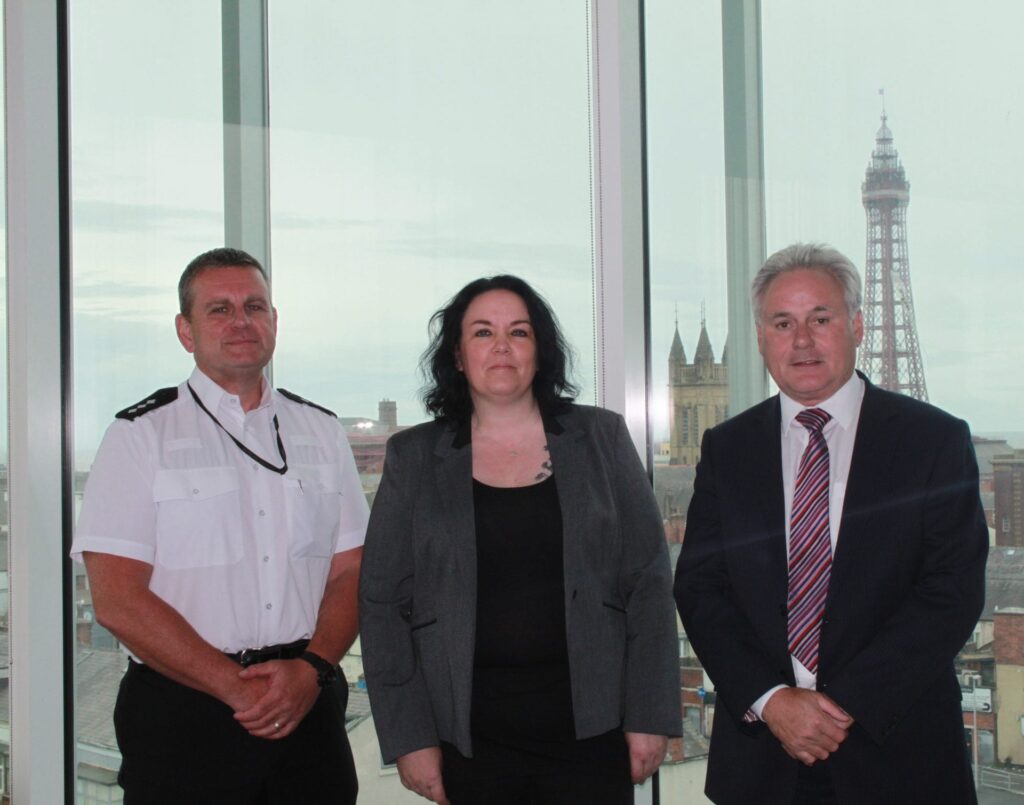 New working practices will include the council being integrated more fully into the Police Tactical Tasking Group, joint planning of activities and campaigns, as well as combined training for staff. There are also plans to co-locate key departments from both organisations in the Municipal Building to support the process.
An operational steering group will be established as part of the new working partnership initiative. This will consist of the Lancashire Police Chief Inspector, Blackpool Council's Director of Community and Environmental Services and its Head of Public Protection. A representative from Blackpool's BID (Business Improvement District) will also join the group.
£1m grant scheme for Blackpool Town Centre Improvements
In early 2018 Blackpool Council launched a £1 million scheme designed to improve the appearance of town centre properties.
The aim of the scheme is to help make the town centre more attractive to shoppers, residents and investors, part of a bigger programme of works to make Blackpool better.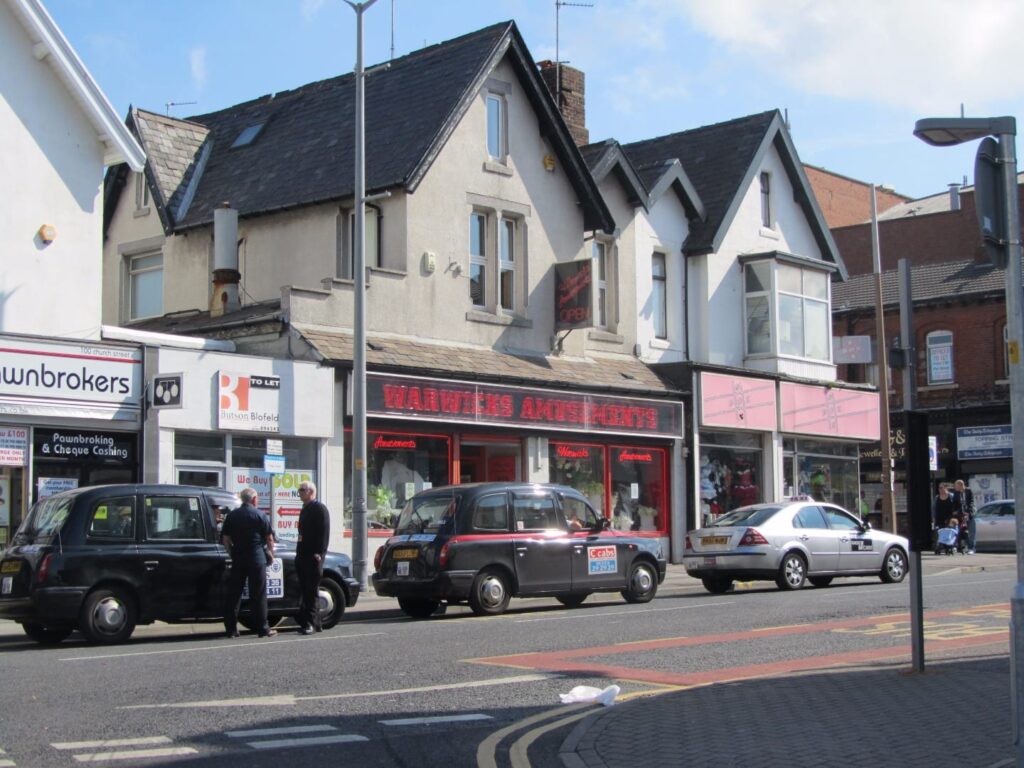 Grants are available for up to 95% of the total cost of the works, which may include structural work, brick work, stone work, roofing, guttering, rendering, doors etc.
The eligible streets are:
– Deansgate
– Edward Street
– Topping Street
– Talbot Road (between the Promenade and Dickson Road)
– Church Street (between Cookson Street and St John's Square, above)
Find out More
The scheme will run until March 2020. Up to £1 million in total is available. The work is funded by Blackpool Council and the Lancashire Enterprise Partnership (LEP). Businesses in the eligible areas can find out how to apply for funding by visiting www.blackpool.gov.uk/PIF.

Other Blackpool Town Centre Improvements
Read about the tramway extension on Talbot Road here
Blackpool's new Conference Centre
Blackpool Bridge repair programme
Electrification of Blackpool railway line
Redevelopment of the Old Post Office on Abingdon Street
Blackpool Town Centre Improvements – 'Quality Corridors'
Published January 2017
A £7m project to give key roads around Blackpool town centre a major facelift started in January 2017.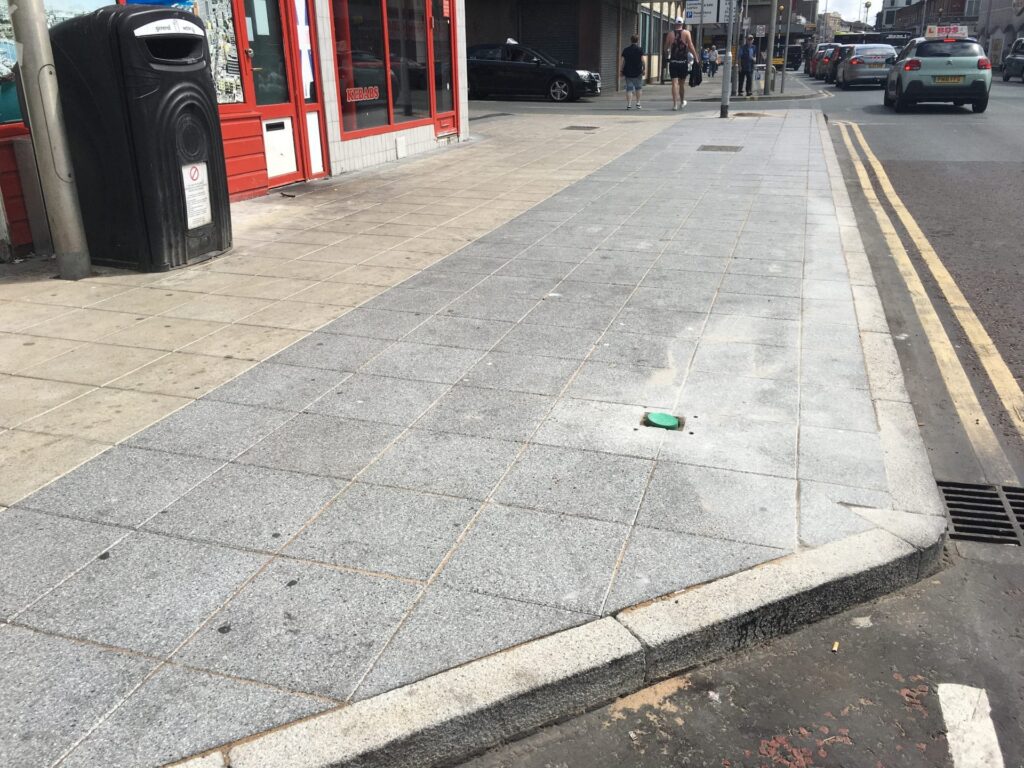 The 'town centre quality corridors' programme was funded by a £6.6m grant from the Lancashire Enterprise Partnership's Growth Deal and a £740,000 contribution by Blackpool Council. It has improved the look of entrance roads to the town centre.
The project is part of a wider plan to promote economic growth in the resort and secure Blackpool's position as one of the county's key economic hubs.
The quality corridors programme will work alongside other major improvements happening in the town. For example, the tram extension and next Central Business District construction phase. This will also upgrade important pedestrian links between bus, tram and rail services at Blackpool North railway station and town centre attractions.
Along with improvements to the roads and pavements, the quality corridors project will also work with local businesses to create a grant scheme to help improve the look of shop fronts on the entrance to the town centre.
Church Street Improvements
The first road to receive a facelift from the quality corridors project was Church Street.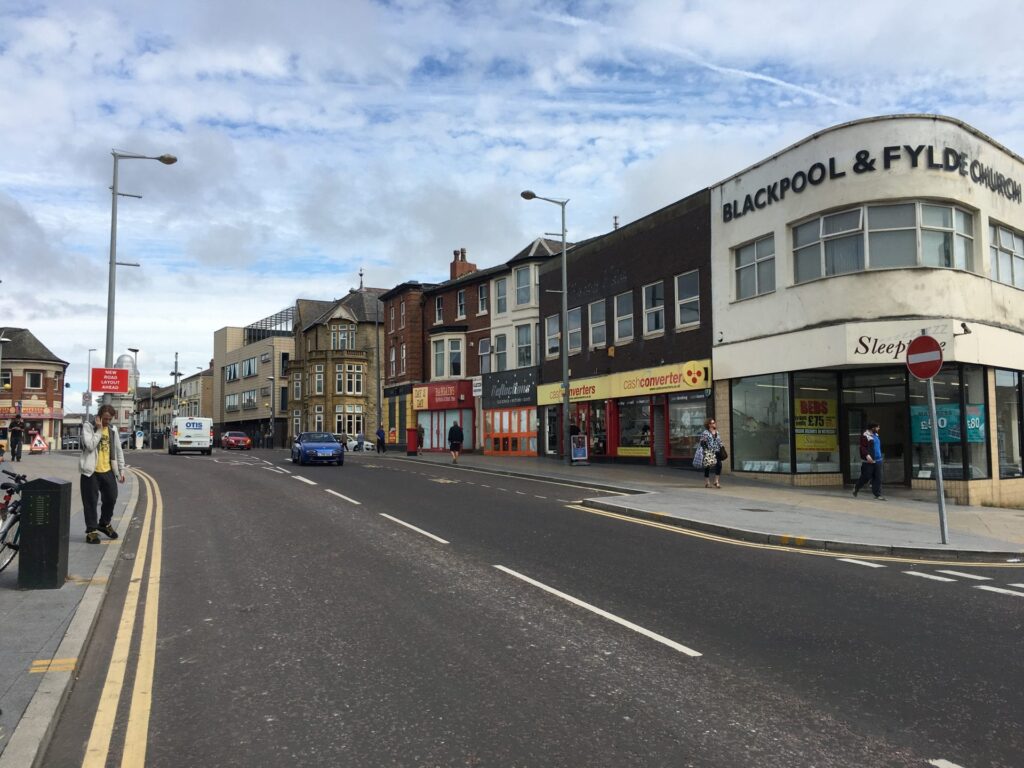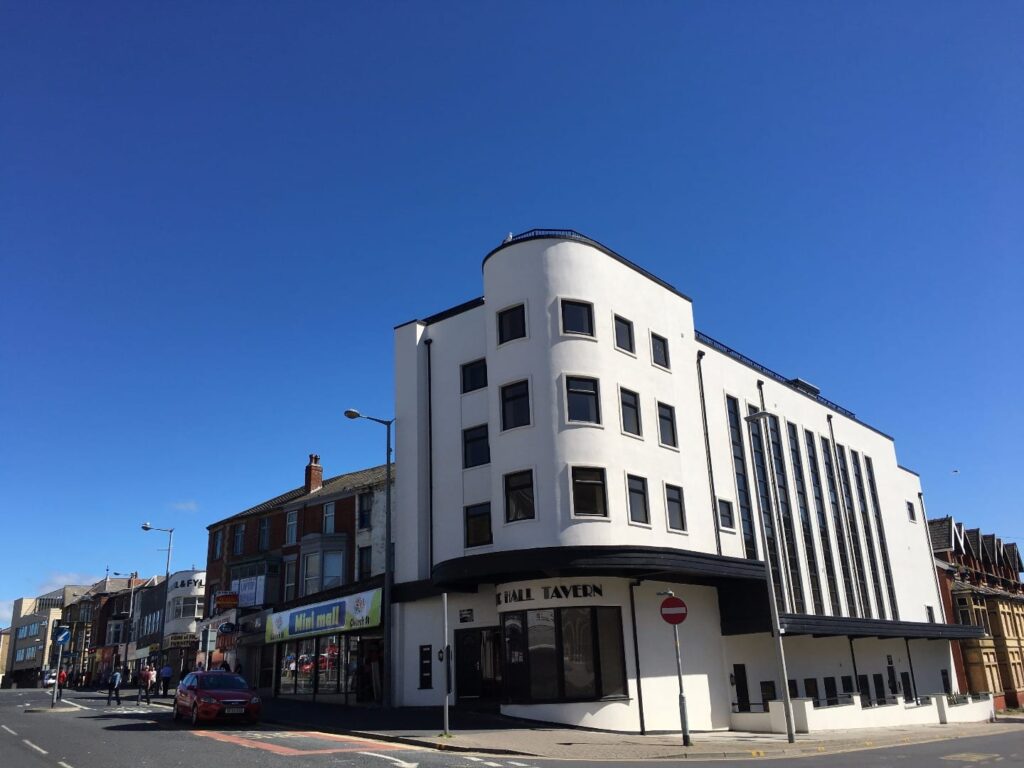 The 12 week project included:
– resurfacing the highway,
– improving the quality of the pavements on either side,
– reducing clutter on the road
– providing a designated taxi rank
– and better seating for pedestrians
Other roads included in the project are Cookson Street, Dickson Road, Deansgate, Edward Street, Topping Street and Talbot Road.
Find out More
Have a look at the Live Blackpool website homepage for more of the latest updates.
If you love the Fylde Coast you ought to sign up for our weekly email newsletter. It's packed full of interesting things and will arrive in your inbox all 52 weeks of the year.
Join us on Facebook at our Visit Fylde Coast Facebook Group
Don't forget to follow us on Twitter @visitFyldeCoast