Enjoy a spectacular programme of entertainment and celebrate the Queen's Platinum Jubilee in Blackpool! Why not make a short break of it and choose one of our trusted accommodation providers?
Celebrate the Queen's Platinum Jubilee in Blackpool!
It's a spectacular programme of entertainment to mark the start of the Queen's Platinum Jubilee celebrations!
Thursday 2 June, the first of two bank holidays at the start of the four-day holiday weekend
Including
a grand parade of heritage trams along the seafront,
a giant outdoor picnic and free entertainment on the Comedy Carpet,
a light and laser show,
and a burst of fireworks at the top of The Blackpool Tower.
Details for Platinum Jubilee Day in Blackpool
Mid afternoon celebrations
2.30pm – The parade and Heritage Tram convoy arrives at Tower Festival Headland, pausing for a unique photo opportunity. Around a dozen trams from the heritage fleet will travel from the Pleasure Beach to Little Bispham. It's one of the largest tram parades the resort has seen.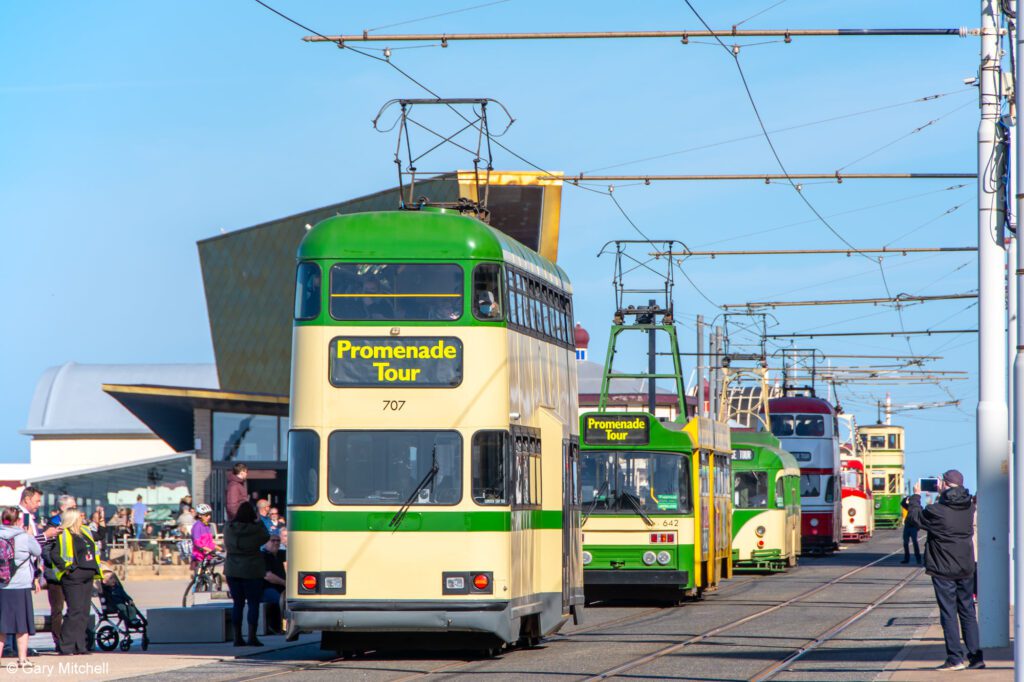 The historic trams officially "retired" when new European-style trams came into service back in 2012. But a number of them were retained and thanks to an army of volunteers could be brought back into regular use. They now form one of the finest heritage fleets in the world.
3-7pm – Relax at The Big Comedy Picnic, an al fresco eating-out area opposite The Blackpool Tower. Here, you'll be able to enjoy free live entertainment.
Evening entertainment
9-9.45pm – The day's not over yet! Enjoy further entertainment before the resort joins the Queen's Platinum Jubilee Beacons. Followed by a light show and a burst of fireworks on The Blackpool Tower.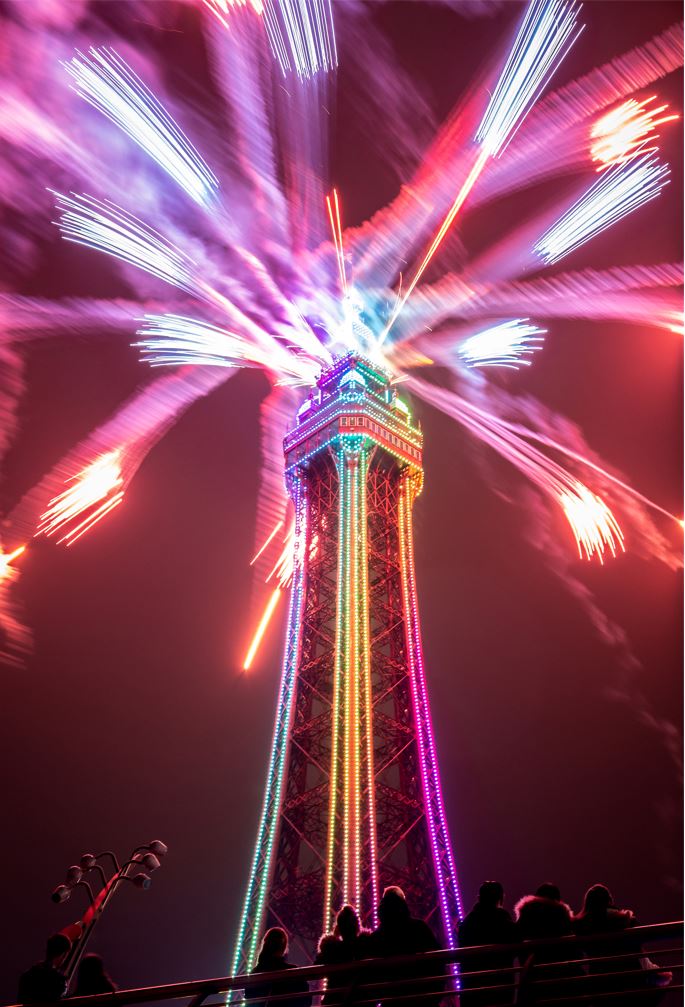 Blackpool is one of thousands of locations and landmarks across the UK where beacons will be lit. In true Blackpool style, it will be adding its own unique twist to the ceremony.
Beacon lighting has long been associated with celebrating major milestones, including Royal Jubilees, weddings and coronations. Way back in 1897, beacons were lit to celebrate Queen Victoria's Diamond Jubilee. Most recently, they were lit for the 75th anniversary of VE Day and again for Her Majesty's 90th birthday in 2016.
Entertainment for the Platinum Jubilee in Blackpool is staged in association with Blackpool Transport and the Tourism Business Improvement District (TBID).
Plan for a Great Jubilee!
The parade and beacon lighting ceremony form part of a brilliant programme of events across the resort to celebrate the special royal milestone.
See The Blackpool Tower shining in red, white and blue throughout the four days.
Enjoy Jubilee-themed events and live entertainment at Blackpool Pleasure Beach. Including late night riding, fireworks and a Jubilee Concert on Saturday 4 June.
A chance to take afternoon tea in one of Blackpool's magnificent heritage venues. Enjoy the magnificent Blackpool Tower Ballroom, the Imperial Hotel, the magnificent Mazzei Café in the Winter Gardens, and the Art Deco Café overlooking the Italian Gardens in the award-winning Stanley Park.
Make it a Short Break
Book your hotel accommodation for the Platinum Jubilee in Blackpool with the Visit Fylde Coast and StayBlackpool guide. Know that you'll have a great place to stay while you enjoy this event. Find trusted accommodation, right here on this page.
All properties listed by StayBlackpool on the Visit Fylde Coast websites are annually inspected. This means that you can book with confidence, safe in the knowledge of a great stay.
Bookings from these sites are also ultra-low or zero commission. This means that more of the money from your booking helps to support the local economy.
Browse our accommodation guide where you can also search and book
Alternatively email info@stayblackpool.com with your requirements and they will get back to you. But please mention you saw it here!
VisitBlackpool is the official tourism department of Blackpool Council
StayBlackpool is the independent association for Blackpool hotels and guest houses.
Visit Fylde Coast (where you are now!) is the independent online source of all things interesting and useful!
Blackpool is going green for the Queen!
Over 2000 trees have been planted in Blackpool this year, the Queen's Platinum Jubilee year, through various projects.
Over 80 large trees have been planted throughout Blackpool. These include Christmas trees, new street trees, trees in parks, memorial trees and community orchard trees.
A further 900 new young trees, called whips, have also been planted in Blackpool. They've been planted by students attending Blackpool schools. Including Highfield Leadership Academy, Montgomery and Park School. Mereside Academy, Langdale, Hawes Side Academy and St Kentigern's, to name but a few.
More trees were planted with schools as part of the Queen's Green Canopy through the Lancashire Lieutenancy. Blackpool school children got a chance to meet one of the Queen's representatives in Lancashire, hear about the Queen and then plant a tree in honour of the Queen's leadership.
This huge tree planting effort is supported by the work of volunteers. Robertson North West, Social Enterprise Solutions, Trees in Cities, Tiny Forest, The Woodland Trust, ward councillors and Blackpool Council.
The Woodland Trust will also support the planting of a thousand more young trees this year.
It's a bumper year for trees this year in Blackpool, inspired by the Queen's Jubilee, and they'll benefit the town for years to come.
Glasdon's have kindly donated three Stanford seats to commemorate the Jubilee. Locals and visitors alike will be able to take a seat to enjoy some of the new trees and green spaces.
Festivals in Blackpool
It's an exciting time. Especially when so many things were cancelled during the Covid-19 pandemic. But now, events, entertainment and festivals are back in Blackpool!
Tourism makes up 80% of the UK visitor economy. In 2019, the last 'normal' year, it generated over £100 billion, supporting 2.6 million jobs. So it's great news that Blackpool is able to welcome back so many big events.
Take a look at these other festivals and events –
While you're here…
What do you think? Why don't you join in and leave a comment below?
Have a look at the homepage of the Live Blackpool website for more of the latest updates.
Love the Fylde Coast? Sign up for your weekly email newsletter. Packed full of interesting things it arrives in your inbox all 52 weeks of the year.
Join us on Facebook at our Visit Fylde Coast Facebook Group and follow us on Twitter @visitFyldeCoast
Plus hundreds of videos to watch on our YouTube channel – from all over the Fylde Coast!