It's one of the main connecting streets in the town – come and take a look at Bank Hey Street in Blackpool Town Centre. See what it looks like today and find out some interesting things from its past.
Bank Hey Street in Blackpool Town Centre
We went to take a look in this walking tour video, filmed in December 2022 –
Enjoyed this video? Why don't you subscribe to our Visit Fylde Coast YouTube channel – make sure you don't miss out!
Where is it?
If you visit Blackpool, you're sure to have walked along part or all of Bank Hey Street! It's the long, mostly pedestrianised street which runs parallel to the promenade, past the rear entrance to The Blackpool Tower and the front entrance to Primark. Here's a map showing where it is in relation to some of the landmarks you'll know. Click on it to explore –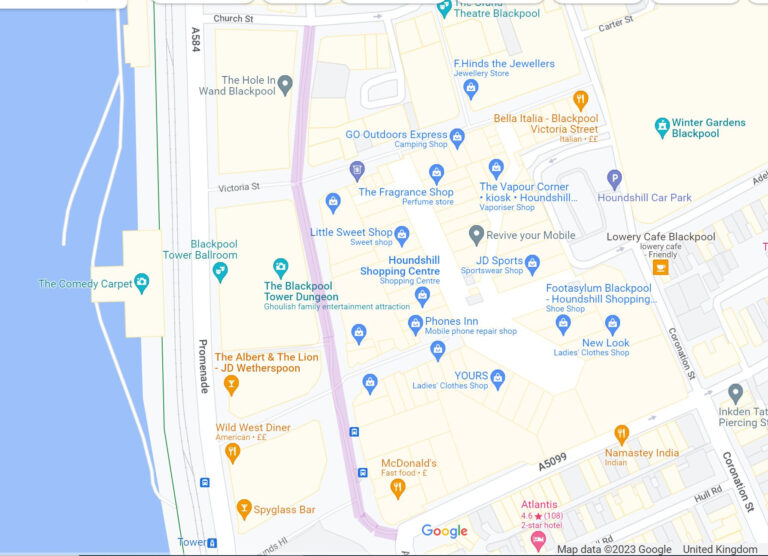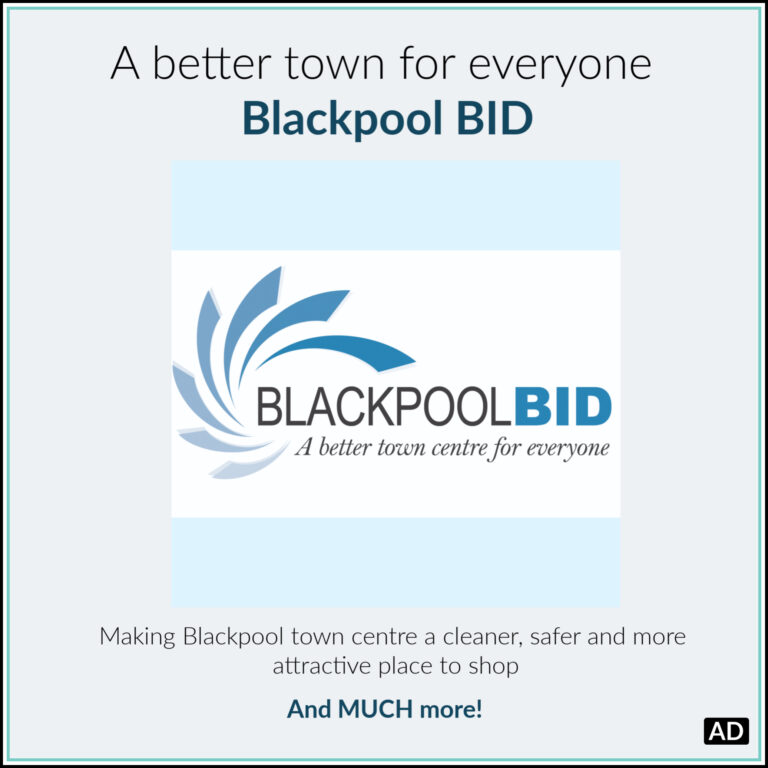 This is just one of many areas which Blackpool BID looks after. They work to improve the visitor experience and to promote Blackpool Town Centre as a safe, clean place to do business, work, visit, shop and dine. Find out more about Blackpool BID here.
At its northern end, Bank Hey Street meets Church Street – on the same corner where the entrance to Viva Blackpool is.
Stand at that corner and face south to get a great view of The Blackpool Tower as it lifts above the buildings!
Famous Names & Seaside Attractions
Walk along this street and you'll pass the front doors of a number of famous names. There's Boots the Chemists near to a huge, four floor Primark – the worldwide value fashion brand. They're opposite the rear entrance to The Blackpool Tower and the Tower Dungeon.
Poundland and TK Maxx neighbour with Coral Island indoor amusements and the Sands Venue – soon to be five-star hotel and home to the Blackpool Museum.
This southern end of Bank Hey Street turns the corner outside McDonald's Restaurant to meet the A5099 Albert Road.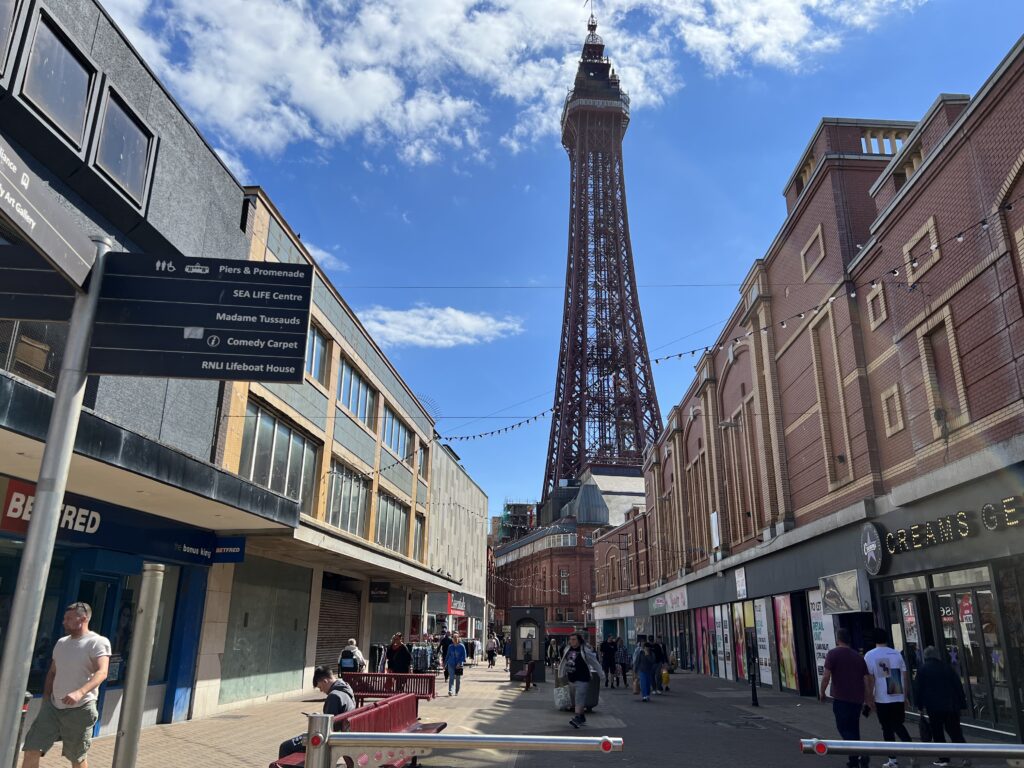 New Attractions at Bank Hey Street
Blackpool town centre is a unique place. Where else can you marry a visit to the shops, side-by-side with a game of mini-golf!
The main 'shopping' area is an eclectic mix of high street retailers and amusements. Bars and independent restaurants and theatres with big-name shows. Enjoy seaside glitz next door to fashion shopping. There's really something for everyone!
The Hole in Wand mini-golf with a wizarding theme opened in 2022. Enter from the promenade and exit via the gift shop at Bank Hey Street.
Enjoyed this video? Why don't you subscribe to our Visit Fylde Coast YouTube channel – make sure you don't miss out!
In early 2023, the former Woolworths/Poundland store underwent a complete transformation and is now the brand new 'Blackpool Amusements'. A family orientated venue on two floors with cafe and toilets.
Enjoyed this video? Why don't you subscribe to our Visit Fylde Coast YouTube channel – make sure you don't miss out!
Looking for somewhere to stay?
Book your stay with the Visit Fylde Coast and StayBlackpool accommodation guide. Know that you'll have a great place to stay with a choice of Trusted accommodation.
All the properties listed on the Visit Fylde Coast websites by StayBlackpool are annually inspected. This means that you can book with confidence, safe in the knowledge of a great stay, somewhere that's safe, clean and legal, at the very best price.
Bookings from these sites are also ultra-low or zero commission. This means that more of the money from your booking helps to support the local economy.
Search for Accommodation
Accommodation you can trust from StayBlackpool
Old History
Bank Hey Street is one of the old roads of Blackpool, dating back to the late 1890's. Along the way there are so many memories and ghosts hidden in the walls and foundations of today's buildings. How much of it do you remember? Watch the Walking Tour video above to see all these things brought to life!
Lewis's Department Store
Was a huge corner building, later to become Woolworths, then Poundland and, as of early 2023, is now the Blackpool Amusements. The windows of Lewis's were a delight, with big, bold and elaborate displays – most notably the huge Lego installations!
First Pedestrianised Street
Did you know that Bank Hey Street was Blackpool's first pedestrianised zone? Laid out in 1973 it was always such a busy thoroughfare. With cars mingling among the people it must have been a death trap previously!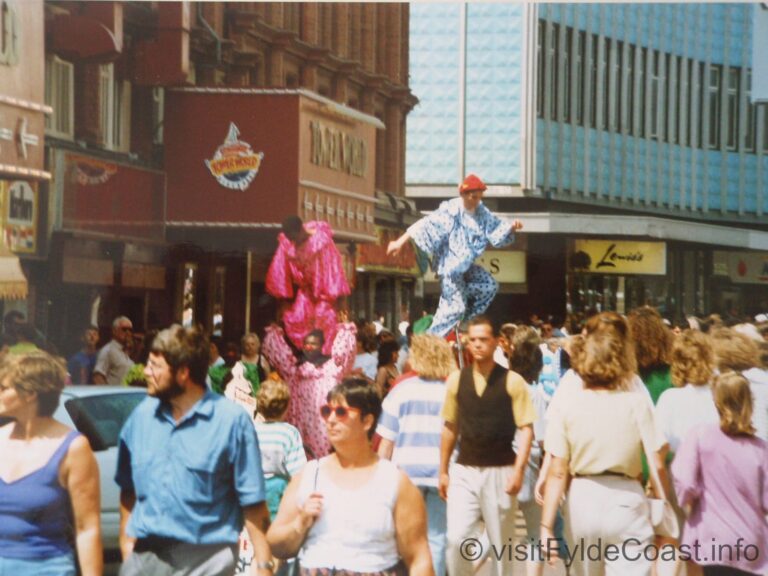 Butchers & Bakers & Candlestick Makers…
Today, the central section of the Tower Building is a big, modern entrance to The Blackpool Tower, but it hasn't always been like that. Back in the 1980's part of the building was given over to newsagents and a gift shop. Another part was the office of StayBlackpool, the independent accommodation organisation.
These shops date back to 1894 when The Tower was built, and were originally occupied by all kinds of trades. In 1894 they're listed as two milliners, a ship's dealer, a cutler, two confectioners, a tobacconist, hosier, hairdresser and bootmaker!
& Modern Stores
Directly opposite, the huge, four floor Primark is a popular store with visitors and Fylde Coast residents alike. From 1927 it was the site of RHO Hills – later bought out to become Binns Ltd.
Afterwards it was known as The Tower Centre – and for some years the Primark site was occupied by Littlewoods.
Animal Quarters
The Circus Elephants hold a bit of a reputation for their daily walks across to the beach. Their quarters were accessed from what's now a tiny yard between the Woolworths building and the Tower, called Heywood Street. Did you see the elephants on the beach? Can you remember the animal smells, straw and hay around the side door there?
Tragedy at Bank Hey Street
Across the road, Waterstones book store was the site of a more recent and tragic bit of local history. On 12 January 2015 the sign blew off the front of the shop in a gale, sadly killing employee Margaret Sheridan outright.
The World's Biggest Woolies!
There are loads of 'firsts' attributed to Blackpool, and the Woolworths building is just one of them. In 1916 they bought 53-65 Bank Hey Street, then quickly acquired the rest of the corner site. Work began on the store in 1936 and by 1938 it was open and trading. What you may not know is that, at the time, it was the largest and most modern of 2000 Woolworths around the world! Sadly, it closed in January 2009.
Remember M&S?
Blackpool Council recently acquired the site of the current Church Street M&S store, safeguarding its future in the town. But M&S hasn't always traded from its current site – for many years they were at Bank Hey Street.
The store opened in 1939 next door to what's now TK Maxx, trading there until 1990. McDonalds opened in 1982.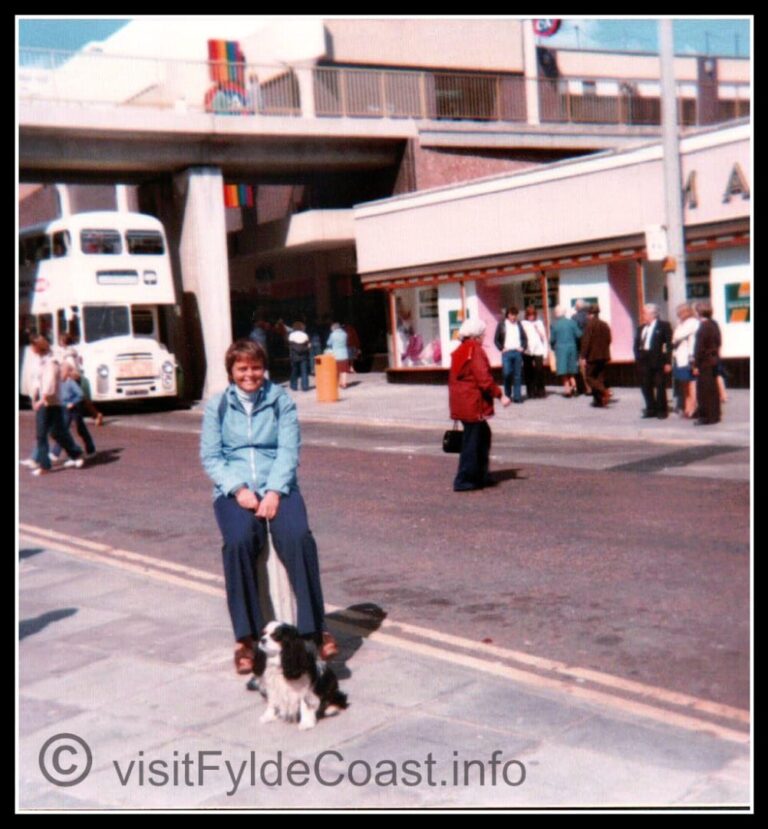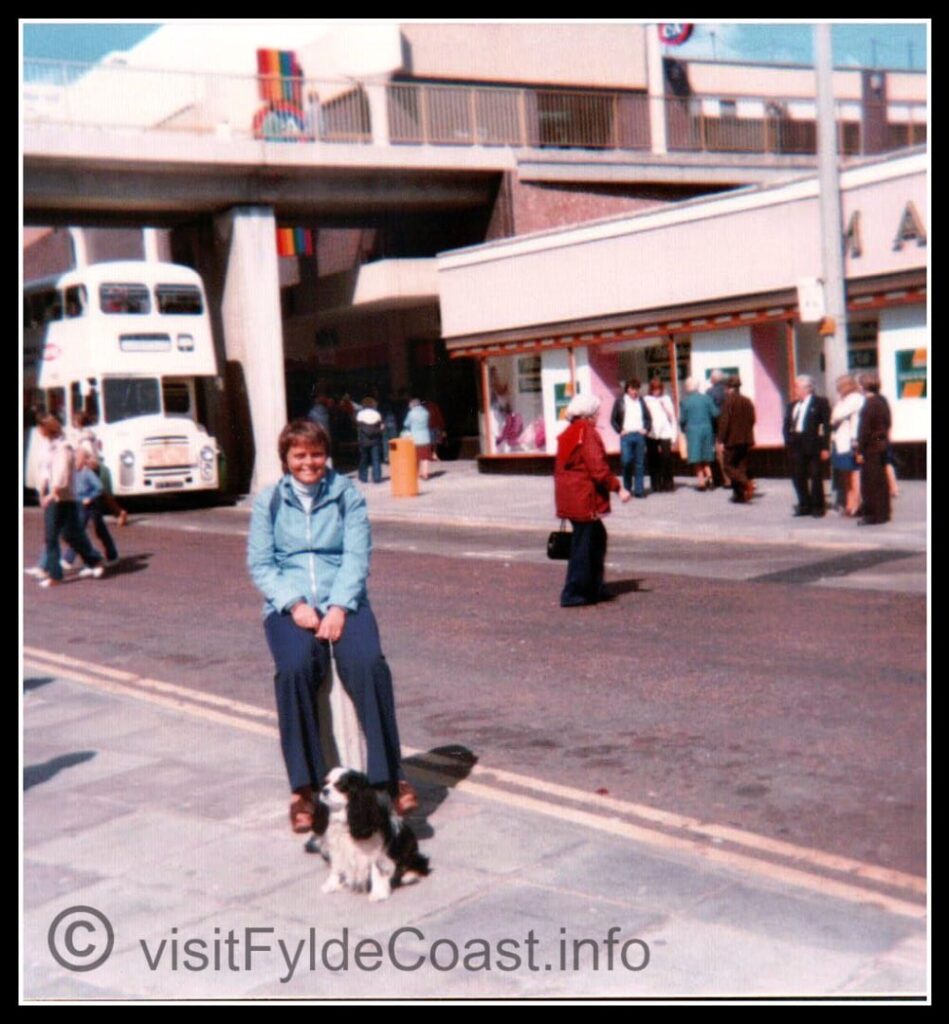 While you're here…
Go to the homepage of the Live Blackpool website for the latest updates.
Love the Fylde Coast? Sign up for your email newsletter. Packed full of interesting things it arrives in your inbox all 52 weeks of the year.
Join us on Facebook at our Visit Fylde Coast Facebook Group and follow us on Twitter @visitFyldeCoast
Plus hundreds of videos to watch on our YouTube channel – from all over the Fylde Coast!
Booking a stay? Pick a safe, clean and legal place to stay, at the very best price. Book with the Visit Fylde Coast and StayBlackpool guide.