Blackpool Memory Walk is the brightest sponsored walk under the famous Illuminations, to show your support of Trinity Hospice and remember loved ones.
Everyone is welcome to take part in the walk, simply accessorise your Memory Walk t-shirt and you're good to glow!
Blackpool Memory Walk 2023
Saturday 7 October 2023 from 7.30pm
It's the perfect opportunity to join family and friends to show your support of Trinity Hospice.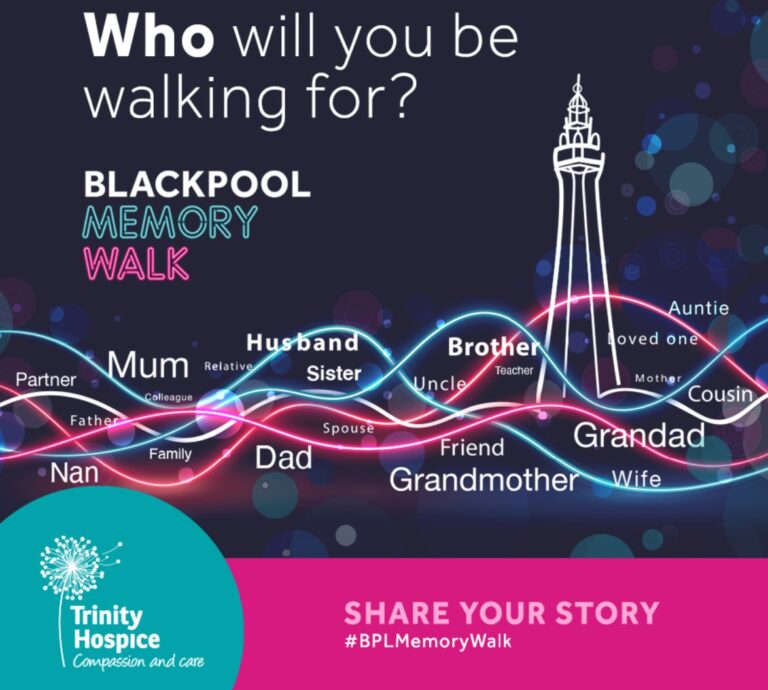 The walk starts at 7.30pm, but arrive earlier and enjoy the live entertainment and warm up. Take a few minutes out to watch the Memory Walk dedication video. Share photos of the person or people you're walking for, and a short message to be included.
Photos and messages can be submitted in the registration form but is completely optional.
It's also FREE to enter this year…
And every participant gets a Blackpool Memory Walk T shirt and a commemorative medal.
But Blackpool Memory Walk is organised in support of the work of Trinity Hospice. 100% of the proceeds raised from the event go directly towards patient care and support. Everyone – men, women and children (and dogs) of all ages and all abilities are welcome to join the colourful event. The brighter you are the better!
The hospice is asking participants to raise just £30 in sponsorship. This will go towards caring for Trinity's patients, wherever they are, and supporting their loved ones. If everyone taking part raises or donates just £30 in sponsorship, they could raise up to £50,000. That's n incredible amount which really would mean so much to our charity, helping our expert care teams to support all who need local hospice care.
Sign Up for Blackpool Memory Walk
Register to take part in this event here
While you're here…
Go to the homepage of the Live Blackpool website for the latest updates.
Love the Fylde Coast? Sign up for your email newsletter. Packed full of interesting things it arrives in your inbox all 52 weeks of the year.
Join us on Facebook at our Visit Fylde Coast Facebook Group and follow us on Twitter @visitFyldeCoast
Plus hundreds of videos to watch on our YouTube channel – from all over the Fylde Coast!
Booking a stay? Pick a safe, clean and legal place to stay, at the very best price. Book with the Visit Fylde Coast and StayBlackpool guide.