In late 2016 work began that will see the transformation of Blackpool South Shore
Back in the golden days of Blackpool, before foreign holidays became popular and when people took a traditional full week break, the South Shore area of Blackpool was very desirable.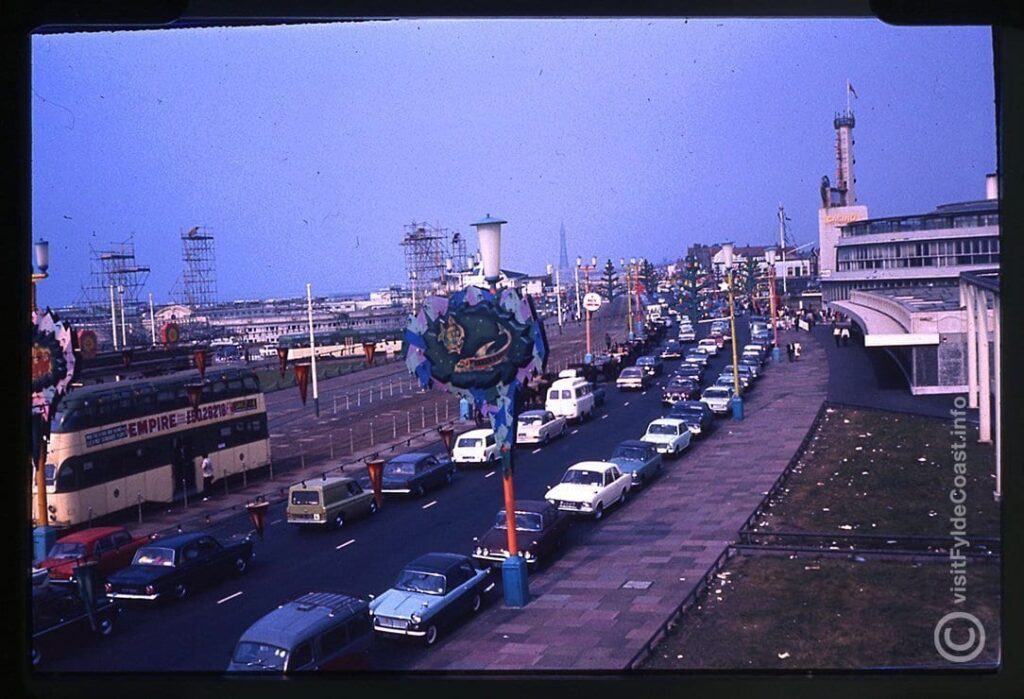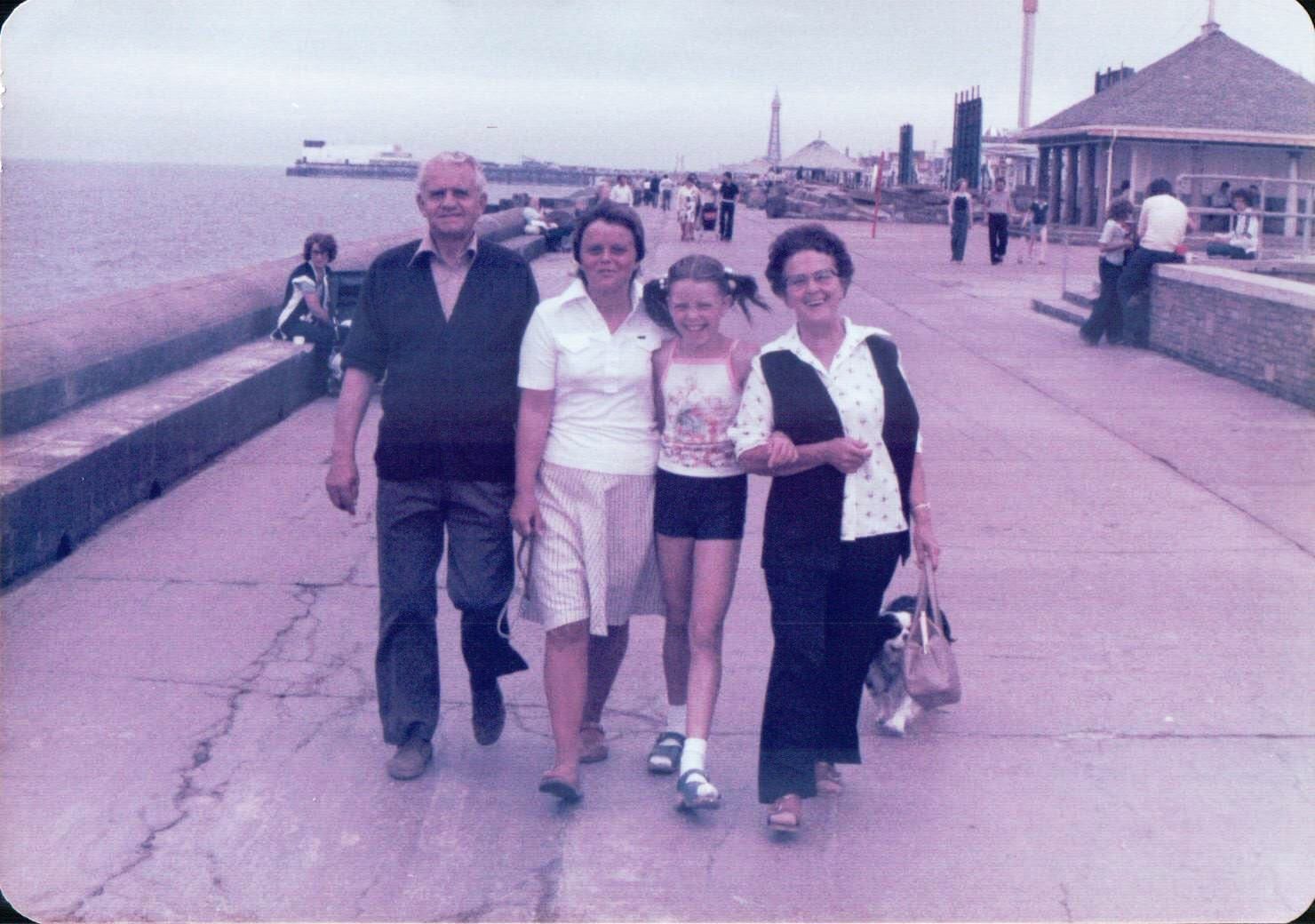 Happy summer holidays at South Shore – c 1976
The huge hotels which lined the crescents offered a high quality of accommodation, you had to book long in advance and they ran at high occupancy rates throughout the year.
Then the world started to change. People started to go on holiday abroad, visitor numbers in all of the UK seaside resorts started to fall, and then in recent years people started to take more short breaks throughout the year rather than one or two full week holidays – and all these changes in how we holidayed as a nation took their toll on the hotels at Blackpool South Shore.
Redevelopment at Blackpool South Shore
Head south past the Pleasure Beach on your left and the first crescent that you come to on Blackpool New South Promenade is lined in holiday accommodation.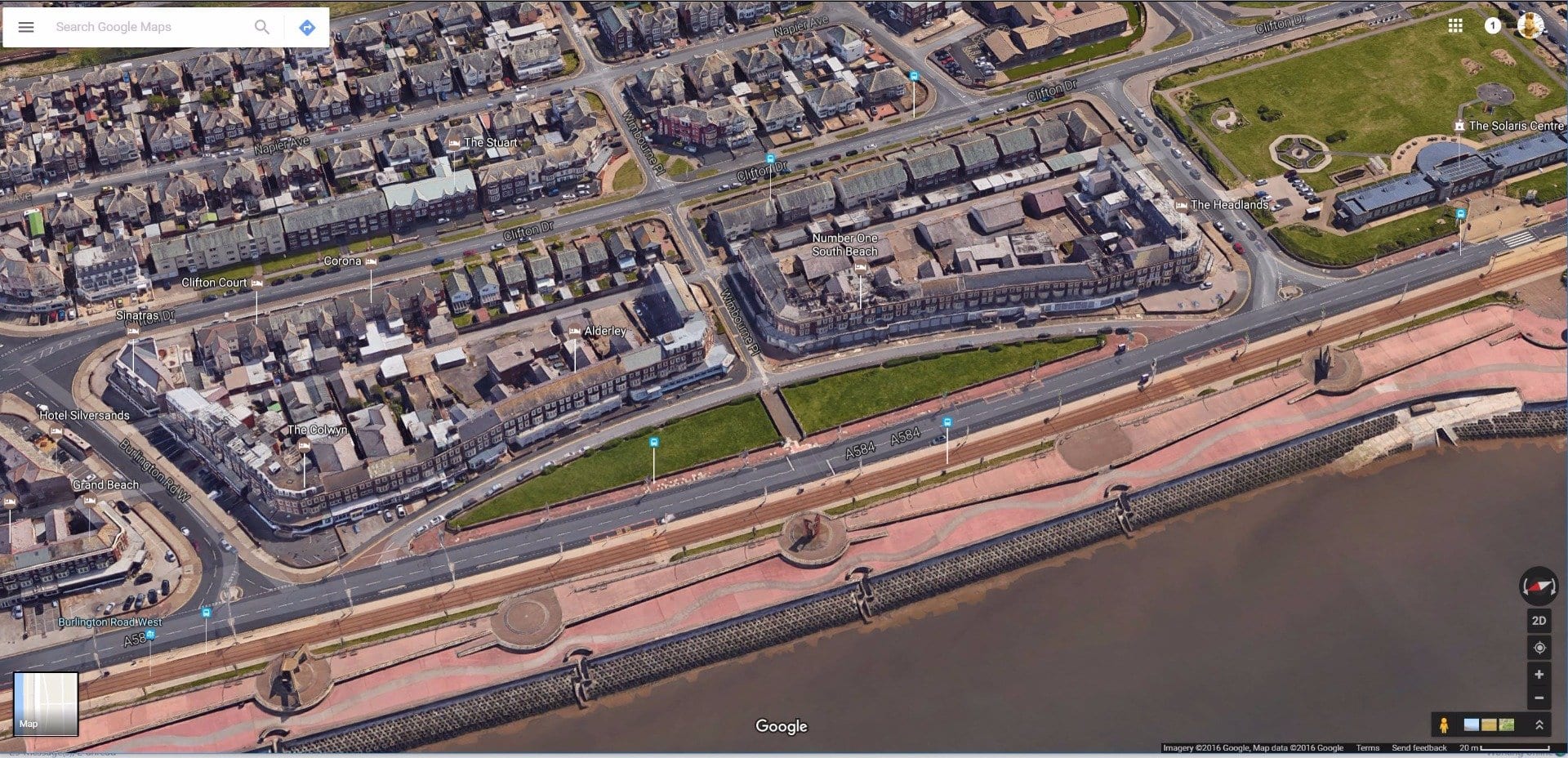 Photo: Google maps. See the Solaris Centre top right
After a long period of consideration and planning, the derelict, burnt-out buildings of the Palm Beach and it's neighbour the Bourne Hotel have been demolished to make way for brand new development.
Before…
During… with thanks to Tubefy for this video clip (below) of the Palm Beach and Bourne Hotels coming down
And after….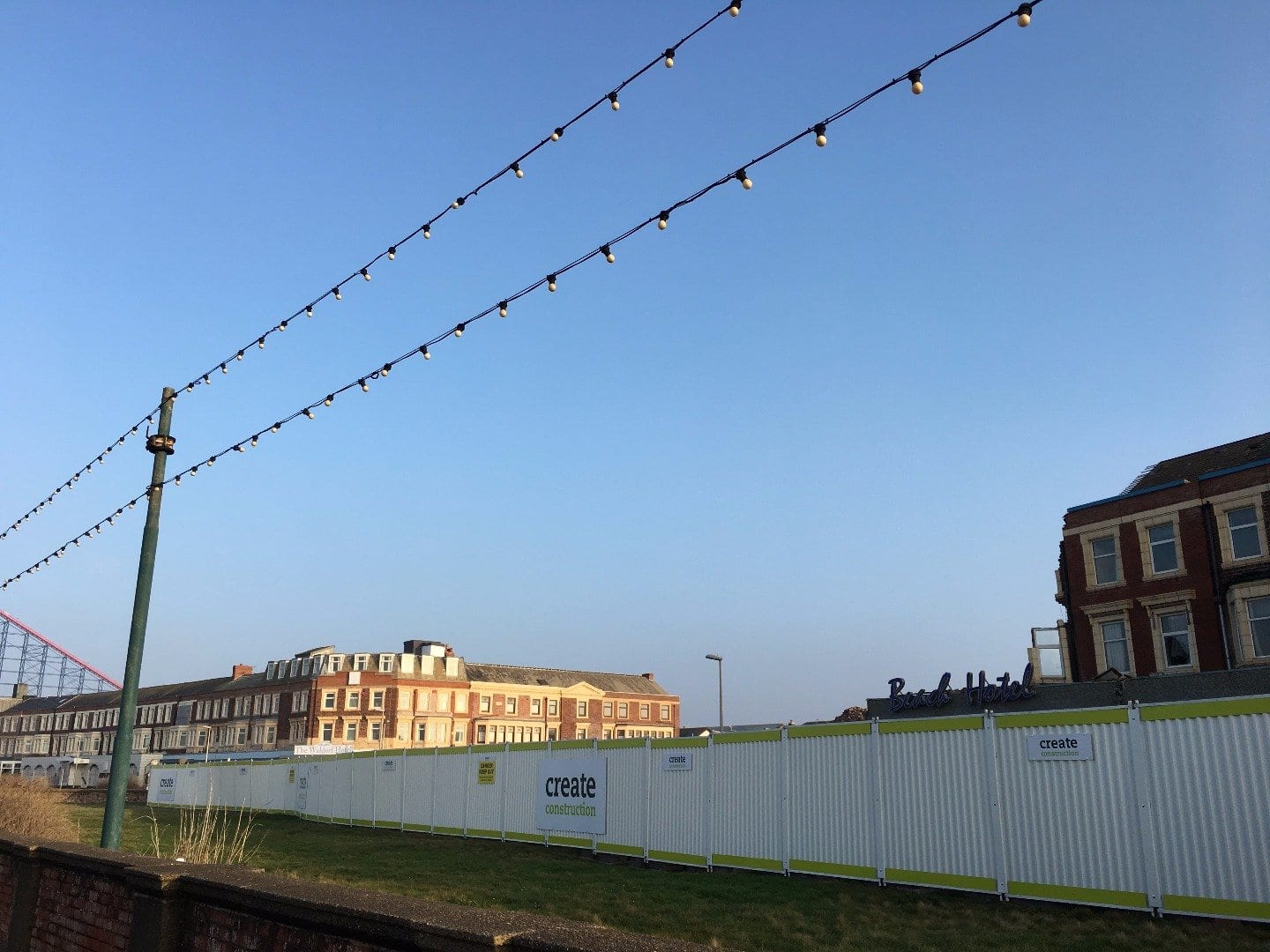 December 2016
The demolition of the Palm Beach and the adjoining Bourne, and the rebuild work, is being undertaken by Blackpool-based development company Create Construction.
The neighbouring Warwick Hotel is also being demolished.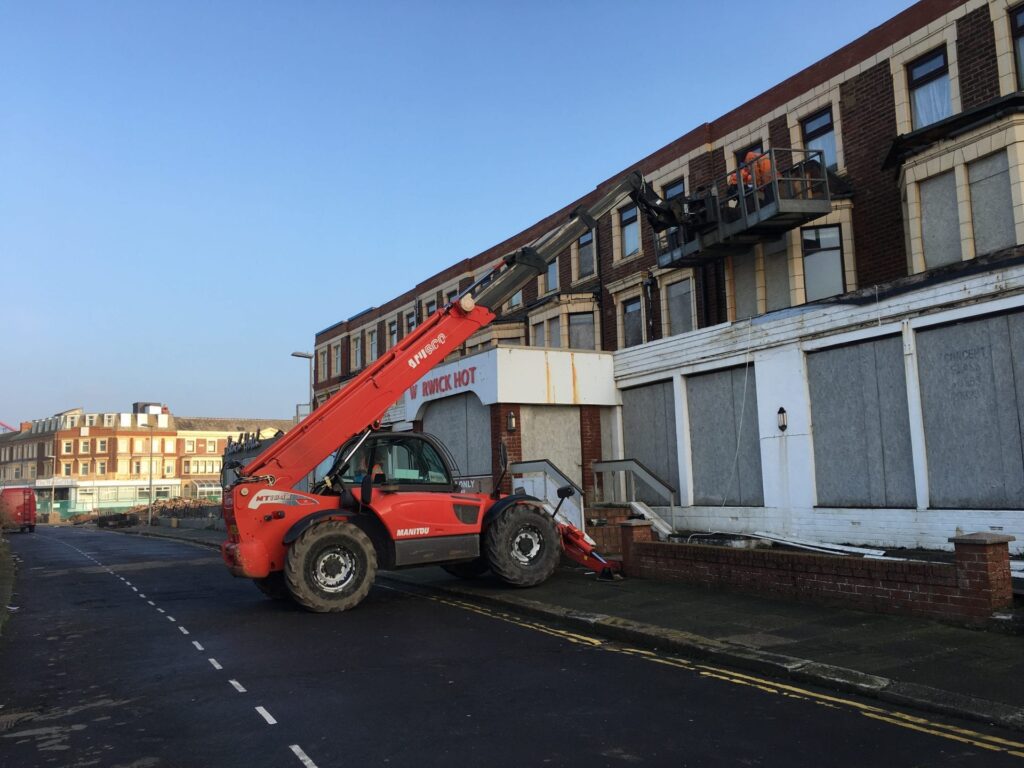 December 2016
The site is being cleared to make way for a new 130-bedroomed hotel, branded 'Hamptons By Hilton'.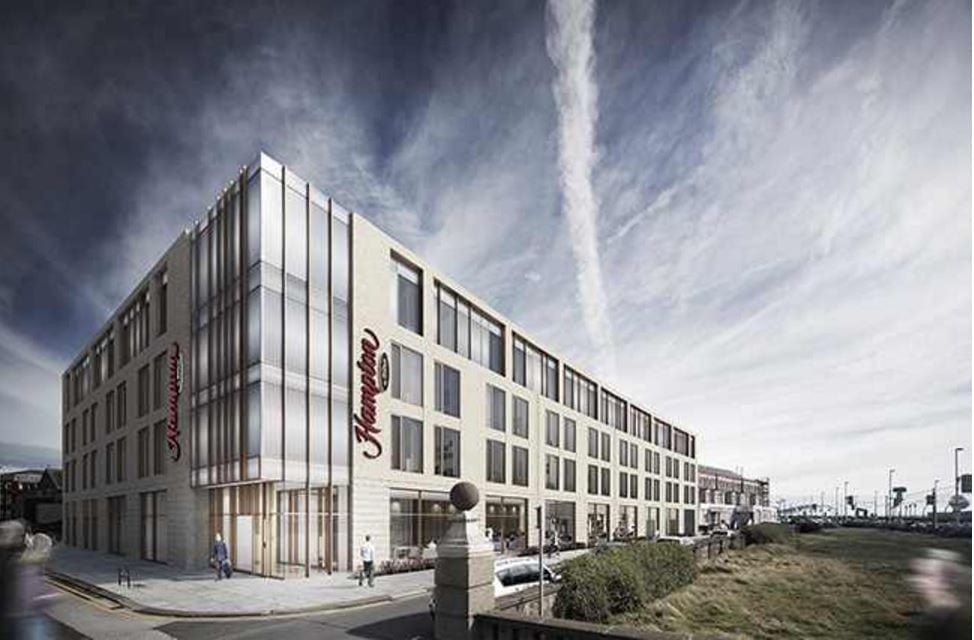 The new Hamptons by Hilton has 130 bedrooms and all the associated facilities which you'd expect from a brand new hotel, and is being built at a cost of £8.5m. When it opens in Spring 2018 it's expected that 40 jobs will be created.
New Pleasure Beach Hotel
A new hotel is being built at the site of the former Star Pub at Blackpool Pleasure Beach.
The 120 bedroom hotel is taking shape on the south westerly facing corner of the promenade, not far from the Big Blue Hotel.
Part of the former Coasters building is being remodelled to create a restaurant and bar for the hotel.
Read more about what's new at the Pleasure Beach here
Residential Redevelopment
Carry on heading south and the second crescent on Blackpool New South Promenade ends with residential flats.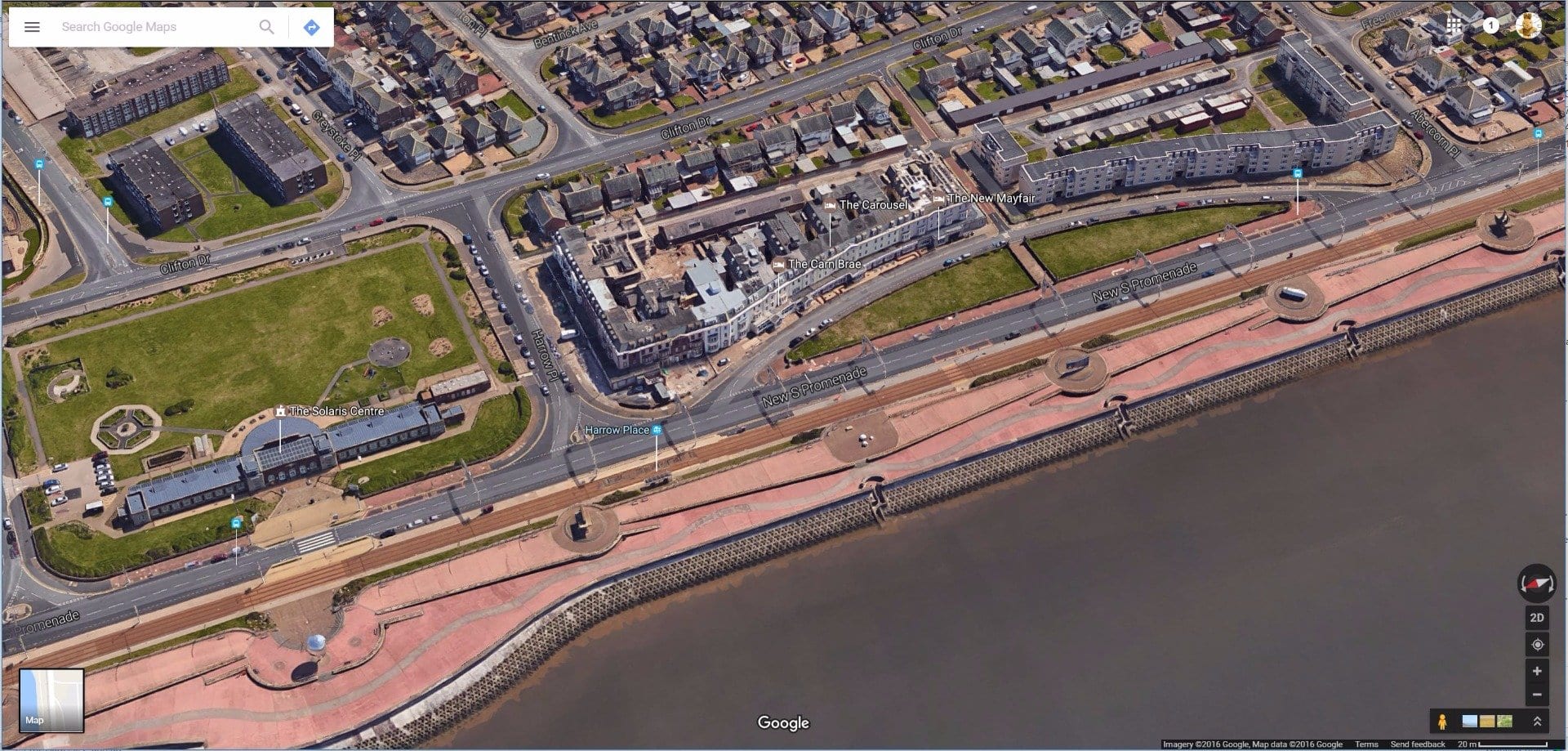 Photo: Google maps. Solaris Centre is bottom right in this photo
The first building which you come in this crescent to as you pass the Solaris Centre is the former Abbeydale Care Home, which closed in June 2013.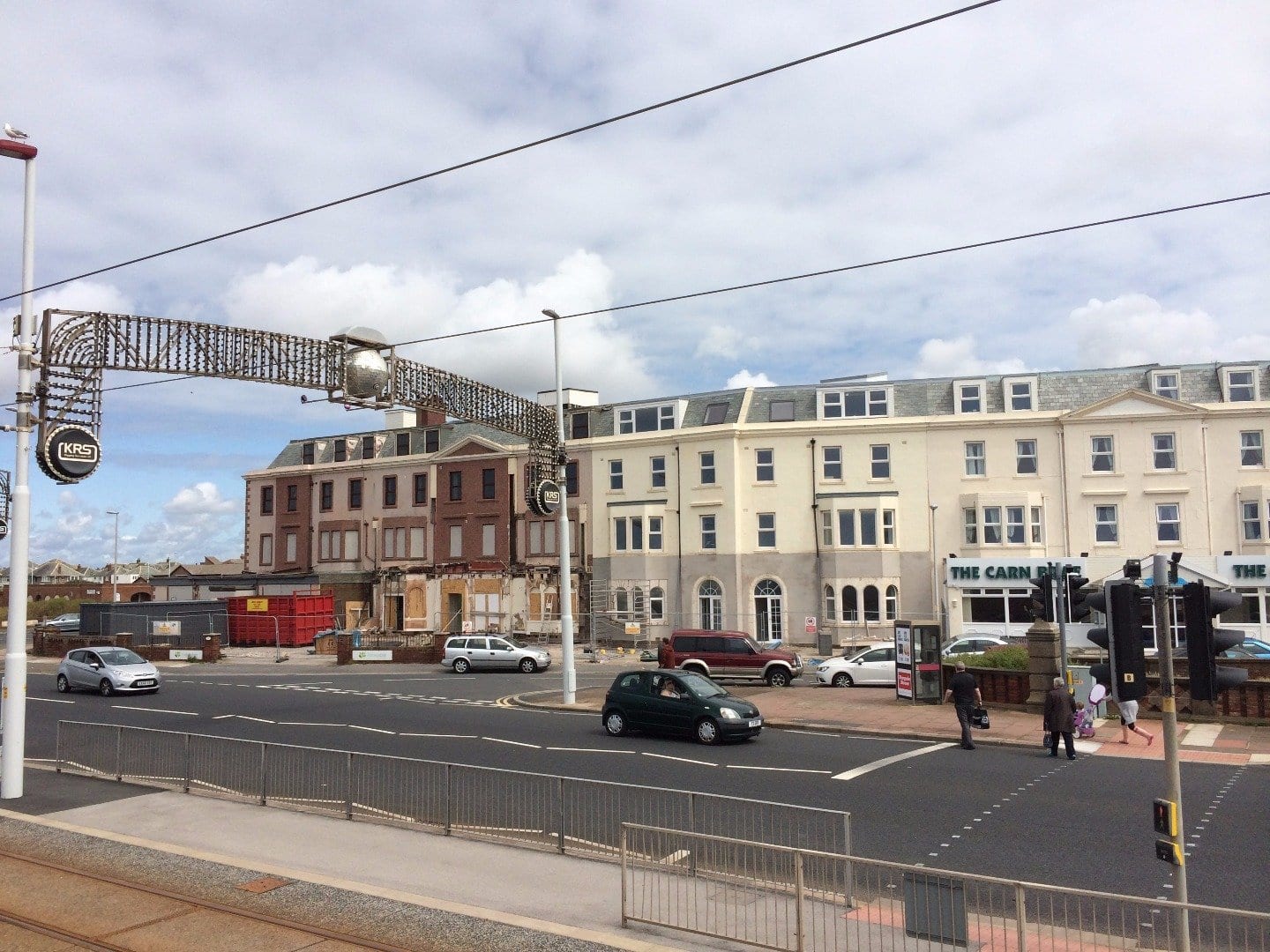 July 2015
After a number of false starts it's being redeveloped into residential apartments.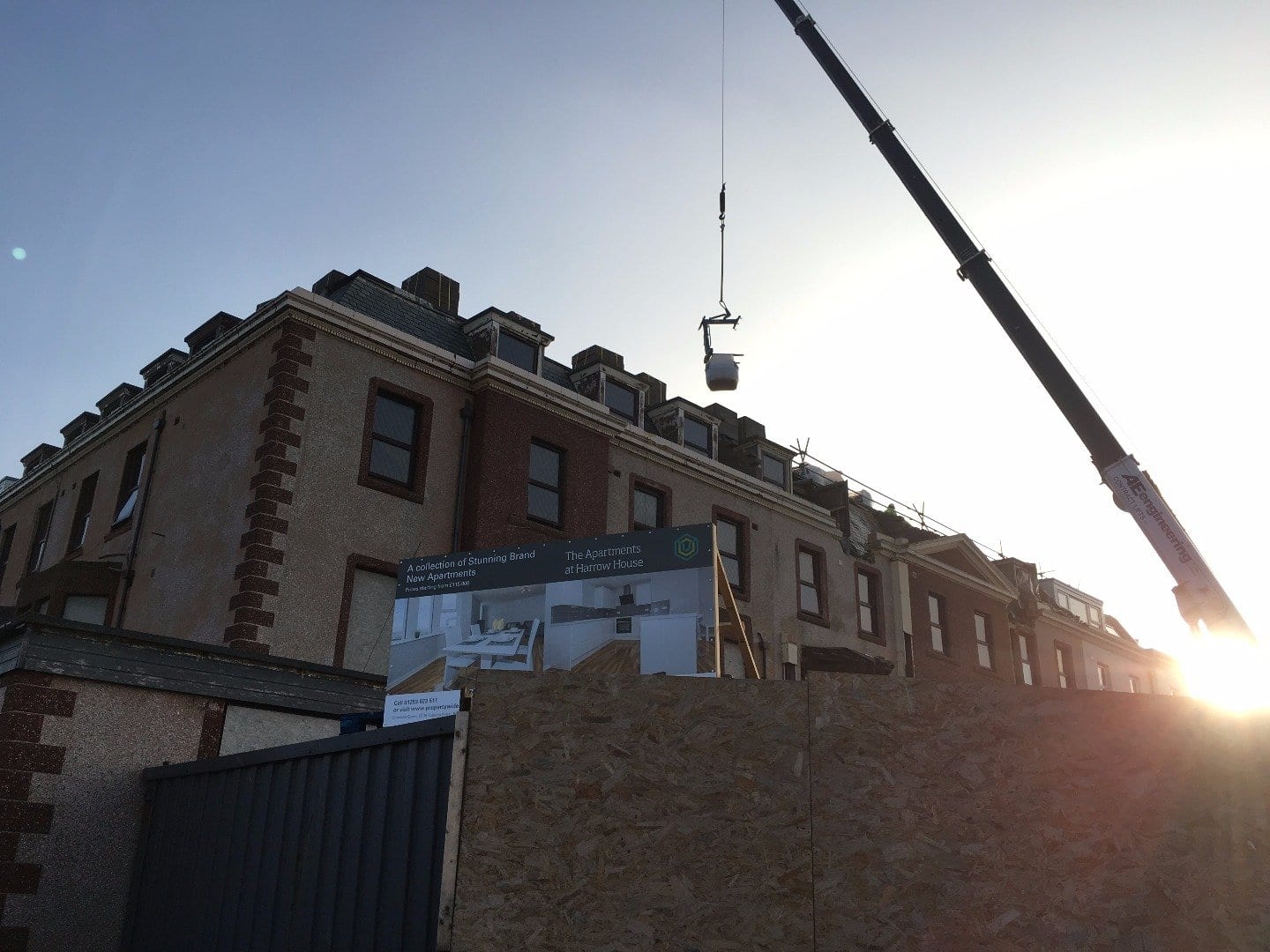 December 2016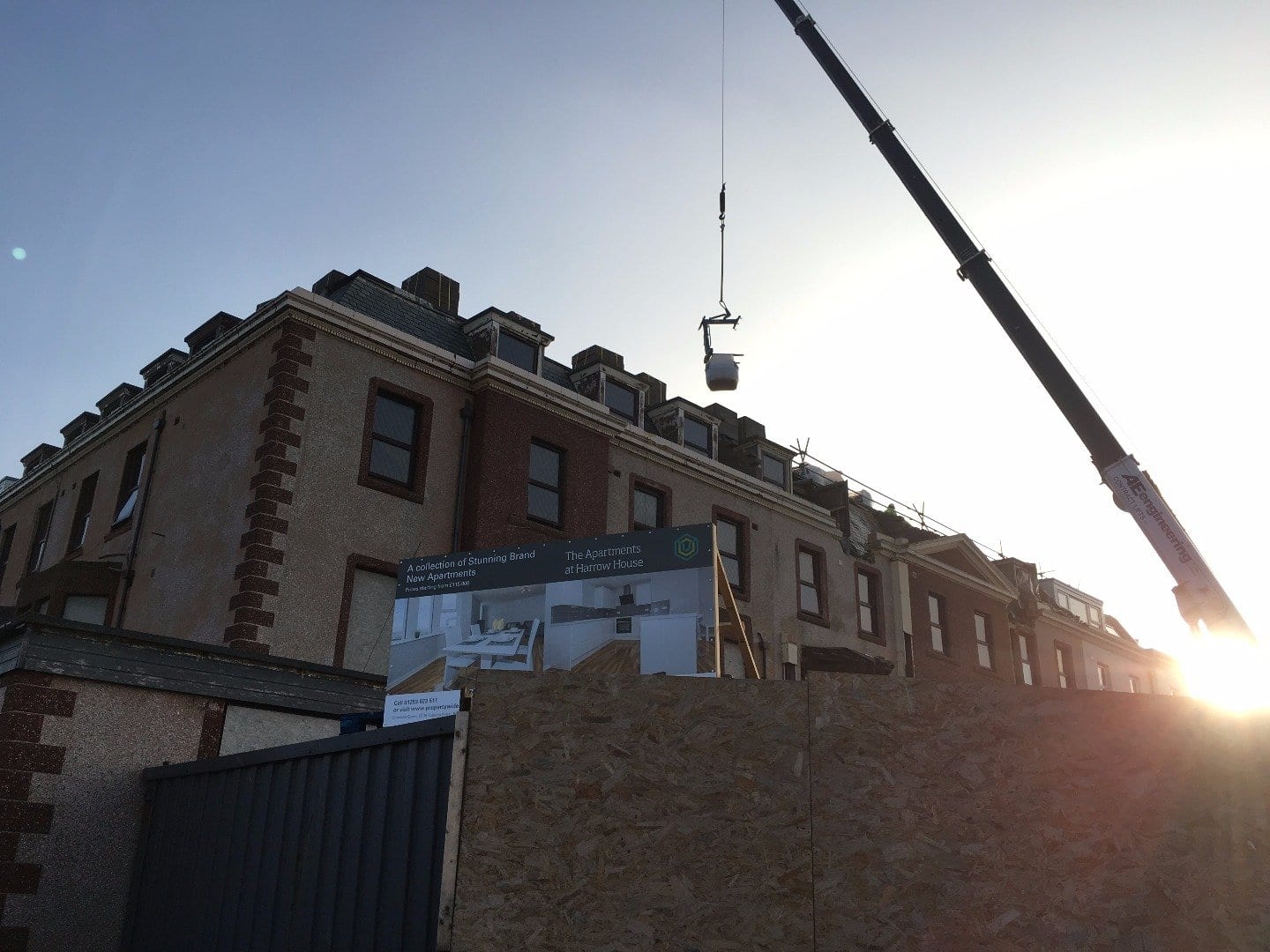 December 2016
A Really Nice Place
It's really good news that this redevelopment work is finally starting to take shape.
New South Promenade is a major gateway into Blackpool – it's one of the first things that motorists see when they approach town and, to coin an American expression – it's a valuable area of real estate.
Fronted by stunning public realm this has surely got to be one of the most desirable seaside locations in the UK – a wide highway, relatively new promenade and sea defences, a Blue Flag beach and miles of golden sand, and of course the most stunning sunsets.
Blackpool South was the first beach in Blackpool to secure the prestigious Blue Flag for the high quality of the beach and bathing waters. And here's one of those stunning sunsets.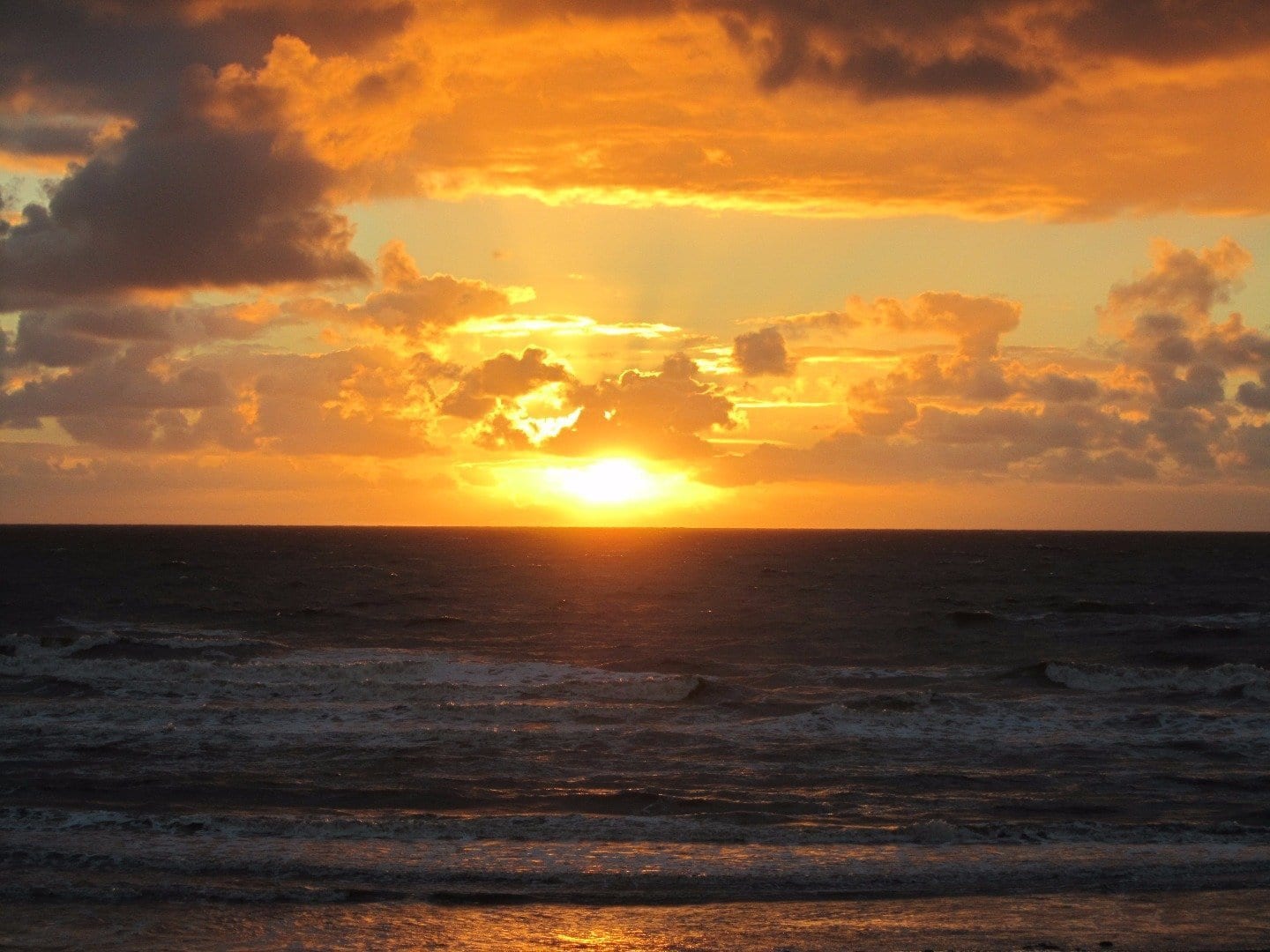 ---
Read More
Blackpool South Promenade