We're taking a look around some of the best known roads across the Fylde Coast. This page is about Coronation Street in Blackpool Town Centre. What's there now, how it started and some 'Did you Know' moments…
There are plenty of hotels and places to stay near The Blackpool Tower, the Winter Gardens and in Blackpool Town Centre. In this video we'll walk along Coronation Street, off which is Adelaide Street and Albert Rd. Hull Road, Charnley Road and Vance Road. Plus Hornby Road and Reads Avenue. We made this film on a red hot 18 July 2022 – find out some interesting local things while we walk. Come and join us!
Slightly different Coronation, but here's how Blackpool celebrated the Coronation of King Charles III in May 2023
Coronation Street in Blackpool Town Centre
Coronation Street is another one of Blackpool's old, straight roads. In the north it begins at Church Street – where the M&S Collect By Car bay is. Look up above Beaverbrooks, the corner building, to see delightful 1800's terracotta brickwork which reads 'Old Post Office Buildings'.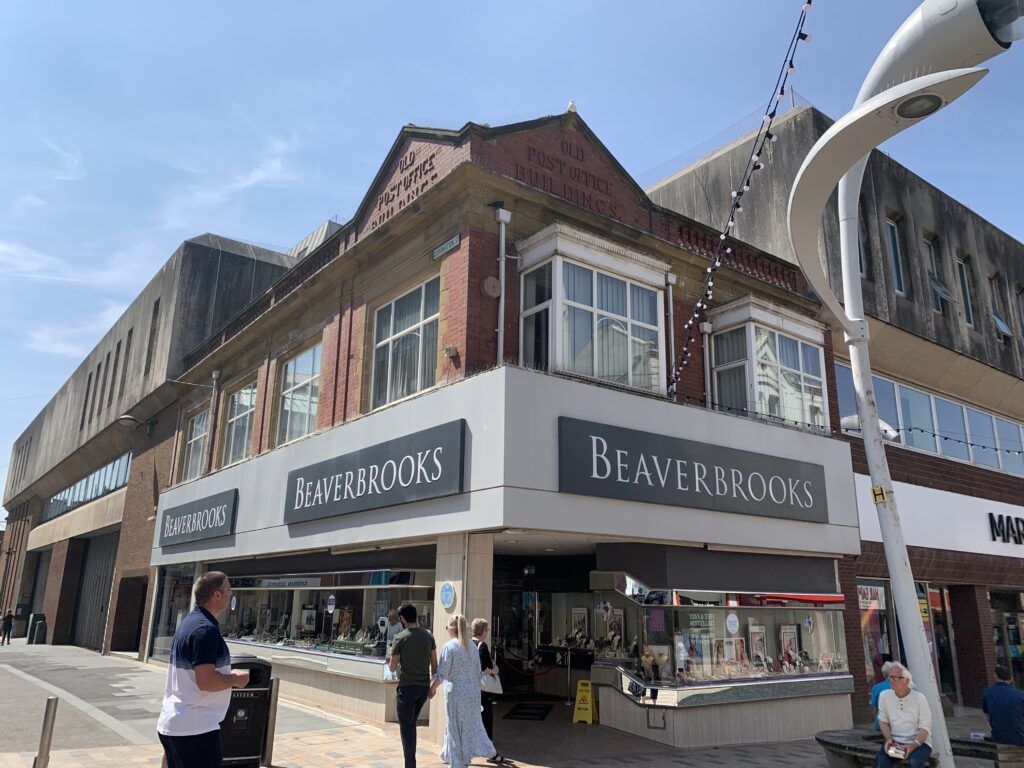 Coronation Street continues past the top of Victoria Street, the side entrance to the Winter Gardens and the new Wilko/IMAX extension at Houndshill Shopping Centre.
The Winter Gardens is always undergoing some kind of maintenance and repair work. The Houndshill extension is a massive civil engineering job. It's all change everywhere you look in Blackpool town centre!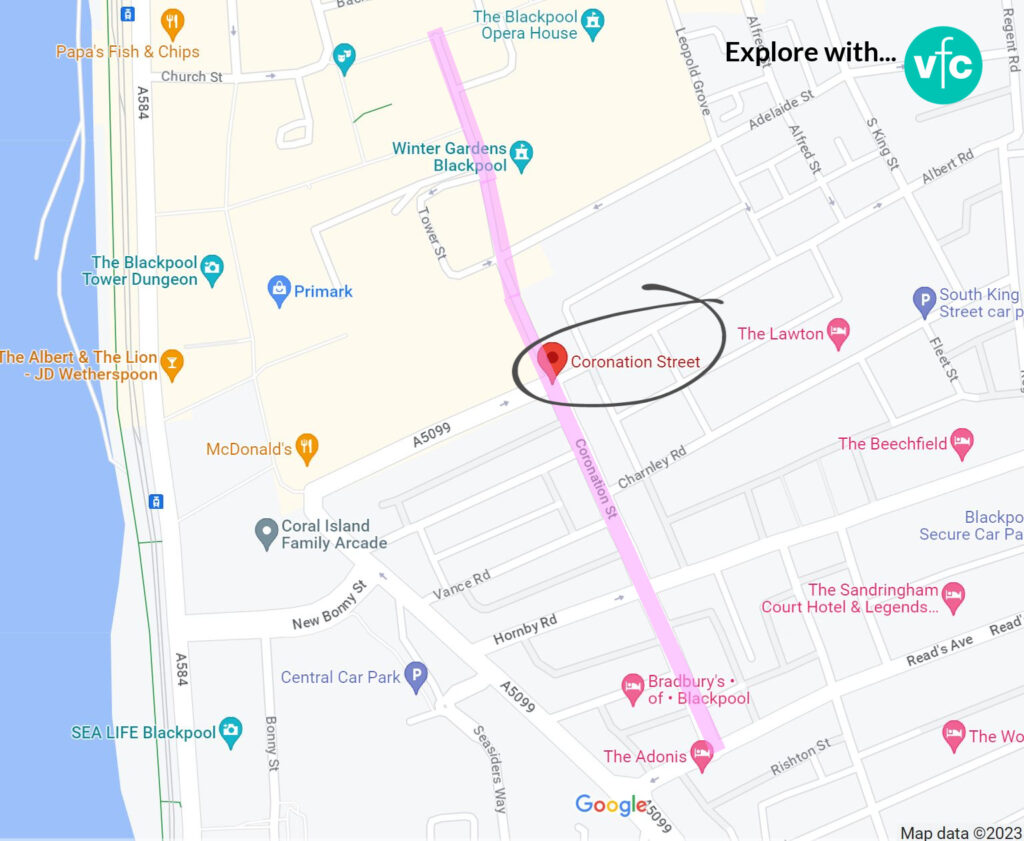 After Adelaide Street, there's a busy main crossroads next at Albert Road. There are quite a few places to stay at the southern end of Coronation Street, and all the roads which come off it. You'll know a lot of the names – Charnley Road, Vance Road – and Hornby Road bisects Coronation Street.
Coronation Street ends at Read's Avenue which is one way towards the sea, coming onto Central Drive. Turn left towards South Shore or right back to the town centre – the red brick buildings ahead are soon to be converted into the Heritage Quarter. They're the first phase of the huge Blackpool Central development which will transform Central Drive and Central Car Park.
Now and Then – on Coronation Street in Blackpool Town Centre
We've done the research in Nick Moore's fabulous History of Blackpool for loads of interesting information for this page. Marvel at what's been here before, next time you walk along Church Street!
We'll start with a bit of 'I didn't know that'… Coronation Street was originally known as Coronation Walk!
It's seen loads of changes through the years too. Shops and businesses have come and gone. Buildings have been constructed and demolished. All chapters in the fascinating history of Blackpool.
In 1896, the Winter Gardens was on the look-out for a new attraction to follow in the success of the new Blackpool Tower. Costing about £45,000, Blackpool's Gigantic Wheel was built on the site of the bowling green and gardens at the north-east corner of Adelaide Street and Coronation Street. After months of legal wrangling about the design, it was built in four stages by Arrol's Bridge and Roofing Company of Glasgow.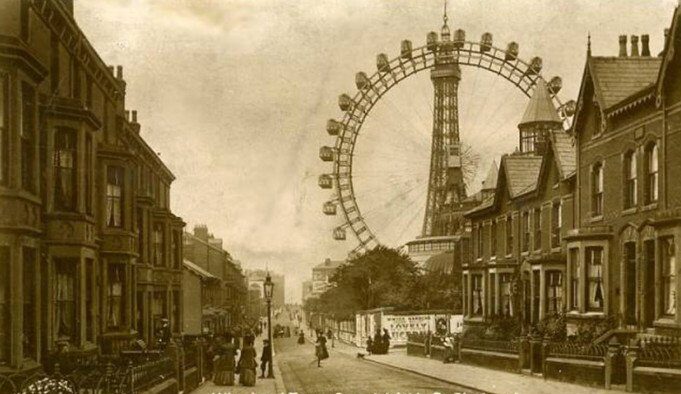 In 1927 Alex Bolton named his new confectionary company Coronation Rock after the new shop he opened in Coronation Street near to the Big Wheel. It later moved to its current location in Bank Hey Street. In 1937 their factory opened at Cherry Tree Road North followed by a newly-built factory on Amy Johnson Way in the 1990s.
It was 1976 when many of the buildings between Coronation Street, Victoria Street, and Adelaide Street were demolished to make way for the planned new Hounshill Shopping Centre. It had been a warren of small gift shops, cafes and fashion shops. Carter's Surgical Appliances shop and Fagin's 'Flower Power' basement clothing store were just two of them!
Fast forward to February 2011 and the Tower Buildings on Coronation Street were demolished to make way for the latest development. They included the Galleon Bar and numerous small shops and cafes.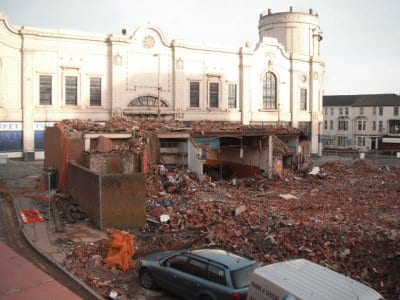 The site between Tower Street and Coronation Street (opposite the entrance to the Olympia) became a temporary car park for some years. Now it's unrecognisable as the new IMAX cinema and Wilko store take shape. Here's another fascinating page showing how the Houndshill site has changed over the years.
And just one Coronation Street star…
Violet Carson moved to 18 Fleetwood Road in Bispham with her sister Nellie after the death of her husband in 1928. Of course she was famous as Ena Sharples – and Violet lived in Bispham until she died in hospital on 26 December 1983 at the age of 85. Following cremation at Carleton her ashes were interred at Bispham's All Hallow's Church.